Sports
11 Seconds for the Rest of Your Life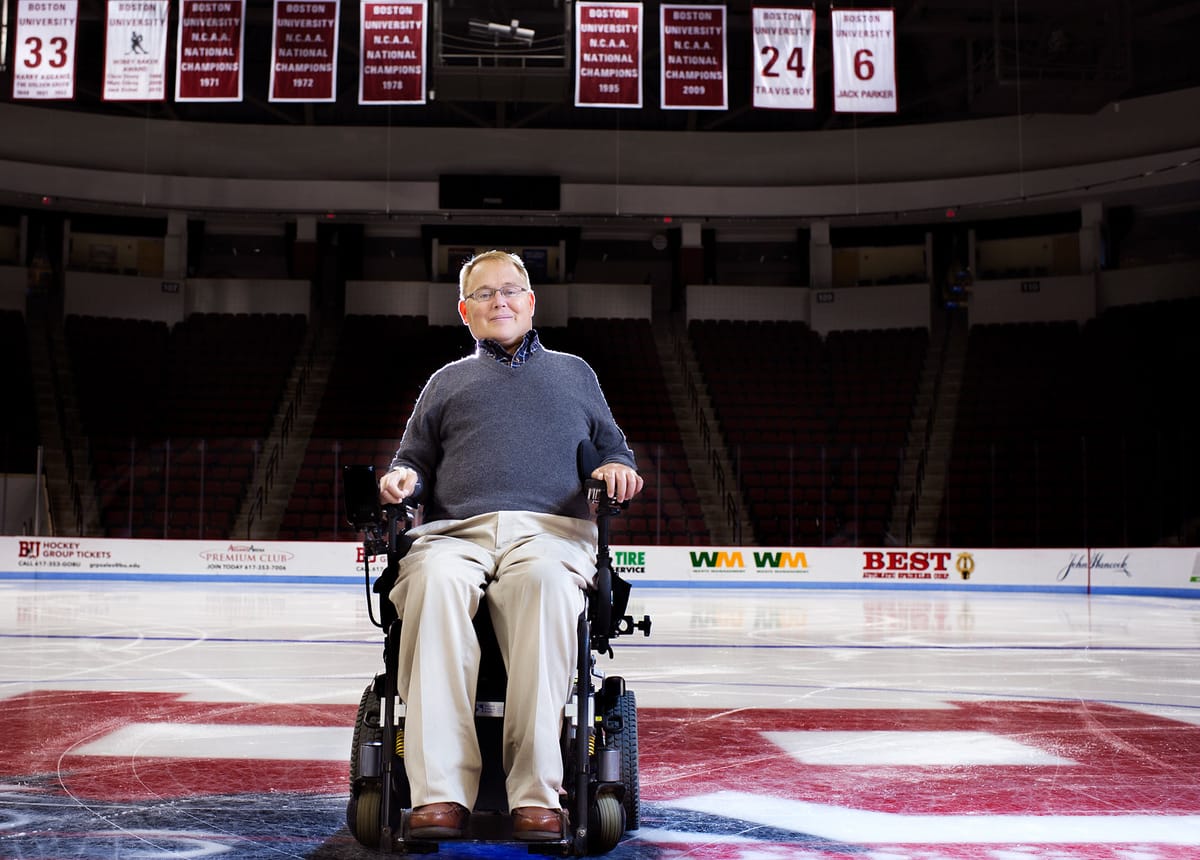 On Oct. 20, 1995, Travis Roy crashed into the boards 11 seconds into his first shift for the Boston University men's ice hockey team. Roy fractured two vertebrae and became a quadriplegic. For most athletes, suffering such an injury while entering the most promising years of their career would be devastating. But not for Travis Roy. Over the past 25 years, Travis Roy has been an inspiration for the New England hockey community. On Oct. 29, Travis passed away, and his life should be a reminder for us all that we can persevere through all of life's challenges.
In 1997, just two years after his injury, Roy started a foundation in his name dedicated to raising money for spinal cord research and providing the necessary funds for other spinal cord injury victims. The foundation has raised over $9 million and provided wheelchairs, vans, computers, ramps and other home improvements for over 2,100 quadriplegic and paraplegic people across the country. Every year, his foundation hosts charity wiffle ball tournaments, sponsors runners in the Boston Marathon and sponsors the Travis Roy Cup between his former high school Tabor Academy and their rival St. Sebastian's School.
Roy always showed a deep commitment to helping educate people both young and old, a dedication demonstrated through his ties to his alma maters, Boston University (BU), Tabor Academy and North Yarmouth Academy. Since his graduation in 2000, he has kept ties with the BU hockey program. Travis was the first BU player to have his number retired in 1999. Even with dozens of All-Americans, Olympic Gold Medalists and National Hockey League (NHL) All-Stars coming out of BU over the years, Roy's is one of two numbers to ever be retired in the program. This honor touched Roy, and he made it his mission to connect with as many players in the program as possible.
NHL veteran and former BU player Kevin Shattenkirk stated in a New York Times obituary, "He inspired me and every person that ever met him, and the hockey world will remember him forever."
Both Tabor and North Yarmouth have renamed their ice hockey rinks in Travis's name and retired his jersey as well. In 2014, Roy joined the Board of Trustees at Tabor Academy and continued to serve on the Board until his passing.
Travis Roy also connected with thousands of other people through his work as a motivational speaker and author. Travis has spoken to countless youth, high school, college and even professional hockey players over the past two decades chronicling his road to recovery and sharing many of the life lessons he learned along the way. Roy wrote his autobiography, 11 Seconds, which has sold thousands of copies. While Roy's life has run its course, his legacy will live on through all of the people he has inspired, and his foundation will continue to provide millions of dollars for spinal cord injury research. As we endure our own everyday struggles, let us remember the words of Travis Roy, "Sometimes in life you choose your challenges, other times the challenges choose you. And it's what you do in the face of those challenges that defines who you are and what you'll become."