Features
A 50-Year Journey of Journalism — Alumni Profile, Cullen Murphy '74
Although Cullen Murphy '74 is best known for his career at The Atlantic and Vanity Fair, he has also maintained strong ties to Amherst as an alum, serving, among other roles, as Chair of the Board of Trustees.
In college, when Cullen Murphy '74 worked as a bartender at reunion, he remembered thinking in amazement that the "passage of time was pretty starkly in front of my eyes." The 50th reunion class back then, he realized, would have been the class of 1924.
Although 1974 doesn't seem quite so archaic as 1924, Murphy finds himself on the opposite end of the table this year as his own 50th reunion approaches.
Nonetheless, he hasn't allowed the years to distance him from Amherst. Nor has his career in journalism prevented him from taking on important (and time-consuming) positions at the college.
Murphy currently serves on the board of The Common and was previously chair of the college's Board of Trustees as well as a board member of both the Folger Shakespeare Library and the Emily Dickinson Museum, among other commitments to Amherst.
Fifty years after being sent off into the world, Murphy has found incredible success as an editor and one of America's foremost journalistic voices. Yet, he continues to return to the college and has impacted our secluded campus with his active support of the liberal arts, perhaps just as much as his writing has made a mark on the outside world.
Growing Up in "Cartoon County"
Murphy grew up alongside seven siblings in Cos Cob, Connecticut. His father, John Cullen Murphy, was a cartoonist who drew the popular comic strip "Prince Valiant." His father's cartoonist social circles created an "unusual yet wonderful environment" for his childhood.
The artistic and unconventional atmosphere of his youth contributed to his later interest in journalism, he said, noting that his father taught him and his siblings that they could "create a way of living on our own."
The lesson was that "you don't have to be part of a company, for instance, and you don't have to be part of a profession," Murphy recalled. "It's possible to create a living in a different way."
In his recent book, "Cartoon County" — the title refers to Fairfield County, where more than a hundred cartoonists made their home — Murphy delves deeper into his father's work and the rich history of comics in the southwestern corner of Connecticut. He worked with his father and wrote "Prince Valiant" for 25 years.
Although his father did not attend college, he encouraged Murphy to apply to small liberal arts colleges like Amherst. Murphy's parents often visited New England liberal arts colleges from their Connecticut home and attended Little Three football games when they wanted a break from their children. They believed that schools like Amherst "epitomized college" and encouraged him to apply.
Murphy visited Amherst for the first time in the fall of 1969 and "immediately thought highly of the place," from the small size to the friendly people. "Those were the days when the dean of admissions actually interviewed you in person," he said, reminiscing about his interview with the legendary dean Eugene S. "Bill" Wilson.
Double Majoring
Once at Amherst, Murphy split his time between two passions: his medieval history major and his role as an editor at The Student.
"Who goes to college expecting to major in medieval history?" he asked with a self-aware chuckle. Murphy told me that he gained a love for the subject from then Professor of History Fredric Cheyette, who became a mentor to him. Cheyette was "not only deeply knowledgeable but also inspiring as a teacher, and brought a past world alive" to Murphy in a way he didn't realize was possible.
Cheyette, along with the "small faculty" of other professors in history and other disciplines who taught medieval studies, helped shape Murphy's ongoing belief that Amherst's professors are exceptionally committed to encouraging and bonding with students.
Murphy said he was somewhat prepared for his major thanks to the time he spent when he was younger living and attending school in Ireland, a country with a "rich medieval past." (Perhaps his father's comic strip, the story of an Arthurian knight, also played a role in his interest?)
However, the subject primarily appealed to him as it offered "the challenge of trying to understand a different time, a different culture, something utterly unlike the present day and yet one that has clear ties with the present day." He recalls exploring the origins of seemingly modern phenomena, like the development of universities and central governments, in the medieval world and realizing, "Oh, there's a connection between back then and now."
After Amherst, Murphy found himself working in an occupation that some might describe as the opposite of medievalism: journalism, the chronicling of current events.
He doesn't see this as a paradox, however. "They're two sides of the same coin. Journalism has many similarities to academic research, from digging around to contextualizing," he said. "The contemporary world just happens to be fresher than the medieval world by more than half a millennium, but a lot of the same skills come to bear."
Although Murphy argued that he "wouldn't have thrived in an academic setting as a professional," he values academia and has maintained his enthusiasm for ancient history over the years. He has published multiple books connecting the past to the present, including "Are We Rome? The Fall of an Empire and the Fate of America" and "God's Jury: The Inquisition and the Making of the Modern World."
While Murphy undoubtedly discovered a special interest in the field of medieval studies, he admitted that "in the social sciences and humanities, it's not necessarily about what you learn, but instead about learning how to learn." He "learned how to research, how to communicate, and acquired a basket of skills" thanks to Amherst's holistic liberal arts approach.
Murphy clarified, however, that he had another "major" at Amherst: The Student. The newspaper was published twice weekly rather than once a week when he attended college, and he devoted an even greater amount of time to the newsroom in his position as executive editor of the paper, the No. 2 position.
"Unfortunately, they don't give any course credit for working at The Amherst Student — if they did, I probably could have gotten half my college credits just from doing that," he said.
Murphy worked on The Student from almost the moment he stepped foot on campus — he covered Convocation in the first week of his freshman year — until his graduation. "It was a great way to be aware of everything that was happening, whether it was sports or demonstrations or academic policy," he told me. "And it made me realize that this was something I could do for a lifetime."
Most importantly, Murphy picked up an "appreciation for stamina" at The Student that he still holds today.
"The world doesn't give you a break, whether the world is the globe or whether the world is a campus on a hill," he said. He and his peers took their responsibility as journalists seriously and tried to hold themselves to high standards even though the newspaper was student-run. "Who at Amherst would tolerate a faculty advisor watching over the newsroom?" he said.
This sense of duty and ambition translated well to his work at much larger publications like The Atlantic.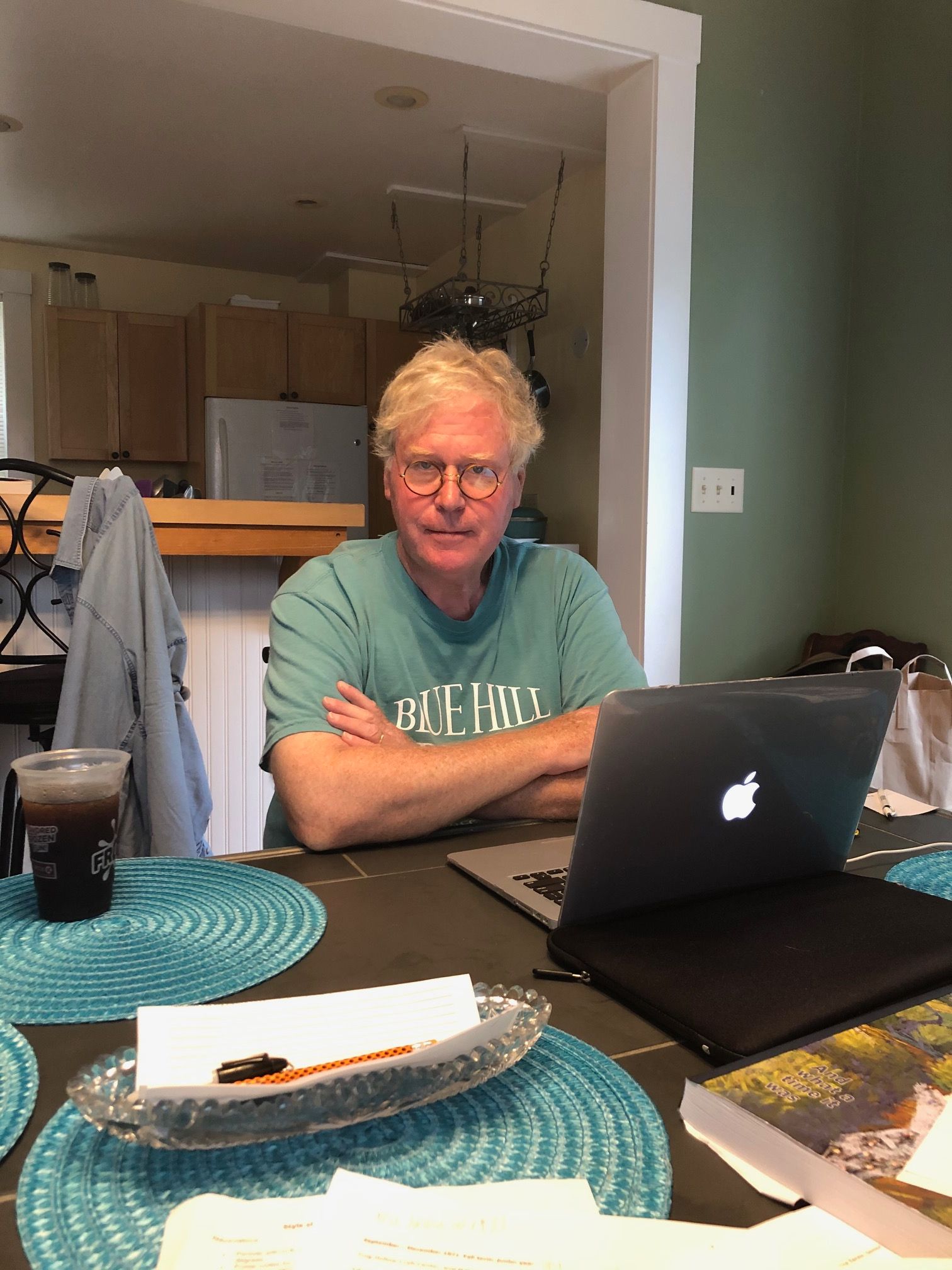 Life After Amherst
Despite going on to achieve every student journalist's dream after graduating from Amherst — he served from 1985 to 2006 as The Atlantic's managing editor, then for more than a decade as Vanity Fair's editor at large, and is now back at The Atlantic as editor at large — Murphy has never forgotten his alma mater and continues to be deeply involved with the college.
When I asked him why he returned to voluntary positions at Amherst, he responded simply, "It starts with the fact that I love the place."
He went on to talk about a "cold recognition that Amherst changed me considerably" and helped shape him into the person he is today. Murphy described Amherst as a major turning point, noting that if his life were a diagram, "there would be a straight line that goes to Amherst, and then it bends." He continued, "I'm grateful for everything that came before Amherst, but I'm also grateful for the act of bending that occurred at Amherst."
Like many other Amherst students, Murphy said, he lived in something of a "cocoon" before arriving at the college. His horizons broadened rapidly as his classmates, professors, and coursework exposed him to "different perspectives, backgrounds, and ways of thinking."
But Murphy primarily feels indebted to Amherst for its people. He remains close to a large group of friends from his college days and maintains regular contact with "20 people, at least."
With these things in mind, he has given back to the college by offering his time and expertise in a number of ways. He served as a trustee for 18 years, six of them as chair of the Board of Trustees (from 2012 to 2018).
Murphy praised Amherst for providing alumni with an abundance of opportunities to stay connected. "There are so many great ways to be involved at Amherst as an alum," he said. "So many possible outlets for your talents, your interests, and your commitment."
Murphy also gave his time to the boards of the Folger Shakespeare Library and the Emily Dickinson Museum, which he together described as a "treasure for a small liberal arts college." Thanks to these two institutions, he said, Amherst has "perhaps the greatest American poet right down the street, and then probably the greatest poet in the English language on Capitol Hill."
Currently, Murphy is an emeritus board member at The Common. He has been involved with the literary magazine's annual book festival, LitFest, helping to recruit speakers for the event. He works mainly from his home outside Boston, where he lives with his wife of 44 years, Anna Marie Torres Murphy, who is also an editor. They have three children.
Thinking back on Amherst's evolution over the decades, Murphy applauded the college for implementing major changes since his graduation, from increased diversity to an even greater commitment to financial aid. Nonetheless, he stressed that many of Amherst's strengths and commitments remain unchanged.
"You have small classes and relationships with your teachers that are unlike any relationships with teachers you've had before or that you would ever have at a larger institution," he said. "These teaching and learning relationships are lifelong. And what you're being taught is not some narrow subject matter, but rather, a way to approach problems by thinking critically."
"I'm proud of the direction that Amherst has gone," he added. "But something that I think is not always appreciated are the ways in which Amherst remains the same."