Arts & Living
Amherst Symphony Orchestra and Choir Pay Tribute to Bernstein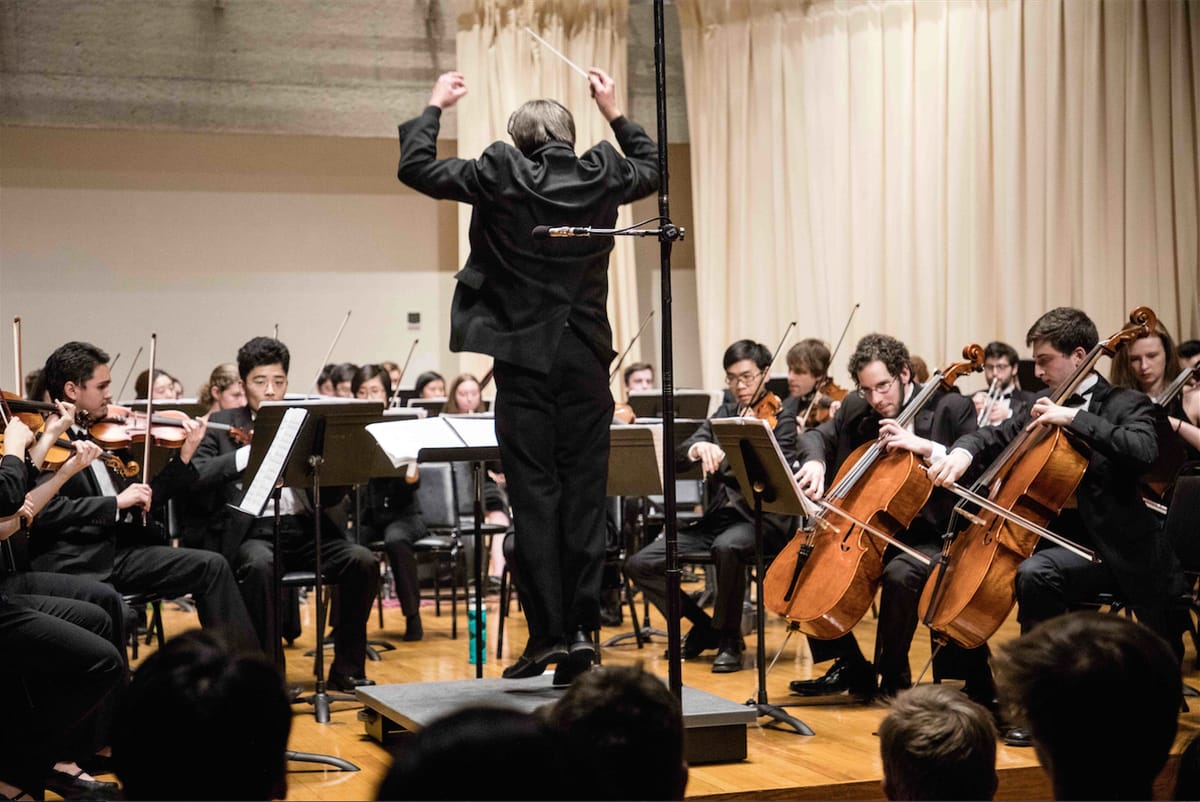 Classical music concerts often seem inaccessible to those who haven't spent many evenings discussing Mozart, and wine-and-cheese pairings are often considered boring. However, the Centennial Tribute to Leonard Bernstein on Saturday, March 3, was utterly different. The Amherst College Choral Society and the Amherst College Symphony Orchestra joined forces, along with guest soloist Wee Kiat Chia, to perform some of Bernstein's most famous pieces.
During the first half of the concert, the orchestra performed "Symphonic Dances" from "West Side Story," one of Bernstein's most famous musicals. "Symphonic Dances" features many of the well-known songs from the musical, which were then masterfully rearranged to become a new piece altogether.
This beautifully-performed piece was alternatively upbeat, happy, sweet, melancholy and triumphant. The original songs from the musical came together seamlessly, yet still retained many of their unique qualities. The music was simply enjoyable, and the fact that this piece was based on such a popular piece of art provided another level of accessibility to those who had not studied classical music, such as myself.
The house itself was packed for the performance, with some even spilling into a previously closed-off area. Sabrina Lin '21, a violinist in the orchestra, said, "It's been one of my favorite concerts — preparing is always a little stressful… but seeing the full house that night was worth it."
After intermission, the choral society joined in on the fun, with several of the musicians in the orchestra joining the choir in the balcony above. Choral director Dr. Gregory Brown then conducted a performance of the "Chichester Psalms," a series of three pieces, each comprised of partial and whole psalms, sung in Hebrew and set to music by Bernstein.
It was exciting to hear the orchestra and choir work together, and Lin attested to the exciting nature of the collaboration. "I loved being able to work with the choir and soloist, even as a performer, hearing our instrumental music meld with the vocal melodies gave me chills," she said.
Chia, the guest soloist, is a countertenor who has performed and won awards worldwide. Currently, he is pursuing his doctoral degree at Boston University. His performance with the orchestra was beautiful and truly impressive, with his voice capturing lovely melodies and the audience cheering loudly for him as he bowed at the end.
Altogether, the evening featured a range of musical styles and performances. This variety is lovely to have, especially in a college performance, where students are exposed to several different kinds of music that all fall under the umbrella of "classical."