Sports
Amherst Tops Williams in the Mount Holyoke Invitational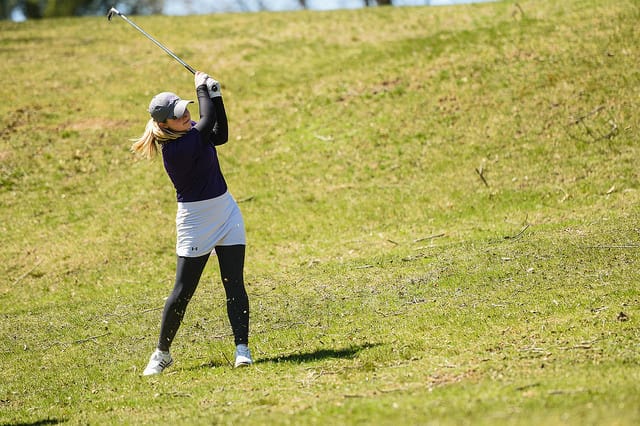 The Amherst women's golf team continued to dominate this weekend, winning the 17-team Mount Holyoke Invitational on Sunday at The Orchards Golf Club in Hadley, Massachusetts. This makes two consecutive victories to open the season for the Mammoths, who won the Ann S. Batchelder Invitational in convincing fashion the previous weekend.
The tournament was very competitive, and after Saturday's opening round, the top-four teams were separated by just nine strokes. Amherst sat in first after combining to shoot a 313 on Saturday, holding a mere three-stroke lead over rival Williams (316), which in turn was followed closely by both New York University (NYU) (317) and Middlebury (322).
The Mammoths' Saturday lead was the result of strong rounds from up and down the lineup. Leading the way for the second straight week was Morgan Yurosek '20, who shot a 76 in the opening round. Isabelle Ouyang '21 sat one stroke behind with a 77, and Lily Worden '21 shot a 79. This trio of scores were good enough for Yurosek, Ouyang and Worden to individaully place in the top-10 headed into Sunday. The three top Mammoths were followed closely by Emily Young '20 and India Gaume '22, who sat in 19th and 24th, respectively.
Amherst opened Sunday play clinging to a three-stroke lead, and after 18 holes of play, the margin remained the exact same, with the Mammoths outlasting the Ephs to win 619 strokes to 622. Williams stepped up its play on day two to shoot a 306, but Amherst stayed right in stride with its archrival and shot a matching 306 to maintain the lead.
The Williams charge was led by Cordelia Chan, who shot a tournament-low 67 on Sunday. Her efforts would be erased, however, by an impressively consistent Amherst team, with all five Mammoths golfers finishing in the top 25 of a tournament that saw 99 golfers tee off this weekend. Yurosek shot an even-par 72 to finish second overall behind Chan, after finishing in first place last weekend. Gaume showed maturity beyond her years, rallying to shoot a 75 on Sunday, while Worden showcased her steady play by shooting a 78 to finish tied for ninth overall with Gaume. Ouyang and Young shot 85 and 81 respectively on Sunday to tied for 23rd place overall.
NYU held on to place third with a score of 628, while Wellesley College took fourth with a score of 639. Amherst also had the satisfaction of topping NESCAC opponents Middlebury (fifth), Hamilton (sixth), Bowdoin (14th) and Trinity (15th).
Amherst also received several great performances outside of its five scoring golfers. Jessica Jeong '20 shot an 81-76-157 and finished tied with Worden and Guame for ninth, while Katie Rosenberg '19 shot an 82-80-162 to again tie with Amherst teammates — this time Ouyang and Young — in 23rd. Katie Mina Lee '22 shot an 83-80-163 mark to claim 29th, while the senior duo of Kate Weiss and Maggie Schoeller finished in 30th and 49th, respectively.
Amherst will have to fend off the Ephs again this coming weekend, when the Mammoths travel west to participate in the Williams College Fall Invitational on Saturday, Sept. 29 and Sunday, Sept. 30.