Sports
Amherst Women's Basketball Making the Most of Time Off the Court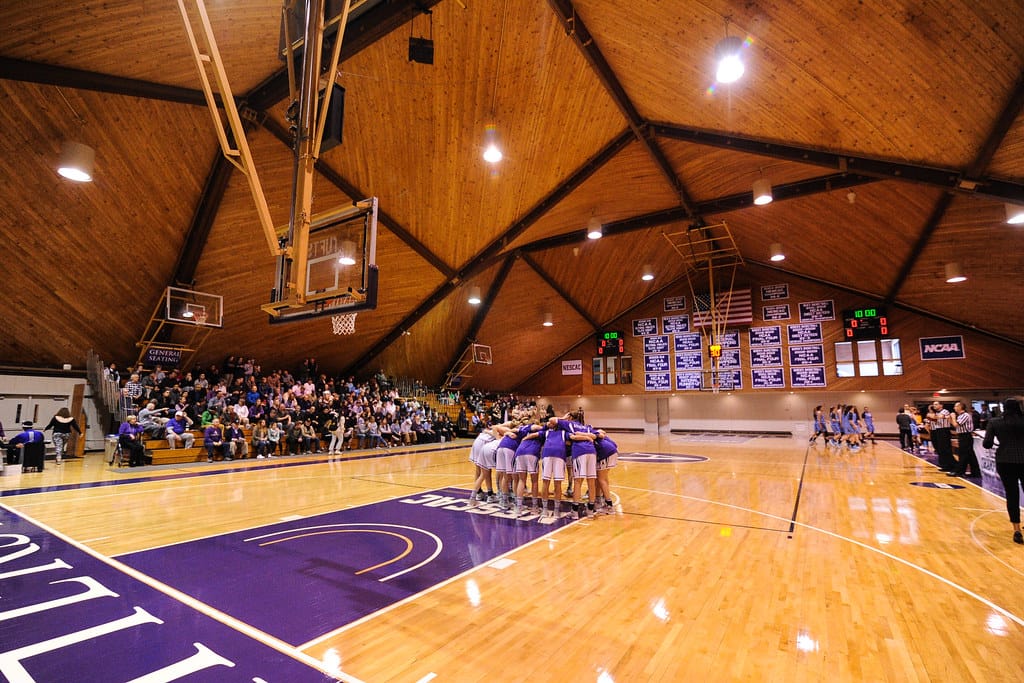 The Amherst athletic program is a major player within the realm of Division III sports. In particular, the women's basketball team has shined greatly over the past ten years, winning national championships in 2017 and 2018 and making the Sweet Sixteen of the NCAA tournament the last two years.

Unfortunately, the Covid-19 pandemic halted their national championship dreams in the 2019-2020 season. The news was especially frustrating because the team had begun to hit its stride winning by 15 points or more in their first two NCAA tournament games, even after a loss in the NESCAC Semifinals to Bowdoin College.

The 2020-2021 Amherst women's basketball team also had their season canceled due to Covid concerns and will have a very different roster coming into their next playable season. Leading scorers Hannah Fox '20 and Madie Eck '20, as well as sharpshooter Cam Hendricks '20 have all graduated from Amherst, which leaves great opportunities for other players to contribute more.

Kate Sullivan '21 has now assumed the role as captain for this season and has made a major impact on the players. According to shooting guard Lauren Pelosi '22, Sullivan has been taking the lead in major fundraising events. She even helped a major NESCAC rival, Bowdoin, who is dealing with a player afflicted with cancer in their program. She displayed her great leadership by developing a research fund to generate money for Bowdoin and rallied the Mammoths to sign a card and send flowers to show their support for Bowdoin community.

Sullivan has continued to keep regular contact with the players, checking in about basketball and non-basketball related issues. She expresses the need to stay involved especially during the first semester when first-year students first get acclimated to the team. In these precarious times, Sullivan has recognized the need to give players their "space," but she has also seen the importance of organizing team events like trivia nights or Super Bowl gatherings.

Sullivan stressed the importance of creating the right atmosphere for the juniors to take over and the first-years to feel secure. She noted how it was important to "put the effort in to make sure the first-years especially got to know me enough to be comfortable".

Despite being the only member of the class of 2021 on the team and struggling with finding her role during her first couple of years playing, the opportunity to be selected captain proved that all the "emotional, physical and mental" work she has endured was worth it, she said. She remarked on the fact that being selected a captain was "going to be a difficult responsibility to take on … especially considering how stressful the year has been"

With Sullivan graduating this spring, there is a glance towards the future captains of the team. Pelosi, as well as Jade DuVal '22, described the captain selection process as uncertain at the moment and are excited to see who Head Coach G.P. Gromacki chooses to lead this team in the 2021-2022 season.

Beyond captain selection, other questions still lingered for the team amid their canceled season. How would they stay connected to their teammates and coaches? Where can they train for basketball? What new hobbies can they do?

The players seem to have found certain ways to answer these looming questions. To stay connected, DuVal and Pelosi noted the interactions in team-wide Zoom meetings and more personal calls between a small group of players. They noted that the zoom meetings were "meetings where we (the players) talked about basketball and non-basketball related stuff."

Some players are picking up new hobbies such as cooking, reading or making online reflections about the pandemic. Others have been working jobs and enjoying more time with their family, making the most out of this difficult situation for any college student.

As for taking up new hobbies, Kailyn Shepard '23 created her own small business that sells rings. DuVal, Olivia Pachla '23 and some members of the team helped out their local basketball teams in their neighborhoods. Also, Pachla recently got a dog in order to make things more enjoyable and exciting around the house. These players have found ways to cope with all the uncertainty.

This semester, five of the players will be on campus taking classes, working out in an individual setting with their coaches once they get clearance to do so and will be engaging in strength training exercises a few days during the week. The players that are on campus will get the opportunity to work with their coach and be able to actually just see Amherst again.

Pelosi explained that the players on campus will be "participating in strength and conditioning on campus" once they are cleared to do so with Coach Chris Boyko. Pelosi remarked on this team's toughness explaining how she "is impressed with this team's resilience" and she is excited for whatever comes next during this "unique season".

Furthermore, three of the players are spending the semester in Charleston, South Carolina doing the same sort of protocols of taking classes, exploring new hobbies and working out. Pachla is especially thrilled: "I am excited to be back with my teammates as it has been almost a year since I last saw them." The remaining are studying and working from home as they prepare for normal to be back again.

Despite the setbacks, Amherst women's basketball is still preparing for a comeback once it is safe again. This offseason may have lasted longer than usual, but they aim to be back stronger than ever and build on last year's success.