commencement
Anna Smith: An Archivist's Journey Through Amherst
Through exploring the Amherst archives, Anna Smith has uncovered Amherst's deep rooted connection with slavery.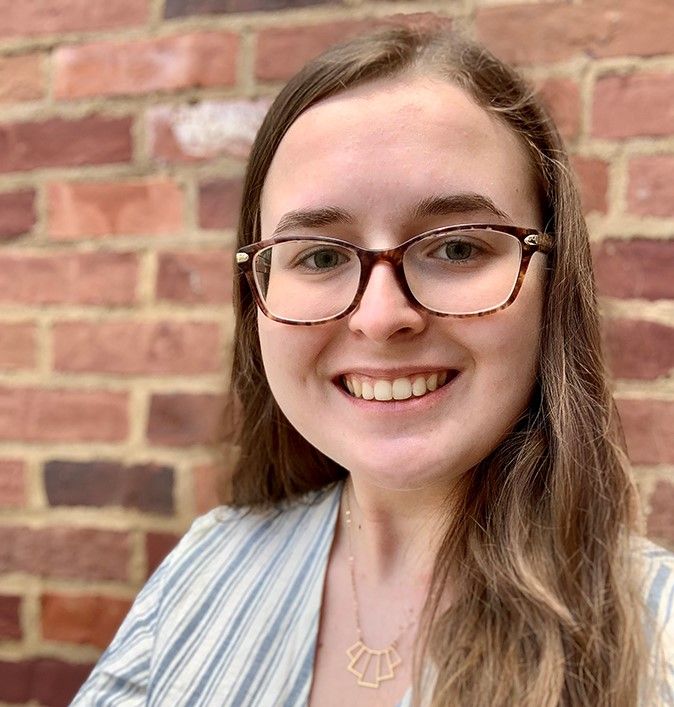 I was introduced to Anna Smith '22 when I first got involved as a writer and designer for The Student during my first semester at Amherst. As a member of the newspaper during her four years at the college, her dedication to the publication earned her the role of managing design editor in her junior year.
I got to know Smith through the late hours we would spend together in the newsroom. She was my mentor, guiding me through The Student's strict style guide with patience and ease. When the workload lessened, I would watch her click through documents on her computer. As I spent more time with her over the course of the semester, I became more and more intrigued by her work.
But, when I asked what she was working on, her reply was often just "thesis research." I didn't know it then because of Smith's humble reply, but the work she was doing would change the historical perception of Amherst College.
To this day, I regret not pressing Smith on the particular documents she was looking at or even on her thesis topic.
While Smith's meek and mild persona may make her appear shy, her accomplishments during her four years at Amherst have made a bold impact. "I think we have to say something about that quiet passion," said Mike Kelly, head of Archives & Special Collections.
Throughout her time at Amherst, Smith solidified her role as an attentive American studies major, led research as an assistant for the Archives & Special Collections' Racial History of Amherst project, and worked as an intern to plan the college's Bicentennial, where she created a timeline of the college's history. Ultimately, her research culminated in a thesis on Amherst's connection to slavery by way of its founders. In many ways, Smith's work contributes to the broader campus and community conversation about the college's multifaceted history.
American Studies Major in the Making  
Originally hailing from Rock Hill, South Carolina, Smith is a QuestBridge Scholar who applied Regular Decision to Amherst because when she first saw the photo of Memorial Hill she "thought it was the prettiest thing ever."
Smith attended York Preparatory Academy, a small underfunded public charter high school, where she received a broad historical education that included Modern World History and AP U.S. History. Even before coming to Amherst, Smith knew she wanted to do something with history, specifically with U.S. history.
Her choice to major in American studies was influenced by her childhood in South Carolina. Smith cites being from the South, which is "enmeshed in the history of enslavement," as a key motivator in declaring her major. Smith recalls visiting plantations for field trips in South Carolina and realizing that she "didn't want to keep studying the great white men of America."
During her first semester at the college, she took "Global Valley," an introductory American studies course with Karen Sanchez-Eppler, L. Stanton Williams 1941 professor of American studies and English. Even as a first-year, Smith's passion for the course material and its implications was apparent. "From that first fall, in her first year at Amherst, [she] was an extraordinarily inventive and tenacious researcher, and had a real interest in history and how it's told," Sanchez-Eppler said.
While Smith received a taste of what American studies had to offer through courses like these, the #ReclaimAmherst initiative her sophomore year was what sparked her interest in Amherst's connection to slavery. Finding out about the college's unexpected connection to slavery via the initiative prompted her to seek further knowledge on the subject.
Investigating Amherst's Racial History Through the Archives
Smith deepened and expanded her knowledge of American studies by joining the Archives & Special Collections team during her sophomore year. Smith attributes her initial curiosity in the archives to the job research she was forced to do in high school and her love for books and history. Later, these interests manifested into a deep desire to reimagine the archive industry. "I came to care less about old love letters and tooled bindings and marbled endpapers — but I still get butterflies holding a book from the 16th century — and instead came to question the representation and description of materials: how archives are made inaccessible and are rooted in white supremacy. Now, I am more focused on reparative description efforts, ensuring accessibility, and thinking about how to change collection development practices."
As a hired research assistant, she accessed and recorded forgotten archival records. Smith's dedication to her archival work did not wane during the height of the pandemic — while at home in South Carolina, she transcribed oral histories of professors and trustees.  
Like most researchers first starting out in Archives & Special Collections, Smith worked on transcribing records and categorizing material. Later, her work advanced, and she was assigned more responsibilities, including "a big collection of artist books," materials that are typically only handled by "professional archivist[s]," according to Kelly.
Kelly remarked that Smith has an "archival brain." "I think there are some people who just have a knack for public history, and I think she's one of them." Kelly credits Smith's ability to articulate archival records and eloquently express their importance as a principal component of her successes. "What's not immediately obvious from the archival record, she's able to pull out and communicate in a meaningful and engaging way."
Examining racial history also led Smith to participate in initiatives outside of the college. The town's reparations efforts were of particular interest to Smith. Beginning in Spring 2021, Smith became an affiliate of the Reparations for Amherst effort, her task was to "communicate the history of the college a little more and how the college has been involved with disparities in the community."
Her work with the community's reparations endeavors led to her being awarded the Engage Research Program fund, with which she was able to travel to Mississippi and Louisiana to further her thesis research this past summer. Her expedition led her to Jackson, Mississippi where she explored the state archives and the Mississippi Civil Right Museum. As she made her way to Louisiana, Smith observed the Whitney Museum, one of the only museums that exclusively focuses on the enslavement of Black persons. "The work she has done is amazing. She's done professional-grade research," Kelly said.
In Spring 2021, Smith found similar success as the lead research assistant for the Racial History of Amherst project where she was a part of one of the first cohorts of research assistants hired for the newfound project. This project allowed her to write and publish a series of four blog posts chronicling her research into the history of race and racism at Amherst, relating it to what she found in Mississippi and Louisiana. In this way, the intended purpose of her travels expanded far beyond the outreaches of her thesis and expanded to other areas of importance.
"I just really wanted people to know this history," Smith said. "I just thought, 'How can [people] walk around this campus and not know and have this one relationship with campus when its entire existence was predicated [on] the abuse of Black labor?'"
Arguably, Smith's most significant accomplishment is her 140-page thesis, titled "Towards Reparative Justice: Amherst College and Interpretations of Slavery in Museums and Archives, North and South," which addresses Amherst's connection to slavery through one of the institution's founders and original charters, Israel Trask.
She uses Trask as a lens to view the varying interpretations of slavery in archives and museums. Smith explained, "One of the reasons that Amherst hasn't been as forward with exploring its ties to slavery is because, of course, we were established in 1821. And a lot of people place the end of slavery in Massachusetts in 1780, so they think that there couldn't possibly be a connection. But Trask has the deepest and most clear connection because he went to Mississippi [to start] plantations."
Smith's thesis spans far beyond the Amherst College campus: Her thesis also works to understand the ongoing conversation about the false neutrality of museums and archives. "I am so proud of having been part of this project because it's important," Kelly said.
Sanchez-Eppler, Smith's thesis advisor, described her as "a very graceful and luminous writer" when dealing with sensitive and traumatic subjects. "I think her very meticulous, precise work has been a great boon to the archives too. What's really remarkable about Anna and about this project is that she is so good at asking the really big questions, so good at comparing things that you wouldn't think of putting next to each other together. So there's a lot of imagination and visioning in her work," she said.
"She's a great writer and particularly really talented at writing things for a general readership. I think there are certainly little bits of this project that are arcanely about archival methods and how things are cataloged. She's really good at pulling up contradictions and writing sentences that have great surprise turns at the end, where hypocrisies or the things that are wrong click into place with the last phrase," Sanchez-Eppler added.
Smith was honored for her exemplary work on her thesis at the Senior Assembly on May 13, where she was awarded the Doshisha American Studies Prize, given to the thesis judged most likely to "stimulate interest in and understanding of America overseas."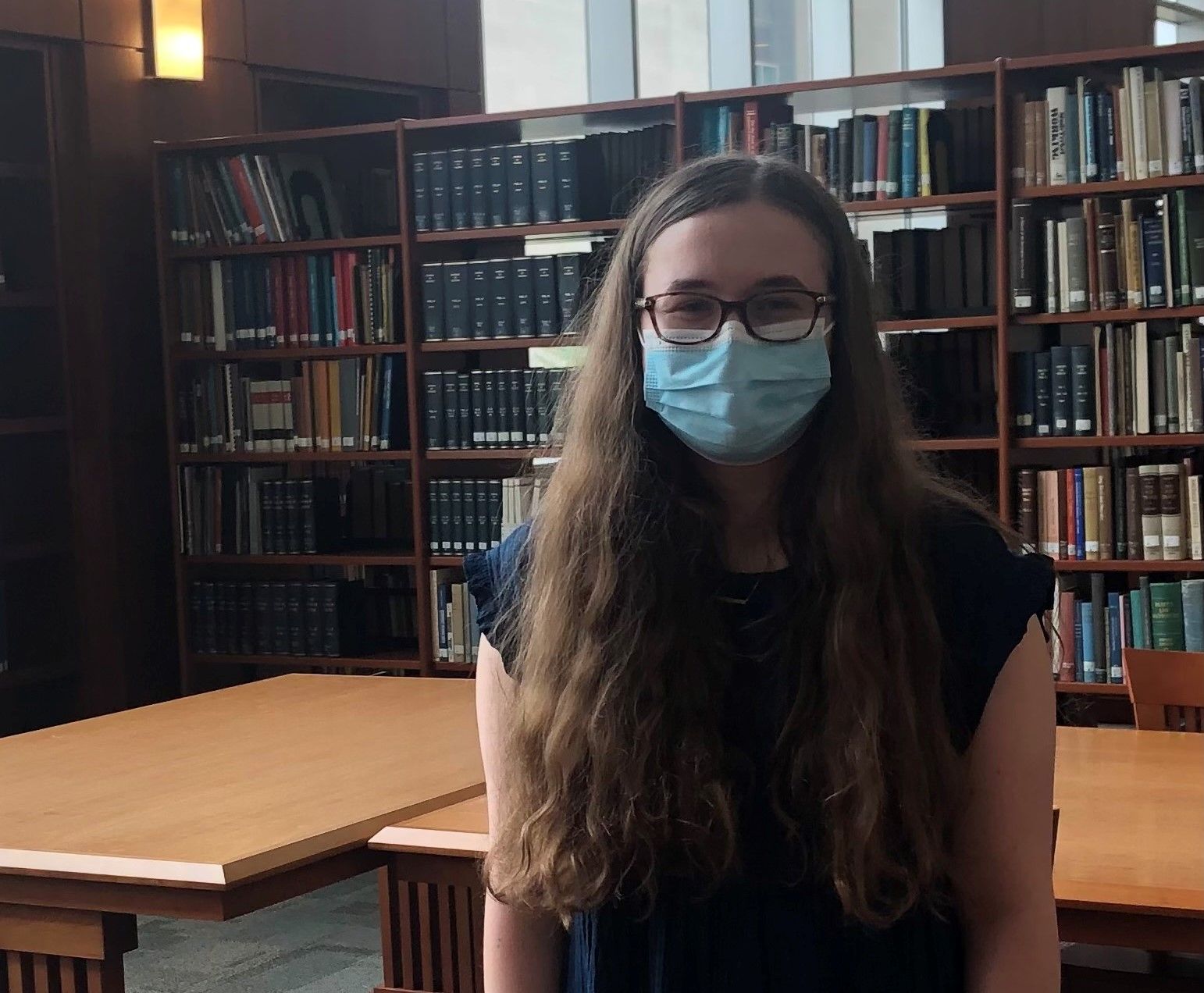 After Amherst
Although Smith has a slew of accomplishments, she is ever cognizant of the trailblazers that led to her thesis pursuits. "I just want to make sure I give credit to the BSU [Black Students Union], especially for starting this work with #ReclaimAmherst. Because without that, I probably wouldn't have started down this path. [I would also like to acknowledge] all the campus organizations that have campaigned for so long to improve their experiences. Of course, I am a white person attending a PWI [predominantly white institution], so my experience is very different from many students. Also [I think it's important to recognize] the people Trask enslaved. It's easy to say his name and not their names — the [enslaved persons] that he brought to Massachusetts were Caesar, Spencer, [and] Mary Sly."
This attitude has Kelly convinced that Smith's thesis has a larger destiny. "I kept joking with her about a student, Debby Applegate ['89], who graduated back in the '80s. She started off doing a senior thesis on Henry Ward Beecher, and after she graduated, she turned that into a published book, and she won the Pulitzer Prize. So I've joked with Anna like, 'No pressure, but I think we have a Debby Applegate situation here,'" he said.
In response, Smith said: "I definitely want to do more with [my thesis] — I said from the start that I didn't just want my thesis to sit on a shelf, that I wanted the work that I did to matter in some way. Whether that's a book or just helping to set the stage for the next generation of Amherst students campaigning for change, I'm not sure."
While Smith isn't sure you'll see her book anytime soon, she does have other plans for her future. Upon Smith's graduation, she plans to take a gap year before attending graduate school. During her sabbatical, she intends to gain experience in other archives. Though she is uncertain of where she will go at the moment, she has applied for several archival positions in New England. The aspiring archivist then wants to go to library school at Simmons University or University of Texas Austin, where she will earn a master's in library science.
"The museum and library and archive worlds need her," Kelly said.