Arts & Living
Ariana Grande is Unapologetic in New Album "thank u, next"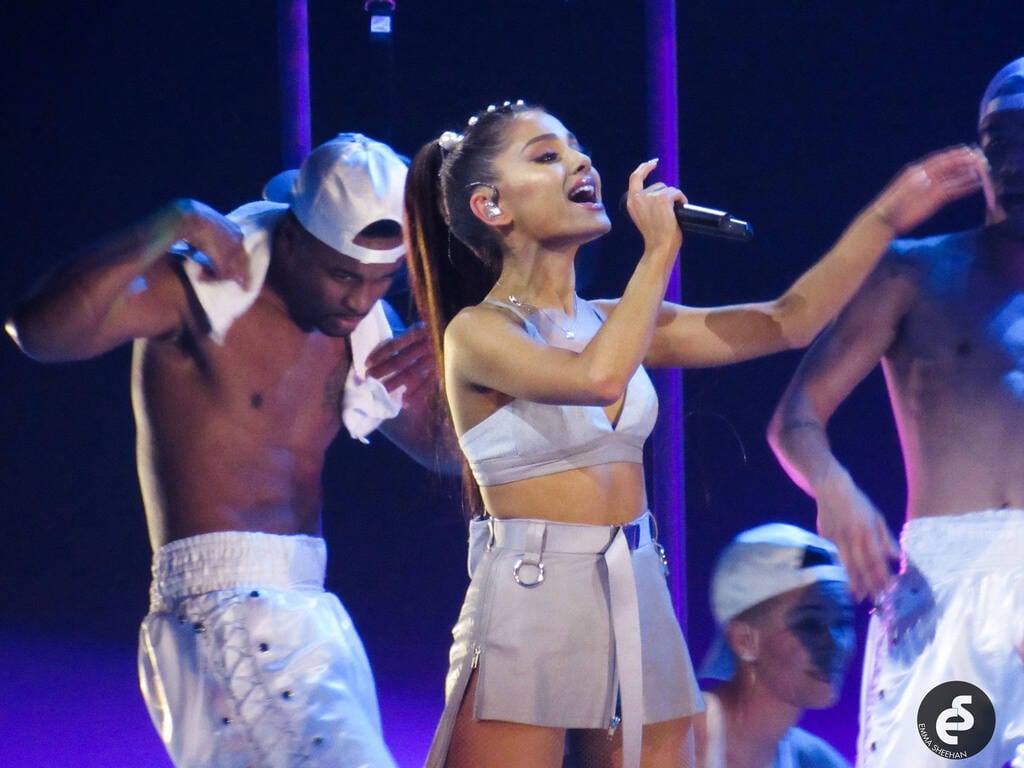 While accepting her award for Billboard Woman of the Year on Dec. 6, 2018, Ariana Grande remarked that "[she] find[s] it interesting that this has been one of the best years of [her] career and the worst of [her] life."
Undoubtedly, she has dealt with an insurmountable amount of pain — suffering post-traumatic stress disorder after the bombing at her Manchester concert in May 2017 killed 22 people, ending her relationship with rapper Mac Miller after his continued struggle with substance abuse, announcing a sudden engagement with comedian Pete Davidson, grieving when Miller unexpectedly died of an overdose in September 2018 and ending her engagement with Davidson soon after — all over the span of a year and a half. While Grande is undoubtedly a talented vocalist, her fourth album, "Sweetener," dealt with her pain with a level of intimacy that her first three albums did not. Her newest album, "thank u next," released on Feb. 8, is a reminder that Grande is continuing to suffer and grieve and finding ways to live with her pain through self-care.
The songs of "thank u, next" deepen the intimacy of "Sweetener," and Grande has made it a point to keep her listeners in the loop. In the weeks leading up to the release of her album, she tweeted back at fans who wanted to know more about the songs. When asked about "ghostin," perhaps the most emotional track on the album, Grande replied that the song is about "feeling badly for the person you're with bc you love somebody else. feeling badly bc he can tell he can't compare…" Critics and fans speculate that it's an exploration of her feelings for Davidson after Miller's death and part of an explanation for their eventual breakup. She also tweeted that "in my head," another heartbreaking track, is about "being in love w a version of somebody you've created in your head. falling for someone that they are not."
"thank u, next" opens with its promotional single "imagine." In the romantic ballad, Grande asks her listeners to "imagine" a love "like the movies."
"We could light up 'til I'm 'sleep on your chest / Love how my face fits so good in your neck," she sings. The next song, "needy," marks a sharp shift in mood as Grande admits that she can be needy and obsessive in her relationships. "I've been on a roller coaster / tryna get a hold of my emotions," she confesses. Following "needy," "NASA" opens with echoey, galactic tones and a voice feature from Shangela, a former contestant on "RuPaul's Drag Race" who spins the famous Neil Armstrong quote into "this is one small step for woman, one giant leap for womankind." "NASA" shows yet another abrupt change in mood as this time, Grande pleads for space, emphasizing "I'd rather be alone tonight / You can say 'I love you' through the phone tonight." One of the most triumphant and upbeat songs of the album, Grande tells us that self-discovery is crucial and that there "ain't nothing wrong with saying I need me time."
While her unapologetic tone makes for incredible anthems about loving yourself, there were admittedly some mishaps with the release of "7 rings," the second single of the album, on Jan. 18. "7 rings" is arguably one of the lesser developed tracks of "thank u, next." Although the song features catchy, Instagram caption-worthy lines like "Wearing a ring, but ain't gon' be no 'Mrs.' / Bought matching diamonds for six of my bitches," its overall message that money is happiness seems to outweigh its impact as a friendship anthem.
To celebrate the release of her single, Grande got a tattoo which she thought read "7 rings" in Japanese kanji symbols. However, as many quickly pointed out, her tattoo cut out three of the necessary characters, which changed the meaning from "7 rings" to "Japanese BBQ grill." Grande then attempted to fix the mistake, posting a screenshot of a text conversation between her and her Japanese tutor, who told her to add one more kanji between and above the characters. Unfortunately, Grande failed to follow her tutor's exact instructions and instead accidentally updated her tattoo to read "Japanese BBQ finger."
Of course, her mistake could be seen as harmless, but the very decision to involve Japanese in "7 rings" is questionable. The music video for "7 rings" opens with the title of the song displayed in English, then underneath it, in Japanese. At the beginning of the video, we are shown images of cat and bunny figurines and alcohol bottles with Japanese writing on them. Later on in the video, Japanese characters that read "7" make a brief appearance during a dance break. But why do these references exist, considering that the lyrics of the song do not have any connection with Japanese language or culture? It seems like "7 rings" uses Japanese as an aesthetic — an unfortunate symptom of a greater trend in popular music of using Asian languages and cultures as meaningless references.
Adding to the song's controversy, Grande reposted a fan's Instagram story which quoted one of the lines of "7 rings," "You like my hair? Gee, thanks, just bought it," and claimed that "white women talking about their weaves is how we're gonna solve racism." After backlash, Grande clarified, explaining that she thought her fan's intention was to point out that the line helped combat the negative stereotypes often associated with the word "weave." As much as Grande's message is one of female empowerment, the aftermath of "7 rings" reminds us that there are still many underlying intersectional identities within this broad category of "female power."
Unfortunate incidents aside, "thank u, next" is an incredible follow-up to "Sweetener." It is an album that is unapologetically direct. She tells her lover that she does not want him in her "bloodline," singing "I know what you need but it won't be me." With the release of her album, Grande also released the music video for its final track, "break up with your girlfriend, i'm bored." The video follows Grande entering a crowded party and spotting a guy (Charles Melton), only to discover that he has a girlfriend (Ariel Yasmine), who looks eerily like the mirror image of Grande herself. Grande spends the rest of the video attempting to steal him away, singing "you could say I'm hatin' if you want to / But I only hate on her 'cause I want you." However, the video ends with Grande pushing the guy away and appearing to lean forward to kiss the girlfriend instead.
Some interpreted the video's ending as Grande choosing to be with the girl instead of the guy, but as many fans pointed out similarities in the girlfriend's and Grande's appearances (the video even showing alternating scenes of their faces reflected in a mirror), it seems plausible that the girlfriend Grande refers to throughout the song is actually herself, the message being that she wants to break up with her boyfriend in order to love herself. This twist would be a fitting end to an album like "thank u, next." In the title track, after listing all of her exes, Grande tells us she met someone else — only to reassure us that someone is herself, and that she's learning and growing from self-care. "thank u, next" is an album that shows us Ariana Grande is not done with her evolution as an artist, and most importantly, one which champions the power of self-love.