Sports
Athlete Spotlight: An Interview With Sydney Bluestein '25
Sydney Bluestein '25 discusses her national success as a DIII diver with Managing Sports Editor Hedi Skali '25.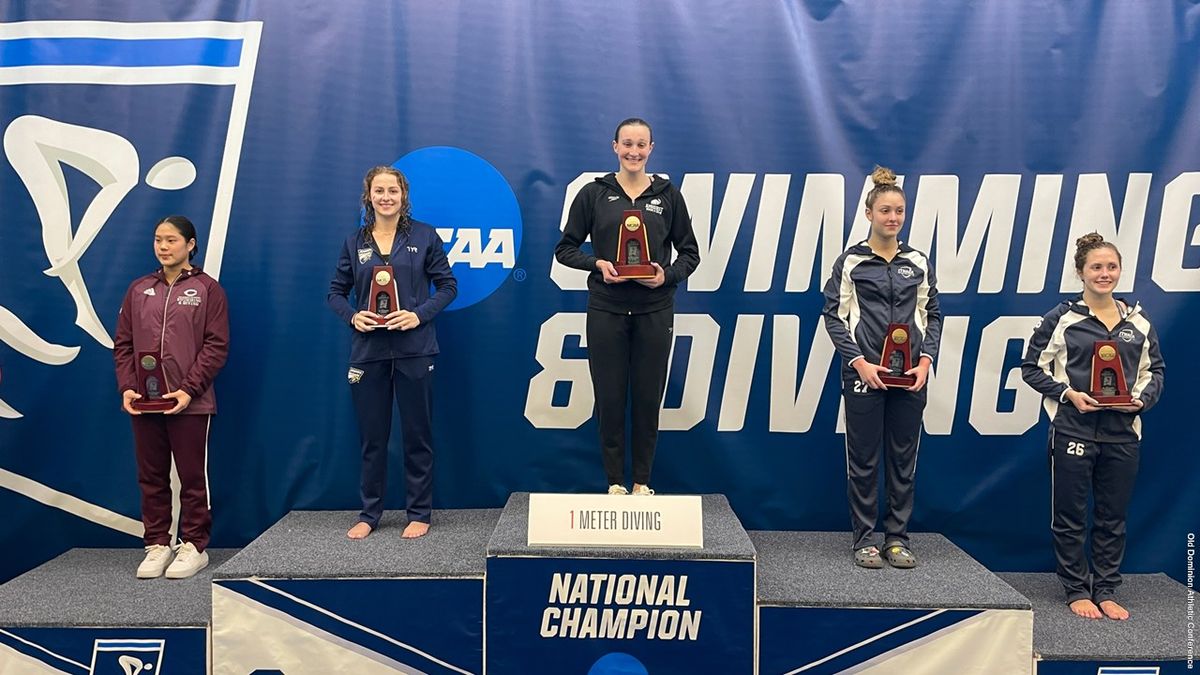 Q: Sydney, this is only your second year here on the diving team. Talk to us about how you got here, and what it's been like.
A: So I went to Deerfield Academy, which is only 20 minutes from here. Amherst really wasn't on my radar until really late in the game, only because the recruiting process as a class of 2021 member was really hard with COVID. So I really wasn't paying attention to Amherst, and then one of the captains at the time, Bobby Meyer, reached out to me and asked if I was still interested. Kai Robinson, the diving coach here at Amherst, had coached me at Deerfield during an extracurricular thing where I needed a coach, so I was familiar with him. And then Nick Nichols, the Amherst swim coach — his wife taught at Deerfield when I was there. So it felt like the stars were kind of aligning, and honestly, I ended up committing to Amherst without knowing anything about the school. I'd stepped on campus once. I didn't really know what I was getting myself into. During senior year of high school, people would often ask me: are you excited to go to Amherst? I would say, yeah, but I didn't really know anything about the school. I had no idea what I wanted to do. And I thought I had wanted to go to, like, a bigger school that had a D1 program. And I'm so glad that I didn't. I've loved it here. It's been great to be a part of the team. Nick is truly the best thing that's ever happened to Amherst Swimming. He is so kind and helpful and he would do anything for his athletes and I've loved getting to be on his team. And then Kai too, they're very different people, so Nick's more like my dad and Kai is kind of like a brother — obviously I still really value his input, but Nick has really made such a big difference in my life. And especially since there's only four drivers at Amherst, it's a really small and tight knit squad. We're very close, we spend a lot of time together, and I've loved being a part of that as well. But we also get support from the swimmers. So it's kind of like, we have a tight knit group, and then we're also a part of something much bigger. And the men's and women's swim team are very close, because they practice together.
Q: You briefly mentioned what it's like to be a diver compared to being a swimmer. I think a lot of people at Amherst don't really know that there are only four divers. So, maybe talk to us about the tight knit community of divers, and your relationship with the swim team.
Our pool at Amherst is the smallest in the NESCAC. So we don't really have the facilities to practice all together at the same time. So the divers have to practice separately from the swimmers. We practice late every night after there's already been two to three swim practices a day. So, it's just four of us [divers]. The pool is quiet so I could easily see it becoming a time where we mope and kind of have a bad attitude. But you know, Nick, after being at the pool all day, he stays to kind of like cheer after the divers and like he'll either workout upstairs and cheer us along, or just kind of be on deck with us, and you wouldn't see that from any other swim coach anywhere like all throughout high school. The swim coaches usually did not care about the divers, unless we were scoring points. But Nick cares about us, as people, as athletes and is our biggest advocate, which means so much to us. So there's Donna, who's a freshman this year, who traveled with me to nationals, and had a great debut season. And then Olivia is another sophomore on the team. And then our captain Hannah Elisa, who is a senior this year and traveled with us to regionals, is just the most uplifting person. She could be having the worst day in the world and we're at practice and she's still hyping us up even though she has nothing left to give. So I'm really grateful to have the support from the diving teammates especially since they know what's going on. The swimmers are also supportive, it's just they don't understand diving — it's a very, very different sport. Diving and swimming are very different in terms of the mental and physical aspects. Swimming is very, it's a very physically demanding sport that is really challenging. The practices are long, they're hard. Diving is much more mental. There's been times in my life when I haven't been able to do a dive for a year straight because I'm just in my head and I can't get myself to leave the board.
Q: Now that we've gotten the context out of the way, talk to us about this season. What led up to you winning the NCAA Championship?
A: Last season, I was out until January because I had hernia surgery. So, honestly, at the start of the year I was like, I just want to get through the season and be healthy and make it through every week. Accomplishing that was already exciting. I started off the first meet of the season with some new dives so that was exciting, and I was nervous about how those were going to go in competition but the first competition ended up going pretty well. To get to regionals you need two scores from two different meets. I got those the first two weeks of the season and I was like alright, pressure's off. But of course, I still get nervous before competitions, that was still a whole thing. So, I had some meets in there where I did not perform well, and I was disappointed in myself. For example, the meet before NESCACs at Springfield College, it went terribly, it was not good. I was not confident going into NESCACs. Then I got there, [and] it almost felt like automatic, you know, all the training kind of put me in the place I needed to be. I had an overall pretty consistent, good meet, which was really exciting. And all my teammates were there, and there were some great swims. And the atmosphere is just really exciting at NESCACs, you know, everyone's cheering so loudly — it's the first really big meeting season. Going into regionals, I just needed to get the job done, I needed to qualify for nationals. It didn't have to be pretty, and it really was not pretty. But I got the job done. And then going into nationals, my goal really was to final in three meter because I didn't last year. But for one meter, I snuck into a final and ended up seventh after finals. So I really wanted to redeem myself in the three meter. Once again, I had a terrible prelim[inary round] and missed two dives pretty badly, but ended up making it into the final which was exciting. I do a lot harder dives up in three meter, where I have a lot more room for error. So one meter is kind of like my safe space. So I was not really that stressed about one meter, because there's only so much that can go wrong. So I was pretty relaxed, during the prelim just doing my best, you know, nothing crazy, it was fine. And then going into finals. I don't know. I just was kind of I was relaxed. I was diving. I was like, alright, this has been pretty good so far, like, pretty consistent.
And I come for my last dive. My adrenaline kind of got the best to me and I over-rotated a little bit. And I thought to myself, "oh, well, that's still pretty good meet, whatever." I looked at the scoreboard and my name is up top. I'm thinking, "no, that's weird. That's crazy." Then I'm waiting for these other people to go and they feel like some pretty solid dives, still, nothing's moving on the leaderboard. This is insane, right now. I'm looking over at my team. And they're looking back at me like biting their fingernails.
And then the last diver goes, and my name is still up there. My jaw is wide open. My coach comes over and gives me a big hug. And the whole team comes over and we do a group hug. And it was honestly the sweetest moment ever, when they all ran over. They were so excited for me, which shows what great teammates they are. I was in disbelief. And then you have to change really quickly and go over and I was shaking on the podium during my interview. All I could do was keep my mouth shut and act like I knew what was going on.
Q: So you're a sophomore, you still have two long seasons ahead of you, and you've already won nationals. How does it feel to have so much ahead of you while having already accomplished so much?
A: It's really exciting and shocking, honestly, to do it this early in my career, because , obviously, in the back of my head, this has been a goal for a while. But to have it done already, I mean, in some ways, it takes the pressure off, because the thing you tried to achieve your entire life, I mean, since you were eight, has happened. But then also you're expected to, like, do this more than once, have some more solid performances lined up. So, that's a little scary. Going into the future, I definitely have some new dives to learn that I've been working on. Hopefully, while getting stronger, and practicing those a lot, I'll be able to put those on my list for next year. I'm keeping focus on consistency.
Q: How do you balance your diving with academics? How do you make diving part such a big part of your life while also trying to get good grades and an internship over the summer?
A: I have always put school first. That's part of the reason that I'm so glad that Amherst is a Division III program. I don't think it would fly if I went up to my head coach at a D1 program and told them I'm really having a hard time and I'm really overwhelmed, and I don't think I would be able to give my best at practice today. But if I go to Nick and say that he would tell me that I need to do what's best for me and take care of myself. My coaches are extremely understanding and know that academics come first. And that when we come to the pool, we're a product of our environment. I can't just be a diver. I'm a diver, I'm a friend, I'm a student, I'm a person. Sometimes, some people say, well, at this moment, you need to be 100 percent a diver and put everything else aside. But we're not expected to do that here, because that's impossible. I think that mentality has really helped me.
Q: Maybe this it's too early for you to answer this question, but what role do you think diving will play for you after college?
A: Yeah, I think it's taught me a lot about myself, as a learner, as a competitor, that sort of thing. I've learned time management, I've formed great relationships with teammates, with coaches. I want to go to medical school and become a radiation oncologist. That's the dream. At the same time, I would love to like coach diving on the side, if that's possible. I was taught by a bunch of people that were right out of college that coach diving on the side. And they made a really big impact in my learning process as a diver. I would love to do that for other people. At the end of the day, diving will always mean a lot to me, and I would love to keep up with it.