Sports
Baseball Beats Dean College in Team's Highest-Scoring Game Since 2015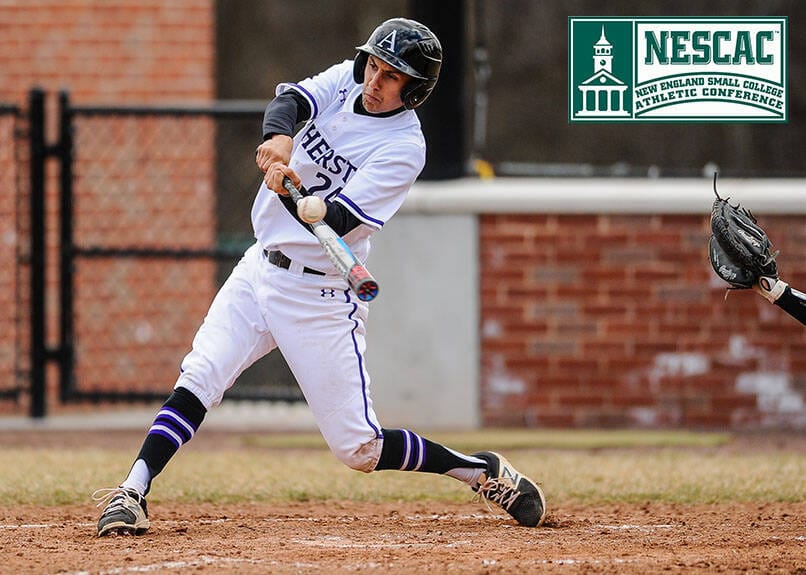 "Sunday was a really, really, weird game," said outfielder Joe Palmo '21. After a doubleheader against Wheaton College was postponed on Saturday, the Amherst College baseball team traveled to Dean College in Franklin, Massachusetts to play a non-conference matchup. Dean came to play, and the Mammoths started slowly and ended up down several runs.
Right-hander Davis Brown '19 got the start for Amherst, but lasted only two innings, giving up three earned runs. By the end of the third inning, Amherst found itself down four runs. The Mammoths would fall farther behind after more poor pitching allowed for a fifth inning run for the Bulldogs, who extended their lead by four to a scoreline of 13-5.
"In a game where you get down early, especially against a non-conference opponent, it's easy to get down on yourself and give up. We, however, showed some real fight. Early in the season, that's a great thing to see," said Palmo.
After the seventh-inning stretch, Amherst came to life offensively to dig itself out of the eight-run hole they had dug themselves. Palmo doubled to right center, sending Kai Terada-Herzer '21 home. Steven Burke '21 reached first on a fielding error, Kyler Kopacz '21 and Will Murphy '20 got on base and then Severino Simeone '19 came up to the plate. The first pitch was wild, and Burke scored a run to make it a tie ball game. Burke, despite his heads-up baserunning, could have conserved his energy since Simeone blasted the next pitch down the first-base line and out of the park, putting Amherst ahead by three runs. From there, Dean fell apart. Amherst would score twice on balks by the Dean pitcher. Second baseman Daniel Qin '22 ended the game with a bang, launching a three-run homer over the left field fence in the ninth to seal the victory for the Mammoths. Brandeis College, however, proved a more worthy non-conference opponent than Dean. Amherst fell 6-4 after taking the lead 4-0 in the second inning. Amherst's defense improved, however, only making one error on the day. Amherst begins conference play against Wesleyan at 4 p.m. on Friday in an away contest.