Arts & Living
Is Beefing with Kanye Over Twitter Kid Cudi's Pursuit of Happiness?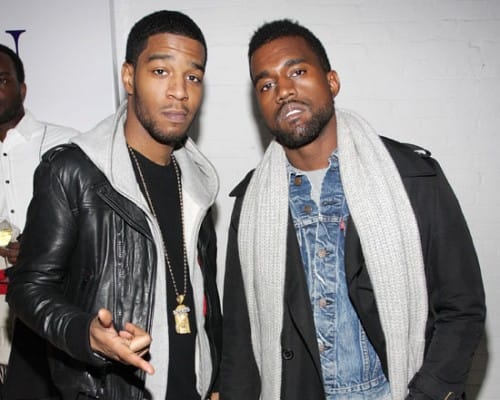 Let's face it, a lot of rappers don't like Drake. From Kendrick Lamar to Meek Mill, the former "Degrassi" star has been catching beef with a lot of big names over the past few years. So nobody was terribly surprised when Kid Cudi, the pillar of stoner rap who has recently fallen from grace, named Drake in a Twitter rant about rappers not writing their own music.
What people did not expect was for the Man on the Moon to go after his mentor: Kanye West.
In a Twitter rant Wednesday afternoon, Sept. 14th, Cudi stated, "Everyone thinks they're so great. Talkin top 5 and having 30 people write songs for them," which he followed with "My tweets apply to who they apply. Ye [Kanye], Drake, whoever." This came as a shock to many fans of both artists, and certainly seemed to catch Kanye off guard, considering the two rappers' long history of collaboration.
Cudi got his start eight years ago, with his 2008 mixtape "A Kid Named Cudi," and teamed up with Kanye on the pop icons album "808's and Heartbreak." Kanye then signed Cudi as his first rapper to G.O.O.D. Music, and the two have since collaborated on and off each others' projects. Kanye appeared on "The Man on the Moon: The End of Day" and "The Man on the Moon II: The Legend of Mr. Rager," and Cudi has been seen on "My Beautiful Dark Twisted Fantasy" and "The Life of Pablo." With such a clear musical bond, what could have driven them apart?
One possible answer is simple: Their paths were wildly different from one another. Kanye's fame as a pop culture icon only grew after "808's and Heartbreak:" he's released several albums to both critical and commercial success. He married Kim Kardashian, the symbol of fame itself and even launched his own clothing brand. Kanye's name has become synonymous with success, while Cudi's is just the opposite.
Rap fans from all walks of life respected "The Man on the Moon: The End of Day." The lonely stoner image he put out appealed to everyone, and despite the sad boy mentality, people dug it. His follow-up, "The Man on the Moon II: The Legend of Mr. Rager," was not as critically acclaimed, and his string of releases afterwards became less and less popular. As a result, Cudi has more or less fallen out of the celebrity limelight, and the buzz around his upcoming album is little to none.
The two appear to have grown apart since Cudi's departure from G.O.O.D. Music in 2013. Kanye has not appeared on any of Cudi's three releases, and Cudi himself has been absent from both Ye's tours and his albums, save for two minor vocal appearances on "Waves" and "Father Stretch My Hands Pt. 1." It appears that Cudi's recent twitter rampage may have finally burned the bridge between the two artists.
Cudi's Twitter rant also made several allusions to his upcoming album "Passion, Pain & Demon Slayin'," where he claimed "today, not only do I feel fantastic, I'm feelin' like takin' over," and "these clowns know I'm bout to crush their entire existence." This brings Cudi to a crossroads. He has threatened and attacked two of the most popular rappers in the music industry right now, while also claiming that his next release will destroy them permanently. Either he delivers on his promise, and releases what may be the greatest album in recent history, or he continues on his current trajectory, and is silenced forever.
"Passion, Pain & Demon Slayin'" is reported to release later this month.