News
Beneath the Blue Hat, a Devotion to Her Art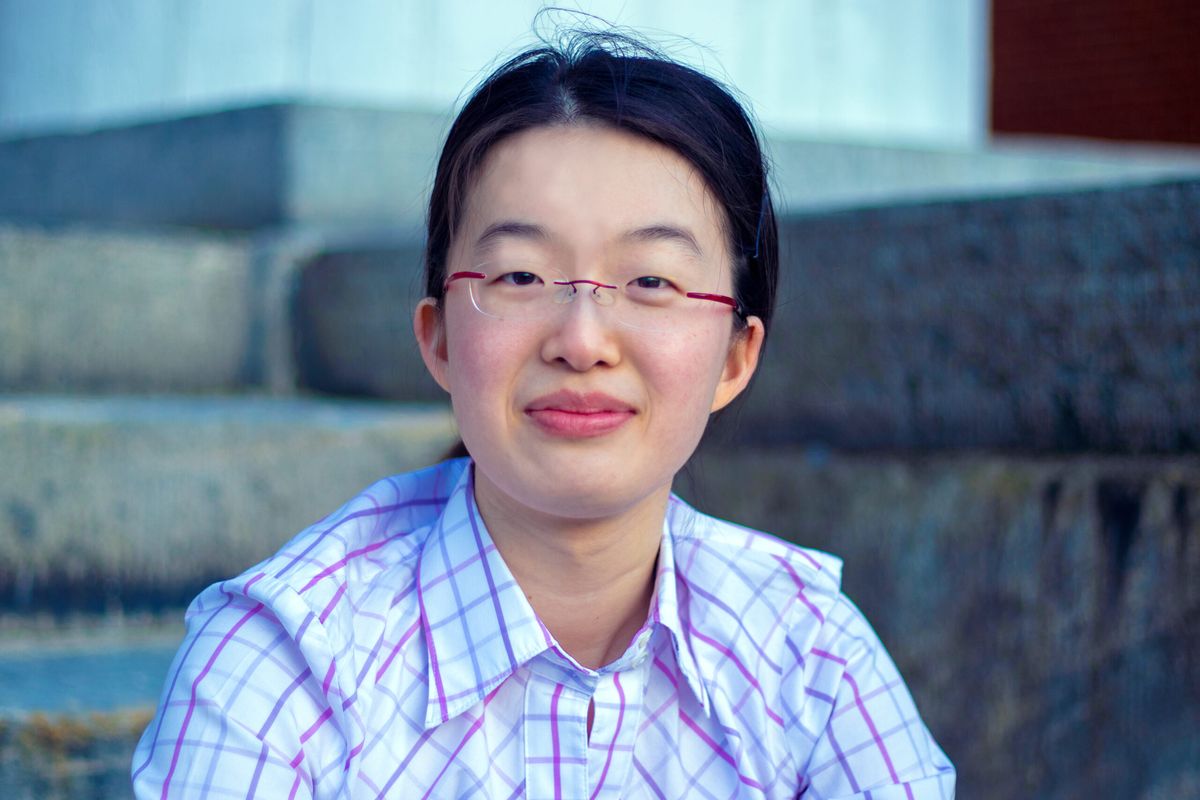 "If the mammoth ever goes out of style, her blue baseball cap should be the new Amherst mascot." In one sentence, longtime friend Hannah Firestone '19 encapsulated what makes Emily Park '19 so special: she is what every student coming to Amherst envisions they will be. Park, a native of Columbia, Maryland, is not only incredibly successful in the academic setting, but she is also, according to Firestone, someone cherished and respected by all of her friends.
Taking Full Advantage of the Open Curriculum Coming to Amherst, Park knew that she wanted to study biochemistry and biophysics (BCBP), but she also knew she did not want lab work to consume her Amherst experience. Throughout her time at Amherst, she made use of the open curriculum and took classes in various departments, including history, English, art, music, anthropology, physics, psychology and even film and media studies.
In fact, she credits Professor of History Jun Hee Cho, with whom she took "Medieval History," with opening her up to the humanities side of things. Since then, Park has realized that when "STEM [science, technology, engineering and mathematics] people appreciate the value of humanities — it makes them better people." And Park believes she has become a better person for it.
The hardest part of her initial arrival was making friends; she did not know anyone when she first came, but as she began to connect with people, she found her place among the other students and her general outlook improved.
At Amherst, Park found countless opportunities to take advantage of. "There are so many things happening on campus, you just have to pay attention to what is going on around you," she said. "No single person, academic department or group of friends exists in a vacuum, and the sooner people realize it, the more they are able to engage with the community," she said.
These various connections enabled Park to become better at empathizing, she said. At Amherst, she has learned "the importance of getting to know people — they are much more multifaceted than they appear, and that forms who they are and how we relate to them. We can't take anything for granted."
However, it is not just her exposure to humanities that she credits with teaching her such a valuable lesson; the closeness of the Amherst community plays a big role, too.
Park is a member of the Amherst Christian Fellowship (ACF), through which she has been able to connect with a community of similar-aged people who share her faith. Her involvement in ACF, she says, helped her find what she wants to do in the future.
Beyond ACF, Park also found a sense of belonging in her upper-level biology classes, where she could collaborate with other people and develop a feeling of comradery.
Those interactions became so integral to her experience at Amherst that if she could give any advice to students starting out at Amherst, it would be to get to know their classmates earlier rather than later because for her, "after getting to know people, things got a lot easier."
Park also developed invaluable relationships with professors during her time here, she said. Professors, she has come to realize, are always there as a resource, and "making connections with professors that you can't have at larger research institutions" is one of the most rewarding aspects about Amherst.
Persistence in the Lab When it comes to working with professors, Park definitely knows what she is talking about. For the last three years, she has worked in Professor of Biology Jeeyon Jeong's lab, served as a teaching assistant in two of her classes and taken three courses with her.
Speaking about Park, Jeong described her "grit" — "not the grit defined in a dictionary, but as defined by psychologist Angela Duckworth, i.e. a person with perseverance and passion for long-term goals. She is a highly-determined person who works hard to find an answer and won't be satisfied until there's a clear answer," she said. "It's been a privilege and a blessing for me to get to know Emily, and I have tremendously enjoyed working closely with her."
Park's blue baseball cap is ever-present in her Amherst endeavors, from the biology lab she works in to the Amherst Christian Fellowship prayer room. Photo courtesy of Emily Park '19.
Working with Jeong not only enhanced Park's overall sense of fulfillment with her Amherst experience, but it also gave her the tools she needed to work on her thesis, which focuses on the effort to biofortify plants and crops to better address nutritional deficiencies in iron. At the end of the year, it won the BCBP prize for best thesis. Park's first author paper, developed out of her thesis research, was also recently accepted for publication.
Park described thesis-writing work as rewarding because "throughout the process you're learning about [the research] and how to put ideas together, and about time management. You also learn about yourself and the people you work with, and the future. It makes you more resilient."
Still, as much as she enjoyed the work, writing her thesis consumed a large part of Park's life for the last year, and she is glad it is over.
Finding an In-Between What is not over is Park's time at Amherst. Though she feels like she has been ready to graduate since her junior year, Park's final days as an Amherst student do not feel like the end. That is mainly because she is staying on campus next year as a National Science Foundation post-baccalaureate fellow to continue working with Jeong.
Nonetheless, Park is excited for the next chapter of her life, in which she no longer has to attend class and may actually be able to better invest in the community on Amherst's campus.
Though she will not miss the school work, what Park will miss about her time at Amherst is the sense of comradery. With most of her friends dispersing after graduation, Park recognizes that working in the lab next year will feel totally different. The spaces she occupies will stay relatively constant, but her place within them will change.
During her four years at Amherst, Park has seen it transform in a variety of ways, from the social scene to the academic setting and even to the improvement of Valentine Dining Hall.
Though the removal of the social dorms and the building of the Greenway dorms were a big deal during her early Amherst career, Park considers the college's shifting focus to STEM the biggest change she has witnessed at the school.
"It will be interesting to see how that turns out in the future years and what kind of people Amherst will draw," she said.
Park, however, is not as concerned with how Amherst alters the way it is perceived by people, as long as its essence remains: "Here, there are so many different paths people can take. It's nice being able to interact with people who aren't super humanities or super STEM."
This interdisciplinary focus is one of the most important things for Park; she does not want Amherst to become like the science center — superficially showy and narrowly focused, she explained. Yes, it is beautiful and something great to brag about, but is it actually so practical and functional for the students? Students, after all, are the heart of the school.
In the end, students are crucial when it comes to shaping the environment of the school. She is a firm believer that "your experience at Amherst is what you make of it. It's important not to neglect any other people who are not the same as you."
The way people choose to interact with the people and resources around them, Park added, is what dictates their experience of Amherst.
A Legacy of Diligence As she prepares to embark on a new journey, Park said the greatest benefit of coming to Amherst is that "you are more free to explore and change what you like."
With her impressive Amherst career, it is not surprising that two of her friends, Firestone and Angie Kim '19, both described Park's distinguished blue baseball cap as a true emblem of Amherst College.
"Emily is one of my closest friends on campus — she can come off a little aloof and uncaring, but she does care and provides a very objective view to different problems," Kim wrote in an email interview. "She's the person who I can depend on constantly as a listener. Her dry humor is the best and so is her blue baseball and rolling eyes (if I say anything stupid)."
But Park is also "very driven and goal-oriented," Kim added, and will walk through fire and hail to achieve her goals.
If that is not enough of the true Mammoth spirit, perhaps the fact that Park deliberately chose Amherst over Williams is. There is no question about it: if the mammoth really does ever go out of style, we should become the blue caps.