Arts & Living
BIPOC Creatives: Mel Arthur '25
In the inaugural edition of her column "Asking BIPOC Creatives," Managing Arts & Living Editor Mackenzie Dunson '25 interviews poet Mel Arthur '25.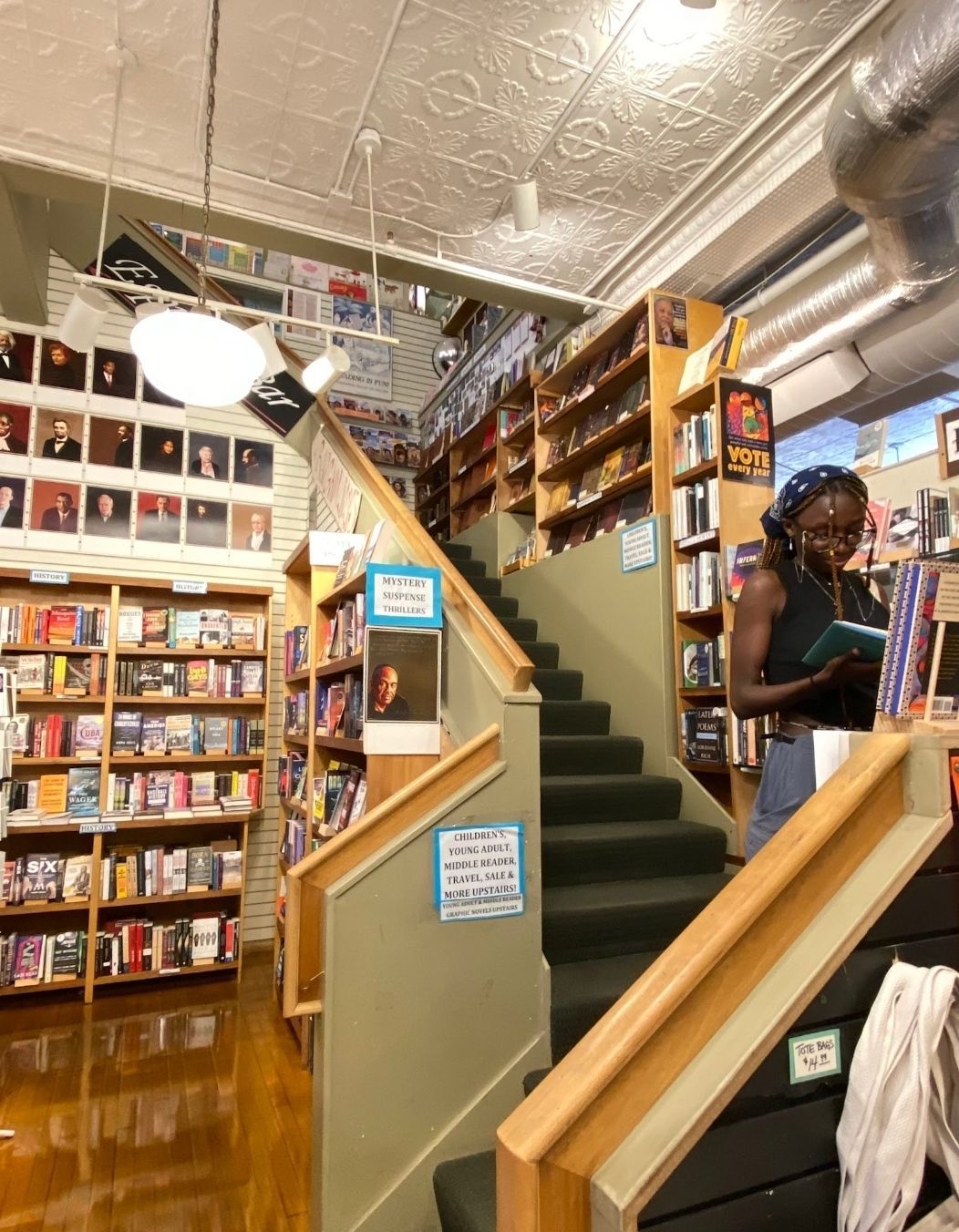 Poetry is an expansive and expressive form that truly allows the poet to explore the depths of their creativity. Mel Arthur '25 is an avid writer and reader of poetry currently studying English and psychology. They hold many roles on campus, including as one of the editors-in-chief of the student literary magazine The Indicator, and as the president of The Poetry Club. She also works for the English Department, the concert office at Arms Music Center, and Associate Professor of Psychology Julia McQuade's research lab.
The act of creating poetry is multifaceted for Arthur. I was particularly drawn to one of her poems that I read in preparation for our conversation, titled "anti-poetry." Part of a larger poetry chapbook for their Advanced Poetry class, I was drawn to it based on its unorthodox form. Arthur agreed and responded with her direction for the piece, saying, "I was thinking a lot [about it], and you're right, I call it 'anti-poetry' because it just doesn't stand and read like poetry often does. It is more dense and has a lot more prose-like elements. It has some gritty glimmers of narrative in there. But not often: it's like reading lyric." Arthur spoke about how this poem stemmed from frustrations with traditional rules of poetry and their restrictions. "The title 'anti-poetry' was me being annoying with the writing because it was like, this is anti-poetry because I'm going against what poetry can be and, like, what is revealed in here because usually with some poems you write short, tight sentences with like imagery and stuff, and this [was] what I was aiming to do: … expand and make dense the feelings and the emotions that are in here without losing those bits."
Because orthodox poetry forms are often restrictive due to their attachment to formal verse, Arthur approaches poetry in a way that allows them to explore the concepts they hold close to their heart. "A lot of contemporary poets that I really enjoy go against those forms in order to create something more and create containers where that can express their own subjectivity and [their] own complicated relationships with the world and people within that," Arthur said. They expressed how they mirror this in their own work and never approach a piece with the form in mind. When she writes, she creates a poem in its entirety, then afterwards, makes it "make sense on the page." Though this process may seem spontaneous, there is a lot of planning behind a final version, including researching a topic and how she wants to approach it. There was a moment in the interview where they showed me the pages upon pages of their drafts and research for the chapbook project.
Looking at the research behind her project, and her approach to form, I was also curious about her revision process. Arthur explained that their first act is to step away from the piece for a while, because "you're too close to the work and then you don't see what's missing and what is left." When they come back to the work, they read the work aloud and notice which words disrupt the piece's tone and atmosphere. She remarks that, "What I do after leaving and coming back is that I focus on a lot of the images that I show, and how the personal pronouns like the 'I' and 'you' interact with the world and the physicality of the poem." Arthur explained how in their work, personal pronouns always exist in a sort of multiplicity: through these pronouns, they collect multiple experiences into a singular word. In their revision process, Arthur is also sure to clarify the imagery in their work, making sure it reflects the argument that they are trying to make.
As an avid fan of the author Toni Morrison Arthur quotes Morrison's work multiple times in their chapbook and credits her as one of their major inspirations. At one point during our conversation, Arthur pulled out a copy of Morrison's "Sula" from her backpack, stating that she never went anywhere without the book. This admiration of Morrison developed largely in Professor of Black Studies Carol Y. Bailey's "Toni Morrison" class, which they took their sophomore fall and are currently auditing. They say that class shifted something in the way that they examined the world. Arthur was fascinated by the way Morrison examines connection between people and how we exist within a postcolonial society, as well as Morrison's theme of soft-violence, especially within the female characters who commit these acts of violence, and why they do it. Arthur's poetry speaks in conversation with Morrison through their own examination of themes in Morrison's works and incorporation of quotes from Morrison's work into their own.
Arthur is also a psychology major, and I was particularly interested in the intersection between their poetry and their psychology research. Arthur admitted that the two concepts do not intertwine as much as they would like, but their goal with psychology is to work with children, specifically those with special needs, to help them navigate the world. Arthur's work over the summer in Professor McQuade's lab is where she began to make these connections by doing copious amounts of research in children's books, specifically children's poetry books. Because poetry can be a dense and hard-to-understand form, I was particularly concerned with the palatability of poetry with children. Children's books are known to be deliberate and concise, which makes them easily relatable to children. Poetry for children expands on this idea. For example, the poem "Starfish" by Lisa Fipps tackles the themes of how children can deal with loss and change. Arthur stated that they themself could easily determine this theme and relate to it, as they came from Ghana to America at a young age and were faced with a lot of change. Arthur intends to explore more children's pieces that can make these connections with young audiences. In "Starfish," Fibbs writes the piece in the form of prose "standing up," which is simply a horizontal piece of prose arranged vertically to appear in more of a poetic form, to make the piece more comprehensible. I was humored by this idea, but Arthur explained that poetry simply translates love in a way that's beautiful and clear, although many can get bogged down by the complexity of the form.
Overall, the act of writing poetry is not just a hobby for Arthur, but a lifestyle as well. They are deeply committed to exploring personal relationships, as well as how they and their multiple identities interact with each other in society. She values the exploitativeness of the poetic form, viewing it less as a rule, but more of an aesthetic device to advance her argument.