Sports
Blue Devil, GOAT: A Duke Fan's Ode to Coach K
Managing Sports Editor Liza Katz '24 reflects on Coach K's career, from the National Championships to the farewell tour this season, and discusses her experience as a Duke fan as the legendary coach heads into retirement.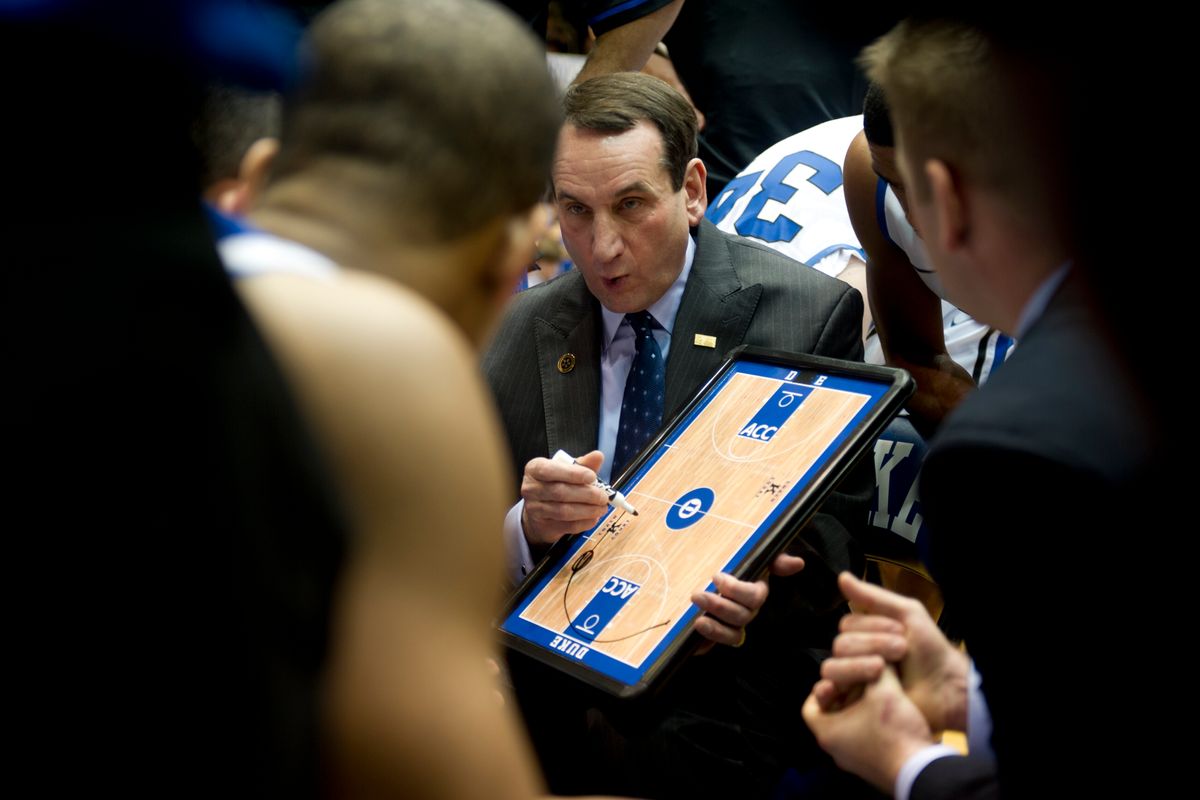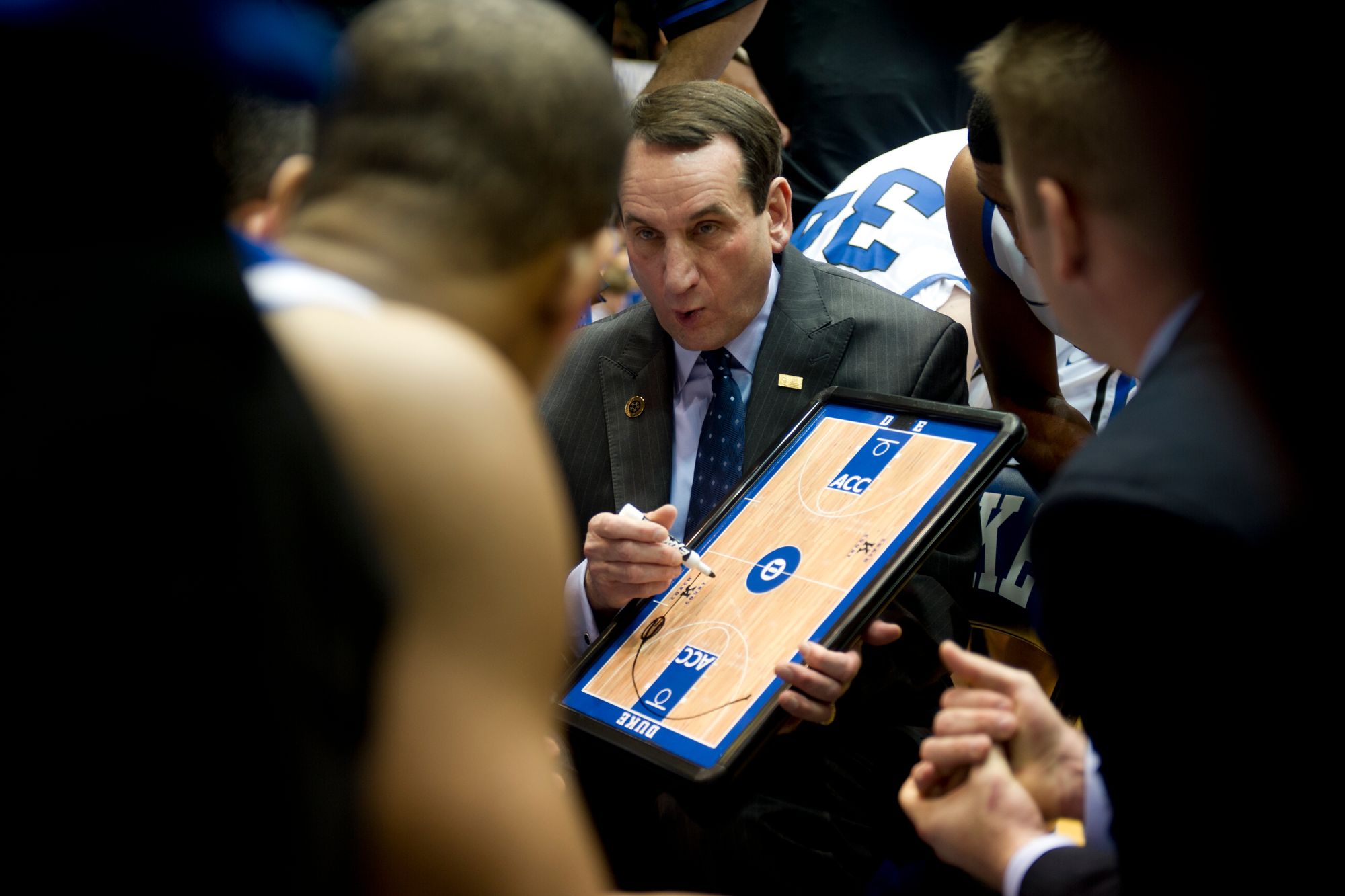 I spent the last 20 seconds of the GOAT's coaching career sitting on a couch in the Cohan second floor common room with my head in my hands. While to some, the loss to bitter rival North Carolina in the Final Four was a fitting end to Coach Mike Krzyzewski's farewell tour, for me, it felt like I was robbed of something. With the team that we had this year, it felt like sending him out on top, winning a National Championship, was possible — and after Gonzaga bowed out in the Sweet 16, I dared to hope that it was actually possible. But UNC came in too hot, and just like they had a month earlier, the Blue Devils lost to the Tar Heels in a game that I'm never going to forget.
While we all know Coach K as the man who excelled at recruiting potential one-and-dones and coaching NBA stars like Kyrie Irving, Zion Williamson, and RJ Barrett in college, he came from humble beginnings. Coach K came into the program after coaching at his alma mater West Point for five seasons as a relative unknown, with no reputation and a huge amount of pressure. Before Coach K, Duke was relatively mediocre. They hovered around .500 every year in the ACC — a conference dominated by UNC, Maryland, and Virginia — and had never won a National Championship. But Coach K changed that. While it didn't start right away, after a few rebuilding years, Duke began having the kind of success that everyone loves to hate. The big moments were there — beating national-No. 1 UNLV in the Elite Eight in 1991, Christian Laettner hitting "the shot" against Kentucky in the 1992 Elite Eight, beating Michigan's Fab Five in the 1992 title game — this is when Duke basketball became the Duke basketball we know today, and it was all due to one man, his coaching, and his recruiting prowess. The man is so prolific that the lawn in front of Cameron Indoor Stadium, where students camp out for tickets (yes, camp out … that's how much Dukies love their basketball team, and that wouldn't be the case without Coach K), is named after him.
But I'm no bandwagon fan: I've been living and breathing Duke basketball since before I knew what a basketball was. As the child of a mother who attended the university during those storied Laettner years, when the Blue Devils won their back-to-back National Titles in 1991 and 1992, it was only natural. I even dressed up as a Duke cheerleader one year for halloween … It's not weird, I swear — let's just say I was dedicated and move along, shall we? … In any case, my love for all things Duke basketball ran deep, and as I grew up, nothing really changed. Some of my earliest sports memories include taking the R train with my parents from my apartment on the Upper East Side of Manhattan to Madison Square Garden pretty much every year for Duke's annual New York City appearance. It was those games that got me hooked. The times I spent watching players like Nolan Smith, Kyle Singler, and Jon Scheyer make their magic live and in person were some of the highlights of my young sports-watching days. This time resulted in me learning about the sport from my parents, who frequently had to stop and explain the rules of the game to me, as the years flew by.
And before I knew it, I was obsessed. When I was eight years old, I stayed up and watched the end of the 2010 National Championship. I was sitting next to my parents on the couch when Gordon Hayward's shot almost ended our hopes for a title. I watched the players run onto the court in celebration. It was Coach K's fourth National Championship, and his first since before I was born (2001) — a moment to celebrate.
A few up-and-down years followed, but the next flashbulb moment, for me, was the 2015 National Championship win. Coach K did as Coach K does, recruiting the number-one class in the nation, including future NBA players Tyus Jones, Jahlil Okafor, Justise Winslow, and Grayson Allen. They joined a team that included Quinn Cook and Amile Jefferson — wiley veterans who are still some of my favorite players to this day — to form a squad that was just too good to lose. It was glorious. And after taking down Wisconsin in a back-and-forth game where Allen put the team on his back, Coach K had his fifth title. Just another accomplishment to add to his growing list. I enjoyed every single second.
But it wasn't until I started playing basketball myself, right after that title run, that the moments started to hit home for me. It was then that I began to notice the little things Coach K did that made him not just a great recruiter, but a great coach as well. During that title-winning season, after losing back-to-back games to NC State and Miami, he stopped the bleeding by deciding to switch to a zone defense. While many teams traditionally play a man defense, with every player guarding an opponent one-on-one, Coach K moved away from this style, choosing to have players mark any player that moved into their assigned area of the court while watching the ball. Not many coaches would decide to do that, changing tactics so quickly, but he did. And it worked.
Two years later, in 2017 (one of the only years until I left for college that I wasn't in attendance for the annual Duke trip to NYC), Coach K notched his 1,000th career win, against St. John's at the Garden. My mom and I were huddled around her phone watching the lead grow, and we knew we were watching history being made.
The man who made Duke basketball what it is was getting all the praise he deserved after hitting that milestone, and that has repeated itself upon his retirement. And it won't stop with me. Although we never won another National Championship with him at the helm, those historic moments have stayed with me, as will the ones from this season. Yeah, we didn't win a National Championship this year. It would have been nice, but it was almost poetic the way it happened. The celebrations and tributes from all of Duke's ACC opponents this season. The first 20-point win at the Dean Dome against UNC. The losses to UNC at Cameron Indoor Stadium in Coach K's last home game, and to Virginia Tech in the ACC Championship. It all built to the tournament run that we saw play out on our TV screens.
The man coached this team like a champion. He said his players grew up during the tournament run, and they did, battling hard for wins against Michigan State in the Round of 32 and Texas Tech in the Sweet 16, matchups that people thought were going to be their undoing coming into the tournament. And while Gonzaga couldn't handle the pressure, the Devils did, handily beating the Razorbacks after their upset win over the Zags. But they couldn't have done it without the adjustments Coach K made to the starting lineup, sitting star freshman Trevor Keels in favor of tough-driving sophomore point guard Jeremy Roach. And the adjustments he made to prevent the Carolina game from ever getting out of hand were tip-top. In the end, the Tar Heels hit their shots in clutch time, we didn't. Simple as that.
The future of Duke basketball is in good hands: Coach K's successor, Jon Scheyer, learned from the best, and has already assembled another number-one recruiting class for next year. It takes a special kind of person to build a tradition of that kind of success and reputation for a program, and he did it. Alas, all good things come to an end, and 40 years and five National Championships later, it seems like this is as good a place as any to call it a career. All this is to say thank you for all the memories — the ups, the downs, and everything in between. My childhood wouldn't have been the same without them. And even though we didn't win, you went out like a champion.