commencement
Braxton Schuldt: A Future Neurosurgeon with a Runner's Heart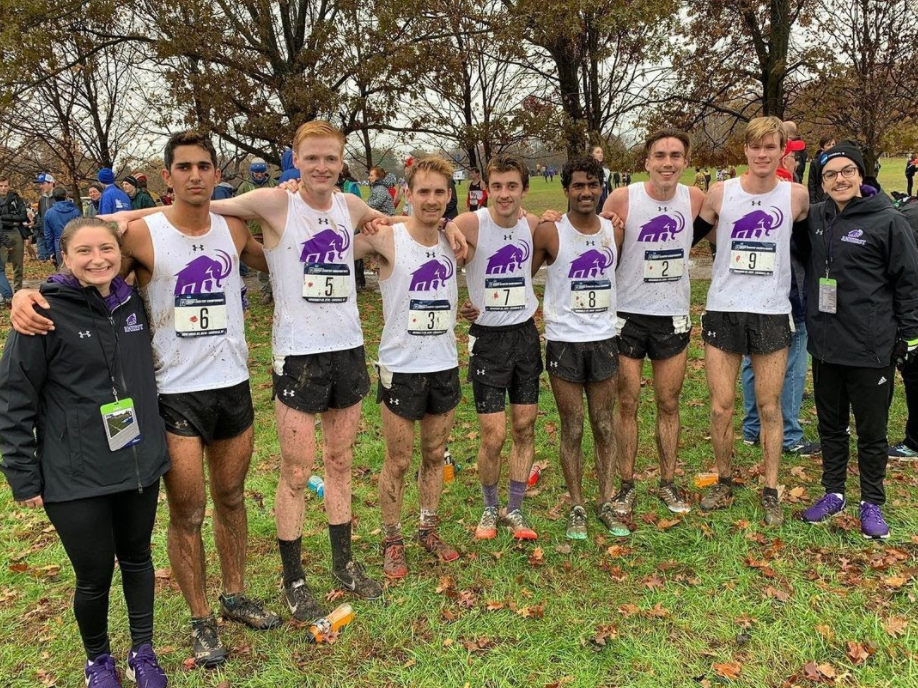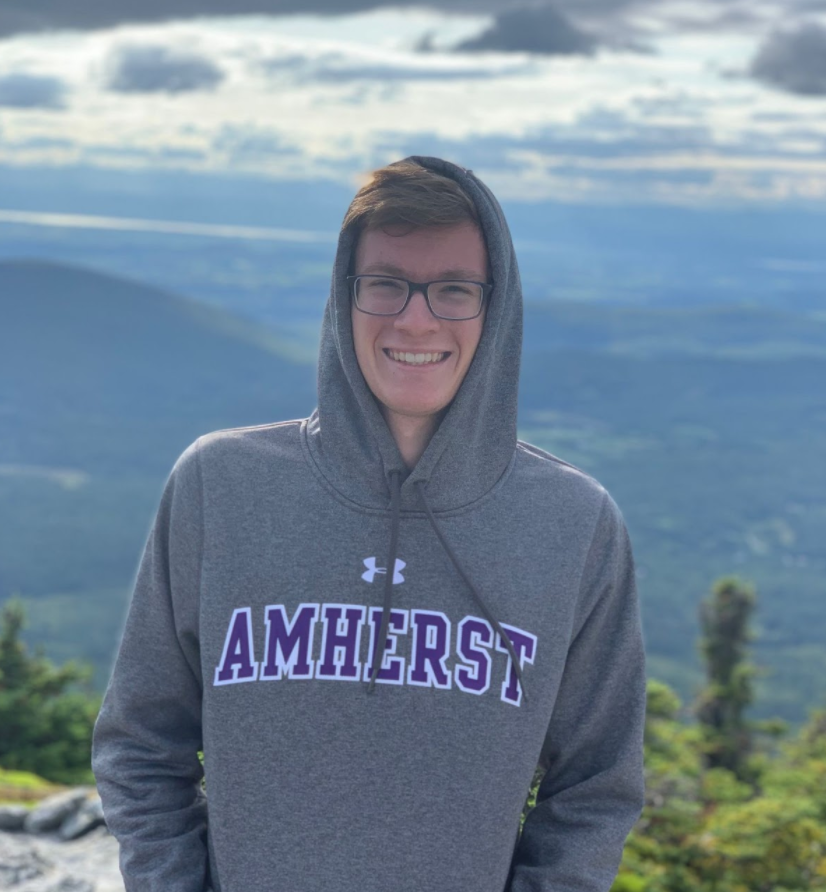 Braxton Schuldt '21 is the epitome of excellence and resilience. His intelligence, work ethic and drive to help others has molded him into an exceptional Amherst student-athlete. As a future physician, two-sport varsity captain, long-time Educational Director of Amherst College Emergency Medical Services (ACEMS) and neuroscience major, his resume and accomplishments are truly remarkable.
Behind the curtain of achievement lies a dedicated and selfless man who is always there to support his teammates. His relentless pursuit of greatness inspires others to act in the same way.
A Small-Town Kid from Illinois
Future Dr. Schuldt grew up in Sterling, Illinois — a small, rural town two hours from Chicago. A classic small-town kid, he lived with his mother, father and Fireball, his 16-year-old cat. Because everyone knew one another, life in Sterling was quiet but wholesome. As a child, Schuldt went to church every week and knew everyone in the congregation. It was his close-knit town background that taught Schuldt the importance of community early-on.
Schuldt's mother and father greatly shaped his interests and ultimately led him to pursue a career in medicine. Despite the fact that none of his family members were doctors, Schuldt knew that he wanted to be a doctor when he was a young kid. His inspiration, he says, was his mother's line of work.
Schuldt's mom was everyone's favorite fourth-grade teacher and built lasting connections with her students. The bonds that she created with her students led Braxton to do the same in his career. Combined with his intrinsic love for the sciences, he was motivated to pursue a career in pediatric medicine.
Mr. and Mrs. Schuldt also influenced Braxton to take up the sport of running. His dad was a distance runner, and his mom was a sprinter. Though there was some controversy over which he would become, distance-running won out. He started competing in cross-country and track meets when he entered the fifth grade. Though they always encouraged and supported him, Schuldt's parents never pushed him. He was given the freedom and trust to choose his own path.
Academic Awakening
After his first year of high school, Schuldt transferred to the Illinois Math and Science Academy, a boarding school a few hours away from Sterling. He was quickly introduced to a level of academic rigor to which he was not accustomed. Though the environment first felt like a "punch to the face" he quickly adapted and rose to the occasion.
Schuldt learned fairly quickly that the Illinois Math and Science Academy was a competitive environment, and embraced the hard-working mentality. He learned how to put his head down and work in academics and athletics. Yet, Schuldt also learned that putting his foot to the gas all the time had its drawbacks. After coming to Amherst, he has realized the unrealistic nature of perfectionism. High school awoke Schuldt's drive, and turned him into an "academic weapon," a jestful nickname given by his college teammate.
Even though Schuldt had the requisite marks, he had a tough college application process. He was accepted to his safety school, waitlisted at Amherst and rejected from most of his top-choice colleges. After getting off the waitlist, he grabbed the spot and never looked back.
A Revitalization of Communal Values
When Schuldt arrived for his first-year orientation, he decided to pay a visit to the head cross-country coach to see if he could walk on to the team. The coach said that there was a spot, but that he would have to fight for it at a 5 a.m. time trial the next morning. Sure enough, Braxton made the cut and began his college athletic career.
By his own admission, Schuldt was not a remarkable high school runner. But because he had started to see improvement in his final senior season and qualified for the state championships, he decided to take on the challenge of college athletics. This choice was certainly the right one, Schuldt went on to become one of the best distance runners on the team and a two-year cross country and track captain.
Schuldt's progression in the sport was far from linear. The key to unlocking his potential in the sport came down to not caring so much. He found that he trained and raced better when he did not put as much pressure on himself. Slowing down and appreciating non-outcome-based metrics did the trick. He won all-academic honors on the national level and scored in the 5k and 10k at the NESCAC championships (on the same day!) in 2019. Head Cross-Country Coach Cassie Funke-Harris described coaching Braxton as an honor. "I treasure the time we had, joking about his race tactics, planning out workouts, and trying to avoid steeplechase barriers. He has been a consistent presence on the team since his freshman year, always working hard, steadily improving and finding joy in all the parts of this sport that make him the athlete he is today," Funke-Harris expressed.
When asked about Schuldt, Alfred Kibowen '23 noted that "Braxton is a bona fide workhorse." As a fellow distance runner and neuroscience student, Kibowen has been astonished by Schuldt's commitment to work in the lab at all hours of the night and simultaneous improvement on the track. "By his own estimations, coming into college, Schuldt was a mediocre runner, but as of this graduating year Braxton was a brilliant athlete!" Kibowen proclaimed.
Schuldt also relearned the importance of community on the cross-country and track teams. His teammates helped him to grow out of his shell and revitalize his social life. Daily practices, lifts, track meets and team social events showed him that it's good to take breaks from schoolwork. He credits his teammates for his evolution into a "more social being."
But Schuldt did just as much for his teammates as they did for him. William Snead '23, a fellow member of the cross-country and track teams, described Schuldt as the ideal role model for underclassmen: "Braxton's work ethic and ability to compete on the track or cross country course at a high level while excelling inside the classroom has been an amazing example for myself and the younger guys on the team. He has led by example and influenced me to hold myself to a higher standard."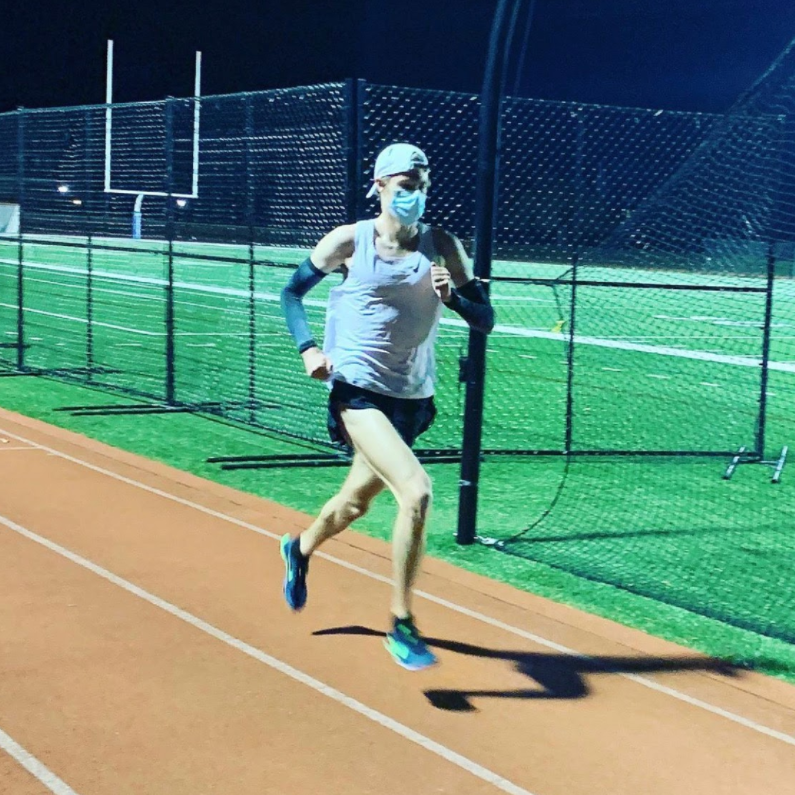 Achieving Academic Excellence and Securing Medical School Dreams
Schuldt came into college knowing that he wanted to major in neuroscience. He considered doing a Spanish double major so that he could become fluent in the language. His goal was to communicate with Spanish-speaking patients without a medical interpreter. After he accomplished this task, he decided to focus his energy on neuroscience.
Citing himself as a "huge nerd" when it comes to the brain, he is commonly contemplating questions about consciousness and inner-thought. Of all his classes, those in the neuroscience major were always his favorite. His passion for the discipline led him to determine that a career as a neurosurgeon will be a perfect fit.
As a sophomore, Schuldt decided to apply to the early assurance program for Mount Sinai Medical School. He received an interview and was admitted in his sophomore spring, guaranteeing him a spot at the school when he graduated. This meant that Schuldt did not have to take the MCAT and was not bound to strict pre-medical requirements. After his stressful college application ordeal, getting into Mount Sinai was a huge confidence booster.
"Being accepted into Mount Sinai took a huge weight off of my shoulders, especially after the whole college ordeal of just getting rejected everywhere."
For the Mt. Sinai Early Assurance Program, Schuldt was required to complete a thesis. In the adverse circumstances caused by the pandemic, this proved tremendously difficult. Notably, he lost crucial summer and interterm time in the lab. This meant that Schudlt spent most hours in the lab the three weeks before the thesis was due. Even though he had to sacrifice a lot of sleep, he overcame his adverse conditions and pulled it off: Schuldt's thesis was one of the best-written this year and made him a finalist for the three-minute thesis competition. In simple terms, his research implicated the novel protein in neuronal development, a key process in the development of autism spectrum disorder. The next step of his thesis is publishing: "Going forward, I'm staying at Amherst this summer to keep the project rolling and publish sometime soon. We have promising results, especially since the protein is so new. The next goal is to publish my results and make them known to the scientific community."
Professor of Biology and Neuroscience Sally Kim, who advised Schuldt in the thesis process, said that "Braxton has been an amazing student to work with, particularly as a new faculty member. His passion for understanding the sciences, tireless work ethic and quick ability to learn and integrate ideas has made him an advisor's dream."
Strength of Character
Schuldt's relentless determination and natural intelligence shaped him into a premier student-athlete. He managed to lead his team to compete at the national level while maintaining his diligence as a student-researcher. Schuldt sets an example of excellence for his peers, and inspires them to expect more of themselves.
Functioning at such a high level has not come without its challenges. Schuldt's commitment to his thesis meant that he had to scratch from most of the meets of his senior spring season. It also took a tremendous toll mentally. The thing that got him through the tough time was the mental assets he had acquired through distance-running. "My thesis kind of killed me — it knocked me down. But the reason why I was able to finish in such a short amount of time was because of the lessons that I had learned from running. Like running, when faced with academic challenges, you can't freak out or get paralyzed with fear and anxiety. Instead of beating myself up, I just got it done," he said.
Professor Kim admired Schuldt's perseverance throughout the unprecedented thesis process, "As a student-athlete, Braxton applies his disciplined approach to running to the lab; I've seen him practice a technique or protocol as many times as it takes until he has it down cold. Especially during the pandemic, I have been impressed by his maturity, determination, patience and clear vision to pursue his thesis work. It's been my pleasure and privilege to mentor Braxton, and he will be greatly missed as he starts his new chapter in medicine."
Schuldt has had a lasting impact at Amherst College. His legacy will remain long-after he begins medical school. He hopes to continue running and competing in his free time in New York City. While his next athletic move is uncertain for now, his career in medicine is secured. There is no doubt that Schuldt will continue to build community at Mt. Sinai and raise the bar for his medical school classmates.