News
CISE Provides Academic and Social Space for International Students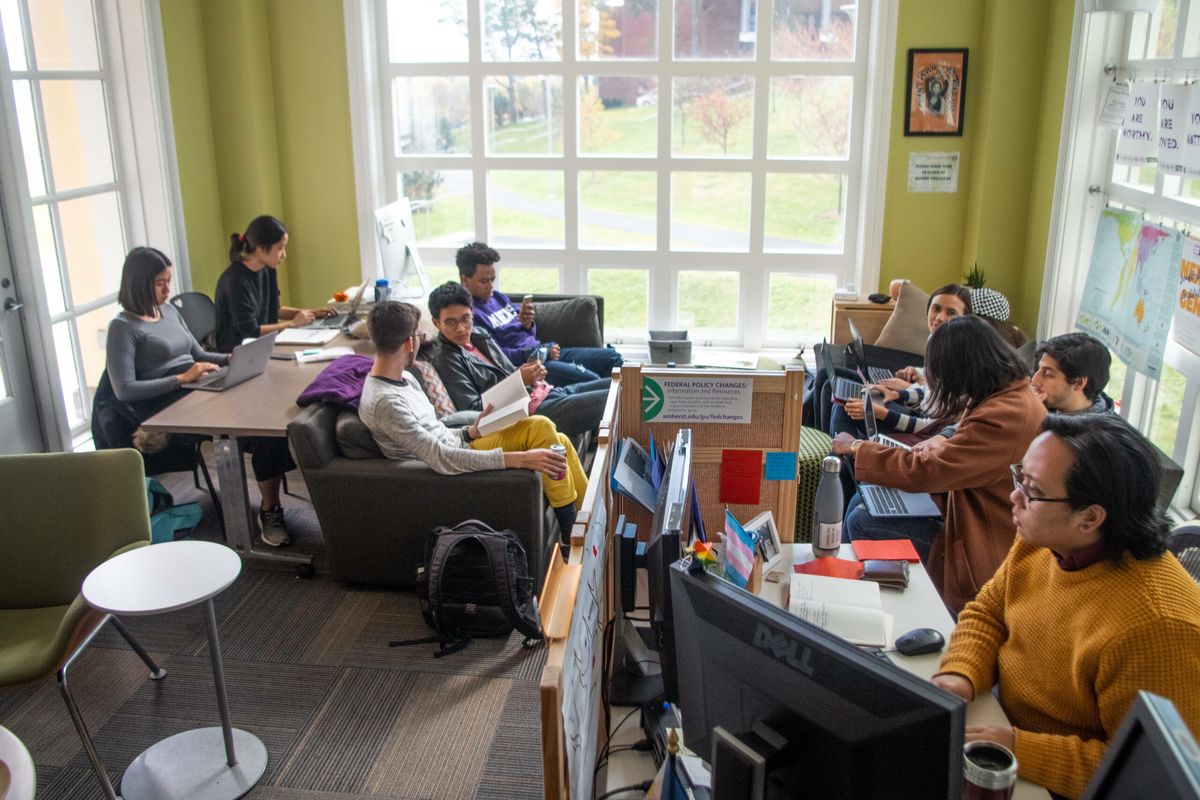 The Center for International Student Engagement (CISE) celebrated its first anniversary this fall. Established in Fall 2017 as a resource for international students on campus, the CISE has facilitated a number of initiatives in an attempt to serve international students within the Amherst community.
Hanna Bliss, director of international student engagement, explained that the CISE emphasizes community building and advocacy.
During the center's first year, Bliss and the CISE team worked to publicize the center while increasing the support and resources available to international students.
"When the CISE first opened its doors last September, our main goals for the first year were to make sure that the campus community knew about the new space," Bliss said. "[We wanted] to center community while interweaving a globally-oriented, justice-based framework into everything that we do."
Bliss' emphasis on community has impacted the way that some international students acclimate to college life.
Nadija Tokovic '22, an international student from Serbia, interacted with the CISE during her international student orientation in August and said that she thinks the CISE is an effective academic and social support resource.
"[The CISE's] support during the international student orientation was especially valuable and made me feel comfortable on campus almost immediately upon arrival," Tokovic said. "The CISE resource center is a great place to both study and socialize."
Like Tokovic, Melody Dodoo '21, the CISE outreach coordinator, first connected with the CISE during her international student orientation. As outreach coordinator, Dodoo manages the CISE's social media, newsletter and public relations. She echoed Bliss' goals of inclusion for the CISE, adding that she hopes to target a large audience as outreach coordinator this year.
"The way I see it, an international student is not necessarily a student from another country," Dodoo said.
"An international student can also be a student who wants to learn more about international relations, become more involved in international affairs and hear more about international experiences," Dodoo added. "That's who we're trying to bring in to the CISE."
The CISE has an extensive roster of events planned for the school year.
Ho Yeon Choi '19, one of five program coordinators, organizes events hosted by the CISE including weekly themed movie nights.
Choi said that she hopes the CISE will act as a resource not only for international students, but for domestic students as well.
"It is definitely important to have a space for international students, but at the same time, I think it would be great if we could reach out to the larger campus community, including domestic students," Choi said. "We constantly have to think about how to make domestic students welcome at our events. We want all students to feel at home at the CISE."
The CISE has also curated a series of programs that includes activities such as an International Women's Day celebration, discussions regarding global news and events and an international cooking night.
Bliss and Choi also plan to invite a variety of speakers to campus.
"We are looking to build out our program offerings more intentionally with an eye to our shared values and vision," Bliss said. "We plan to engage the broader campus community by focusing on collaborative efforts that generate powerful programs, all while focusing on communication, advocacy and resource-generating efforts."