Sports
Coach Toomey Takes the Reins, Primes for First Season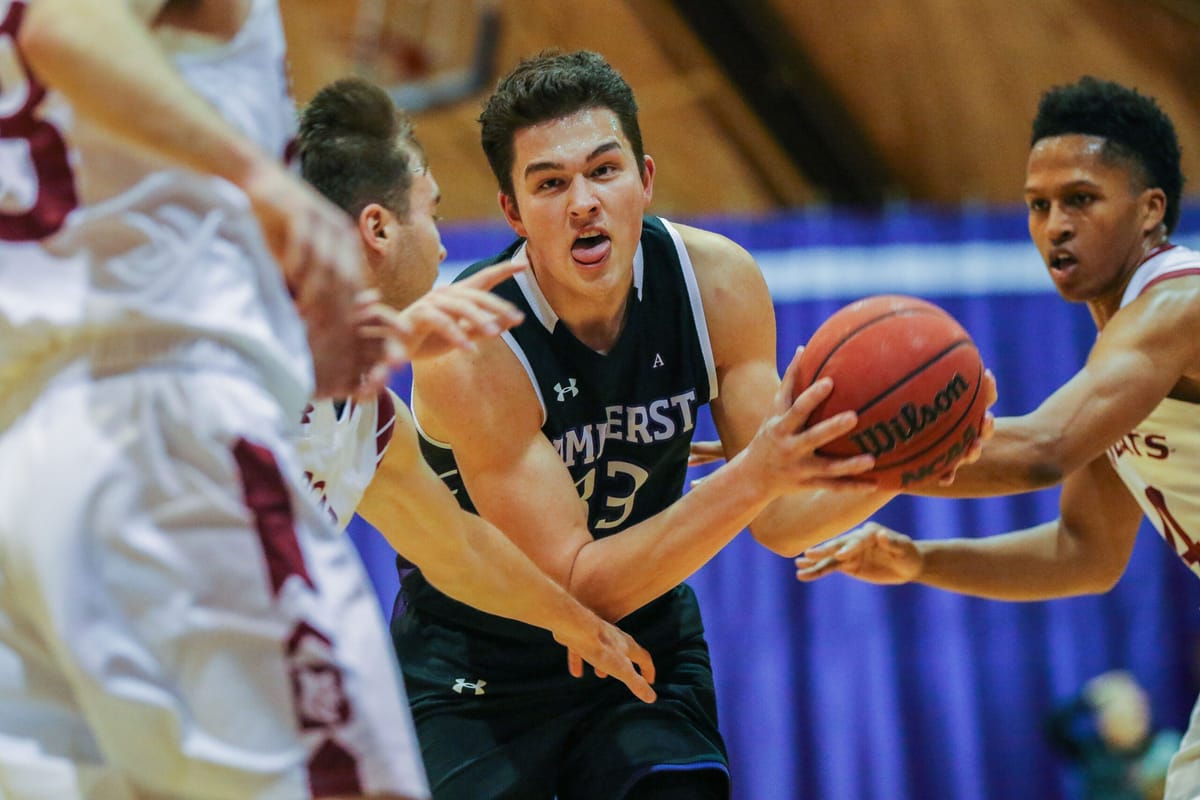 For the first time in 42 years, coach David Hixon '75 will not be leading the Amherst men's basketball team as they prepare for the season. In September, Hixon announced he would be taking the year off to spend time with his father and reconnect with former players. With Hixon gone for the year on a sabbatical, assistant coach Aaron Toomey '14 stepped up as interim head coach.
For those who follow the program closely, Toomey is no stranger. Last year, he led Amherst to a thrilling 63-62 win over undefeated archrival Williams as interim head coach when Hixon missed the game due to personal reasons.
On the court, Toomey was one of the best players to ever put on the Amherst uniform. Coming to Amherst from Greensboro, North Carolina, Toomey immediately became a fix in Hixon's lineup as he was a four-year starter and became the only 2,000-point scorer in school history. Toomey also holds school records for most three pointers and free throws made in a career. On top of that, he was a two-time National Player of the Year and a national champion, making him the perfect candidate to take the helm during Hixon's time away.
Not only will the coaching staff look different this year, but there will also be some new faces wearing the Amherst uniform. The Mammoths will have a new pair of dual sport athletes on the team this year with Jack Harlan '21 and Yaya Zarroug '22 joining the roster. Harlan, a transfer who made his debut on the baseball field last spring, is a 6'7" stretch five who will give Amherst a powerful combination of strength and size. Zarroug, a member of the track and field team who won the NESCAC crown for the triple jump last spring, will play the guard position. In addition to Harlan and Zarroug, Dan Schlakman '23, Bo Oranye '23 and Isa Maguire '23 will all look to find a way to contribute early in their careers.
Even with all these fresh faces, Amherst returns a large core of players from last year's Sweet Sixteen team. Four of the five starters will be back, with Grant Robinson '21, Fru Che '21, Eric Sellew '20 and Devonn Allen '22 all poised to be key players once again.
Robinson, a First Team NESCAC pick last year, led Amherst by scoring 15.6 points per game and will look to improve on his stellar sophomore campaign. The only other two players to average double figures for the Mammoths last year are also returning: Che (11.3 PPG) and Sellew (11.0 PPG). Sellew led the Mammoths in rebounding with 8.3 per game a year ago and will be a key piece for the Mammoths in the frontcourt.
Co-captain Josh Chery '20, Garrett Day '21, Tim McCarthy '21 and Will Phelan '22 all saw significant minutes off the bench last year, demonstrating the depth that Amherst will have this year. Tommy Mobley '20 will once again be a sharpshooter off the bench after shooting 39.6 percent from deep a year ago. With a pair of big men from the 2019 season graduated, Griffin Gerwig '21, DJ Diabate '21 and Michael Schretter '22 will have larger roles this year. Amherst will once again be a strong force in the NESCAC and hopes to claim their third national title with Toomey leading the ship.
Amherst, currently ranked fourth in the D3hoops.com preseason poll, will open their season on the road against Lasell on Nov 19. Their first home game will take place later that week on Nov. 22 when the team hosts Elmira in the Ken Wright Invitational.