Vaccine
College Begins to Administer Covid Vaccines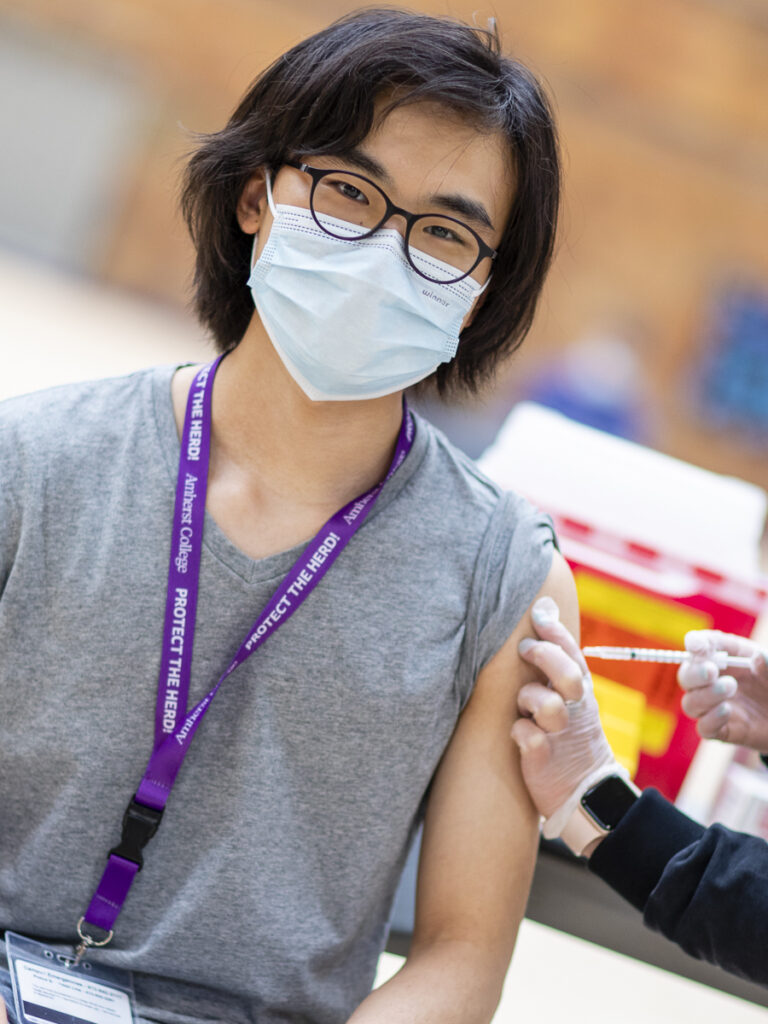 On Wednesday, April 28, the college delivered the Pfizer-BioNTech coronavirus vaccine shot to 336 students and 42 staff and faculty members at no out-of-pocket cost in a pop-up clinic set up in Coolidge Cage. The vaccines were administered by Pelmeds Pharmacy (based out of Waltham, Massachusetts) the Health Center and Testing Center staff. The second dose will be administered on campus by May 19, the last day of classes.
About 55 percent of on-campus students had already received one dose of the vaccine before the clinic. As of May 4, the percentage of students and staff and faculty who have had one or two doses of the vaccine are 95 and 83 percent, respectively.
Scientists agree that mass-vaccination efforts are key to ending the pandemic, even with an increase in Covid-19 variants that appear more virulent. In the U.S., nearly 40 percent of the population has been fully vaccinated, and early data suggest that the vaccine is slowing the spread of infections. The college announced on April 23 that all students must be fully vaccinated against Covid-19 before returning to campus for the Fall 2021 semester. "Vaccinations will be one of the most effective approaches that we can take to return to the immersive living and learning model that we all wish to experience once again," President Biddy Martin wrote in the announcement email. However, despite an increased number of on-campus individuals fully vaccinated, the college does not expect that social restrictions will change.
On April 30, Governor of Massachusetts Charlie Baker announced the lifting of the Outdoor Mask Mandate, citing the improving public health metrics in the state. On April 27, the Centers for Disease Control and Prevention (CDC) also issued new guidance on mask-wearing, stating that it would no longer be necessary for fully vaccinated individuals to wear a mask outdoors, except in certain crowded settings. Nonetheless, Dean of Students Liz Agosto announced on April 28 that the college would not be changing its mask requirements. On-campus individuals must continue to wear face masks at all times, both outside and inside regardless of proximity to others, except when alone in private residence hall rooms or offices. Students who do not comply may be subject to removal from college housing or disciplinary action.
"It is very easy to feel complacent on campus because of a sense of safety that our testing protocols and low numbers of cases so far might have produced," Agosto wrote in the email announcement. "With just over four weeks left, this is not the time to relax our diligence. Each member of our community — students, staff and faculty — has worked incredibly hard to make this year possible and we must continue to sustain these efforts," she said.
Students who took advantage of the opportunity to receive the vaccination reported that the process was straightforward and well-coordinated. Clinton Oshipitan '22, who received his first shot at the pop-up clinic, noted that he and his friends were attracted to the ease of being vaccinated on campus. "Good portions of my friends opted to get the on-campus vaccination," he said. "A lot of them liked the convenience of just walking to their vaccination compared to booking a time elsewhere and organizing transportation."
Like Oshipitan, Hantong Wu '23 was grateful that he no longer had to worry about obtaining a vaccine appointment. "I was excited to get the vaccine. The only reason I did not get the vaccine before this Wednesday is due to the complication of vaccine recognition between China and [the] U.S. As a Chinese citizen, I was hoping the two countries would recognize each other's vaccines so I would not need to be quarantined for 21 days were I to return to China this summer. I was just about to get my vaccine appointment off campus when I received the good news. It truly made vaccination so much easier and accessible," Wu said. 
In addition to being incredibly convenient, the sign-up process was relatively straightforward. Students received an email notifying them of their eligibility on Friday, April 23. The email provided students a link to register, after reporting demographic information, their address and  proof of insurance. Registration closed on April 27 at 12:00 a.m. EST. Following registration, students were required to pick up a copy of the Amherst College Consent and PelMeds Consent forms on Sunday or Tuesday during their regularly scheduled Covid-19 test. 
Wu signed up for his appointment via the instructions sent by the email. He cited that the process was straightforward and orderly. Wu also appreciated the email reminders from Agosto. Similarly, Oshipitan stated that the registration process was simple and took him less than five minutes to complete. 
After signing up, students waited less than a week for their appointment. "I believe I waited five days until the Wednesday vaccination day. At the vaccination facility, you had to provide them [the] two consent forms. Afterwards, I was immediately seated and received my first shot of the Pfizer vaccine," Oshipitan said.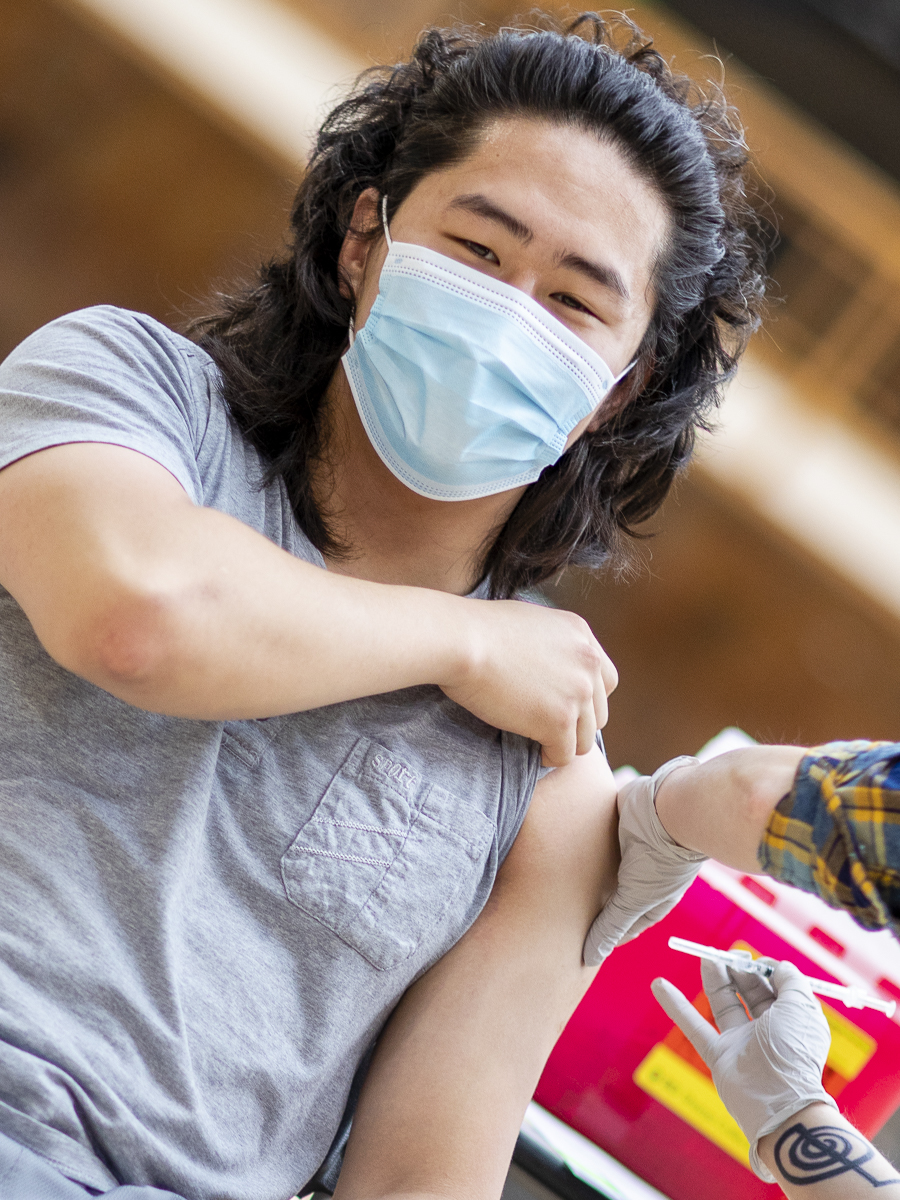 Batmanlai Tsogt '21 said that the process was the same for him: "I went to Coolidge Cage, walked in through the entrance they told us to, signed two forms and got vaccinated. I did not have to wait very long at all! I was happy to have started the vaccination process, so I would have immunity from 'rona'."
Students reported minor symptoms after receiving the first dose. Wu noticed light drowsiness and fatigue and Oshipitan noticed some soreness in his arm — both of which are common symptoms after receiving the Pfizer-BioNTech vaccine. Tsogt also had soreness in his arm, but it was the only symptom that he experienced. 
Overall, students are incredibly thankful that the college was able to secure a large number of Pfizer doses. Oshipitan said, "I had been meaning to get the vaccine since last year since I worked as an EMT when I was home last semester. I am glad that the college is offering vaccination options to students."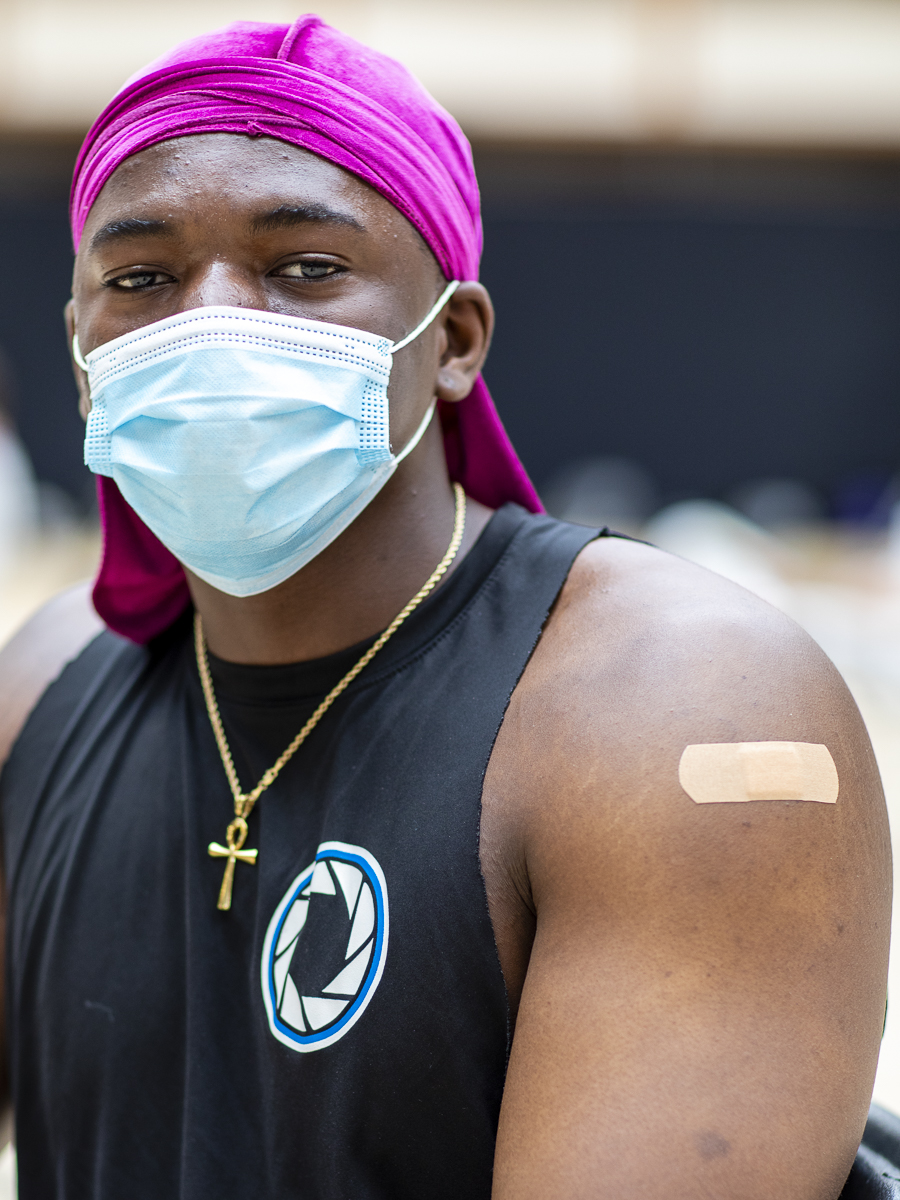 Wu also noted that he is impressed and grateful for the college's vaccination efforts. He mentioned that his parents are impressed and exceedingly glad about the college's efforts as well. "It makes vaccination more accessible, easier and safer as well — since students do not need to go off campus and risk exposure to more people beyond our 'bubble.'"