News
Community "Rewilds" Merrill Green With Native Plants
On April 29, a group of student and faculty volunteers planted native Western Massachusetts plants on the green between the Merrill Apartments and the tennis courts. The native pollinator garden project aims to bring native species back to campus.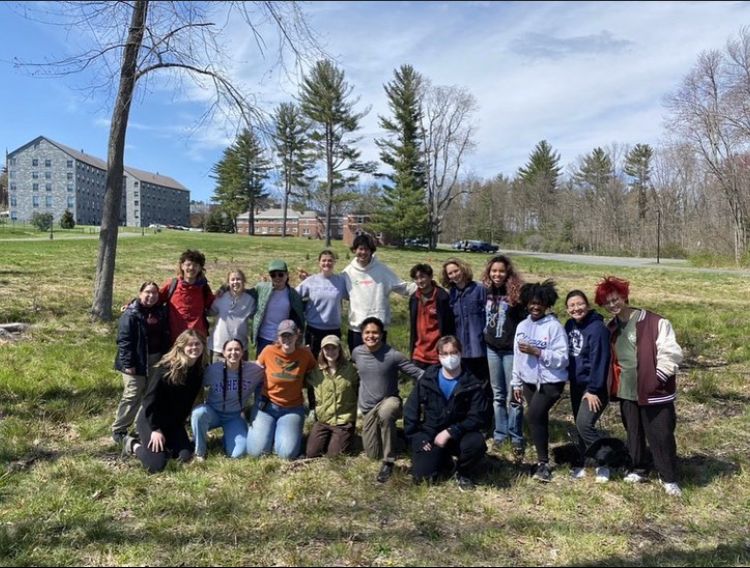 On April 29, a group of student and faculty volunteers gathered to plant native Western Massachusetts trees, shrubs, and flowers on the green between the Merrill Apartments and the tennis courts. Led by Talia Ward '23, this native pollinator garden project is a hopeful first step toward bringing native species back to campus and building community between students and the campus's natural environment.
The seed for the project was first planted in Ward's mind during her freshman year by a single patch of grass between Williston Hall and Frost Library. "Every week it would get mowed. And I was like, it's this tiny-ass little thing. Why is it grass?"
Ward initially considered guerilla gardening — gardening in an area without a legal right to plant and grow plant species, often used as a form of protest — during the fall of 2021, but Professor of English and American Studies Lisa Brooks encouraged her to seek funding for a native pollinator garden instead.
After visiting President Biddy Martin's office hours, Ward was connected with Jim Brassord, then chief of campus operations, and Kenny Lauzier, landscape and grounds supervisor. Martin, Brassord, and Lauzier showed enthusiasm for the project, reported Ward. "The grounds department really wants more native plants on campus," she said.
The brainstorming and planning process that followed involved many meetings with Brooks and Artist in Residence Elizabeth James Perry and talking about the project with friends, said Ward. After hearing about the project through word of mouth, Association of Amherst Students (AAS) Senator Sophie Sweeney '23 took on the garden as her Senate project, securing funding for it through the AAS.
Restoring native plants to an area is vital to preserving biodiversity and supporting the health of the entire ecosystem. Brooks and Perry contributed their traditional ecological knowledge about the area to determine what species to plant — eight in total. Together, they mapped the location of the various species of plants in the garden based on shading and the soil's wetness.
Ward used the term "rewilding," inspired by Perry, to describe the effort. "So much of our landscape on college campuses and in our lives is intentionally maintained to look a certain way," she said. "What does it mean to, like, be in a space that is not intentionally maintained, that is really left to be 'wild'?"
Ward said that unlike grassy areas on campus, the garden won't require much human maintenance. "The hope is that once we have returned these plant beings to this space that they will take over. We're just here to help them establish their community."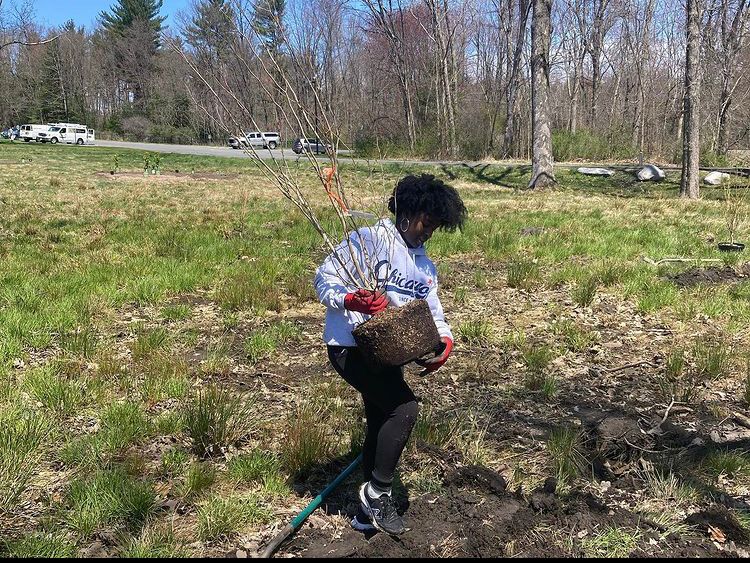 Prior to 2015, the site was populated by red pines, which are not native to the area but were planted in the late 1930s. After 80 years, their growth stagnated and they began to die in large numbers. The college cleared the site as part of a several-year project to remove and replace about 35 acres of red pines on and around campus. "This area has been barren for too long," Professor of Biology and Environmental Studies Jill Miller said. "So it's really nice to see it be reclaimed."
The planting was open to everyone who expressed interest — with students, faculty, and staff participating — and took less than the anticipated four hours to complete. "I think most of the people here don't really have a gardening background," Tessa Levenstein '23 said. "And look at what we're able to do even without that training."
Levenstein is a student in Brooks' "Reading Land, Writing Waters" course, in which students study relationships between humans, culture, colonialism, and the environment through substantial class time spent outdoors. The class spent this past Friday's class time at the planting. Levenstein cited the influence of taking the course on her planting experience. "Ultimately, I think land rehabilitation is best put in the hands of those who do it best. And those who do it best are often not humans."
Miller has been hoping for more pollinator gardens on campus for years. "In [Biology-]181, we go outside maybe for about half the labs. I really wanted [the school] to plant fall flowering native plants so that students in that course could go out and study them." Miller looks forward to bringing future students to the garden, as many of the plants are "pollinator magnets."
Looking to the future, Ward intends for the garden to be a gathering space for everyone. "The hope is that it benefits not only the human members of our community, but also the other than human members," she said. "And that people can find time to be here … to think about themselves not as adversaries of nature, but as being in community with nature." Ward hopes for picnic tables and benches to be placed in the garden in years to come.
"I just really appreciate that [Ward] had these ideas and that she did it, you know, and she didn't wait for someone else to do it," Levenstein said. "She rolled up her sleeves and made it happen."