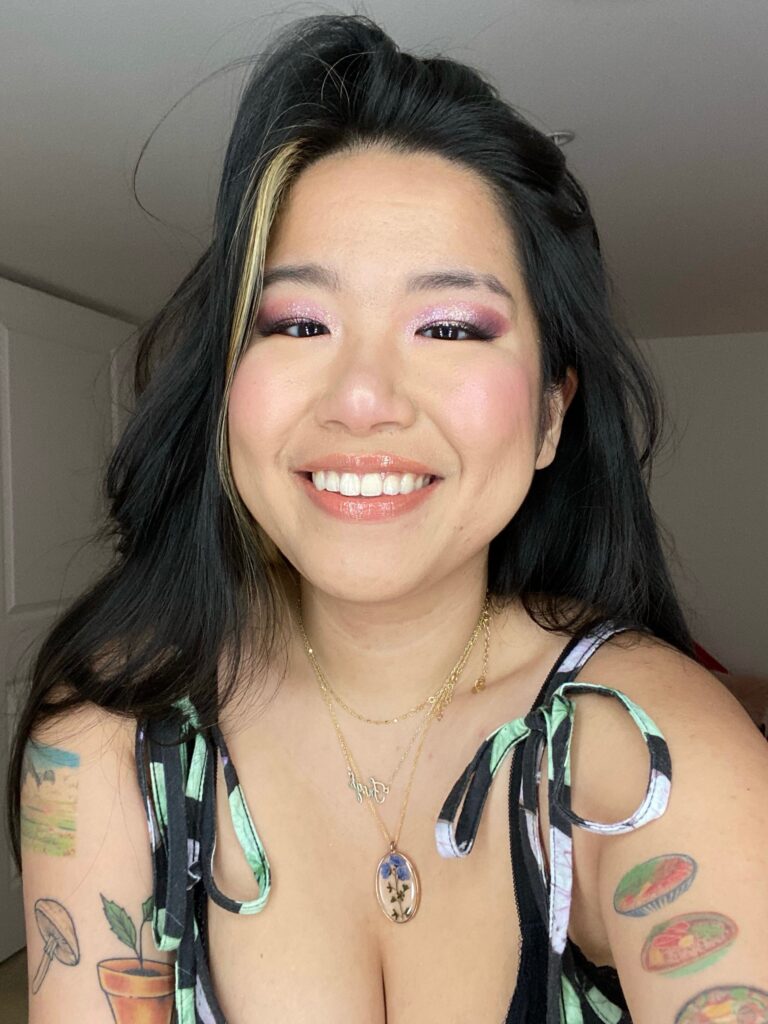 A movie aficionado, frog figurine collector and demography enthusiast, Cy Nguyen '21 is not your typical Amherst student. A Vietnamese American transfer from the University of California, Berkeley (UC Berkeley), Nguyen only spent two years of her college career at Amherst. But looking at all she has pursued and achieved during her time here, you wouldn't be able to tell.  
In the words of one of her professors, William R. Kenan Professor of American Studies and Sociology Leah Schmalzbauer, "Cy is one of the most passionate and bold thinkers with whom I have worked. She thinks outside of all boxes, bringing creativity to all that she does. She also infuses the communities of which she is a part with humanity, honesty and authenticity." 
Early Life: A Bold Independence  
Born in Vietnam, Nguyen immigrated to the U.S. when she was just a toddler. She grew up in various parts of California but spent most of her time in Orange County, where she went to a performing arts high school.
Nguyen moved out of her parents' home at the young age of seventeen, a difficult decision that ultimately proved fruitful for both her career and her mental health. Ever since, Nguyen has moved from place to place, never staying in one home consistently for more than a year. "Unfortunately, my home life just wasn't conducive to the things that I was hoping to pursue," Nguyen reflected. "[Moving out] has allowed me to get to the point that I am."
In high school, Nguyen was a budding creative writer and decided to pursue English at community college. After two years, Nguyen continued her study of English at UC Berkeley for two semesters, ultimately transferring to Amherst for her junior and senior years.
Coming to Amherst, she remembers, was the first time she'd ever been to the east coast.
The shift from a large public institution with over 30 thousand students to a small liberal arts school on the other side of the country was a significant one. "As a transfer, but also a first-generation, low-income student, I just had no idea what I was getting myself into," Nguyen remarked.
It was the small class sizes and bucolic setting that drew her to Amherst. "I knew that if I didn't take [this opportunity], even if it was going to be incredibly difficult, I would just end up regretting it forever," she said. 
Amherst Through Her Eyes
At first, Nguyen found it difficult to find her niche at Amherst, having entered the college as a junior. "I think by the time that people are juniors, friend groups are already well established and the dynamics of clubs are already well established," she commented.
Nguyen attended around ten different club and organization meetings within weeks of arriving at the college, eventually joining the Asian Students Association (ASA), becoming a member of the transfer student E-board and working for the Multicultural Resource Center (MRC).
Being a part of these organizations allowed her to interact with and participate in an extensive array of clubs on campus without necessarily being a member.
Nguyen really made the most of her two years at Amherst. Aside from engaging in these organizations, she studied abroad in Japan, double majored in Sociology and Asian Languages and Civilizations, wrote a thesis and took part in an intensive language program through a grant she received from the US State Department's Critical Language Scholarship (CLS) program.
Nguyen studied Japanese through the CLS program in the fall of her senior year. With travel limited by the pandemic, the program was moved online and shifted from the summer to the fall. "It was a really intense and crazy experience," she remarked. Taking one to two hours of Japanese lessons every day on top of her full college course load was certainly a challenge.
When asked about her most memorable class at Amherst, Nguyen answered that the classes she took with Professor Schmalzbauer — especially "Being Human in STEM" — were her favorites. "[Being Human in STEM] was one of the best classes I took at Amherst," she said. "It is really interesting because you have people from all different kinds of majors." 
And if she had to pick one professor to take with her to a desert island, Nguyen decided it would have to be Professor Schmalzbauer, partly because "she works out every day." And, she added, "All my other professors, God bless them, are quite old." Taking them to a deserted island would be cruel and unusual, she said with a chuckle.
Despite the difficulties Nguyen faced at the beginning of her career at Amherst, and the fact that she has only been physically on campus for one semester as a result of the pandemic, she reflected that the amount of opportunities, quality of education and lifelong friendships that she has been able to forge have made her time here a "truly wonderful experience overall."
As someone who has experienced education at a plethora of institutions — both private and public — Nguyen added that "Amherst has really been a cornerstone of being able to propel me into whatever direction that I want to go in life."  
Discovering Demography, and Becoming TikTok Famous 
And that direction, as of now, is demography. Having started off with an interest in English at community college, Nguyen discovered sociology, and then demography, and in her study of demography, she discovered Japan. "When I came to Amherst," she said, "I knew exactly what I wanted to do, which is quantitative sociology with a specific interest in migration in Japan." 
Before the pandemic hit, this was exactly what she wanted to write her thesis on. But since being in isolation disrupted research opportunities for her, Nguyen turned her focus to explore the topic of insulated belonging within transfer communities at Amherst College.
In spite of the obstacles that the Covid-19 crisis has presented — limited travel and research opportunities, and personal and academic challenges — Nguyen maintains a positive outlook, reflecting on the paths that the pandemic has opened up to her, like meeting her partner and becoming famous on TikTok.
Nguyen and her partner went to high school together and reconnected when Nguyen returned to her hometown to quarantine. "While the pandemic has been god-awful for so many, I genuinely would do it all over again, just to be able to be with my partner," she said.
And, to her surprise, her TikTok account (username: cyeatsfood), which currently has over 120 thousand followers, started rapidly gaining popularity over the past couple of months.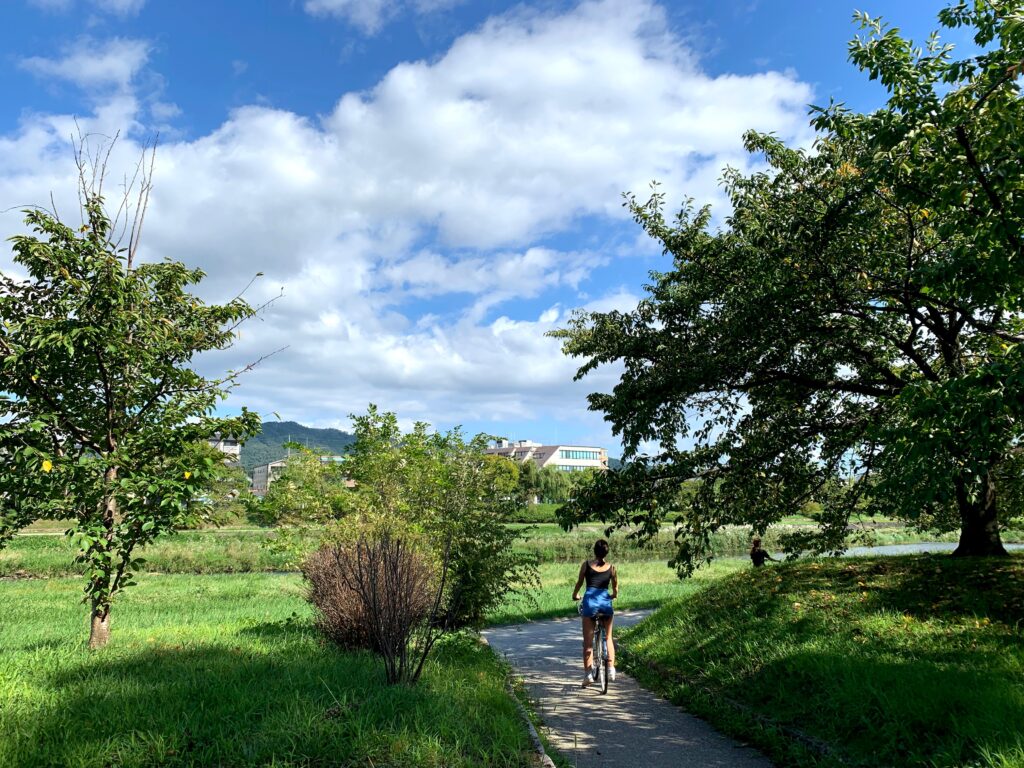 Planes, Trains and Bicycles: A Semester Abroad in Japan  
Nguyen received the MacArthur-Leithauser travel award in 2019, a grant that allowed her to travel abroad to around ten different countries for two months before spending the second semester of her junior year in Kyoto, Japan through the Doshisha exchange program.
Nguyen described her time in Kyoto as "one of the most peaceful experiences that I've had in my entire life." When she first came to Amherst, studying abroad was one of her primary goals — and she was particularly interested in studying Japanese.
Her fascination for the language stemmed from having grown up in California, with its large population of Japanese Americans. Nguyen was surrounded by Japanese entertainment, food and pop culture as she grew up and was eager to learn the language.
One of her favorite things about her time in Japan was how much she cycled. "I biked anywhere and everywhere," she said. "It was ridiculous!" Sometimes even opting to cycle over taking the train, Nguyen said she was able to appreciate the natural surroundings."Iit was great exercise, and just a fantastic experience overall," she commented. 
Movies and Frogs 
In her free time, Nguyen likes to collect frog figurines. It's a pastime she's enjoyed since middle school, and now has anywhere from 20 to 50, she told me. Her collection includes bobblehead frogs, little baby frogs and even a rubber-ducky style frog.
When asked what drew her to the animals, Nguyen replied that "there's a certain hideousness to them that I just found absolutely endearing!"
Her other big hobby is watching movies; for several years now, her goal has been to watch 100 new movies every year. In 2018, using a movie pass service, Nguyen managed to watch 200 new movies! Her two favorites, she said without hesitation, are "Howl's Moving Castle," a Studio Ghibli anime film, and a Korean thriller called "The Handmaiden." 
Onward! 
After college, Nguyen will be working as a full-time summer intern for the Federal Aviation Administration. She also plans to apply to graduate school within the fields of sociology and demography. Her ideal career path, she said, is either working for the U.S. Census or becoming a professor.
Ultimately, "who knows?" she told me. "I'm just hoping that I will be happy!"