Sports
Dani Valdez '22, 2022 All-American, Looks Back on Career
Dani Valdez '22 ended her collegiate basketball career with a variety of honors and awards. Staff writer Maya Reiner '25 sat down with Valdez to talk about her career and reflect on what got her to this point.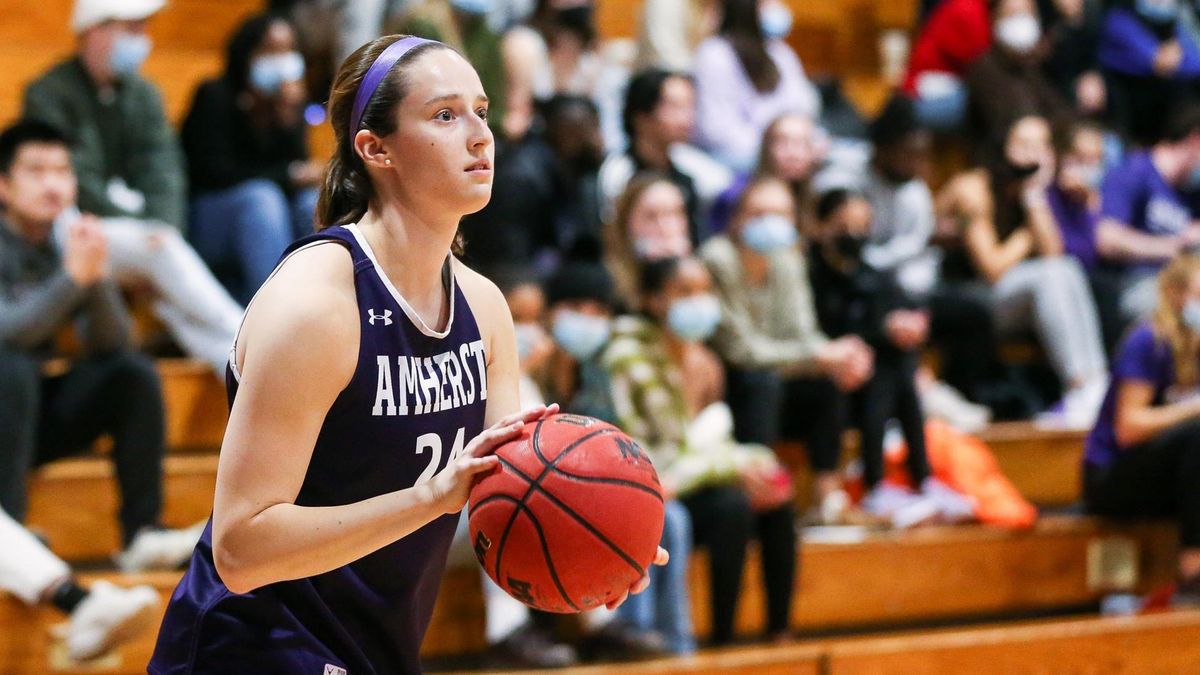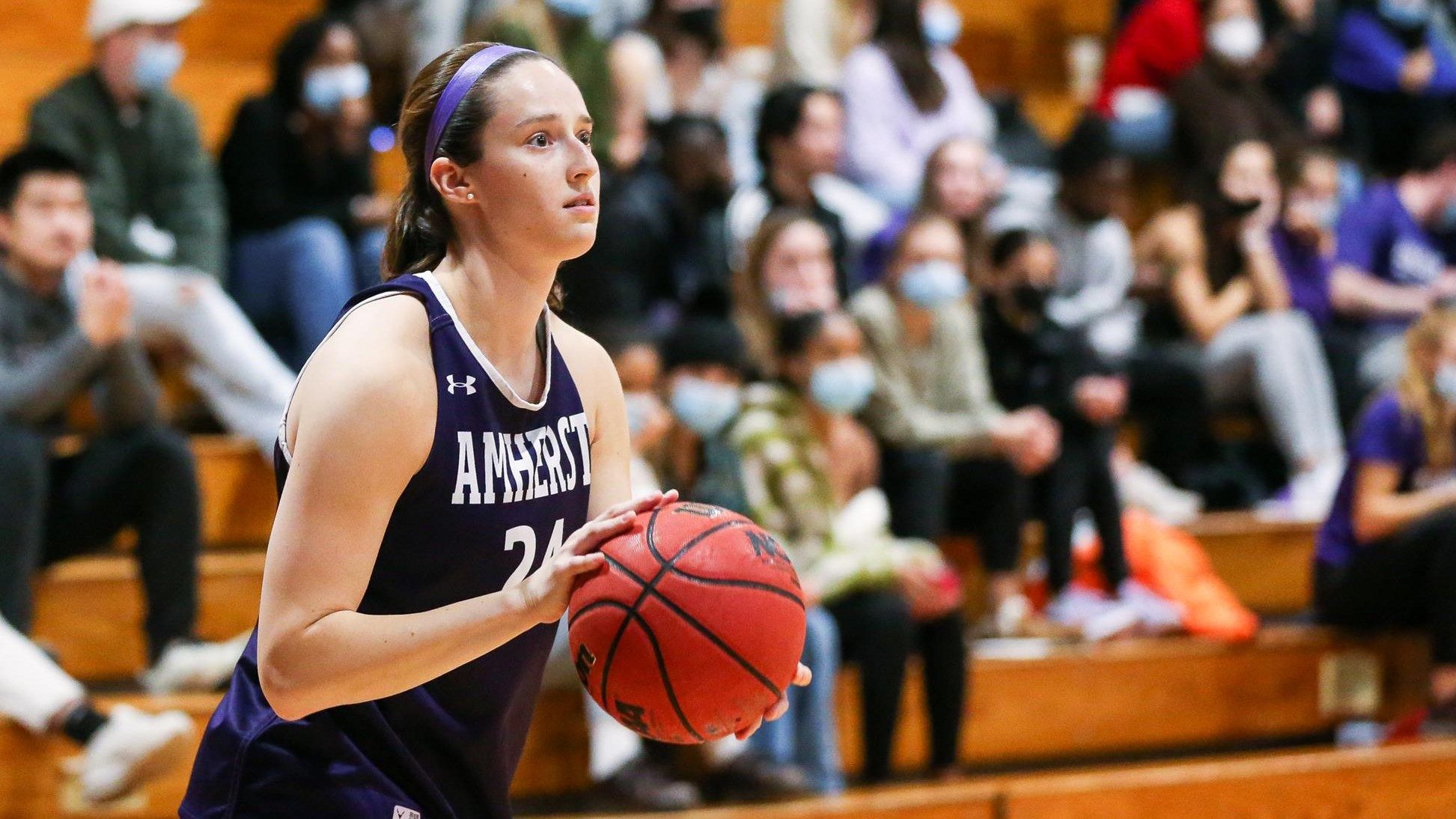 Dani Valdez '22 ended her collegiate basketball career as a Division III All-American named to the WBCA Division III All-Star Team, and a First Team All-Region I selected by D3Hoops.com. Staff writer Maya Reiner '25 sat down with Valdez to talk about her past four years as a star on the women's basketball team. Responses have been lightly edited for clarity and style.
Q: It is extremely impressive that you have been selected as a Division III All-American, named to the WBCA Division III All-Star Team, and selected as a First Team All-Region I by D3Hoops.com. What were your immediate thoughts when you got these honors? Who did you think about, and what experiences did you think back on?
A: I kind of get emotional thinking about it just because I never really expected to win these awards. I came into this season with an open mind, and when I came in, I had two things that I really wanted to accomplish: winning the NESCAC championship and winning a national championship. I was never really thinking about individual awards — rather, my main goal was team awards and what we, the senior class, could do in order to accomplish as much as we could in the three years that we were given. My first thought on receiving these awards was to look at how much we accomplished as a team. I don't really look at the awards as individual [honors] — I think it showcases how good of a team we are. I would never have been able to win these awards without my teammates. Without them passing me the ball or finding open looks to pass to me, I honestly would not be able to get anywhere close to what I accomplished.
I also thought about my parents, because they put so much time into bringing me to practices and coming to my games, and always supporting me. I also look at it as an accomplishment for them, too. What also made me emotional about receiving these awards was that, in high school, I never won awards. I also never thought of myself as having the ability to even reach these or to go to Amherst and play for a top program in the country. I feel like there were also a lot of people saying, like, "Oh, Dani can't do this, Dani can't do that." I think that there were a lot of things thrown at me, and a lot of adversity that I battled throughout. It's cool to look back and see how much I have grown as a person and also as a player. I really owe all that to my teammates, my parents, and my coaches. I wouldn't have been able to get this far without them.

Q: Covid-19 shut down your 2019-2020 (sophomore) season when you made it to the Sweet 16, and then kept you from having your 2020-2021 (junior) season. How did the team bounce back? What made your team so successful, despite all the adversities that you guys had to face?
A: When our [2019-2020] season got canceled, it was pretty rough. We were all pretty upset, and I think that we had a good shot of winning [a national title] or getting to the national championship. It was kind of difficult in the beginning, just to come back because we took a year off. We all took time off to play basketball. We were still working out, but it was different between training by yourself and training with the team. So coming back from the Covid break, we all were kind of trying to wipe the grease off and just get back into the swing of things. Although we had a pretty young team, everybody just clicked, and it was easy to play and come back. Everyone was able to connect and just have fun. Everybody also came in with an open mind. … I think that as the older group, the seniors also learned a lot from the younger players. That made it a cool dynamic, but also made it kind of like an even playing field, which was really exciting.

Q: Your team didn't have any juniors on it this year. How did that impact the dynamic, given that it's pretty significant?
A: I think that as a junior class, normally it would kind of be the bridge between the upperclassmen and the [under]classmen. If the underclassmen had questions, for example, the juniors would be able to answer all the questions that [they] would have concerns about if they were too nervous to ask the seniors. However, this is not an example that happens on our team.  What I found was that it was actually pretty cool because we were actually able to be involved with the underclassmen and really be able to immerse ourselves in what it's like being in that position again. It led us to kind of think about what things they were probably struggling with, like playing on a new team. This was also apparent for the sophomores because they didn't get a season last year, so they were basically first-years too. I think it helped our team a lot, being able to talk, being able to be connected with the underclassmen and guide them.

Q: Throughout your four years here at Amherst, did you ever find it difficult to balance your athletic and academic endeavors? What advice would you give to other athletes here?
A: It's definitely challenging being a student-athlete. I know my freshman year, it was really hard for me to adjust to balancing being an athlete — well, being a student first and then being an athlete. As the years went on, it was easier to adjust. I knew exactly what was expected of me, but I also owe a lot of that to my parents for grounding me at times when I felt very stressed out. And also to my professors. I'm a math major, so I am able to know a lot of the faculty who work in the math department. They made it so easy for me to play the sport that I love, but also to be able to get the best education that I could. I like our team's academic liaisons, Professor [of Mathematics] Danielle Benedetto and [William J. Walker] Professor [of Mathematics] Rob Benedetto. Especially this year, it was super hard for me to adjust, getting back to the swing of things of being a student and an athlete. I definitely had moments where I felt very stressed out, or I felt like, "How did I do this sophomore and freshman year?" (We had a whole year off my junior year, so I wasn't on campus.) It was definitely different coming back, but our team liaisons and also, in general, the math department would be super willing to meet with me over Zoom if I had questions or to answer some of the questions or concepts that I missed or that I was not really understanding. So I could handle the academic part because the professors made it possible by being so open to helping me outside of class and discussing these topics so that I could really nail it down. I also use the Quantitative (Q) Center a lot. [Associate Director of the Q Center] Allison Tanguay especially has helped me a lot with a balancing [academics and sports]. For example, my "Groups, Rings, and Fields" class last semester was one of the hardest classes I've taken at Amherst, and she was able to really help me and go over the homework, as well as help me review the test. This semester I used Tim from the Q Center as well. He's been really helping me with "Graph Theory." The Q Center is such a helpful tool. I really recommend using the Q Center. It's something that a lot of people don't use, but it's a good tool to have in your pocket in case you don't understand concepts and you need extra time outside of office hours or in class to review topics.

Q: What lessons and experiences have you gained throughout your four years that you're going to take beyond Amherst?
A: I learned to be confident. Coming into college, I wasn't really confident in my abilities or confident with myself. I'm an only child, so I kind of learned a lot from people around me. For a lot of lessons growing up, I had to learn through my own experiences, and I didn't really have someone to always look up to. So I think coming in, I was a little awkward and a little bit shy. But I think that by playing on the team, learning from past players, the underclassmen, and also my class too, I think I learned to be self-assured and not say sorry as much. I used to say sorry a lot and just did not feel very confident in my abilities. Another big lesson that I learned was putting myself in other people's shoes because, as I said before, college is really stressful and people are going through so many different stages of life. I think it's important to think about what other people are going through and to really try to be as positive as you can while also giving as much support to people as you can.