News
Dismantling Inequity, One Step at a Time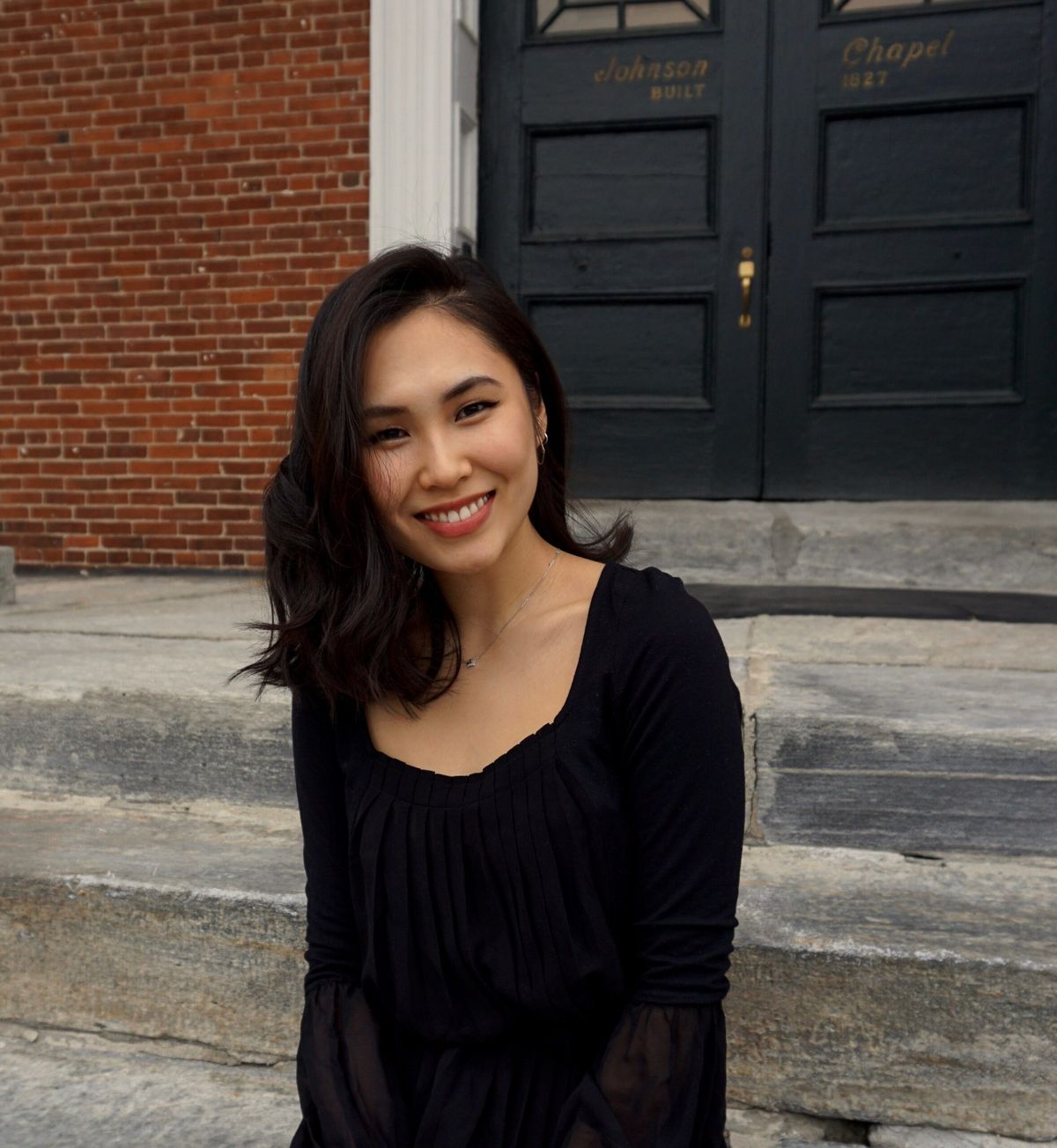 When tasked with the difficult job of describing ShoYoung Shin '19, one word comes to mind: dedicated.
Whether it is through her work with the Center for Diversity and Student Leadership, her roles as president of both the Asian Students Association (ASA) and the Korean Students Association (KSA) or her work with the Asian American Studies Working Group (AASWG). Shin's dedication to her work stands out to all who know her. "Her commitment to building a strong community at Amherst is so admirable," said Professor of American Studies Robert Hayashi, Shin's academic advisor. Throughout her time at Amherst, Shin has worked to uplift members of marginalized communities, and her dedication to social justice and improving Amherst's community is simply unparalleled.
Understanding Identity Shin's early life is best described as a whirlwind of transitions. Shin was born in South Korea, but she moved to Florida at the age of one. After her father received his degree in art education, her family moved to Wisconsin, then again to Arizona, where her family permanently settled. While Shin and her family continue to live in Arizona, she is cautious about referring to it as her home. "There was a lack of being able to connect with people I was in school with. They didn't share my identities or my lifestyle," she said.
She often viewed herself as a cultural outsider looking in, and the fact that teachers and peers often stereotyped her because of her Asian identity bolstered this mindset. It was this absence of a broader community that led her to cherish the connections she found at home, in church and through literature.
In high school, Shin began to explore more about her Asian-American identity. When an English teacher provided her with a couple of novels about Asian-American culture, she saw it as a defining point. "I was excited to read books like 'The Joy Luck Club.' I thought they were so great, but it was a very basic way to start," she said.
Through the QuestBridge program, which was recommended by her college counselor, Shin discovered and applied to Amherst. In Arizona, Shin made strides in learning more about her identity as an Asian-American woman, but at Amherst, she found an environment where she could truly develop her advocacy.
Finding Self Through Activism Much of Shin's career at Amherst has been dedicated to exploring and navigating aspects of her identity — as a woman, an Asian American and a low-income student. Her heavy involvement in student groups that worked tirelessly to support marginalized communities was no exception.
As a first year, Shin joined the ASA after Amherst Uprising — a student-led sit-in protesting the mistreatment of marginalized people at Amherst. During her sophomore year, she joined the KSA and the Asian American Pacific Islanders Studies Initiative as one of its first members. While she became president of KSA in sophomore year and ASA in junior year, she credits her work with the AAPI Studies Initiative, now named the Asian American Studies Working Group (AASWG), as one of the most formative parts of her college career.
Now a full-fledged movement at Amherst, AASWG started with humble beginnings. "When it started, it was just 10 students who wanted Asian American studies. I did what I could to try to help the movement, going to meetings when I could," said Shin. The students in the movement aimed to increase the number of Asian American studies courses and professors, meeting with President Biddy Martin and the Dean of the Faculty regularly. The group also advocates for more academic support for Asian-American students at large, eventually growing to its current size of 30 members.
It was through this experience, in which Shin had to fight on behalf of her community and her own identity, that she got her first taste of activism. "I learned a lot about advocacy. We saw that it was a really crucial moment to do so, and we knew we had that leverage. Although I learned how to work within a community, I also learned how to question and challenge the idea of what a community was," she said.
Shin played an active role in a variety of diversity initiatives, including her work as a program coordinator for the Center for Diversity and Student Leadership and her role in the Asian American Studies Working Group. Photo courtesy of ShoYoung Shin '19.
Shin has also been active as an advocate for the low-income community at Amherst, especially through her work with the Center for Diversity and Student Leadership, which assists first-generation and low-income students, veterans, transfer students and undocumented students. "Sometimes, I didn't know if people who shared my identities belonged at Amherst. The CDSL changed this negative outlook I had. I felt like I could talk very honestly about my identity in that space," she said, which motivated her to apply for a position there.
As program coordinator, Shin worked to facilitate the Next Gen Leadership Institute, which was created in 2018. The Institute was implemented by the CDSL on behalf of first-generation and low-income students on campus, aiming to foster critical leadership skills and connectivity among first-gen students.
"I see Sho as a colleague, rather than an employee. I truly admire her dedication and overall commitment to improving Amherst, especially for certain student populations. She brings so much positivity and energy to the work that we do here," said CDSL Director, Tenzin Kunor.
Breaking Through Academically Shin's academic experience at Amherst has been defined by her drive to discover more about her identity as an Asian-American woman. Her pursuits began when she took her first-year seminar "Reading Asian American," an introductory course in Asian-American heritage and history, and "Introduction to Sociology." "Those two courses were so significant to me and were foundations for me here at Amherst. I began to question my racial and ethnic identity through these courses," said Shin.
The intellectual curiosity that Shin emanated in class did not go unnoticed by her mentors and professors.
"She was so engaged in her work in class. Sometimes you're confronted with problems that you don't have context or language for. In those cases, it's important to practice self-inquiry and to think critically. I saw both traits within Sho, and she had an earnest desire to address these issues," said Hayashi. "She wasn't complacent, and she was willing to throw herself deep into these problems."
Throughout her academic career and her major in American studies, Shin continued to seek out courses that challenged aspects of her identity and perspective on society. In her senior year, Shin took "Introduction to Contemporary Art," "Race, Sex and Gender in the Military" and "Protest!", all of which allowed her to reflect on the significance of power dynamics for marginalized groups in society.
"I was able to make so many connections between the three courses, even though you wouldn't expect the material in the courses to be related. I was able to connect the content of the courses to my own outlook on society," she said.
Shin's academic career ultimately culminated with her thesis, which looked at the power dynamics and social significance of bathrooms throughout American history. Using the examples of bathrooms in Japanese-American incarceration camps during World War II, innovated toilets by the Gates Foundation and the experiences of New York taxi drivers, many of whom lack access to bathrooms during work, Shin connected these examples of bathrooms, or a lack of bathrooms, to basic notions of power, mobility and access to resources in society.
Her defining experiences at Amherst and her feelings of exclusion on campus, stemming from her marginalized identities, inspired her to pursue this massive project. Despite the non-conventional topic, her work was well-received by the American studies department and her advisors. "Her thesis was really ambitious and was a brilliant idea. I truly believe her project would make an incredible dissertation. It was ambitious in its scope and design," said Hayashi.
Life After Amherst After an experience last summer in which she interned for the Asian American Federation and worked as an advocate for Asian immigrant, elderly and youth populations in New York City, Shin was inspired to pursue her passion for community advocacy.
After Amherst, Shin hopes to work in either the nonprofit sector or for the government to help Asian-American and immigrant populations in the United States. She plans to dedicate her career to bolstering the same communities that she worked to support at Amherst and hopes to advocate for social justice for marginalized groups.
Shin leaves Amherst with an impact that can be matched by few in the college community. Yet, when asked, she says her greatest accomplishment at Amherst was getting to understand more of her own identity. "I think it is so important for a person to understand and learn a lot about themselves. It's okay to take what you need and invest in yourself while you serve others and work on behalf of a larger community," said Shin.
Amherst has been integral to developing Shin's own identity, — as a woman, an Asian American and a low-income student — academically, personally and socially.
She now leaves with a legacy of activism and community service as well as a renewed sense of her own identity. "I am a lot more secure about my own identity than I was before coming to Amherst, and that's so significant," said Shin. "Amherst is a chosen home that's grown on me."