Sports
Duncan Robinson Gives Back to his NESCAC Rival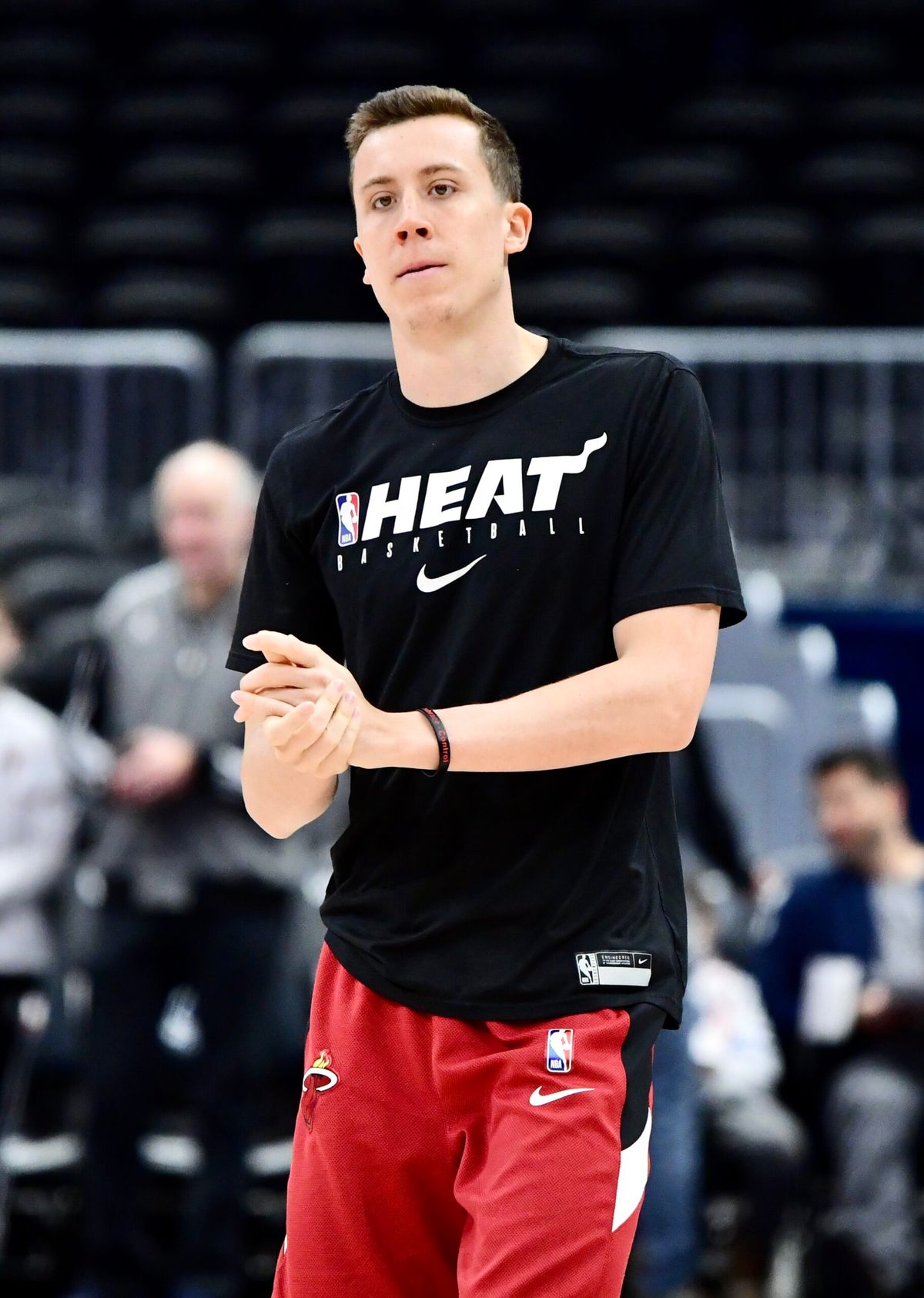 On Feb. 25, student-athletes were provided the opportunity through Amherst LEADS — the college's student-athlete leadership program — to hear from one of the best shooters in the NBA, Miami Heat shooting guard Duncan Robinson. Robinson spoke with first-years, sophomore and junior student-athletes about his experiences playing college sports, and he gave valuable insights regarding how to succeed as both an athlete and teammate.
Robinson began by discussing his high school basketball experience. While attending the Governor's Academy and Phillips Exeter Academy, Robinson only dabbled in basketball. He did not prioritize games and did not play many minutes. Because of his limited playing time in high school, very few colleges and universities were interested in recruiting him. Robinson knew he wanted to go to a good academic college, so his focus narrowed down to NESCAC schools, specifically Amherst and Williams. In the end, Robinson chose Williams College because their head coach, Mike Maker, saw and invested in his potential.Robinson values the time he spent at Williams, he said, noting that he met great people and that his teammates from there are still some of his closest friends today. The team would always spend time together socially, which is something that he would miss as he transitioned to Division 1 and pro basketball, he added. Going into his freshman year at Williams, Coach Maker wanted Robinson to start in his first game, but by doing so, Robinson would be replacing a senior. Despite Robinson's initial reservations about breaching seniority, the senior supported him. Robinson noted how that act of support reassured him that Williams College attracts a certain type of person—someone who supports their teammates no matter what.
Robinson transferred after one collegiate season to the University of Michigan to complete his collegiate basketball career. With a goal to go pro, Robinson wanted to make a strong impact on the team and get noticed by NBA scouts. However, going into the fourth game of his junior year, he was taken out of the starting lineup for sophomore DJ Wilson, who went on to be drafted in the first round of NBA picks. The Michigan Wolverines ended up winning the game, but Robinson was disappointed by the fact that he hadn't played in the starting lineup after working so hard. But then he remembered what happened at Williams — what happened when he was in DJ Wilson's position. Robinson realized that what truly matters is how the team does, he recounted. By learning to put the team first, Robinson gained credibility as a leader.
During his senior year, Robinson once again thought that it was going to be the year he showed the NBA that he was worth drafting. But once again, he received the disappointing news from his coach, John Beilein, that he was being taken out of the starting lineup, this time for a first-year. Robinson expressed that, although he was extremely frustrated, the team was better in the end due to Coach Beilein's decision. Robinson again decided to put the team first and set the example for the rest of the team.
In the end, Robinson had two major pieces of advice for the student athletes:
Be present where you are. Don't worry about the uncontrollables. Instead focus on the present, and how you can help the team in the moment, and play the role you are meant to play each and every day.
Show up. Always give your all, and be there as both a leader and support system for your teammates.
Robinson acknowledged that a lot of things completely out of his control allowed him to become a star on the Miami Heat today. He told the student-athletes to truly appreciate every moment they have being on a team where everyone is friends away from their sports as well. He said that once he arrived at Michigan, it became more of a business, and the fun nights out with his teammates occurred much less frequently. This change was even more pronounced in the NBA, where players compete to provide for their families, and are therefore much more territorial with their roles on the team.
Once Robinson finished discussing his collegiate experiences, the talk shifted to Q&A format. Citing the pandemic, Robinson was asked if he had any advice regarding mental health. Robinson said that while he was in The Bubble in Orlando in 2020, his coach, Erik Spoelstra, advised his players to write in journals, five minutes in the morning and five minutes in the evening. Robinson writes what he is grateful about and any positive affirmations he has for that day. Robinson also told the students that he meditates to help him focus, especially before big games. He also advised that, especially during these times, human interaction is very important, whether it is calling people over the phone or hopping on Zoom calls with friends.
Robinson ended the call saying that his favorite moment so far in the NBA has been facing Lebron James in the NBA Finals last year. Robinson felt starstruck knowing that he was in the way of an all-time great, competing for an NBA Championship.