Arts & Living
Earl Sweatshirt's "Some Rap Songs" Shows Artistic Maturity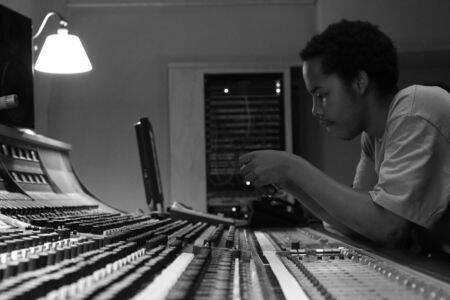 After a relatively quiet three years between albums, Earl Sweatshirt released his third commercial LP "Some Rap Songs." On Friday Nov. 30, Earl first broke into the hip-hop world at just 16 years old in 2010 with the west coast rap collective Odd Future. "Some Rap Songs" is Earl Sweatshirt's first full-length release since Odd Future effectively disbanded in 2015, and while some Odd Future artists like Tyler, the Creator, Frank Ocean and Syd (who formerly went by Syd tha Kyd) have continued to release critically acclaimed music, Earl Sweatshirt's artistic growth had yet to be seen.
His debut 2010 mixtape "Earl" turned heads for its incredibly violent and edgy lyrics. However, Earl's talent for clever rhymes and word play shone through and earned him respect from fans and critics alike. In his 2015 album, "I Don't Like Sh*t, I Don't Go Outside," his music became even darker, as Earl went down a rabbit hole of gloom and depression, themes which he continued to develop in the 2015 EP "Solace." The EP, a 10 minute abstract jumble of half-rapped thoughts and looped sounds, still stands as a powerful auditory representation of depression. The brief, yet poignant, "Some Rap Songs" feels like the three-year fermentation of this sound.
The production on the album, handled mostly by Earl himself under the moniker randomblackdude, takes center stage. Throughout the album, eerily looped samples shape a palette of lo-fi beats, and the production is mixed to practically the same volume as Earl's rapping, which juts in and out from behind the sampling. This lo-fi approach, similar to that of "Solace," is somewhat surprising on a full-length album coming from a rapper known for his lyrical versatility. Nevertheless, this style of production lends itself to Earl's atmosphere of gloom. The album opens with the ominously titled "Shattered Dreams," which finds Earl contemplating suicide and the dreamlike nature of his depression. The song takes root in the phrase "imprecise words," drawn from writer James Baldwin, and throughout, Earl paints a loose montage of grimy images in his signature deadpan voice. Despite its two minute and 21 second runtime, "Shattered Dreams" is one of the longer tracks on the 15-song album that lasts just 24 minutes. Consequently, the album itself becomes a montage of Earl's hazy thoughts and ideas.
The next track, "Red Water," dives into Earl's relationship with his family, which becomes a major theme throughout the album. In early 2018, Earl suffered the loss of his estranged father, renowned South African poet Keorapetse Kgositsile. Despite their complicated relationship, Earl was deeply affected by the loss, and the tragedy, paired with Earl's continued battle with depression, heavily influences the music of "Some Rap Songs." One especially compelling aspect of "Red Water" is its feeling of spontaneity. Due to its short length, repeated chorus and Earl's odd cadence, the track feels more like a freestyle than a composed song, and this lightning in a bottle quality of the song creates a feeling of closeness to Earl and accentuates the personal nature of the lyrics. Indeed, throughout "Some Rap Songs," Earl is a master of crafting atmosphere. For example, on the third track, "Cold Summers," Earl raps over a bright muffled beat that sounds reminiscent of a snowy landscape.
Another highlight of the album, "December 24," utilizes muffled production to a similar effect. "December 24" is one of the most vocally emphasized songs on "Some Rap Songs." Fans of Earl's previous albums might find comfort in the track, as he returns to his signature wordplay and aggressive tone, similar to that of many tracks on "I Don't Like Sh*t, I Don't Go Outside." In addition to the topic of depression, which played a major role on that 2015 LP, Earl also revisits other themes of his earlier music on tracks like "The Mint" where he returns to the subject of substance abuse. The beat, composed of an out-of-tune piano riff over a heavy bass line, lends an unsteady, drunken feeling to the track as Earl, in another seemingly spur-of-the-moment verse, muses over his drug and alcohol use. The album, however, isn't completely moody and depressive.
Some rays of light manage to shine into Earl's world on the following track, "The Bends," produced by long-time friend and former Odd Future member Sage Elsesser. The song finds Earl rapping over two upbeat soul sample loops, as he reflects on how far he has come during his career "from the Dickies and dirty Jansports." The line "Bend we don't break, we not the bank," repeated throughout the song, is a testament to Earl's resilience in the face of depression. And on the track "Azucar," also produced by Elsesser and featuring similarly bright samples, Earl reflects on the emotional support from his mother and new friends.
The eclectic album finally reaches an emotional climax with the song "Playing Possum," which features overlaid spoken word samples from Earl's parents over his lo-fi looped production. The sample from Earl's mother, Cheryl Harris, a professor of civil rights and civil liberties at UCLA's law school, features an excerpt from a keynote speech in which she thanks her family and friends, including Earl himself. In his sample, Kgositsile reads a section of his poem, "Anguish Longer than Sorrow." The song acts as both a sort of family reunion and reckoning, closing with the line, "'To have a home is not a favor.'" In the face of Kgositsile's death, the track takes on an even greater emotional weight.
"Some Rap Songs" might not be the album fans spent over three years anticipating. Undeniably, the extremely brief runtime of each track, the loose thematic montage, the lo-fi and Earl's seemingly spontaneous verses all make the album feel almost spur-of-the-moment. Nevertheless, in the creative experimentation of "Some Rap Songs," Earl still manages to convey the heavy moods and emotions that his fans appreciate. Those who were hoping for Earl to return to his old, more polished sound will most likely be disappointed. Since his days in Odd Future, Earl has changed his artistic trajectory, and "Some Rap Songs" represents new growth and maturity from the still-young artist.