Arts & Living
Edward Sharpe and the Magnetic Zeros Release Album Without Jade Castrinos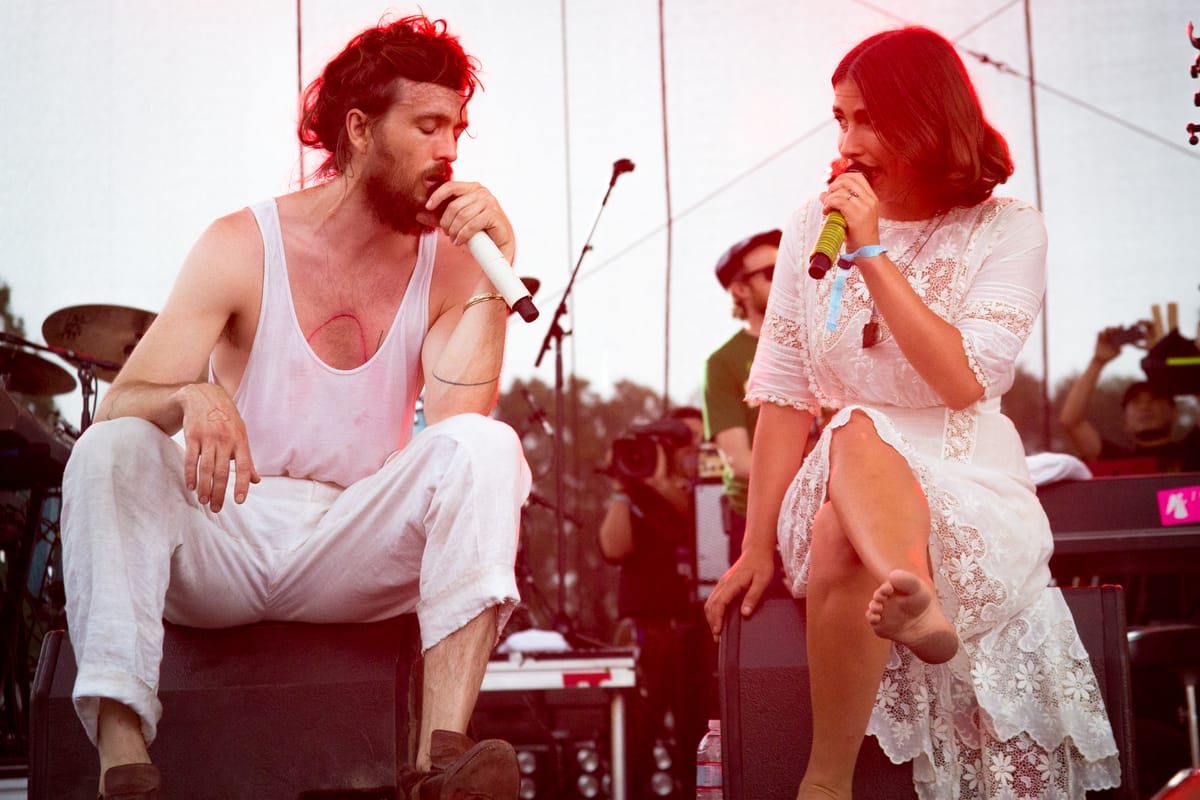 Early in 2014, fans of Edward Sharpe and the Magnetic Zeros were shocked to learn that Jade Castrinos would not be joining the ten-piece band on the next North American Tour. Nor would she be joining the band in the future — Castrinos was effectively fired from the band. Fans would no longer be able to hear those signature lyrics from the band's hit single, "Home," live — Jade and Alexander were no more.
Or at least, that's how she put it in a since-deleted Instagram post. The musician wrote: "For seven years I sang and wrote music with Edward Sharpe. They voted me off of tour a week before they left, via email. Lol." Many media outlets and fans were able to capture screenshots of the message before she removed the content. For months afterwards, her former bandmates were silent about the details of what happened. Stating only (in a now-deleted post on front-man Alex Ebert's Facebook) that out of respect for Jade, they "would not elaborate" on the situation. Finally after almost a year since Jade's departure, the band took it upon itself to let their fans know via Facebook and Twitter that Jade was not in fact fired. In their statement, they revealed that she "quit" after being asked to "take off from one tour." Apparently Castrinos refused to take the band's offer and parted ways with the band.
This drama has not stopped the band from playing at festivals or headlining tours on their own. Castrinos has since moved on to headlining her own shows as a solo artist. Because of this, however, Edward Sharpe and the Magnetic Zeros had no easy feat when it came to their next album they, the first without Jade's distinctive (and only female voice in the group) sound on the album since the band's debut album, "Up from Below." The ten-piece band started work on their fourth album and took on a new approach: actually working in the same room together. This newfound cooperative approach is evident in every way down to the band's new image. The band has, as of late, made a point to rebrand in the form of crossing out "Edward Sharpe and the" on all of their visuals including on the cover of their newest album "PersonA."
Based on my listening, the band has finally allowed itself to evolve from their signature sound that Paul Thompson of Pitchfork referred to as "something out of 1967 California." The evolution works — yes, it's completely different, but I think that's the point. In my opinion, the band finally sounds like a band, rather than a vehicle for front man Alex Ebert to express his hippie side. Some critics, such as Allan Raible of ABC News, have called Ebert out for his "vocal limitations," but his singing style truly works on PersonA. Whereas previous albums seemed to be something perfect for a festival like Coachella, the Leeds or Reading Festivals, now the band's sound is more akin to something you would hear in a smoky bar's open mic night. Ebert's voice cracks and crumbles on some notes, but here it isn't about the sound of his voice, but rather the sound of the music that provides his background and the lyrics he is spouting out. The album is more personal. Instead of wanting to dance around while ignoring the poignant lyrics, the songs on PersonA make you want to listen and think about what is being said. The connection between the band and their seemed fans superficial in the past, now it seems they are finally letting people create real ties to them and their music. In short, they are no longer hiding behind the gimmick-like "all you need is love" motif of sunflowers, flower crowns and long beards. Even if their message is still the same, they have found new ways to express it, which is refreshing.
Best Tracks:
"Hot Coals": I'm not exactly sure what this song is about, but it's passionate. That's evident simply from the jam-session like aspect of the song. Much of it sounds like Ebert is simply reciting a poem he wrote over the sound of his band mates just playing what feels right.
"No Love Like Ours": This song is the shortest on the album, at just under three minutes in length, but it's definitely the most similar to Edward Sharpe and the Magnetic Zeros' earlier work. It's perfect to sing along to or fto listen to while frolicking in a field with your best friends or lover.
"Wake Up the Sun": With a steady foot tap-inducing bass line and Alex Ebert's raspy falsetto, "Wake Up the Sun" sounds like everyone's favorite indie-rock band at it's best. The band is almost unrecognizable in this song, save for this scatting and grunting Ebert does throughout the song that evokes an "I don't care, I just want to sing" attitude. Lyrically, the song is also reminiscent of the band's early works, as Ebert pronounces that he's tired of religion, and "Love" is his religion.