commencement
Eniola Ajao: The Noise Found in Silence
Ajao has presented her research on Black ASL via Zoom to an audience of over 200 Amherst students, faculty, scholars and artists around the world.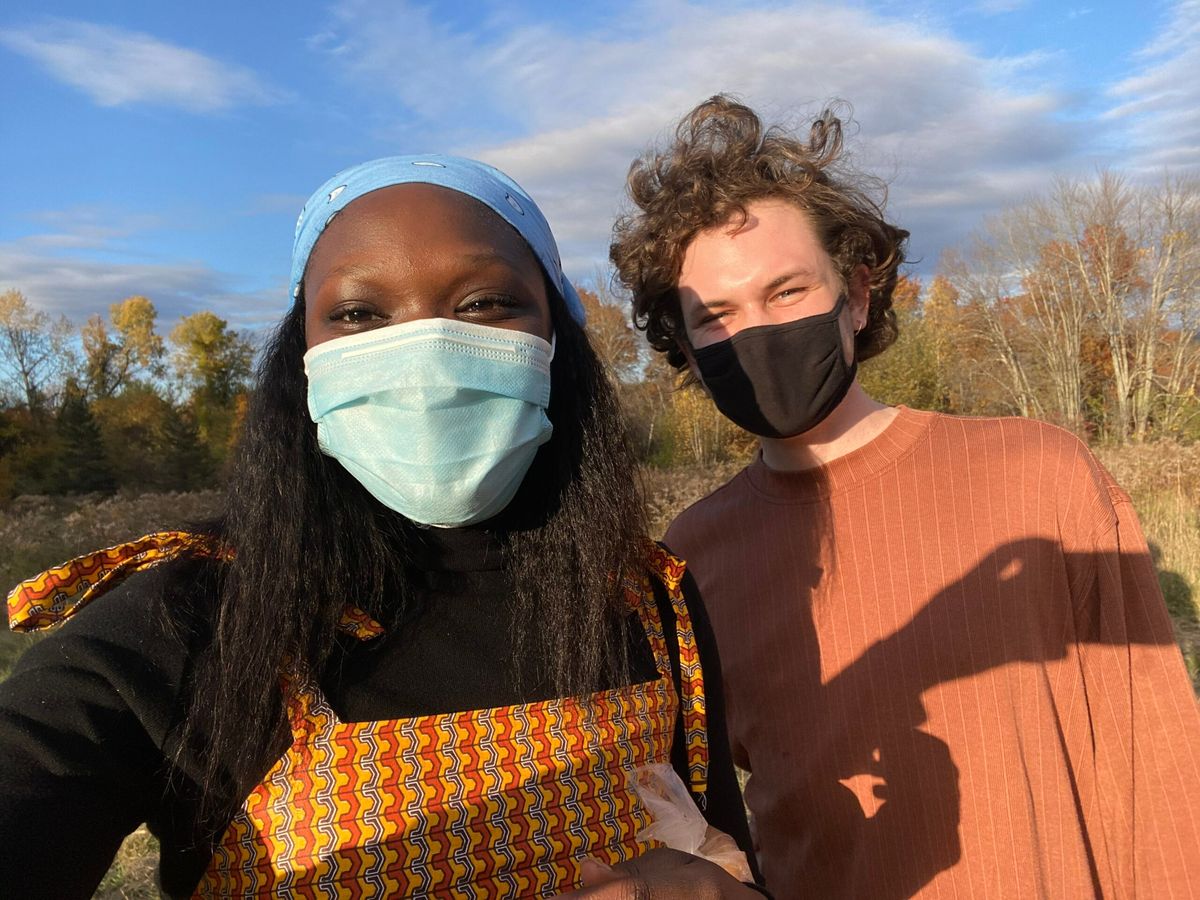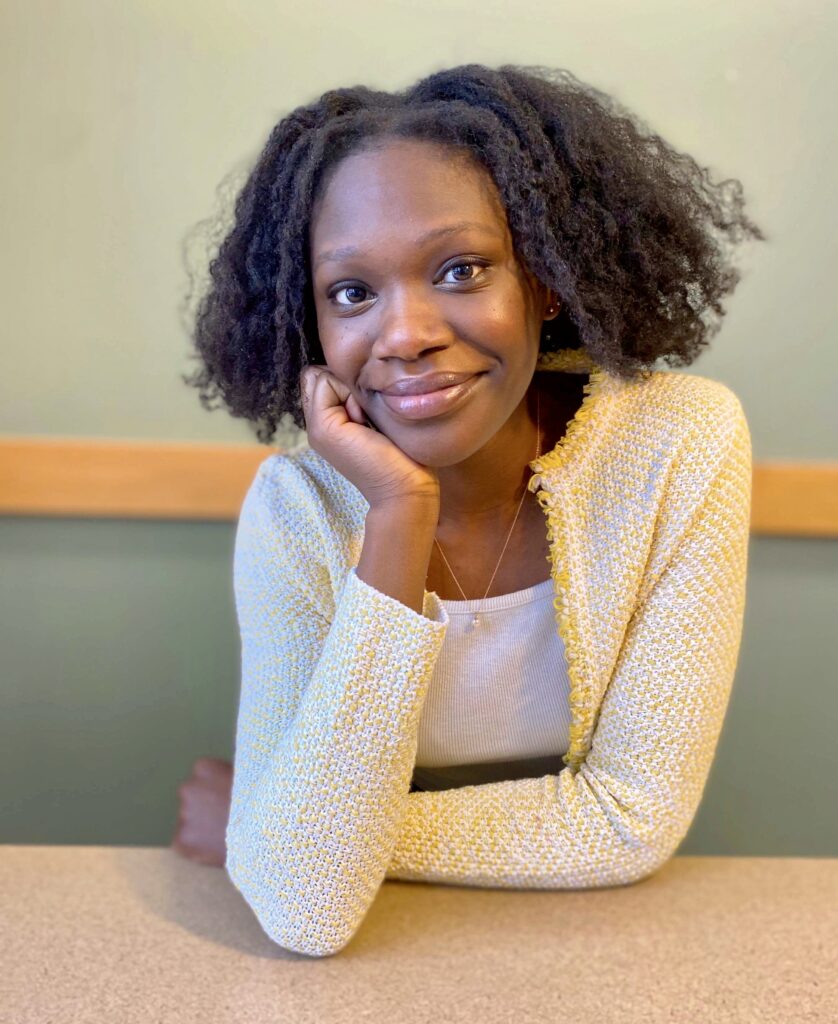 While I was experiencing technical difficulties at the beginning of our conversation, Eniola Ajao '21 sat patiently, smiling, immediately reducing the stress that always comes when things don't go as planned. Even though this was the first time we had ever met, Ajao's smile and comforting present persisted during our one-hour Zoom meeting, making it feel like I have known her for many years. Her comforting and happy presence is reiterated by her friend Faith Merritt '22: "Eniola is such a beautiful person both inside and out. Her energy and happiness are contagious."
A Small Town Called Brattleboro
Born in Abuja, Nigeria, Ajao moved to the United States when she was 11 years old to a small town in Vermont called Brattleboro. Coming from a strict private school in Nigeria that allowed for very little creativity, Ajao described her two years in middle school in Vermont as the most impactful and formative early educational experience for her.
As someone who likes to journal and write short stories for fun today, Ajao describes her schooling experience in Vermont as where she developed her love for reading and writing. Before living in Brattleboro, Ajao felt more comfortable with math and quantitative reasoning, and while she still enjoys quantitative reasoning, a defining moment happened to her in fifth grade, when her teacher gave her "The Book Thief" to read.
Ajao described this moment to me: "I remember my fifth grade teacher giving me a book at the end of the year. And that was the first time a teacher ever gave me anything ever. And I remember it was 'The Book Thief.' It was the biggest book I've read up to that point. And she said something like, 'I think you're ready for this.' And yeah, it just meant so much to me. I was so flattered. I was flattered that she'd given me a book. I was flattered that it was a big book. It was bigger than any of the other books. And that meant a lot to me. So that's a memory I cherish."
An Amherst Superfan
After living in Vermont for two years, Ajao moved to Amherst, Massachusetts, a place many of us are familiar with. While many people immensely enjoy Amherst, I have never met someone who expressed their love for this town as much as Ajao, calling herself an "Amherst Superfan."
While her mother was pursuing a doctorate at UMass Amherst, Ajao attended middle school in Amherst. Her favorite memories were the field trips to various parks: "It was just really fun to play in the water. Run through sprinklers, all that good stuff. Melting popsicles." However, despite Ajao's love for Amherst, Amherst College was not initially her first choice: "So my dream school was Williams. But I knew that if I didn't go to Williams, I wanted to go to a small liberal arts college."
Being a part of the Questbridge program, Ajao ended up being matched with Haverford College in Pennsylvania, and despite this college being last on Ajao's list, she ended up spending her first two years there. Due to the "ugly dorms,'' and overall not totally fitting in with the school culture, Ajao transferred to Amherst for her final two years.
"I just think I should have just been at Amherst from the start, because I love the town." When I asked her why she loved Amherst so much, she said, "I love Amherst natives. I think they're really unique and interesting. A passionate community. I love Main Street. I know it's little, but I think there's so many gems in this town. What else? Oh my gosh, the town fair. I think most students are not around when it happens. But it's so much fun. I love the farmers markets that happen on Saturday."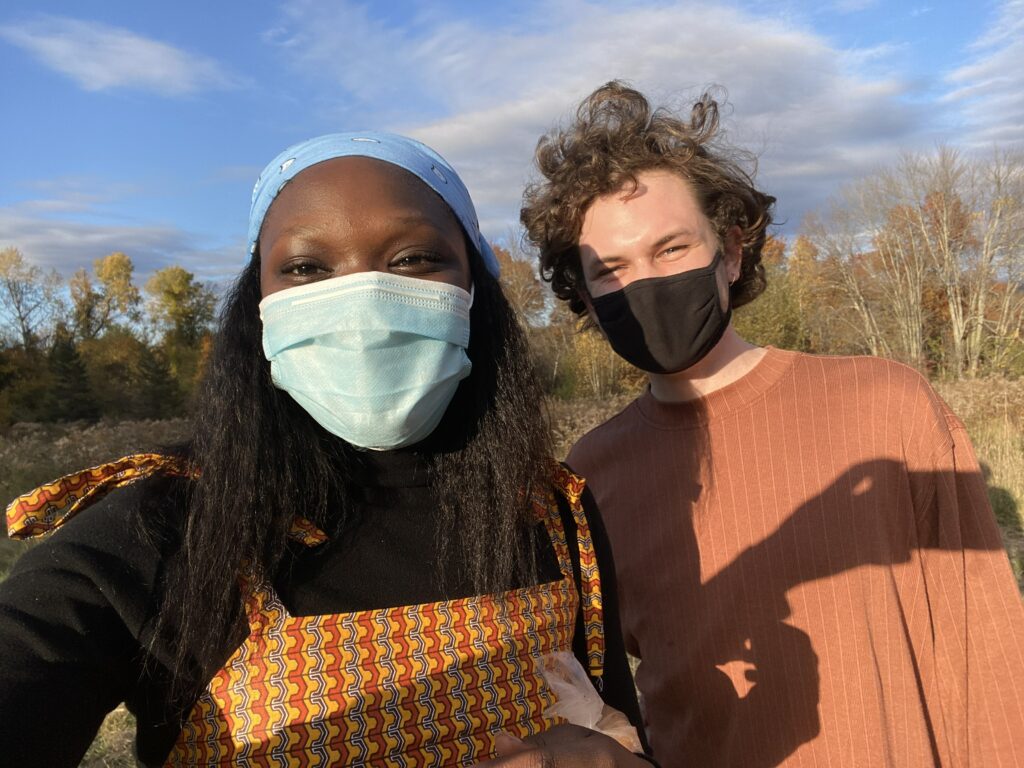 The Power of Gestures
Ajao is graduating from Amherst with a double major in English and computer science. English for Ajao was a natural choice, still having a strong passion for it since that defining moment in fifth grade. At Haverford, having to take a quantitative class to fulfill the requirements, Ajao decided to take computer science. With reservations at first, Ajao ended up deeply enjoying the class, and she decided to keep exploring the discipline. Ajao said, "[English and computer science] balance each other out. And also, they just were the most engaging subjects."
Despite having these two majors, Ajao continued to expand her knowledge by taking classes in other subjects, including a colloquium class called the "Hearing Difference: The Political Economy of Accent" with Professor Rangan. This class was especially interesting for Ajao because of her passion for American Sign Language (ASL).
Her passion for ASL began during her time at Haverford. Since there were ASL classes taught at the University of Pennsylvania, which was in the same consortium as Haverford, Ajao decided to give the new language a shot — she ended up loving it.
Ajao's passion for ASL is strongly associated with her own participation style in class. She describes her classroom behavior as, "Definitely not very vocal. I think I participate just enough to get those points in. I think that's one of the things that was so amazing about ASL, is that that's probably the class I participated in the most because it was very gestural. I don't know, I just felt so much more comfortable participating or expressing myself. In that class, it was a no speaking class. Nobody spoke ever, actually. The penalty for speaking is very severe, like one letter grade. So nobody ever spoke." She added, "I really enjoy other ways of engaging and participating using reactions and whatnot. I really like facilitating discussions."
So in "The Political Economy of Accent," it was only natural for Ajao to write her research paper about ASL. Specifically, Ajao researched Black ASL, which is a dialect of ASL. Rangan shared how important Ajao's research was: "Her research interests in signing cultures and the nonverbal arts are urgent, timely and deeply humane." Her paper ended up earning her a Watson Scholarship, which is a one-year, fully funded grant to spend a year abroad in a self-directed project.
Rangan added to the power of Ajao's research: "Eniola presented her research on Black American Sign Language, or Black ASL, via Zoom to a captive online audience of over 200 Amherst students, faculty, scholars and artists around the world who had gathered to discuss the politics of accent. For most of these auditors, it was their first time learning that the racial prejudice reserved for AAVE (African American Vernacular English) speakers extends to Black signers, and that the experiences of Black Deaf people have given rise to unique forms of communication, art, fashion, and protest."
Due to the pandemic, Ajao has postponed her trip for a year until next August, but her plan is to study mimes in France, the silent monks in Bhutan and talking drums in Ghana. With many other potential destinations on her radar, Ajao will be studying non-verbal forms of expression around the world. Rangan has the utmost confidence in her: "She is scrappy, resourceful and dependable, and perhaps as importantly, has deep respect and curiosity about what she does not know. These are all qualities that will serve her well as she embarks on a project whose defining experience will be its unpredictability." Until then, Ajao will be working in risk and quantitative analysis at BlackRock in NYC.
The Little Things
Despite Ajao telling me that she is "definitely introverted" in social settings, her favorite experiences from growing up and during her time at Amherst all revolve around being with her friends or her siblings. Growing up, Ajao would hang out with her four other siblings (one oldest brother and three other sisters) all the time, and she smiled as she recalled "getting into mischief with them." She recalls how she spent her free time in Nigeria: "All my memories just revolve around hanging out with my siblings and playing in the backyard…just a fun happy childhood." 
At the boarding school she went to in Massachusetts, Northfield Mount Hermon, she notes how strong her friendship with her roommate was: "I developed a really, really close bond with my roommate and we're still good friends today." They studied together, watched Netflix together and had sleepovers in people's dorms together on Friday and Saturday nights.
At Amherst, Ajao's favorite memory was the Loeb Center's Tech Trek to San Francisco, a 10-day trip where they met with alumni and visited Apple, Google and PayPal headquarters. They got to explore the city and went to museums.
During this trek, Ajao met many new friends. Luke Williamson '21 described Ajao in social settings: "In social settings, you'd probably assume Eniola was an extrovert. She's got a great sense of humor and a great laugh, and her reactions during conversations and stories (raised eyebrows, 'if you say so's') are always hilarious." I guess it is clear that Ajao's passion for gestures extends beyond academics and into casual interactions with friends.
Beyond small gestures, Ajao is also a member of two campus dance troupes, regularly attends Deaf lectures and poetry slams and is an active participant in online Deaf forums. In addition, with a few of her friends, Ajao restarted the Computer Science Club.
Despite only having a small amount of time actually on campus due to the pandemic, it is clear that Ajao used every minute of her time well at Amherst. When everyone was told they had to go home last spring, Ajao said she actually ended up having the best time because people were so desperate to make the most of those few days and be together and meet new people.
Past, Present and Future
When I asked Ajao what her dream jobs were, she said it would either be being a high-profile lawyer in international human rights law or being a screenwriter with three successful shows on HBO. After having a one-hour conversation with her, I'm sure either of these goals can definitely come true.
In the meantime, Ajao loves to sew, cook vegan recipes, read a book a week and watch lots of television (but never the same thing twice!)
And while Ajao's time at Amherst might be coming to a close, one of her sisters will actually be attending Amherst in the fall. What's Ajao's advice to incoming first-years like her sister and current students at Amherst? Talk to strangers!