Features
Extraterrestrial Taters Land in Amherst
From Earth to the International Space Station to Book and Plow Farm: How Assistant Professor of Art Lucia Monge sent 75 Peruvian potato seeds on a grand voyage.
In March 2020, 75 Peruvian potato seeds launched into space aboard Sojourner 2020, an "international art payload." Their destination? The International Space Station. Now, these spuds take root in our own Book and Plow's glacial till soil.
This solar system-spanning journey started in 2019, when the Space Exploration Institute (SEI) announced an open call for a new art initiative that invited artists to design pieces for an extraterrestrial setting. Assistant Professor of Art Lucia Monge approached the unique demands of the SEI prompt with a spunky — or rather, spud-ky — spin. With her collaborator, engineer Xin Liu, Monge selected a medium that would seek to answer the question "Who gets to imagine themselves in space?"
In many ways, space exploration has been a possibility exclusively reserved for, as Monge puts it, "white males in white suits with shiny rockets," a whisper of escapism for the uber-rich to satisfy their earthly insecurities.
"We wanted to think about ways in which we can decolonize the narrative of the future and of space exploration," Monge said. So naturally, she thought: potatoes.
For Monge, potatoes are a symbol of diversity. Whereas in the United States only eight species of potatoes are grown commercially, over 4,500 varieties of potatoes can be found in Monge's home country, Peru.
Back in Peru, Monge's fascination with nature took root at a young age. She recalls how her grandfather would share "giant books of birds, and … [she] would flip through the pages not knowing if [they were] real, or just fantasy."
From there, her adoration for the natural world continued to grow, and she began to pair it with her love for art. As an adult, she worked as a middle school science teacher and would regularly bike to her art studio after classes. "I've always been interested in art and science collaborations … as a way to get to know my environment better, to think about the natural world with just more tools and more perspectives."
Fascinated by the intersection of STEM and art, Monge decided to pursue a masters degree that combined them both. She moved to the United States, thinking she would only stay for the two years she was in school. But after completing her degree, Monge decided to stay and teach in the U.S.; she began at Rhode Island School of Design (RISD) but continued teaching at other schools like Brown, Portland State University, and of course, Amherst College.
She was drawn to Amherst primarily because of its culture of change. "[Amherst College] seemed like a place where a lot of things were happening … and where change is possible," she said.
In Monge's eyes, the Peruvian potato has become a metaphorical statement against the rise in homogeneity, both in agriculture and politics. To promote a discussion of what the future holds and who has the chance to hold it, Monge and Liu elected the humble space potato of eclectic, Peruvian, origins.
However, rocket science is rocket science. A large factor in selecting how the potato manifested within the artwork was simply the space allotted by Sojourner 2020. The payload featured a three-layer telescoping structure with six trays, about one and a half centimeters in diameter, for all the artwork. With a dish about the size of a cheerio, jamming in a full spud would be impossible.
Rather, Monge collaborated with the International Space Potato Center to collect True Potato Seeds (otherwise known as TPS, "according to the cool kids"), which hide within potato berries. The process of shipping the potatoes to space, however, was just the beginning of Monge's plan for these extraterrestrial spuds.
Once the seeds returned to Earth, they underwent phase two: growth.
Potatoes are capable of producing carbon copies of themselves via self-propagation, but crops grown from TPS vary. Therefore, the progeny of this alpha-space potato variety sprouts genetically distinct seeds which, once germinated, will produce the next generation to their exact specifications. The International Potato Center helped Monge design experiments using Petri dishes of the 75 Peruvian astro-crops. Once germinated, Monge continued to grow the seedlings at home in Portland, Oregon.
Unfortunately for Monge and her potatoes, disaster struck when wildfires in Portland stained the sky a dark, bright orange. The heavy smoke made Oregon inhospitable for the newly earth-bound potatoes. Monge, pregnant at the time, fled from Portland with as many of her space plants as possible, along with hundreds of harvested potatoes.
Having survived space travel, wildfires, and a migration to Western Massachusetts, a substantial crop of space potatoes currently reside in Amherst's own Book and Plow farm. Last Friday, Monge joined a group of students in harvesting a new generation of spuds at the farm. Maida Ives, manager of farm education and operations at Book and Plow, shared her excitement about the celestial initiative.
"I absolutely love that we grew potatoes whose source traveled to outer space," Ives said. "I feel so connected to the soil and am always looking down at the ground while farming — it is fun to expand my farming imagination and perspective upward and outward."
Ives acknowledged Monge's hard work in the potato endeavor, adding that her "favorite part [of the potato planting at Amherst] is having an ever-wider circle of people actively participating in the campus farm activities."
Beyond Amherst, Monge's space potato project extends towards educational programs, namely the Space Potato Academy at the Dr. Martin Luther King Jr. School Museum of Contemporary Art. Monge encourages elementary school children to conjure their own version of space travel: What does a potato space suit look like? How about a potato spaceship? The goal of the program is to get kids excited about the prospect of space travel, shifting the aesthetic of space and privilege to include a variety of perspectives. Potatoes are a staple food in countless cultures, so how does shifting the context of potatoes from grandma's homemade recipe to the International Space Station adjust our perception of space travel's exclusivity?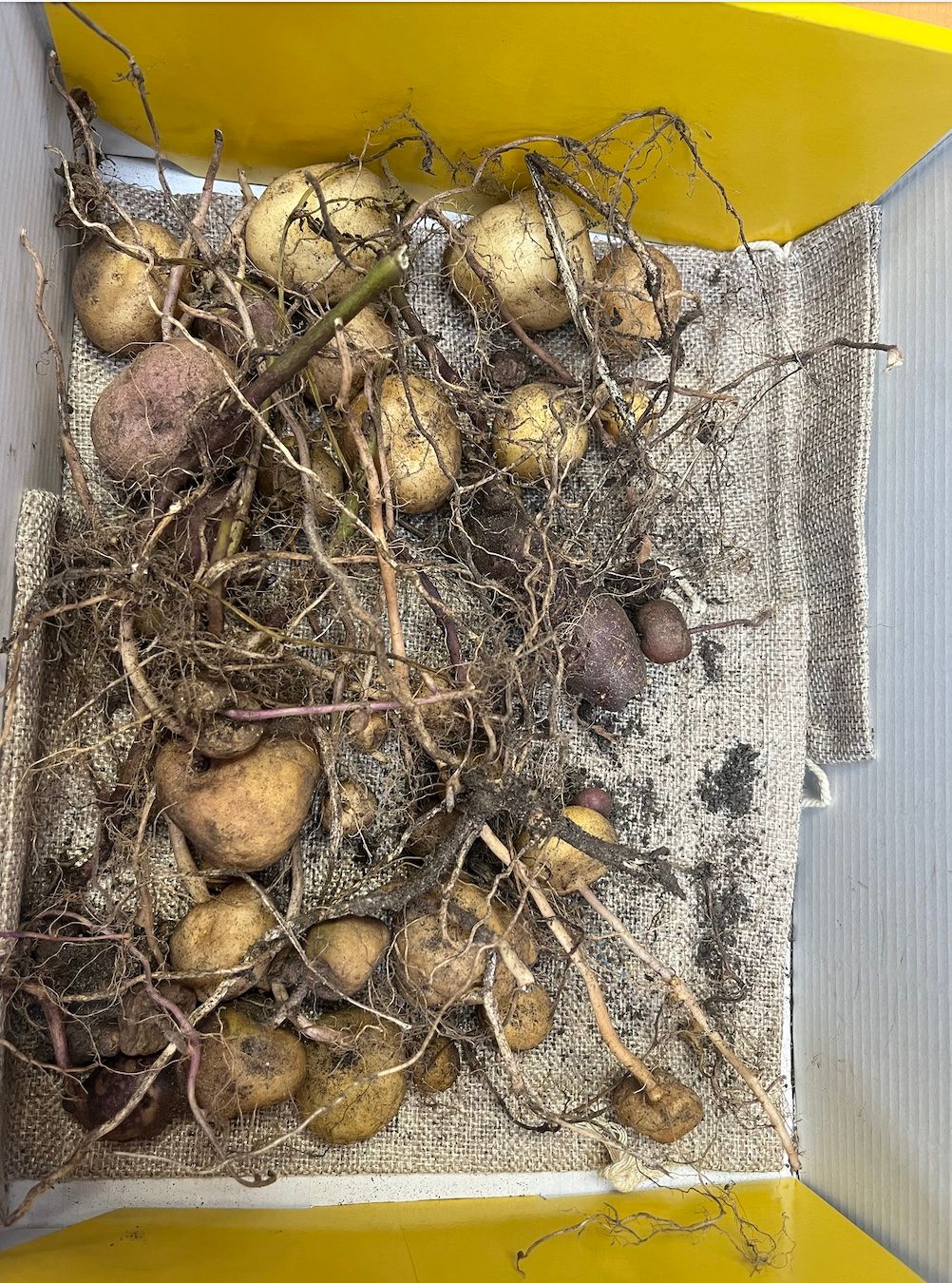 In a post-potato age, Monge has her sights set on new prospects. Currently, she is working with a Peruvian art collective, Fibra, to develop a project regarding the relationship between palm oil, agricultural monocultures, and deforestation. The underrepresentation of oil spills in the media compelled Fibra to prompt a more nuanced discussion of human ecological impact.
Additionally, Monge is developing an exhibition, crafted entirely from biodegradable materials, which is set to premiere in October. The exhibit features plant stoma, which are small pores that allow for gas exchange and photosynthesis. Each time plants open their stomata, they face the risk of losing water and ingesting noxious chemicals.
To Monge, stoma are a metaphor for vulnerability and risk surrounding nature and breathing. "Coming out of Covid … compounded by situations like wildfires, what does it mean for breathing to be such an essential part of life, but at the same time have it be such a hard thing to accomplish?"
With her Space Potatoes, Lucia Monge employs an extraterrestrial setting to rethink life on earth. The project encourages people to consider political and agricultural homogenization, privatization of space travel, and more. Monge draws from natural and scientific worlds, nurturing an on-going art piece that excels in both provoking thought and potato count.