Sports
Fall Sports' Fifth-years Excited To Finish College Careers Strong
When the pandemic hit, many Amherst athletes chose to take time off from school to return for a fifth year and use all four years of their college eligibility. Maya Reiner '25 spoke to three such athletes to gain insight into their decisions and experiences.
As the leaves were starting to reappear and the winter's snow was finally beginning to melt in the spring of 2020, a single email from then-President Biddy Martin marked the onset of the Covid-19 pandemic for the college, and the loss of many valuable experiences — both big and small — for students.
While all students had their college experience impacted by Covid, student-athletes were hit by a particular shock. The announcement that Covid would cancel all athletic competition in Spring 2020, and then again in Fall 2021, was devastating for many athletes — a season was stolen from them. Unwilling to let their collegiate athletic careers slip between their fingers, a number of then-juniors decided to take a leave from the college and return for a fifth year — and one more athletic season. The Student spoke to Sophia Kaplan '23E, Nick DiPrinzio '23E, and Alexa Juarez '23E, three so-called super seniors who made the tough call to ensure one more chance to represent the Mammoths in play.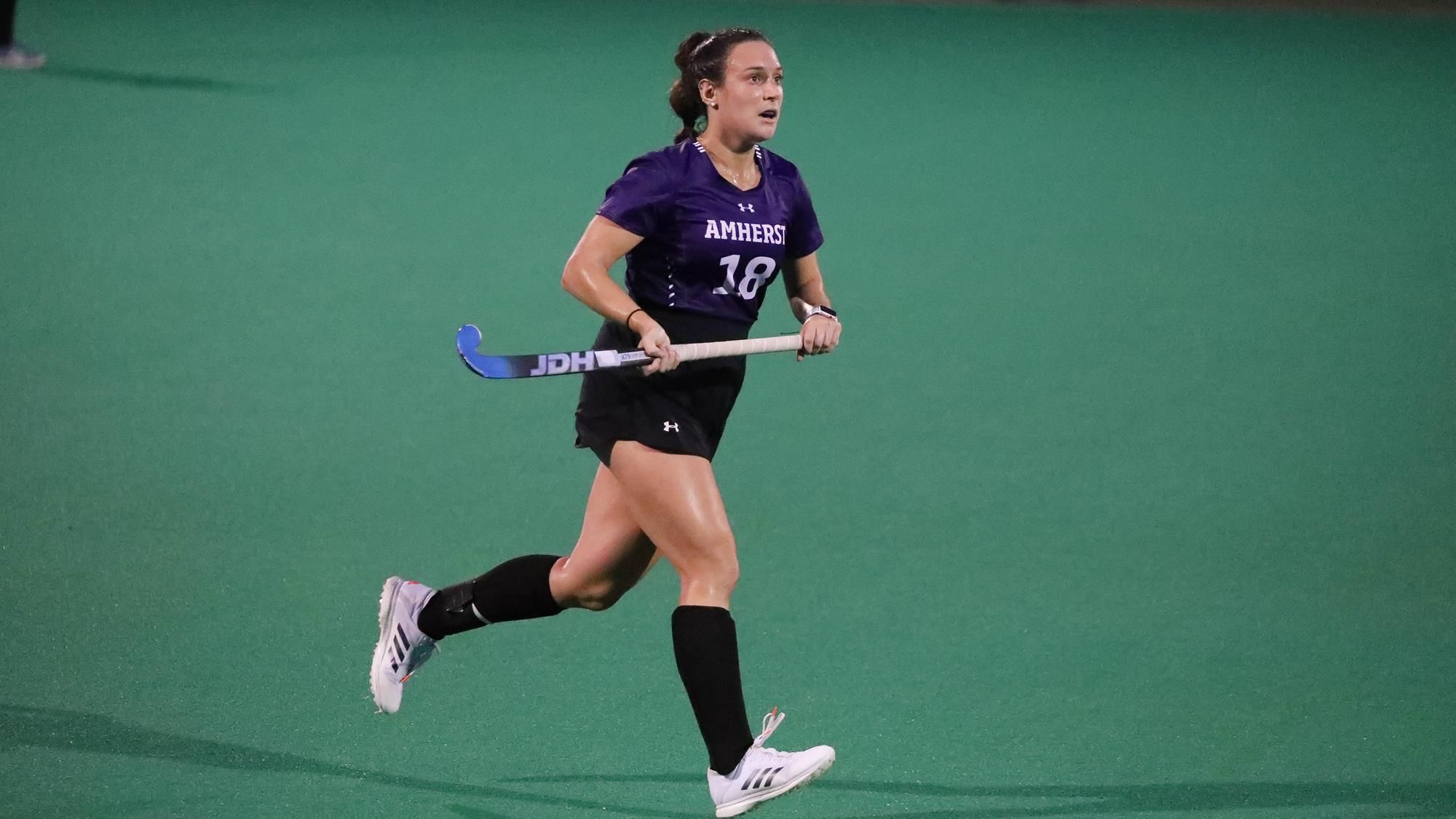 Kaplan, a key starter and defender for the Amherst field hockey team who has started every game this season, wanted one last "normal" semester in Western Massachusetts. For her, that meant wearing number 18 on the field, attending her classes in person, and meeting new people.
But the decision also had an unexpected upside. "I wanted to get another season of field hockey, but it also gave me another summer to get real-world experience," said Kaplan. Because her academic interests had shifted during her time in college, "it was nice that I was able to expose myself to the real world in that extra summer," she said.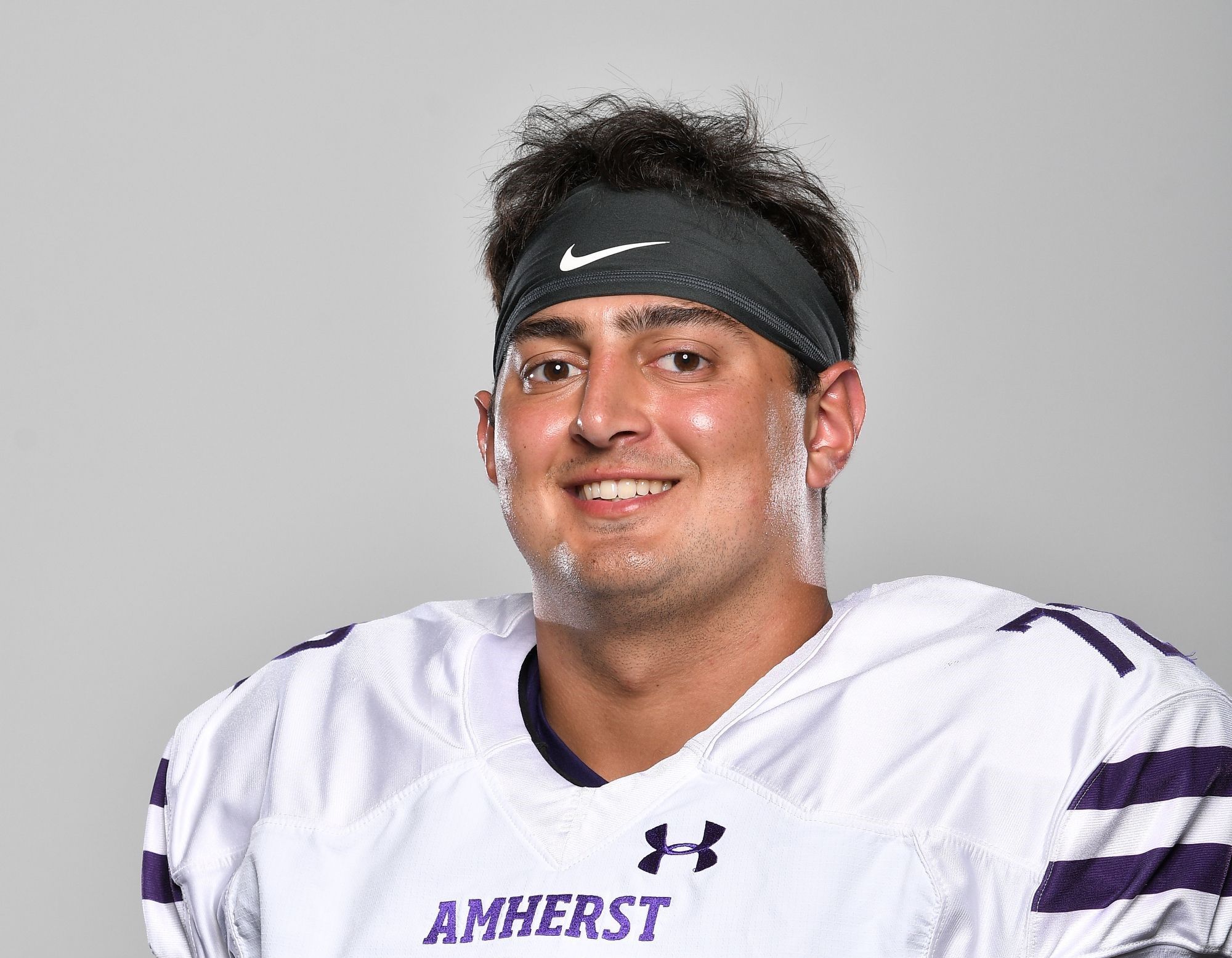 DiPrinzio's decision was also based on wanting another year of competition in his sport, football, but there's another reason he appreciates the decision a year later.
"At the time, my decision to unenroll for a semester was simple: come back for another football season lost due to the Covid-19 pandemic," DiPrinzio said. "While this is still true, I'd now say the decision to come back for the fifth year also boils down to the amazing people I've met at Amherst College."
The 2018 NESCAC Rookie of the Year and a current women's soccer captain, Juarez said much the same as her counterparts. "I decided to come back for my last semester because I wanted another soccer season and a chance to win a NESCAC or national championship," she said. "Being a part of AWS [Amherst women's soccer] is a special thing that is impossible to replicate at any other point in life, and I wasn't ready to give it up."
What Juarez expressed is true for all three of these athletes. The fall fifth-years are approaching their last few months of college, but are excited and thankful for the experience they get on the field every day, and are looking forward to spending that time with their teammates for one last ride.
They are all back on their respective fields this season, working hard with their teammates, and taking everything one day at a time on the way to (hopefully) winning NESCAC and NCAA championships.
"I'm really excited to just be with the team and work hard all together," Kaplan said. "We all have the same goal in mind and we want to work together to get there." With a record of 5-2 and two wins against ranked opponents under their belts, the No. 9-ranked field hockey team looks poised to do just that in Kaplan's final year of competition.
And while DiPrinzio feels similarly, he also wants to try to enjoy the little things that come with the sport — not just football itself.
"It sounds eerily cliche, but those moments after beating a rival, going out for team dinners, Val-sitting, and off-season training have made me appreciate the presence of men who go through the same experiences and struggles as I do," DiPrinzio said. "I've made it a priority to value these small moments and enjoy the time I have left."
While this year's football season has opened with two losses, there are still many games left to play, and the team could still achieve the success that DiPrinzio and his teammates are aiming for.
Juarez also looked past just the sport itself this season and has found her joy with her teammates. "I love our team and everyone on it, and I am also so grateful to the seniors [the original class of 2023] this year who have welcomed me into their class with open arms," she said. "As a team, we have great team chemistry both on and off the field, and I am just very excited to see where we go for the rest of the season."
As the national No. 11, the women's soccer team currently holds a record of 6-1, and seems poised to compete for a repeat of last year's NESCAC-regular-season-title-winning performance. With so much experience under her belt, Juarez should be a key element of the team's 2022 NESCAC Championship and NCAA Tournament aspirations.
These three student-athletes, along with their peers, are thankful for the extra semester and season they were able to gain back after the chaos of the pandemic. The college and their respective athletic teams would not be the same without them, and it seems their experiences both on and off the field have prepared them well to enter "the real world" come December.
And even though their time on the field is running short, Juarez summed up all three Mammoths' sentiments best: "I am so happy I made [the] decision to defer, and I sincerely wouldn't change a thing."