Arts & Living
'Fences': The Proper Way to Adapt a Pulitzer Prize Winning Play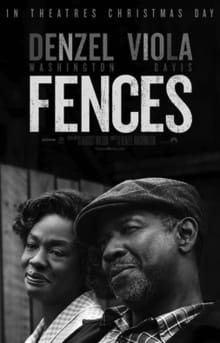 Until now, the works of legendary playwright August Wilson have not been adapted to film, which is quite surprising given their enormous popularity. "Fences," Wilson's most commercially successful play, finally came to the big screen this winter. After starring alongside Viola Davis in a 2010 Broadway revival of the play, which had originally been produced in 1983, Denzel Washington directed and starred in the 2016 film adaptation while Davis also reprised her lead role.
It chronicles the lives of a working-class garbageman, Troy Maxson (Washington), and members of his family in 1950s Pittsburgh. Troy is a former Negro League baseball player who now lives a menial, though respectable, life. He provides for his family, including his wife Rose (Davis), his war-veteran brother Gabriel (Mykelti Williamson), and his son and aspiring football player Cory (Jovan Adepo).
Like the stage play on which it is based, most of the film takes place in the backyard of the Maxson household. Play-to-film adaptations often receive criticism for feeling too constrained to one or two locations, but the small setting does this film a service. August Wilson's script, which goes from naturalistic to extremely passionate, is so strong that the actors have the best material they could possibly work with to fill up the small space with powerful performances. Indeed, most of the film relies on simply pointing the camera at the actors and letting them act, which does not offer much in the way of cinematic excitement but successfully shows this ensemble's talent.
Troy Maxson is a classic role for Denzel Washington in the sense that the character is commanding, forthright, and charismatic, but he is also more complex than Washington's typical roles. Underneath the easy wit and commanding presence, Washington has to portray a bitterness and vulnerability built up over years of dwelling on broken dreams. Washington commands the screen during his nostalgic monologues and sells Troy's bitterness through his many glaring looks. It is a performance anyone familiar with Washington has come to expect from him, but it suffers from feeling overly studied. With a few exceptions towards the end of the film, Troy does not seem so much like a natural and free-flowing performance, since Denzel Washington perfectly times each emotional beat so that you can practically see the skeleton of each of his moves before they happen.
Davis' role as Rose is the film's standout performance. Although her character alternates between being objectified and victimized by the script, Davis brings Rose a three-dimensionality that Washington only occasionally accomplishes with Troy. She has a deadpan quality to her performance while maintaining genuine chemistry with Washington. She also shows a tenderness toward Cory, clearly indicating that what Troy lacks in affection for his children, Rose makes up. Moreover, her anger seems more natural and organic, grounding the film in its universal themes of struggle and heartbreak.
Denzel Washington's direction mainly adheres to intense close-ups, a constantly small mise-en-scene and periodic time lapses. Someone unfamiliar to the stage play would still easily be able to tell its original medium. The film even inserts blackouts to signify particularly large time gaps, as would happen on stage. This is not necessarily to the film's detriment, as the passion in the film's script and subject matter are enough to captivate the audience. Once the family begins to experience tidal waves of tragedy, the passion in the performances fills the screen to a claustrophobic capacity.
Through this story, the audience gets a glimpse into lives that they might not ordinarily humanize: those of working-class black people. The film presents this family as one that is subject to the same trials and tribulations that ordinary families face, but accentuated by white society's structures of oppression. For black audiences, this film serves as a way to raise social consciousness and reconcile the experiences of the past to those of the present.
Reviewing this film feels almost identical to reviewing the play, as Washington changes very little about the material's presentation. Only a handful of scenes away from the Maxson household remind the audience that they are watching a major motion picture. The result does not make for a very cinematic presentation, but it does make for a passionate and sharply written piece of art. The best thing about this film is that it exposes August Wilson to a broader audience, brought justice by a talented ensemble given ample room to act their hearts out.