Sports
Field Hockey Drops Two Important NESCAC Matches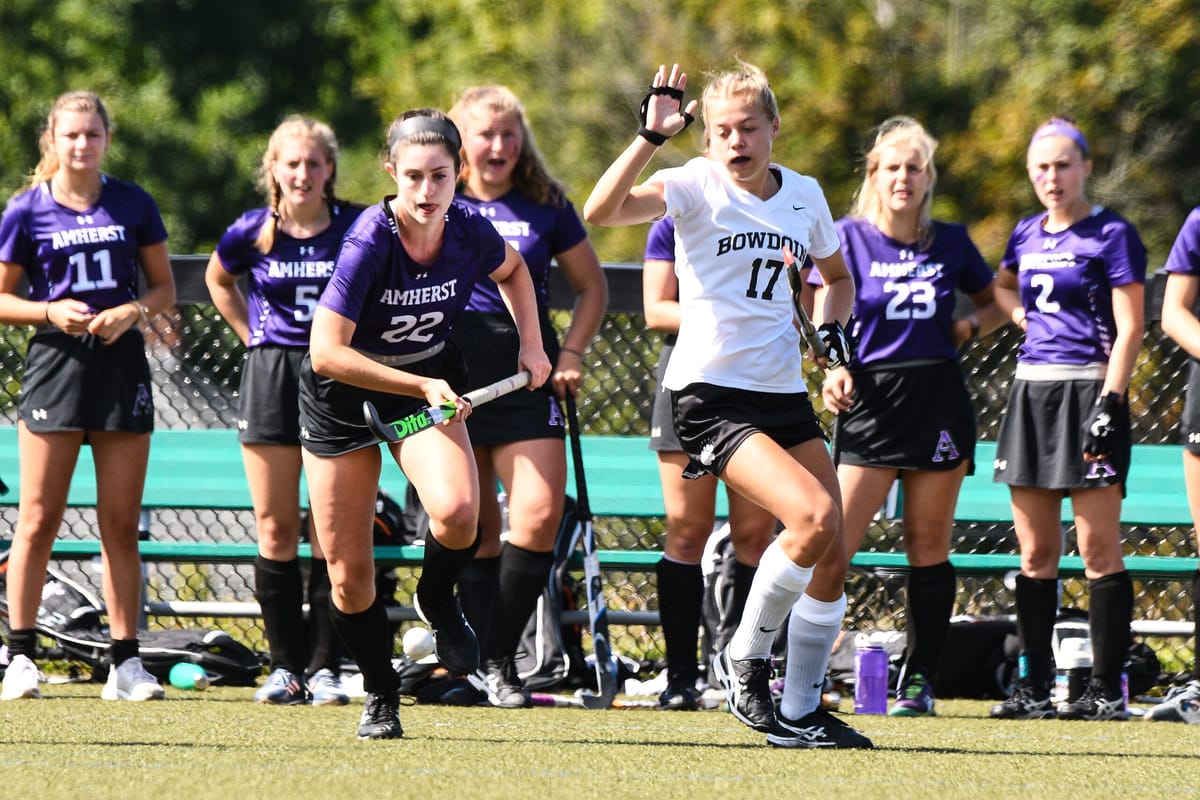 The field hockey team faced a pair of top-15 ranked opponents this weekend in NESCAC play.
On Saturday, Sept. 28. Amherst traveled to Williamstown to face archrival Williams.
The Ephs came into the game ranked No. 12 in the country and sported a 2-1 record in NESCAC play. Amherst had a 1-2 record in conference games going into this tilt, but were carrying a three-game winning streak after defeating Endicott College, Conn College and MIT.
Williams took control of the game from the very beginning. They scored three times in the first half, while only allowing Amherst to record one shot.
The Mammoths have struggled all season on corners, both offensively and defensively, and it was no different in this matchup. All three goals scored by the Ephs in the first half came off of corners.
Amherst was able to score in the second half, but it was not enough since they ultimately fell by a score of 4-1. Beth Williamson '22 recorded her team-leading fifth goal in the loss.
Amherst did not have much time to recover from the tough defeat as they were back in action on Sunday on Gooding Field.
The No. 1 Middlebury Panthers came into town with their undefeated record on the line.
The reigning back-to-back DIII national champions scored just five minutes into the game off of a corner to take a 1-0 lead. Amherst battled against a very talented Middlebury team and kept the deficit at one goal going into halftime.
Middlebury extended their lead to 2-0 early in the third quarter, but Amherst answered back a few minutes later to keep the game tight. Natalie Hobbs '22 centered a pass toward the goal that was eventually deflected by Kiera Alventosa '21 into the back of the net, which was her first career goal as a Mammoth. The assist gave Hobbs five on the season, which makes her the team leader in points with 13. Amherst kept the pressure on Middlebury for the rest of the second half, but neither team was able to score resulting in a 2-1 final.
Amherst did record a win earlier in the week when they defeated MIT on the road last Wednesday night.
They won 2-1 with both goals coming from Franny Daniels '21. Daniels put Amherst up early with a pair of first-half goals, and strong defense and goalkeeping held off a late push from the Engineers.
Emilie Flamme '20 recorded three saves in goal while Williamson, Grace Johnson '21, Sophia Kaplan '22 and Anna Agathis '21 had strong performances in front of Flamme.
Amherst hopes to snap their losing streak this weekend as they host Wesleyan on Saturday.