Homecoming
Fighting for Justice Beyond the Courtroom — Alumni Profile, Jeanne Nishimoto '08
A born public servant with a passion for helping her community, Jeanne Nishimoto '08 is the executive director of the Veterans Legal Clinic at UCLA School of Law.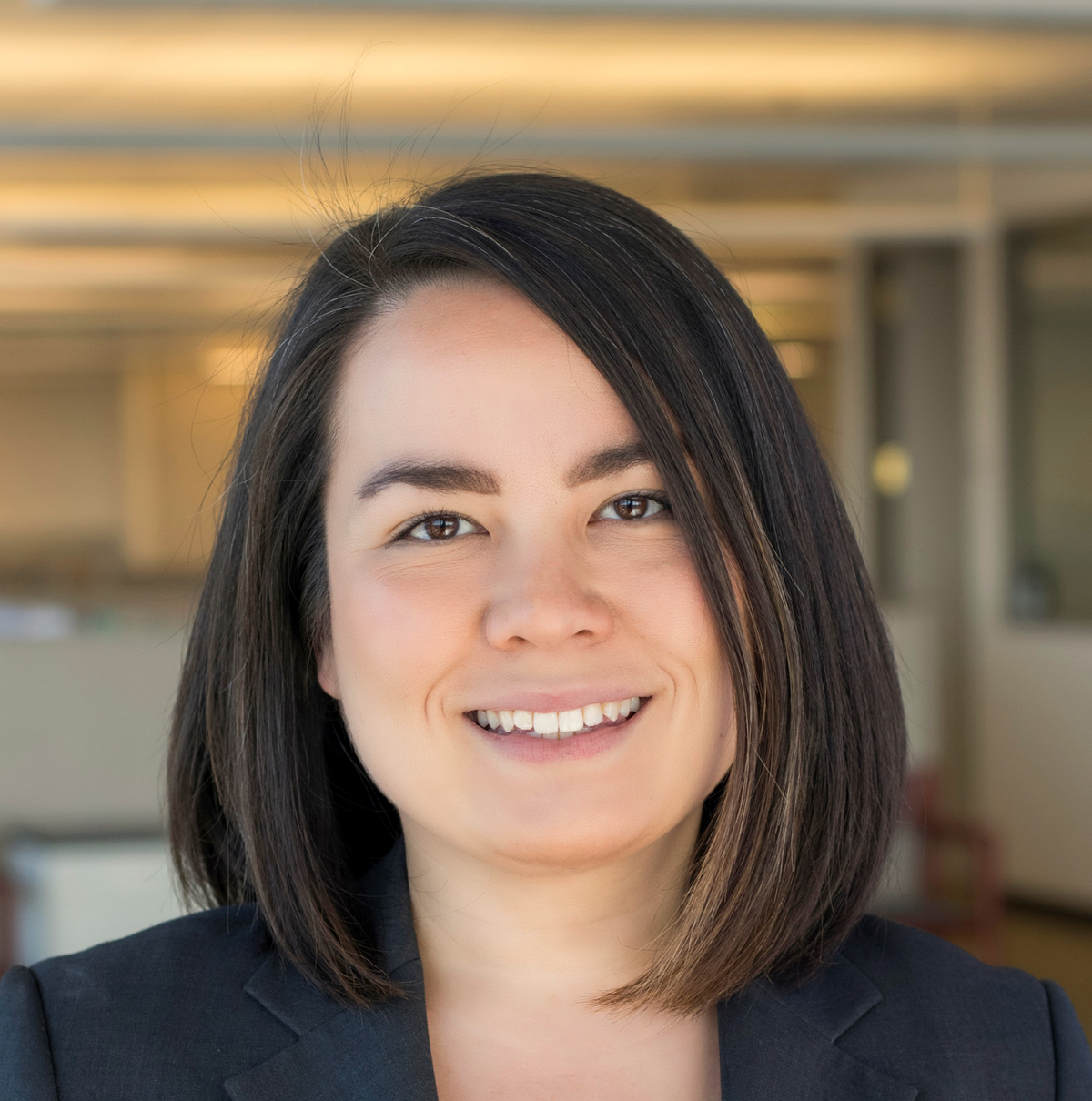 Jeanne Nishimoto '08 likes to take a step back and understand how systems work. In school, she liked learning about religious systems and globalization. As a young attorney, she liked learning the ins and outs of the eviction court system. Today, as the executive director of the Veterans Legal Clinic at the UCLA School of Law, she works to change the systems of oppression that affect her clients' access to housing and disability benefits.
The Path to Public Service
The child of two teachers, Nishimoto grew up in Southern California surrounded by a tight-knit extended family. She came to Amherstin search of a change of pace and environment.
Nishimoto dabbled in many humanities disciplines while at Amherst, not yet sure of her professional aspirations. She remembers one class called "Race, Place, and the Law," her first exposure to the direct influence the law has on everyday life. She recalled, "That was the first time I was really exposed to the ways in which the law literally created locations where people were allowed to be and where they weren't allowed to be." The topics covered in the class would become the issues she would work on as an attorney: structural racism, housing law, and houselessness.
Nishimoto's academic interests led her to the religion major. She describes her transition from religious studies to a career in law: "[Religion is] a set of principles around which people organize how they think society should work, essentially," she explained. "Law is another version of that, where you can also have opportunities to work within that system, challenge that system, change that system to varying degrees of success."
Before she ever knew she wanted to pursue law, though, she knew she wanted a career in public service. While at Amherst, Nishimoto volunteered for a student-run non-profit organization. "I always had something of a public service mindset," she said. "And so I thought that law was a good place for that interest."
After graduating from Amherst, Nishimoto went on to the University of Michigan Law School. She recalled a class called "Public Interest Advocacy," which solidified her path as a social impact lawyer. Taught by an attorney based in Los Angeles (which Nishimoto calls her "hometown"), she learned the specifics of LA housing law through the class. The class also helped her "formulat[e] her professional identity" and "who [she] wanted to be as a lawyer."
A Career in Housing Justice
Inspired to return home, Nishimoto worked at the Legal Aid Foundation of Los Angeles after graduating from law school. The first cases she worked on were eviction defense cases, which she described as a "highly technical" and "extremely fast-paced" field. In addition to learning about landlord-tenant law, the experience helped her come to understand the systems and dynamics that led people to end up in eviction court to begin with.
Nishimoto also worked on other landlord-tenant issues while at the Legal Aid Foundation, such as work on disability justice in housing law. She helped work on cases suing landlords for abusive practices throughout an entire property, she worked with other groups to sue the city because of its housing laws. Before leaving the Legal Aid Foundation, she helped develop a statewide pro bono training program, so that organizations could spend more time supervising cases instead of training attorneys.
Nishimoto then worked at the Inner City Law Center, where she worked on cases to help end houselessness at the individual level. This work taught her the value of chipping away at larger social issues, such as houselessness, by helping one individual at a time. Her time with the Inner City Law Center also taught her a lot about the barriers that existed for people, especially for people of color, to obtain housing.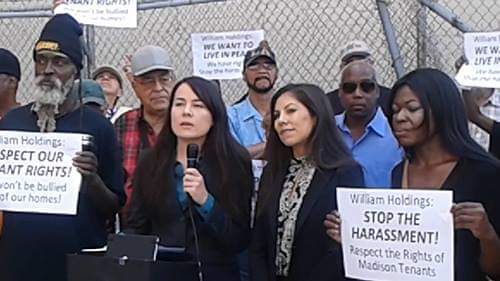 Full Circle: Veterans Legal Clinic
When Nishimoto became aware of a job at the Veterans Legal Clinic at UCLA School of Law, she felt it was a "perfect opportunity." It was the type of clinical, Los Angeles-based housing work that she had fallen in love with as a law student. "I'd done clinical, experiential work when I was a law student, and I thought it was like a really important piece of me and my professional identity," she explained. "I just really believe in this as a piece of education for law school."
Nishimoto's current role as the executive director of the clinic has three main components: administrative work, teaching her law students and overseeing their cases, and working on her own cases. While she had done this type of social impact law before, the teaching component of the position was new to her. But it quickly became one of her favorite aspects of the job; she loves when her students have "breakthrough moments" working on their own cases.
"There are a lot of things that can be very challenging about the work or a lot of places where there's not a correct answer," she said. "So watching [the students] process through that and then get to … an understanding [of] how they may use that in the future for wherever they're working … [is] a huge component that is really rewarding. And that's a process. It can take some time to get there."
The relationship Nishimoto has with her clients has remained central to the work that she does. It's not always the case that an attorney has a good personal relationship with the majority of clients they have; Nishimoto is lucky enough to have these relationships. "It's nice to even get to talk to them a little bit on the phone," she said "You know, when we're checking in about a case, they'll just tell me about their grandkids or something like that."
In part because of her commitment to social impact work and in part because of these personal relationships with her clients, Nishimoto feels her clients' victories very personally: "When I hear that a client has obtained housing… [and] we played a part in that, I always think that's exciting."
Moving beyond these individual relationships Nishimoto also believes in the importance of understanding the systems of oppression that affect each of her clients; for her, this is a key part of building the trust between client and attorney that she so deeply values. "[Clients are] able to tell me, 'Look, I grew up as a Black man in South LA during the War on Drugs,'" she said. "And then we don't have to talk about that much more. I understand what that means."
Nishimoto mentioned a specific client whose case is a source of pride for her. The client is a veteran suffering from severe Post Traumatic Stress Disorder after being attacked by soldiers while serving in the military in the 1980s. She helped him secure benefits (including retroactive payments) from Veterans Affairs. Although the money was an important victory, the vindication that came with victory in a 40-year battle was equally important for the case. Throughout our conversation, Nishimoto was most passionate when describing these personal victories that she helped her clients secure.
One new project that she is excited about is a qualitative research project about the relationship between nuisance evictions and disability. The intuition behind the research is that behaviors influenced by disability are often used as justification for nuisance evictions. The project will both examine this correlation and analyze the legal protections (or lack thereof) that exist to protect against these ableist practices.
Nishimoto's line of work is emotionally taxing, but she remains committed to the cause."One thing that keeps me in the work is necessity. It's the thing that got me started in a lot of ways. And it's the thing that will continue to have me in it," she explained. "For me personally, I think it's very hard living in Southern California and not feeling like I should be doing something that's going to be useful or helpful to people." Nishimoto came to Amherst with the spirit of a public servant; that spirit has only grown stronger over the years.