Sports
Football Shakes Off the Rust With Win Over Bates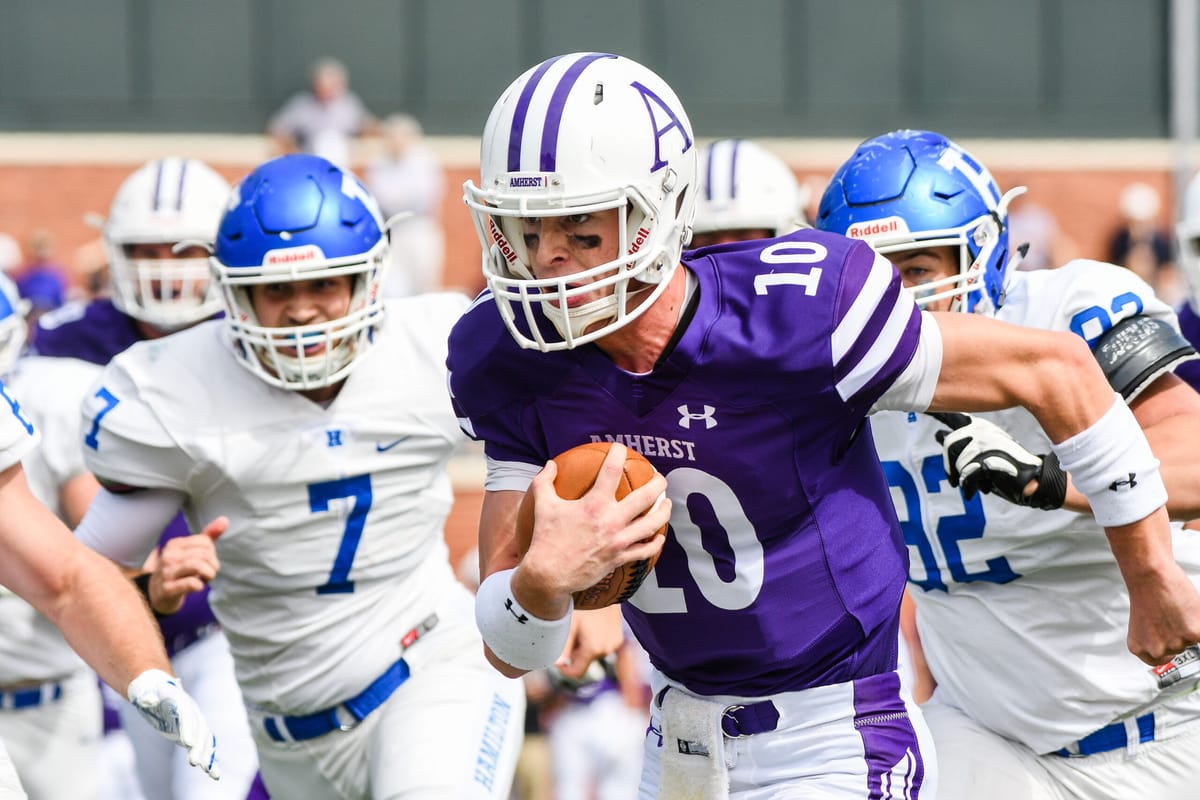 NESCAC football teams, in comparison to any other college programs, face unique restrictions. These restrictions exist to better the lives of players, but challenges like a two-week preseason instead of months of preparation and no "camp" over the summer are par for the course for NESCAC schools. In the Mammoths' home opener this Saturday against Bates, the team seemed to polish themselves from unwieldy, unhewn stone into a competent football team as the game progressed. Amherst found themselves down 13-6 at the start of the second half, but responded to the challenge and shut out Bates in the second half, scoring three touchdowns to clinch victory.
Three aspects of the Mammoths' play followed this trend of improvement. In the opening of the game, the Mammoths' run defense was outplayed by the Bobcats. On Bates' first drive, Amherst allowed Bates to rush for a total of 62 yards over 12 plays before they scored. The next Bates drive, however, Amherst forced a three and out when Flynn McGilvray '23 and Alex Katchadurian '20 snuffed out successive halfback dives and a designed quarterback run. Only 11 of 55 Bates' primary running back's yards came in the second half as the Mammoths tightened things up.
The second problem was on special teams, where only some parts of the unit were successful. Tristan Andrzejewski '21 forced a fumble on the opening kickoff, and Connor Kennelly '22 kicked well when given the opportunity. The offensive line on special teams, which is supposed to protect the kicker, however, clearly had issues throughout the game. Punter Henry Atkeson '20 and Kennelly both had Bates players power through the line and alter the kick. The team ended strong, however, with two successive, successful conversions.
The final issue was settling in tailback Brandon Huff '22. The sophomore had just two carries last season, but now functions as the primary tailback. Despite struggling early in the team's two fourth-quarter comeback drives, Huff snagged a crucial pass and broke into the secondary on a 14-yard rush.
One might expect that, having shaken off the dust left by eight months of rest, the football team will rise to the similar levels of excellence it has achieved in recent years. Three-year starter Ollie Eberth '20 will lead the offense with a more passing-focused attack, and the defense will be astute as always. The team travels to Waterville, Maine to face Colby next Saturday, and will be likely to prove this point.