Sports
Football Staves Off Tufts In Comeback Third Win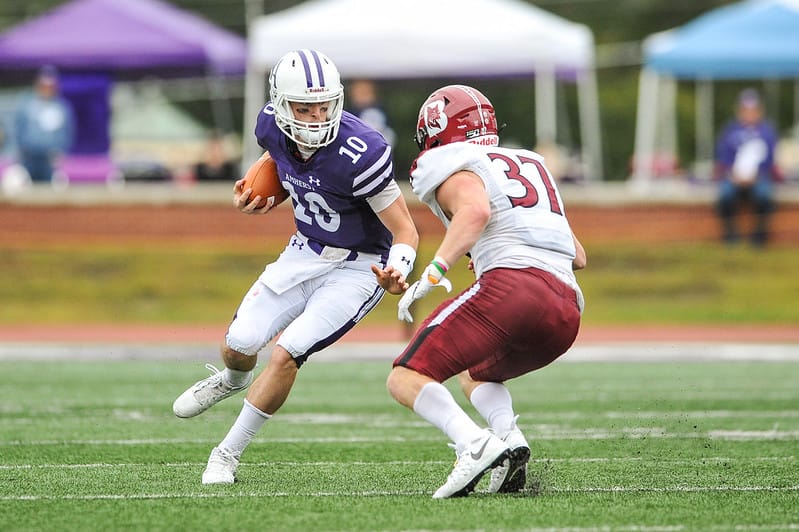 The football team certainly had a close call this weekend in their triumph over Tufts, winning the away contest 26-16.
The defense shut out the Jumbos in the first half when Amherst forced three Tufts punts, turned the ball over once on downs and picked off the Tufts quarterback late in the second quarter on the Amherst 10-yard line.
Despite starting slowly on offense, the Mammoths scored two touchdowns in the first half.
Brandon Huff '22 finished off a spectacular drive early in the second quarter with a two-yard run. Shortly thereafter, James O'Regan '20 snagged a 34-yard touchdown pass from quarterback Ollie Eberth '20. Ahead two scores at the half, Amherst only needed to see the game out to maintain their excellent record.
The Mammoths headed into halftime in complete control. However, Tufts exited the lockeroom and quickly turned the tide.
The two teams traded field goals in the third quarter, bringing the score to 17-3. At the start of the fourth qaurter, the Jumbos had the ball deep in their own territory. An excellent pass from the Jumbos quarterback, however, resulted in a 64-yard touchdown run, which put the game back within reach for the home team.
Eberth, however, refused to be outdone in the quarterback duel, and unleashed a spectacular 80-yard bomb on the following drive. The pass landed beautifully in the outstretched arms of Daniel Dolan '22, who waltzed into the end zone for the score. Even after such a spectacular play, Tufts remained in the fight. The very next play, after the Jumbos took a touch-back and started on their own 25-yard line, the Tufts quarterback threw another long touchdown pass to make the scoreline 24-16, as Tufts missed the point after attempt.
Although the frenetic pace of the game died down after that, the game held on to the energy and excitement it had accumulated in those moments.
Amherst punted the ball deep into Tufts territory. On fourth and two on their own 21 yard line, several Amherst defenders forced a safety to make the final score 26-16 in the Mammoths' favor.
Amherst returns to action next weekend when they take on Middlebury.