Features
From Flowers to Forests: Research in Practice — Alumni Profile, Jessica Wright '94
As a researcher for the US Forest Service, Jessica Wright '94 now helps make the nation's forests more resilient. But her path began more humbly, in a greenhouse overlooking Memorial Hill.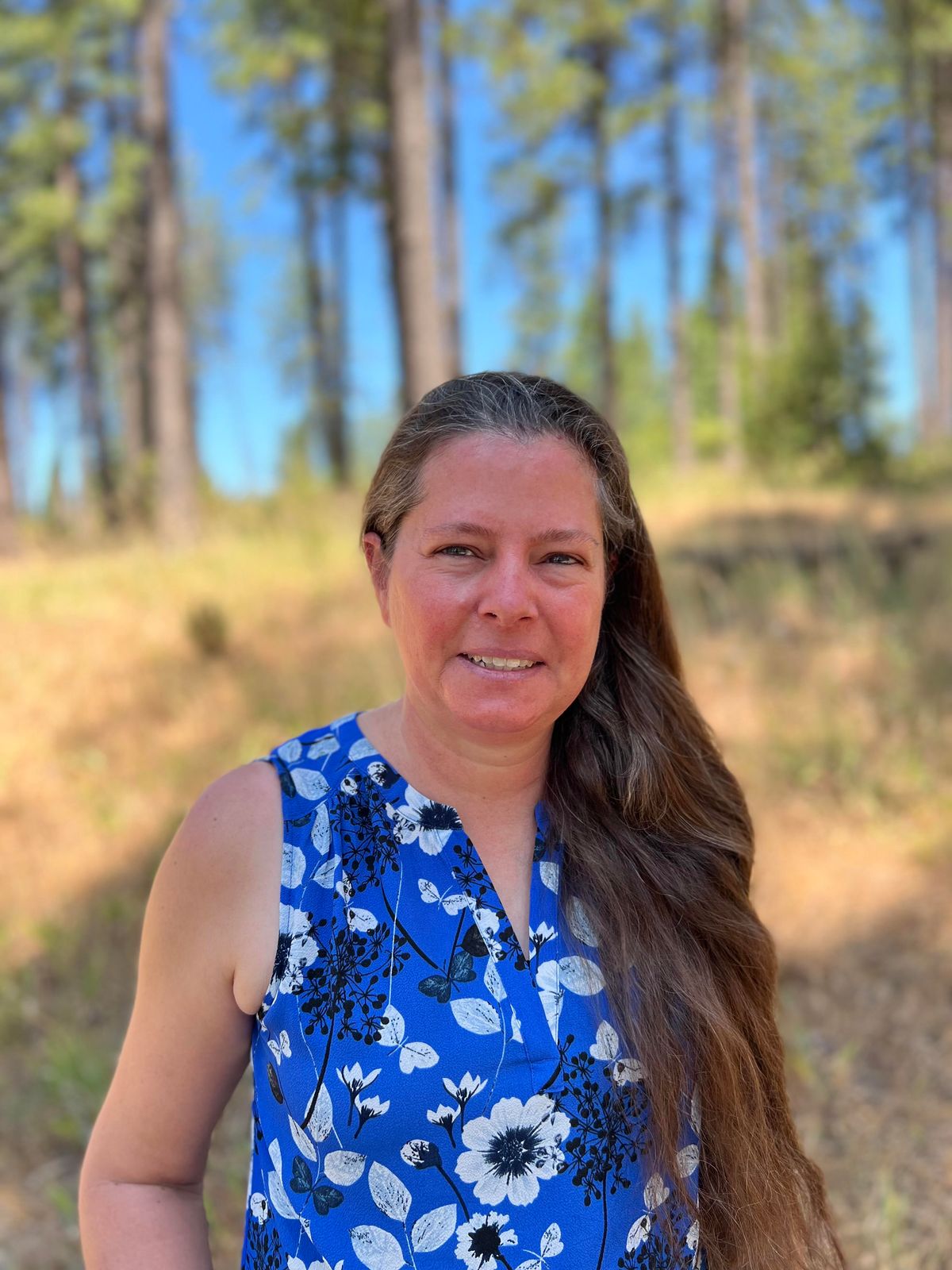 On winter mornings in 1994, Jessica Wright '94 rose early, before sunrise. She walked over Memorial Hill, weaving through the ice and snow in the growing light, heading to the old greenhouses behind Webster Hall. Wright was working on a biology thesis about selection in flower traits, and studying a species of flower that opened at dawn. In order for her to measure the flowers before their anthers dehisced — "contorted" — at sunrise, she reconfigured a "typical" college schedule, heading to sleep around 8 p.m. so she could rise at 5 a.m. Wright would work in the lab for four hours, she told me. "And I'd make it to Valentine before they closed for breakfast."
These days, Wright's mornings may look a little different, but she is still immersed in nature as a research geneticist at the U.S. Forest Service's (USFS) Pacific Southwest Research Station in Placerville, California, in the foothills of the Sierra Nevadas. When we spoke on Zoom, Wright's background was not a generic office, but a living, breathing forest directly behind where she sat outside in the sun.
Per her description, a recent Monday included working with colleagues on a census of valley oak trees in the forest, "running around with height poles and clipboards and tablets and calipers." Her task? To scan the trees and count the number of acorns.
As Wright has moved from east to west, and from flower to forest research, her knowledge of plants has only deepened, and her research impacts the work of foresters across the country who work to protect U.S. forest resilience and sustainability.
Fish and Flowers
Wright grew up in Denver, Colorado, and decided to attend Amherst so that she could pursue two interests, which would eventually become her majors: biology and music. "I wanted to go to a place where I could do both those things and not go insane," she recalled.
In high school, Wright had taken particular interest in her biology classes and planned on being pre-med in college. She even shadowed doctors and watched open-heart surgeries in preparation for becoming a cardiovascular surgeon. But in the back of her mind, she said, she always knew that she "really preferred the plant lectures" to the animal ones — which "was going to be a med-school problem."
Once she was at Amherst, Wright experienced the wonder of field research. She recalled one experience in an ecology lab class at the Wildlife Sanctuary pond. Wright and her classmates were to don hip waders, catch fish with nets, mark them, and then return a week later to recapture and count them. The only problem? The hip waders had been bought in the days when Amherst was all-male, so they did not fit all the students. The waders were "up to my neck," Wright said. Nevertheless, the experience proved to be an exciting "first exposure to field research at Amherst."
Wright soon realized that med school was not the only option to pursue in biology. By senior year, she was conducting honors thesis research on the flowers in the old greenhouse. "I got very interested in flowers and floral traits and evolution and selection on plants," she said. Wright graduated and headed straight to Rutgers University, where she worked on more research on floral selection, this time on seed predation in a dioecious plant. Thankfully, this plant — Silene latifolia — opened at night, so she didn't have to "do the dawn thing" again.
After Rutgers, Wright headed west for a postdoctoral position at the University of California, Davis, experimenting with seeds from a native California plant's adaptation to serpentine soils (an uncommon soil type found in parts of California).
Wright eventually transitioned from focusing on flowers to focusing on trees and forests. Her previous research had centered on annual plants, which would be planted in winter, live until June, "and then that was their entire lives." The ability to research and interact with trees, which can live for hundreds of years and contribute to long-term studies excited her. In Wright's words, in "realizing that there are a lot of cool historic studies with trees, and looking at those," she moved toward establishing her own long-running studies. From UC Davis, she went to the U.S. Forest Service and was hired into the Institute of Forest Genetics.
Serving the U.S. (Forests)
Many of us are familiar with the National Forest System branch of the USFS — it includes the rangers who work in national forests and the firefighters who combat forest fires, among others. Wright, however, works for the research branch, which conducts studies on a variety of forest-related topics and provides information for forest managers to use in light of constantly changing forest conditions and climate.
"We're a really high caliber group of folks doing a lot of really cool research on forests, wildlife, climate, all kinds of topics in research," Wright said.
For Wright, this means that she sits at the intersection of the academic research world and the public forest management world, a role she enjoys. She collaborates with university professors and publishes in the same journals as them, but she also collaborates with forest managers — "the folks making decisions" that affect our forests — and helps to ensure that the research gets applied on the ground.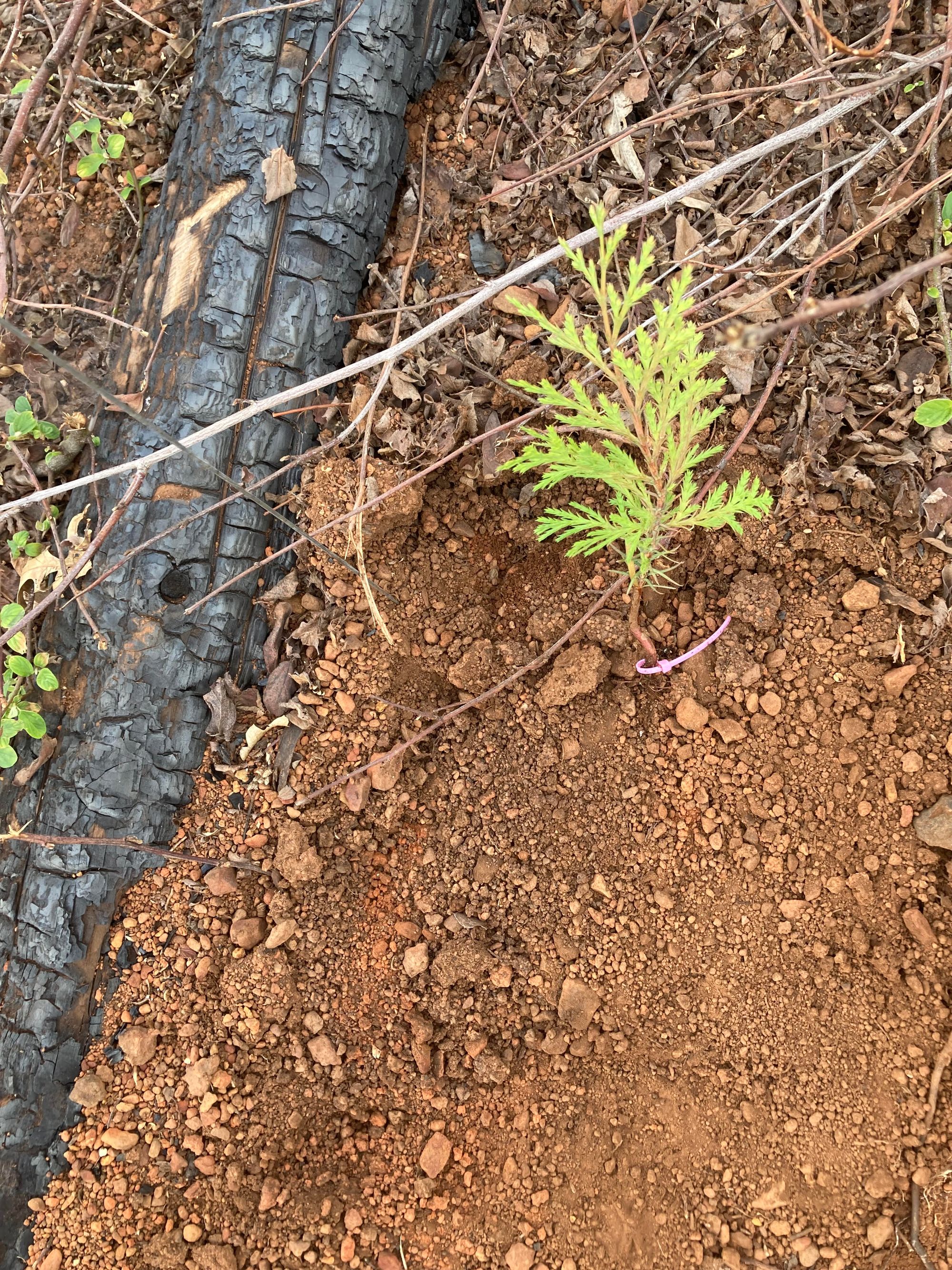 Currently, Wright and the rest of her team are spending some of their time working on the California seed zone map, which helps managers perform seed transfers into the right soil conditions. This is important because the seed map was last drawn in 1970, and has not been updated to account for climate change since then, let alone further changes in the future. Wright's team explores how future and current climate may affect tree generation in these different areas so that managers can make climate-informed decisions. For example, increased wildfires in California have brought reforestation efforts post-fire, much of which draws new seeds from the USFS' seed bank. Foresters have to decide which seeds they will plant where, and in Wright's words, "the goal of my research is to help inform that decision," contributing to long-term resilience for California forests.
This is only one piece of what Wright works on. She also engages in other climate-related research like assisted migration for forests and provenance tests for native California trees. One "fun thing" that the USFS research branch did recently was send tree seeds to the moon on the Artemis I mission, in collaboration with NASA; those seeds have now been planted in USFS nurseries across the U.S.
All of this work is passed along to other branches of the USFS. "I do not make land management decisions," Wright said. "But my goal is to obtain data and products and tools that can help those folks make those decisions."
Some of Wright's days are spent in the field on this research, traversing among the trees at the research station and collecting data. Still others are spent working on data processing and molecular genetics in the lab. And of course, she gets a healthy dose of Zoom meetings. As Wright gestured with gratitude to the trees behind her, "usually, if I'm doing hands on stuff, it will be hanging out with the trees in the field."
Reflecting on Research Pathways
Wright credits Amherst with helping to launch her career through her ability to conduct independent research and hone her interests.
She was able to continue her interest in music, majoring in the department and playing flute in the Amherst Orchestra and Five College Orchestra. She even successfully convinced a music professor to let her attend only half of the class' meetings each week so that she could also TA a plant biology class. A friend would tape-record the Wednesday class lectures, which Wright would listen to on Sundays."When I got to class on Monday, I was sharp as a pin on everything," she recalled with laughter.
In doing biology research at Amherst, Wright found herself able to move past a "romanticized idea" of what research was, and explore the repetitive but fulfilling nature of building an experiment and getting hands-on — "taking care of a ton of little plants in the greenhouse, and measuring all of them." Her thesis was "a huge effort … a huge learning curve too, and definitely [got] me ready for my graduate work," she said."[It was] realizing the kinds of questions I was interested in asking, and then finding a system that I could continue to ask those questions in."
She also spoke of how her time at Amherst helped expand her view of what careers in STEM could be. "I was definitely one of those kids coming out of high school, who was convinced that the only career I could do in biology was medicine," she said, "Until I started realizing, 'Wait, there are professors here, and they do research, but they're not in med school. Wait a second. I want that job!'"
It would take even more time for Wright to discover that a career in academia was not the only research path available — she pointed out opportunities in government organizations like the USFS, U.S. Geological Survey, and National Oceanic and Atmospheric Administration, as well as non-profit organizations that hire students with doctorates, masters degrees, or even just bachelor's degrees.
When I asked her to reflect, Wright urged current students at Amherst to explore the way that she did — get a feel for what research is like, and look toward all the pathways available to STEM students, from medicine, to academic research, to the public and nonprofit sector. And while she clearly took advantage of the open curriculum with her double major, Wright still wishes that she had taken more than one English course. "The life of a scientist is not sitting at a microscope all the time, but there's a lot of communication that has to happen, and speaking too," she said, "[I] didn't quite realize how important writing is to my career. So that would be my advice: take English classes.
Wright's home in California is a long way away from her northeastern college roots.  "There was a whole new set of plants that I had to learn how to identify and get to know," she said, "You guys worry about poison ivy, I worry about poison oak." She keeps at least some piece of Amherst close, with her husband whom she met at the college.
One of the biggest differences between Amherst and Wright's current home in Davis, CA, is the lack of snowy winters there. Wright admitted that she enjoys snow being "a place you drive to," as opposed to the nuisance that obstructed commutes in Massachusetts or New Jersey. "And I like the varied topography and environments here," she said.
But she waxed eloquent about her nostalgia for the beautiful falls of the northeast. "We get a tiny bit of it here," she said, "But not like … the whole hillsides going orange and looking off Memorial Hill at Amherst. I miss that."