commencement
Helen Feibes: A Colorful Practitioner of the Liberal Arts
Her radio show is called "And She Was," but Helen Feibes is anything but a has-been. Finding joy in everything from neuroscience to creative writing, Feibes is the personification of the liberal-arts ideal.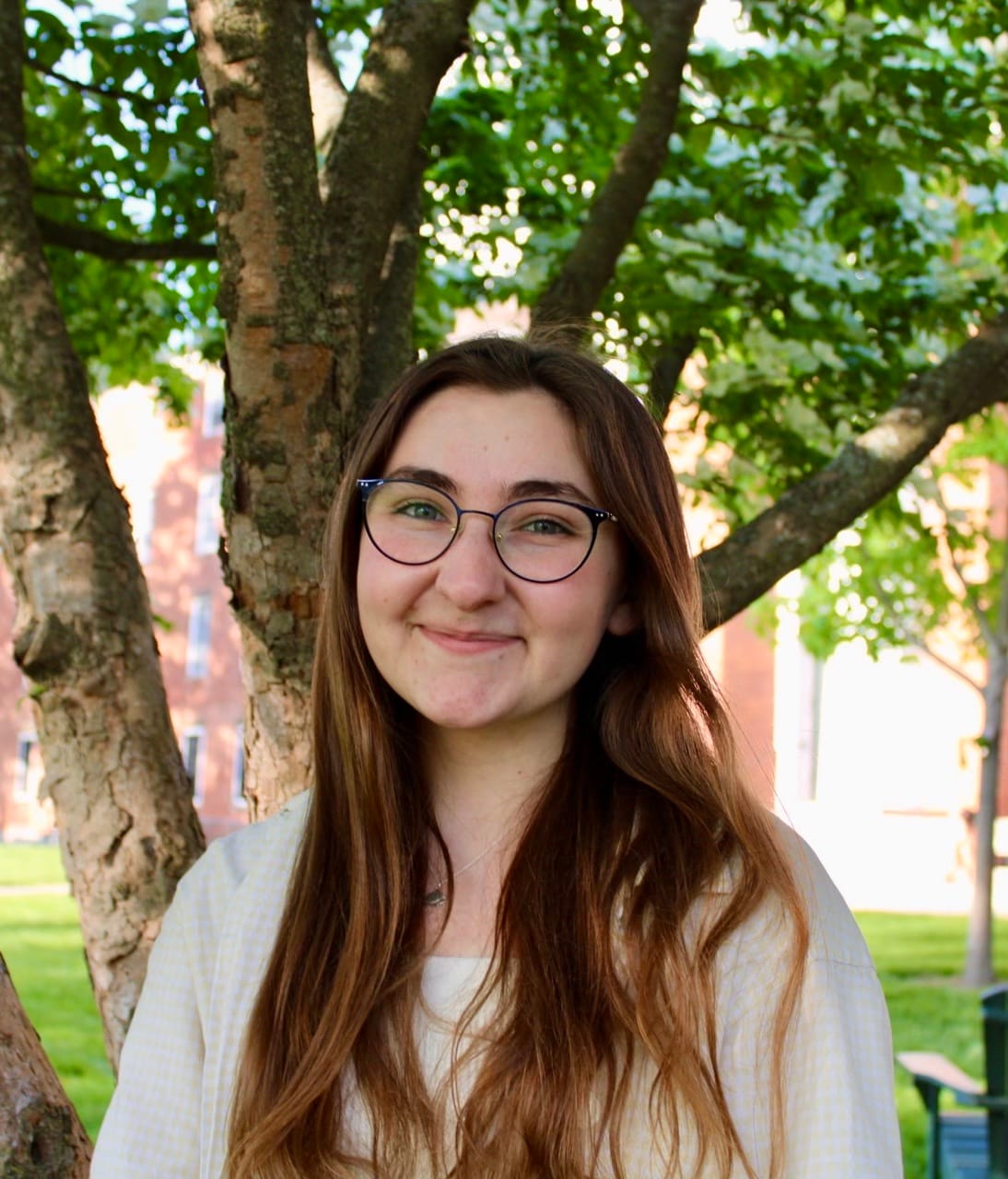 Helen Feibes '23 is the quintessential liberal-arts student. Her passions and interests spread across campus, weaving between different disciplines and student organizations.
She is a neuroscience major who has also written award-winning poetry. She has performed in theater and dance performances and also served as a Statistics and Data Science Fellow. She is active in many student organizations, just as likely to be heard on the airwaves of WAMH, Amherst's radio station, as spotted in the halls of the Zü (Humphries House). It is this flexibility that makes Feibes unique: When you think you've figured out what she's about, she expands her horizons and tries something new again.
At Amherst, she tried to foster joy not only in her academics, but in all aspects of her life, creating a wide-ranging campus presence. "I think I've finally figured out the ways in which I want to exist at this school, with the things I really care about and want to be a part of," she said. Her impressive involvement in both academics and extracurriculars will certainly inform her time after Amherst.
Arriving at Amherst
Feibes grew up in Lexington, Kentucky, where she attended Lafayette High School. Here, she first became interested in neuroscience. In high school, she was primarily interested in biology and psychology as independent subjects, but was only when someone pointed out that she could join those interests by studying neuroscience that she found her academic niche.
"I was 16, and I was like, 'This is crazy. This is a game changer,'" she said. Amherst's neuroscience program, the first undergraduate program in the country, was a major factor in Feibes's college decision. She also knew she wanted to go to school in New England, and the open curriculum solidified her decision.
When she thinks of her first year, what stands out is the LEAP trip she took during orientation, "Daring Edge: Taking the LEAP."
"It was bonding with, like, 11 other people in a way that could have been really, really artificial," she said. "But just by virtue of the people I got stuck with … [It was] actually a really nice way to be introduced to a lot of people at the school."
During her first semester, she took chemistry and math classes, but she also took "Logic" in the philosophy department, which she didn't intend to take but greatly enjoyed. This set a precedent for her, as she  would continue taking advantage of the open curriculum by exploring the humanities while still concentrating on STEM courses.
Feibes can't recall much of the following semester except getting sent home because of Covid. In an intro statistics course, "I remember the professor, for two weeks before we got sent home, was just like, 'It's gonna happen. We're gonna get sent home.' And he would just say it every time," she recalled. "It was so surreal when that happened." Feibes finished the semester at home and completed a virtual Research Experience for Undergraduates at the Center for the Neural Basis of Cognition. There, she began working on what would become an area of particular interest to her: computational neuroscience.
When she came back to campus in Fall 2020, all of her classes were online, except for one: "Lighting Design" in the Department of Theater and Dance. That was also a class that she didn't intend to take but ended up being wonderful. There she met Christianna Mariano '21, whose immersive performance-art thesis she would participate in the following semester. "I really wanted to be in that, and that required me to be back on campus. And so that's probably at least half the reason I chose to come back during the spring," she said.
This return to campus allowed Feibes to take a more active role in student life, at a time when many students were off-campus or less engaged in Amherst's extracurriculars.
Cultivating a Community
After not joining clubs her first year, Feibes began finding communities where she felt comfortable and which let her have fun outside of her coursework. She joined WAMH in Fall 2020 when she started her show, "And She Was" (named after the Talking Heads hit), and joined the organization's e-board that semester.
"I thought it was really nice to start during the semester when there was kind of no one doing it," she said. "I was really nervous to do it." Yet, Feibes continued with WAMH throughout the rest of her Amherst career, and during our conversation, she told me that she was preparing for her last ever WAMH show, curating a playlist throughout the semester to end her show on the best possible note.
During her sophomore spring, she danced in Mariano's senior thesis, "Endogenous," which Feibes credited as one of the main reasons she returned to campus in spring. That was one of the few times she could connect face-to-face with people while in online classes, as she would eat breakfast with friends over FaceTime in their respective dorm rooms.
In her junior spring, she also moved into the Zü and became the house coordinator, the person responsible for the house's food safety and budgeting — which required managing the 21 other people who also lived there. And despite not being a statistics or mathematics major, she also became a Statistics and Data Science Fellow, simply because she enjoyed it. Even with these added responsibilities, she made time for her creative endeavors.
At Amherst, many students find that their personal pursuits fall by the wayside for the sake of academics. Feibes enjoyed photography and poetry throughout high school and managed to continue them during college, even with a heavy course load and multiple extracurricular responsibilities. She said that taking advantage of the creative opportunities at Amherst, such as taking poetry classes, was the main way she was able to keep up with her interests.
Although she does less photography these days, she has taken photos for the college's student fashion magazine, Bolt. Sometimes, still, she captures moments from everyday life. As her friend Henry Bassett '23 recalled, "[We] have a lot of really great photos from all those times, even the dark Covid ages, to still find us laughing and frolicking around the [Book and Plow] farm, so that's very special. That's very special."
Feibes and Bassett became friends during their first year, when they both lived in Appleton Hall. He emphasized Feibes's passion and care for her activities, saying that she loves to share her "very specific and very distinctive" music tastes with her friends.
Bassett also noted her commitment to friendship, even during Covid, and after she moved farther from the central part of campus to the Zü. "She is very intentional about her relationships," Bassett said, "and she just likes to talk to people and because she always has someone that she was like, I really want to get to know them better, and that's a priority for her."
Feibes also continued writing poetry at Amherst. She took "Poetry II" in her freshman spring, which she was nervous about, seeing as she hadn't taken "Poetry I." "Getting to write poetry was so nice," she said. "That class was huge for me." Last fall, she and a friend took the "Creative Thesis Workshop" with Assistant Professor of English Thirii Myint, despite not writing creative theses. Instead, it served as a place for Feibes to pursue her interest in creative writing while working on her thesis.
Her efforts in the "Creative Thesis Workshop" paid off — she won the Five College Prose and Poetry Prize last April, one of two winners chosen from Amherst. She showcased her journey writing during college by reading her work alongside 11 other writers chosen from the Five Colleges and celebrating the work she had put into her craft.
Thesis and After Amherst
The summer after her junior year, Feibes began working on her thesis in neuroscience with Assistant Professor of Psychology Michael A. Cohen, which would eventually be titled "The Outer Limits of Color Awareness and What People Think They Are."
Her thesis concerned the domain of color and peripheral vision. "[It's about] how much color we [are] seeing in the world, and also the aspect of what people actually believe about their visual awareness and perception." She worked closely with both her advisor and another neuroscience thesis student, Skyler Sung '23, who referred to the pair as "accountabili-buddies."
She described the thesis experience as a great opportunity to expand her skills and credits it for inspiring her next steps after Amherst. She will be working at the National Institutes of Health's Postbaccalaureate Intramural Research Training Award (IRTA) program for the next two years, continuing her research with visual and color perception. Once she finishes her IRTA program, she will go to graduate school to pursue a doctorate in neuroscience.
Before all this — immediately after graduation — Feibes wants to travel, although she isn't sure where. "I don't know yet, but somewhere fun, that's for sure." She looks forward to exploring the world outside of the Amherst bubble and will certainly continue to find avenues to express herself creatively outside of her career.
She advised current Amherst students not to take their academics too seriously, and to enjoy all of the extracurricular and community-building opportunities on campus. "It's really important, I think, to have communities you're a part of and do things that you really love to do that are outside of, like, your academics," she said. "Because I think it's really easy to get into the mindset of, 'I have to be perfect at everything, and I should be working really late all the time.'"
Finding your community, Feibes said, is a vital part of the Amherst experience, adding that the WAMH studio proved a fantastic place to spend time.
She also added that, despite Amherst's abundant resources and activities, getting off campus is incredibly valuable. "That could include going to local music shows, going swimming, going to museums, etc," she said. "Getting out of the Amherst bubble has always helped me clear my head and balance work and fun!"
Her time at Amherst is defined not only by her dedication to neuroscience but also by her curiosity for learning and the ways she has found joy within the campus community.