News
In Primary Season, Student Organizing Takes Center Stage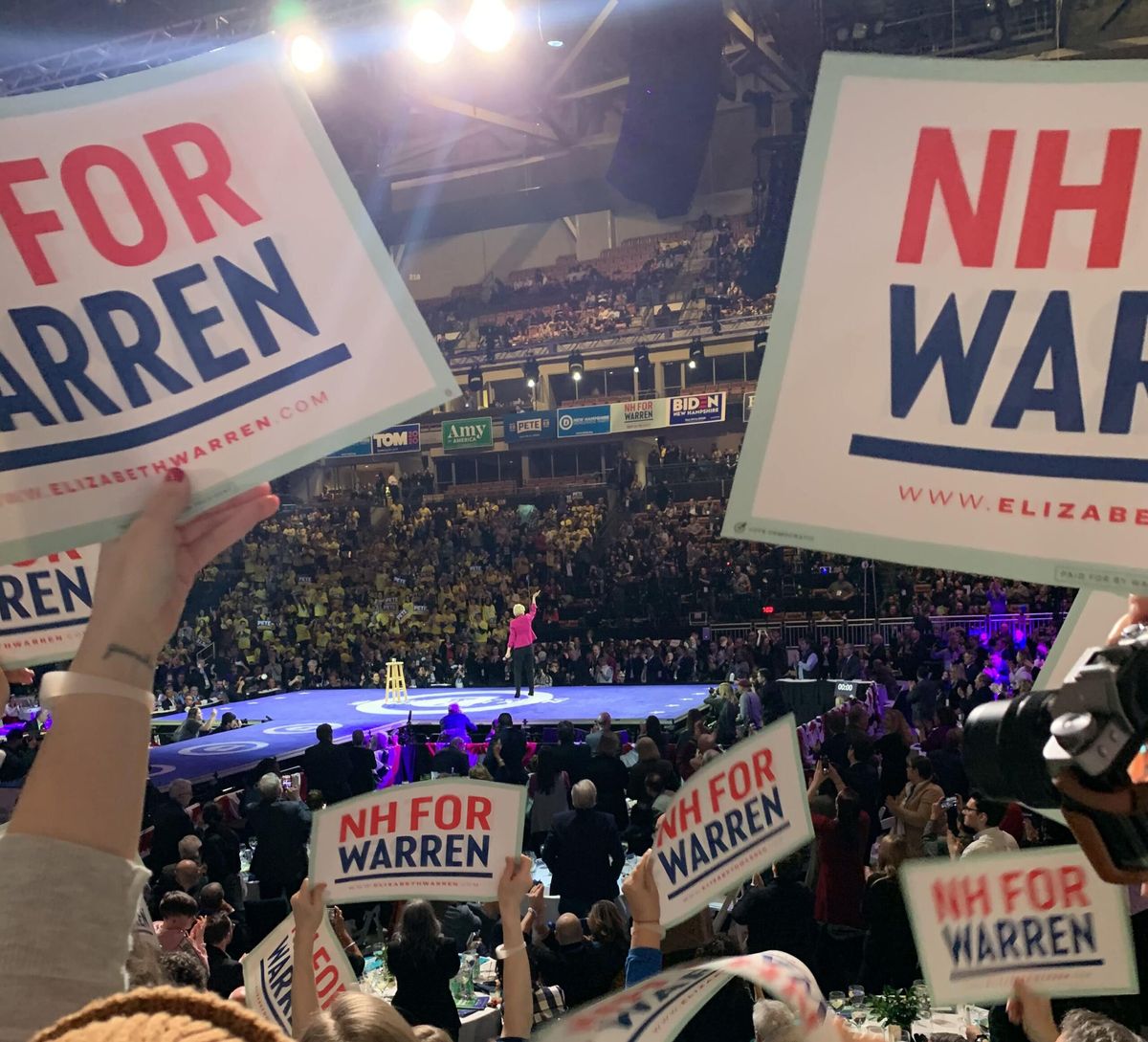 As the New Hampshire Democratic presidential primary election winds down and the Massachusetts primary inches ever closer, students on campus are getting increasingly involved with campaigns for the 2020 general election. Student groups for the four most major Democratic candidates — former Vice President Joe Biden, Senator Bernie Sanders, former South Bend, Indiana, Mayor Pete Buttigieg and Senator Elizabeth Warren — have each ramped up their operations, with individual activists for other candidates also getting involved in the fray.
The college vote is considered important by many campaigns, especially after the national student voting rate more than doubled in the 2018 midterms. At Amherst, the change in voting rate was even higher, exceeding a threefold increase in part due to the Amherst College Votes initiative, which was focused on facilitating campus civic engagement. On-campus activism has likewise surged in recent years, whether in protests, lobbying or, in this case, political campaigns.
The Campaigns Amherst for Warren is the largest and perhaps the most continuously active of the campus campaigns, with over 60 members. Started by Harry Brussel '23 in September of last semester, the student group has been actively canvassing for months, making frequent weekend trips to campaign in New Hampshire and calling potential voters in early voting states.
According to Brussel and Laura Gottesfeld '23, a Warren supporter who has gone canvassing on over 10 separate weekends in the past academic year, one of the key reasons — apart from policy agreements — why they and many others are so enthused about Warren is due to a speech she gave at the Massachusetts Democratic Convention last fall, an event that saw many attendees from Amherst. "We saw Elizabeth speak at the convention, and we all just totally fell in love with her and her message," said Brussel.
Although other candidates may not have the home-state advantage that Warren does, many of them have nonetheless found large pools of support. Amherst for Bernie, for example, started organizing over interterm and has since amassed a team of core organizers and around 30 nominal members. The group has also started actively campaigning, having canvassed in New Hampshire two times and phone-banked several more.
The group's organizers expressed a wide range of reasons for their support of Sanders: for Yosef Ibrahim '23, "on any given issue, Bernie has the best position;" for Arman Azad '21, "Bernie can talk to disaffected Trump voters," granting him the electability needed to win; and for Shoshanna Peifer '23 and Meenakshi Jani '23, "the way [Sanders] does politics," specifically in "bringing people into politics and empowering them," is particularly attractive.
The other student groups — Amherst for Pete and Amherst for Biden — are both somewhat smaller, sitting at around five active members each. Both Mason Quintero '23 and Ryan Kyle '23, the chairs for the Buttigieg and Biden groups respectively, attributed the disparity in part to the left-leaning nature of Amherst students.
"I've gotten great support from the [Amherst College Democrats (ACDems)] leadership, but I sense that the group as a whole is not as welcoming." said Kyle. "When I sent out a text about the group, a friend of mine texted me, 'You were so courageous to start Students for Biden!' I'm a moderate Democrat — how can this be such a novelty?"
Kyle started Amherst for Biden on Feb. 4 and has since canvassed for Biden once in New Hampshire. She cited electability as the main reason she supports Biden, along with ideological agreements.
Quintero described how he initially viewed Buttigieg as "a joke," but after listening to him speak on a podcast, he found himself agreeing with Buttigieg's policy ideas and impressed by his rhetorical style. Despite Amherst for Pete having been founded in November, it has been less prolific than other groups when it comes to campaigning, having only conducted phone-banking events due to technical and transportation issues with in-person canvassing.
Quintero is not the founder of Amherst for Pete, however. That title falls to Felix Stetsenko '20, who recently stepped down after changing his candidate of choice to tech entrepreneur Andrew Yang. "I liked [Buttigieg], and I still like him. But then, I think his message became too focus-grouped, and some of the genuineness wore off with Pete," said Stetsenko. "I was always a fan of universal basic income, and it was that policy that specifically brought me to Yang."
Stetsenko has frequently canvassed for Yang in New Hampshire with fellow supporters, but views Yang as highly unlikely to win the nomination. Still, Stetsenko views canvassing as a good way to "start a dialogue about politics" and to "promote Yang's policies." As for why he hasn't started an Amherst for Yang group, Stetsenko views it as being too late to be productive. Yang has since officially suspended his campaign on Feb. 11.
According to the Associated Press, Sanders is projected as the winner of the New Hampshire primary, with Buttigieg and Senator Amy Klobuchar coming in second and third respectively. Klobuchar does not have an affiliated student group on campus.
What They're Doing While all the student activists are campaigning for different people, they're engaging in the same core activities. Notably, they have spent days and weeks canvassing in New Hampshire, either trying to convince undecided voters to support their candidate or getting out the vote among already decided voters.
Most commonly, students travel to Keene — the New Hampshire city closest to Amherst, just over an hour's drive away and with a population of slightly under 25,000 people — to canvass.
Beyond the opportunity of garnering more support for their candidates, canvassers expressed a wide range of secondary benefits to their campaigning. For some people, the act of canvassing represented a new way of connecting with their candidate.
"Anecdotally, we definitely met some Bernie supporters who I felt had experiences that really informed their support for Bernie and really how I viewed Bernie," Jani said. "Seeing people who are, on a daily basis, affected by these issues was very eye-opening in terms of what Bernie can do for inspiring people."
For others, it represented a reason for optimism in a polarized political climate. "It's heartening to meet people who are engaged in politics, who take the job of deciding who to vote for that seriously," said Stetsenko. "It made me more hopeful, meeting these people and going to New Hampshire, because I think it's easy, if you're on Twitter or watching CNN, to lose hope about politics."
A common refrain among canvassers was voters' receptivity and engagement with their respective campaigns. Kyle, for example, described how she was "just struck by how kind people were, even if they were committed [to a different candidate] already."
"Even if the person we came up to weren't leaning towards Biden, they would still invite us in and talk to us, and just have a really interesting conversation," she said.
"People are usually pretty nice when they open the door," added Gottesfeld. "There was one time when we were canvassing, and someone was undecided, so we gave them our little spiel about why we supported Elizabeth Warren, and they invited us in for coffee and hot chocolate — we didn't go, but it was just really nice."
Going to New Hampshire to canvass still often poses many difficulties, however. For one, several canvassers noted how chilly conditions impeded their ability to quickly move from house-to-house, while many also noted the large time commitment that canvassing presented. Nevertheless, most of the student organizers deemed it necessary despite those costs due to the perceived importance of the primary.
"I think you just have to make the time. I think we're at a time where, politically, it's very important to make sure your voice is heard, and that you're active, and that you're fighting for what you believe in." said Peifer. "For me, there's definitely some crunch time this week, because I spent a whole day canvassing where I was like, 'Ooh, I don't know if I'm going to get my work done,' but that's the sacrifice you need to make to make sure you're working your future a place that you want to be living in," he said.
Still, canvassing is far from the only option for those wanting to get involved. Both phone-banking and on-campus organizing are common activities among the campaigns, as well as other off-campus events like rallies or events for Democrats. For instance, students from the Warren and Biden campaigns attended the McIntyre-Shaheen 100 Club Dinner in Manchester, New Hampshire on Feb. 8 — an event that featured every major Democratic candidate as a speaker — to show their support for their respective candidates.
Undecided and unaffiliated students also have a chance to stay in the conversation. "We don't endorse in the primary, so we have focused on events to learn about the candidates and ways to watch what's happening," said Anna Kanengiser '21, president of ACDems, in an email interview.
"We watched many debates together and have had a few events to hear the candidates speak in New Hampshire. We are also focusing on activism surrounding specific issues in the meantime."
What They're Planning With the New Hampshire primary finished, each student group now intends to turn its attention to the Massachusetts primary, which will be held on March 3. The date, which is known commonly as Super Tuesday, will see the primaries of 14 states and Democrats Abroad, representing around a third of available delegates for primary candidates.
In preparation, organizers are beginning to plan canvassing activities around Massachusetts, as well as on-campus events. The Office of Environmental Sustainability is planning an environmental policy forum with representatives from each of the student groups on campus on Feb. 28, in coordination with ACDems. According to Kanengiser, ACDems plans to hold a voter registration drive concurrently with the forum.
Many campaigns are also emphasizing primary voter registration in the days before the Massachusetts deadline. For citizens wanting to vote in the Massachusetts primary, they will have to be registered as a Democrat or an independent before Feb. 12.
"I think it's very easy to be cynical about politics, but when you get out there, and you go to people's houses, it definitely restores my faith in the system to a certain degree, for all its flaws," said Kyle. "I'm optimistic."