Sports
Individual Successes Lead to a Perfect Start for Men's Swim & Dive Season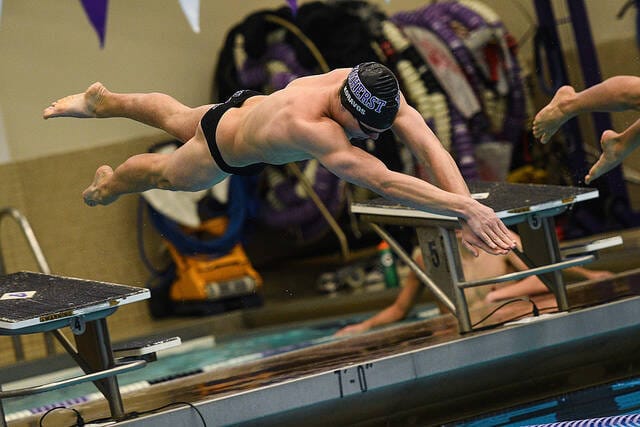 The Amherst men's swim and dive team began its season on a strong note this past week by winning its first two meets of the year. The Mammoths took on two different NESCAC foes in dual meets and won both contests by comfortable margins.
On Saturday, Nov. 17, Amherst hosted Colby in Pratt Pool and outscored the Mules 165-123 to win the meet.
The Mammoths followed that up with another great performance, traveling to Wesleyan on Nov. 19 and defeating the Cardinals 174-102.
In the opening meet against Colby, Amherst captured 11 of 16 possible first-place finishes to help secure the 165-123 victory.
Of the victories, 10 were claimed by individuals and the other first-place finish was by the 200-yard medley relay team of Craig Smith '20, Chris Quinones '19, Tristan So '21 and Scott Romeyn '22.
Smith also won two individual races — the 100- and 200-yard backstroke events.
Meanwhile, Romeyn finished first in the 50-yard freestyle. Joining Smith in winning two individual races was Eric Wong '20, who won both the 200- and 500-yard freestyle events.
Bennett Fagan '20 took Amherst' sole first-place finish in diving, claiming the three-meter crown. Just two days after taking down the Mules at home, the Mammoths traveled to Middletown, Connecticut to take on Wesleyan.
Amherst picked up where it left off on Saturday, and turned in another outstanding team performance to win the meet 174-102.
The Mammoths were able to claim 11 first-place finishes, again winning 10 individual events and the 200-yard medley relay.
Two different individuals won multiple races for the Mammoths, with Sean Mebust '20 claiming first in the 50- and 100-yard breaststroke races and Ang Li '21 winning the 50-yard backstroke and 100-yard freestyle.
Brandon Wang '20 won the 400-yard individual medley, Smith won the 100-yard backstroke and Wong took home the 100-yard butterfly.
Again, Fagan took Amherst's sole diving crown in the three-meter event.
The Mammoths will seek to extend their season-opening win streak to three in their last meet of 2018 this Saturday, Dec. 1, when they travel to Vermont to take on Middlebury.