commencement
Joelle Crichlow: Leading the Charge to Make Change
Guided by a passion for changemaking and a commitment to making Amherst a better place, Joelle Crichlow has done just that — and she will continue to effect positive change wherever her path takes her.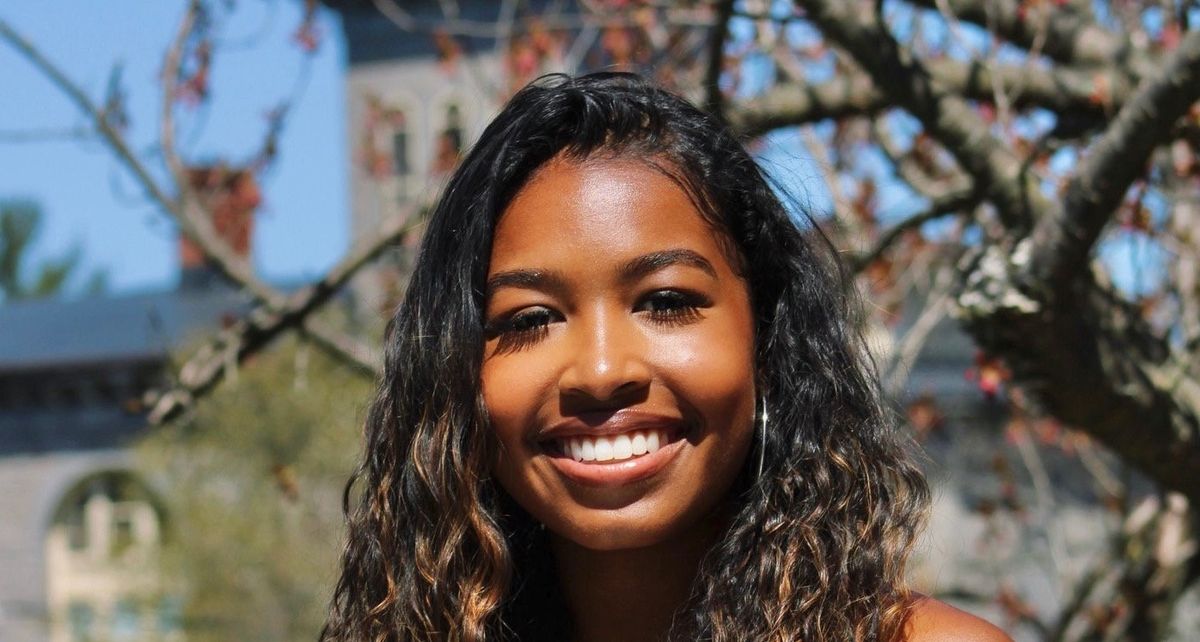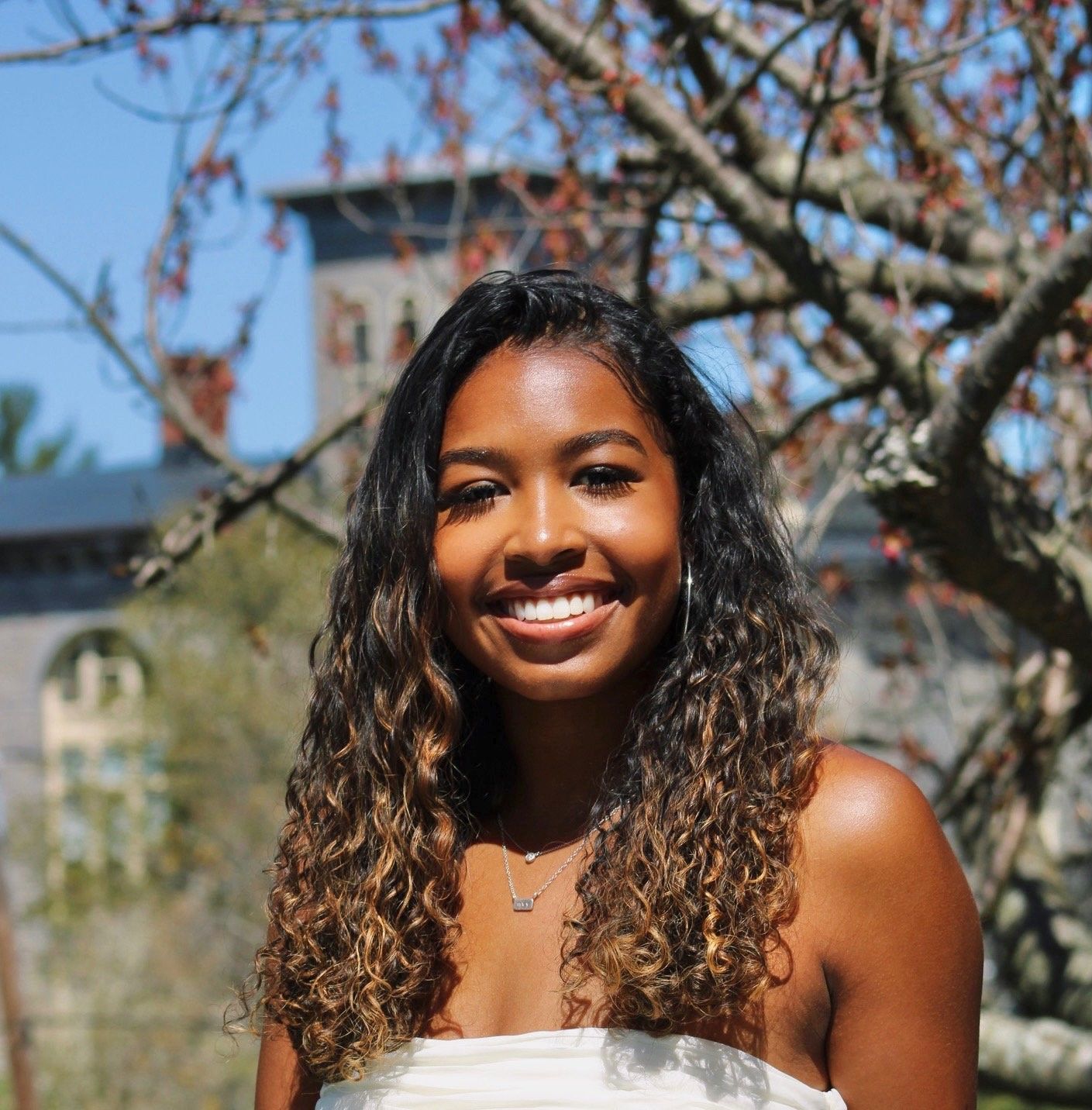 Joelle Crichlow '22 is the definition of a doer. "People come up to me all the time and say 'You're friends with Joelle, right? How does she do everything?'" said her friend Sonja Lazovic '22. I wondered the same thing when I first arrived at Amherst; Crichlow was the Peer Advocate (PA) who led my orientation workshop on sexual respect, and when I began writing for The Student, I read past articles and found that her name appeared everywhere. She was president of the Black Students Union (BSU), she is on the student anti-racism task force, she is a Student Equity & Inclusion Liaison, she was leading initiatives like #IntegrateAmherst. She is a model of community engagement, a hard worker who makes it look effortless.
Over the course of my two-hour conversation with her, sitting in the late-afternoon sun at a picnic table outside Morris Pratt Dormitory, it was clear to me that Crichlow's engagement comes from a deep care for the people around her, an understanding of the meaning of community, and serious thought about how to make change. This passion has led her to incredible academic and extracurricular heights, and defines her role on campus. Her friends agreed: "She gets things done because she cares a lot," Lazovic said. "Her growth in leadership is just a natural development."
President Biddy Martin, who has worked with Crichlow on the Anti-Racism Advisory Group, agreed: "I have been impressed by Joelle's clarity of thought and purpose, her incisive contributions to discussion, and her strength of conviction and purpose," Martin said, "Joelle is a talented thinker and leader … she combines these qualities with warmth and humor."
Expanded Community
Crichlow first learned about Access to Amherst (A2A) weekend, then called the Diversity Open House (DIVOH), while doing college research as a high school junior. Attending A2A helped Crichlow decide to apply early to Amherst. "I felt like diversity was something that I was lacking in my high school," she said. "And so going to DIVOH, I felt like, 'Oh my gosh, this is a school that really cares about diversity.'"
Crichlow grew up in Upper Montclair, New Jersey, an "overwhelmingly" white, affluent community. She attended the same school from elementary school through high school. While her surroundings were largely homogenous, her parents "always placed an importance on being in the Black community," and Crichlow and her brother "had a Black network outside of high school" through the organization Jack and Jill and their family's social circle. This network "supplemented the fact that there weren't that many of us [at my high school]," Crichlow said. "It was like, 'Alright, this is just what this is. And I have somewhere else I can go.'"
While this connection to the community was helpful, Crichlow discussed the difference between her experience and the experience of "growing up wholly enmeshed in and around a Black community." This was one of the reasons that she was interested in coming to Amherst, and knew that she would also major in Black studies. "This was something that I felt like I hadn't gotten exposure to in high school," she said, "Everything was very whitewashed. I wanted to be involved in that community more, and I wanted to do it in an academic lens as well."
Once she arrived, Crichlow became situated in Amherst's Black community: "God, it was so great," she said. "I think I came into my own." On the experience of being a Black woman at Amherst, Crichlow said, "To be clear, it has not been perfect," but added that the community made it so "I didn't feel like I was censoring parts of my identity …  it just was a place where I could actually just have fun and be myself wholly for the first time. Which also made learning more fun."
Academic Roots
In high school, Crichlow spent a semester at the School for Ethics and Global Leadership (SEGL) in Washington, D.C., a domestic study program that focuses on ethics and leadership in national and international affairs. While attending SEGL, Crichlow and the rest of her cohort lived on Capitol Hill and engaged in a curriculum rooted in politics and the environment of D.C. "I feel like it was the first time … learning with people who actually wanted to learn for learning's sake," she said. She also described the experience as one of her first tastes of independence, something that motivated her to attend Amherst.
Crichlow's participation in SEGL was part of a broader context of her strong interest in politics, and her desire to attend law school. "I knew that I wanted to do something in the political realm and what felt like the most tangible way to do that was law," she recalled. Learning about the law, jurisprudence, and social thought (LJST) major at Amherst drew her to the school. The open curriculum also was "a big sell" — Crichlow felt that the style of learning at her high school, which she described as "traditional" and "less about how you think," was too confining.
Crichlow took an LJST class during the first semester of her freshman year, but she didn't enjoy it. "I probably shouldn't have written off the whole department based on that one class, but I was like, 'F — k that, I'm done.'" She tried out political science, too, but didn't enjoy it either.
During her sophomore fall, Crichlow took her first sociology class: "Dilemmas of Diversity" with Edward N. Ney '46 Professor in American Institutions Ron Lembo, who later served as her thesis advisor. She recalled immediately knowing that she wanted to major in sociology. "What I liked about soc[iology] is that I was able to analyze dynamics and issues that were influenced by politics and influenced by institutions specifically, but it felt a little bit more human," she said. "I also liked the fact that kind of everything is sociology. There weren't really any concrete boundaries … You can make anything into a sociology class or a sociological problem."
Lembo described Crichlow as having a "sociological imagination, where she can take issues in her own life and the lives of those around her as objects of study." In class, "she is always attuned to the nuance of things: Nothing gets by her … It's no exaggeration to say that as a result of her participation in class, we all came to see challenging issues in new ways. As an instructor, you can't ask for more than that."
Crichlow recalled feeling intellectually invigorated by the topics she was learning about. In Lembo's "Dilemmas of Diversity," she wrote a term paper about the impact of programs like A2A — an all-expenses-paid fly-in visit for students of color and low-income students — as compared to legacy admissions practices at Amherst. "That was the first academic project that I actually feel like I got caught up in," she recollected. Her paper ended up being 12 pages over the limit, encouraged by Lembo.
She later felt similarly excited when she began researching and writing a sociology thesis after remote learning "ruined me as a student." Crichlow's thesis focused on an intergenerational analysis of how "social mobility and class identity affect the way that we form or understand our racial identity," based partially on her own family. She conducted interviews with 10 different affluent Black families, and analyzed each generation's conception of their racial identity as shaped by their class upbringing. Lembo called it "a terrific piece of sociological research." Writing a thesis "reinstated some of my intellectual curiosity," she said.
Commitment to Change
Crichlow is someone who is deeply involved at Amherst, guided by a passion for changemaking and a commitment to making Amherst a better place.
She pinpointed her sophomore year as the time where her "activism at the college picked up, at least in relation to race matters." At the time, she was serving as the vice president of the BSU, and Amherst had just been rocked by a racist incident involving white members of the men's lacrosse team verbally assaulting a Black player. The BSU leapt into action, forming the #IntegrateAmherst movement, which included a series of demands to the college via a letter signed by over 2,000 students across the nation in 48 hours. "That was kind of an interesting position for me to be in," Crichlow recalled. "It sounds horrible to say that I've been lucky in horrible instances of racism, but I was in leadership positions to affect tangible change at those moments. So I was very much able to be involved."
In August of the same year, Martin was forming a Student Anti-Racism Task Force and reached out to Crichlow to ask for member recommendations. Crichlow herself ended up serving on the committee, which continues to meet with Martin weekly.
At the time that she got involved in the task force, Crichlow described going through a change in outlook about how to effect change at the college. After taking Lembo's classes and dealing with the lacrosse incident, "I honestly was feeling very cynical," Crichlow recalled. "I was like, 'Burn the institution! Everything sucks! It's never gonna be better, screw the school, screw everyone!'"
But during the pandemic, in the face of overwhelm from interrupted learning, mass death, and political unrest, she found herself looking for "positives" as she saw people come together. During this time, she began to think about changemaking from a more pragmatic standpoint. "This was around the place where I would say I got a little less cynical," Crichlow said. "I feel like being away, I was like, 'We can't do everything all at once, so how do we take a step back and really prioritize? How are we strategic about what change we want to happen? And when? Also understanding what the school has already tried or already done that hasn't been effective?"
The task force was a compelling (and compensated) way to engage in those questions. But they also reflect a deeper quality of Crichlow's that I found to be a through-line in our conversation: her commitment to fully understanding the way things work in order to truly make change. Crichlow described feeling that because she had taken "Dilemmas of Diversity" and written her term paper, she knew about Amherst's bureaucracies and "how the administration worked." "I think one of the biggest misconceptions that people have about Amherst is its governance structure," she said, emphasizing the significant role that faculty and trustees have in making decisions.
She also thinks that it is difficult to have continuity in movements here due to the four-year timeline. "You can only do so much in four years, and then you're gone," she said. "And within that cycle, you constantly have people coming through and not knowing what's already been tried, or what's already been done." She highlighted the time between the Amherst Uprising and #IntegrateAmherst as helpful in seeing the actual effects, or lack thereof, of the college's changes in policy.
This can stall effective progress, Crichlow thinks. "Amherst Uprising, to me, … [contained] very baseline demands," Crichlow said in a 2021 quote in The Student. "A lot of what's being asked on behalf of the administration are the same things that were asked [in the] 1980s. I think that it can be a little bit disheartening when you see the same things being asked for almost 50 years later."
I brought this quote up to Crichlow, and asked her what she thinks would move Amherst beyond these repeated "baseline" demands. On one note, Crichlow said that "I think that there's a lot that we can do around increasing resources for victims of sexual assault on campus," noting this as "a challenge" due to the legal constraints that Title IX and Health Education interact with.
More broadly, Crichlow said that a better Amherst would involve "alleviating some of the social dynamics" that reinforce harm at Amherst, from the culture of sexual violence to the enabling of racism, to the severity of the student-athlete divide. This, she said, will have to come from both administrative changes and student "buy-in." "There's no right way to [be involved]," she said, "But that doesn't mean that everyone doesn't hold an equally important part in driving that culture change."
Crichlow also voiced an optimistic attitude about Amherst's past and future evolution. She pointed to a variety of factors such as diversity, social culture, available resources for students, and the visibility of campus advocates like the PAs —  all of which she thinks have improved during her time here.
"A lot has not changed at this college, a lot has not improved," she said. "But I'm also sitting here watching them actively try to hire more Black faculty members, … watching them have a meaningful conversation about how we retain staff members of color. It's not that everything has gotten better ... But thinking about the different kinds of conversations that are being considered in the college, I'm like, 'Okay, I see the impact.'"
"Whether I directly impacted that or not, that makes me really happy and really proud to have gone here and to [have seen] that change over the course of four years. Because things are better," Crichlow said.
To me, it seems like Crichlow has had an undeniable impact. It has been her voice that has spoken up in areas of power, her thought and intention that has contributed to multiple successful movements at this college. "She's initiating a lot of changes," Lazovic reflected. "She just has genuinely really wonderful ideas, and she knows how to command a room."
Reflections and Future
Crichlow has accomplished a tremendous amount in her time here, and said that "at every phase, I've learned something different." She emphasized that students here have more capability and power than they might be aware of. "Our voice really does matter as individuals and as a collective and there's a lot that can be done if you can harness that to create the change that you want to do," she said. She also highlighted the important role of care, rest, and boundaries in her journey as a student leader.
Moving out of an educational institution context, Crichlow is continuing to consider the best way for her to have an impact while maintaining her own interests and rest. She does not want to go into policy work, but while she became disillusioned with the idea of law school at the beginning of college, she maintains that it is still on the table, as are other forms of graduate school. She expressed a desire to "feel like I'm living a very fulfilled life where it's very impactful socially, but isn't necessarily that I'm at the forefront of fighting policy in the same way."
For now, she is "liv[ing] a little more life before I decide exactly what that looks like." Next year, Crichlow will move to New York City and work in marketing at American Express, which she described as a creative outlet and "a career that's just gonna be fun, that I can learn a lot from."
"Then we'll come back to the table and we'll figure out okay, how can I come back to this?" she said. "What is the way that I want to create meaningful change? How does that look different outside of an educational institution?"
Crichlow said that she will miss her Amherst routines and traditions, including the serenity of Val-sitting and the Emily Dickinson trail. I am confident that Amherst will miss Crichlow in return. Every community member here is better off for her hard work, initiative, and deep care.