News
Journalist Serves the World With His Words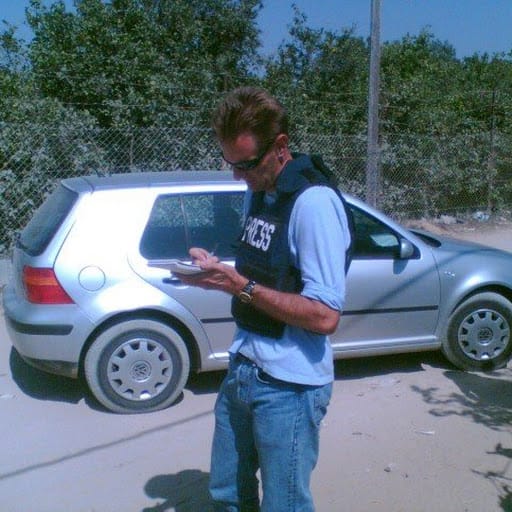 After speaking with Scott Wilson '88, I sat at my desk, staring at my laptop, at a complete loss for words — how was I going to capture the essence of this extraordinary journalist in 2,000 words?
Wilson has been detained by members of the guerrilla group Revolutionary Armed Forces of Colombia (FARC), covered bombings in Gaza, won awards for his coverage of President Barack Obama's administration and led The Washington Post as national editor. He has received a list of awards too long to include, but throughout our conversation, one thing was clear: he is deeply, irrevocably, undeniably and furiously in love with journalism.
Early Enriching Experiences
Wilson grew up in Santa Barbara, California. His father owned a chain of retail furniture stores, and the family of four often traveled to places around the world during the summer. "We were fortunate to do the kind of traveling we did," Wilson said. "That very much informed my later interests."
Though Wilson's father is an Amherst alumnus, there was no pressure on Wilson to matriculate at Amherst. "The fact of the matter is, I just liked Amherst best," Wilson said. "I was thrilled to have gotten accepted, and I didn't regret a minute of it."
At Amherst, he majored in English and was involved in a number of activities: intramural sports, the movement to divest from apartheid South Africa and The Amherst Student. "One of the things looking back at Amherst that I never realized at the time — you really learn more from your fellow students than you even do in the great classes with the great professors," he said.
In the first few weeks of school as a first year, he found himself sitting with a group of friends, enjoying the atmosphere as he listened to two close friends discuss their favorite writers in The New Republic magazine. "I thought to myself, 'I have no idea what The New Republic is,'" he said. "[The conversation] was an early reminder of this very engaged, intellectually curious group of people I was with. I don't think I stopped learning from them throughout."
Origins of a Distinguished Career
Though Wilson was immersed in a wide range of interests, he called himself a "pretty unfocused youth."
After graduation, he drove across the country to his California home with a couple of friends and spent the summer traveling in Europe, contemplating his future. "I didn't have very high hopes for myself," he said. "Those first weeks after Amherst were kind of disorienting — the wonderful, formative chapter in my life was over so abruptly."
Upon his return from Europe, he decided to work for his hometown paper for free to compile clips while waiting tables at a local restaurant. After a few months, Wilson secured his first real newspaper job in Hollister, California — a "tiny little daily," where he "had a ball" learning from its editor. He stayed in Hollister for nine months before moving to the Times Advocate in San Diego County.
"That's when I really started having ambitions and really knew that this was going to be something I love and really wanted to be a foreign correspondent," Wilson said.
Though Wilson loved every minute and gained invaluable experience learning from veteran journalists, he soon recognized that he needed to become a better writer. He entered Columbia Journalism School and spent the year refining his writing before receiving his master's in journalism in 1992.
"As a young writer in journalism, there's a journalism-ese that you can easily slip into — words that don't really mean much," he said. "But precision and clarity is the goal; great writing brings almost no attention to itself. It's all in service of what you're trying to say. For a year of really getting drilled into that — it made me a better writer."
One of his professors at Columbia, who was then serving as the Associated Press (AP) bureau chief at the United Nations, helped Wilson secure his first stint as a foreign correspondent covering Nicaragua for the AP. After a year, he returned to Santa Barbara to cover politics for the News-Press, which was then owned by The New York Times.
R.B. Brenner, Wilson's editor at the News-Press, said it didn't take more than a few weeks to see that "he had all the makings of someone who would go on to be a big star in journalism."
"He was just a completely dogged and thorough reporter," Brenner said. "While other reporters on the staff might be satisfied with just a few interviews, Scott would do 10. While other reporters might not take the time to do the homework of reading every available document, Scott would do that. There was this powerful combination of a really thorough reporter with an exceptionally promising storyteller."
In the meantime, he began a relationship with his younger sister's childhood best friend.
Two-and-a-half years later, Wilson joined The Baltimore Sun, moving across the country with his new wife. It was his first post at a major metropolitan daily paper, and his consistently excellent work covering Maryland soon had The Washington Post knocking on his door.
Reporting on Latin America
In 2000, after three years at The Post writing on Maryland politics, Wilson was sent to Bogotá, Colombia as a foreign correspondent. By then, he and his wife had a daughter and were expecting their second child, "but we were all ready to set off on an adventure." The couple's third child would be born in Bogotá.
"We got there at about the peak of the civil war — two big groups, the paramilitaries on one side and the FARC guerrillas on the other with the government somewhere in between — so I wrote a lot about drugs and conflict," Wilson said.
Based in Bogotá, he also covered the rise of President Hugo Chávez in Venezuela, Jean-Bertrand Aristide, Haiti's first democratically elected president, and Peru. Some years, he was away from his home in Bogotá for more than half of the year. "It was hard and it wasn't," he said. "When I was home, I was really home. It was just a different rhythm for all of us. As a journalist, it was absolutely extraordinary. It's still the best job I've ever had."
Toward the end of his time in Colombia, he "got reckless" and encountered a FARC front that detained him for 30 hours. An armed guard accompanied him throughout the night, which he spent in a little farm in the middle of a cocoa field. "I must've looked scared, because this grandmother was visiting this family when I was in this house and she walked up to me and said, 'Don't worry, sir, at least you're not tied up,'" Wilson said. "And I was like, 'Oh god, how often does this happen?'"
The next day, the commander told Wilson his credentials as a journalist checked out — he was allowed to work there and ended up putting in a decent amount of reporting.
"My best work was on the paramilitary movement and how the U.S.-backed Colombian army was complicit in the way they cleared areas and massacred civilians," he said. "But the story of Colombia and how it changed while I was there — from a place that really seemed in some ways like it was going to be forever locked in civil war to a place where violence had gone quite a bit down by the time I left — was a pretty great story."
Navigating Conflict in the Middle East
In 2004, Wilson's supervisors asked him to move to Jordan to learn about the Arab world before taking on a new position as Jerusalem bureau chief. There, he covered Lebanon, Jordan, Saudi Arabia and Iraq. A year later, in the summer of 2005, Wilson moved to Jerusalem and began covering the Israeli-Palestinian conflict. His first big story was on the Israeli state's withdrawal from the Gaza Strip. He often reported "in and around Gaza [and] the border where some of the rockets were going into Israel as well."
Reporting in conflict zones around the world didn't leave him unscathed, however. It was difficult and often bewildering to "spend two or three days out in a war zone in Colombia and go to massacre sites where 35 people had been beaten to death with rocks, their bodies on the ground, or see chainsaws being brought in by a helicopter with a cargo net dangling" and then return to a "very elegant apartment in Bogotá" with his wife and three children.
That duality also defined his experience in Iraq, where he often faced bullets accompanying American soldiers. "I had days of being really despondent after stories like that," he said. "Part of it is being tired; part of it is being upset. It's a really hard balance to strike."
The White House
Wilson and his family returned to Washington D.C. at the beginning of 2008. After working as deputy foreign editor for 18 months, Wilson wanted to go back to writing. He was assigned to cover the president and spent five years working the White House beat before becoming the White House bureau chief for The Post. "It was a totally different kind of journalism than anything I'd done before, trying to figure out the White House," he said. "Obama's was probably even more closed than others."
Cameron Barr, The Post's managing editor, has worked with Wilson since Wilson's tenure in Jerusalem. To Barr, Wilson is both an "evocative writer who can bring scenes and people to life" and a thoughtful reporter who "brings a lot of rigor and intensity and determination to get the heart of the story."
"One thing Scott is known for in our newsroom is being able to tell stories and frame stories with a lot of sweep and authority so readers get a sense of the history making of a moment," Barr said. "He demonstrated this time and again when he was the White House bureau chief and covering President Obama."
Wilson was promoted to deputy national editor in 2013 before becoming national editor in 2014, managing the newsroom through the 2016 presidential election and most of President Donald Trump's first year in power. Under his leadership, The Post published a book on Trump and won a number of Pulitzer Prizes for its reporting on the Trump administration, among other topics.
Here and Now
After three years, however, he was ready to get back to reporting and proposed the creation of a West Coast correspondent position. Since 2017, Wilson has worked on pieces about California and the West, writing on disparities between the wealthy and the poor, the legalization of marijauna and technological innovations.
For Wilson, journalism is it. His passion and enthusiasm for what he does is clear in how he talks about his work. "I go all the way back in my first job and why I knew immediately this was the right career for me: because it's still incredibly fun to land someplace and learn about something that's happening for the first time and try to make sense of it for other people," he said. "It uses almost all the tools that they give you at a place like Amherst. Sure, it gets tiring and good Lord, The Post is a giant bureaucracy, but I get to choose what I write about and travel and if that's not gonna keep you going, I don't know what will."
To an aspiring reporter like myself, Wilson's distinguished career and the impacts of his work are nothing short of awe-inspiring — he shows the world why it needs journalists.