commencement
Kalidas Shanti: Finding Joy and Meaning Through Writing
Despite his understated presentation, those who know Kalidas Shanti know him to be a deep thinker and compassionate friend who has spent his time at Amherst exploring a wide range of interests.
"You know how Kalidas [Shanti '22] just sort of sits with one headphone in and just has this almost brooding presence. And then sometimes will interject something and then you realize he's playing Dungeons and Dragons."
This is what his friend Sadie Gomez '22 said when asked to describe Shanti. But while Shanti's presence might be understated, there's an entire world beneath the surface. Though I first met Shanti at the beginning of this school year at a meeting for The Indicator, for which he served as one of the editors-in-chief, I had only gotten the opportunity to speak with him briefly or in passing until I sat down to interview him for this profile. Shanti has always been an enigma to me. My first impression of him was that he seemed introspective, yet fairly simple and laid back — but after reading his poetry for the first time shortly after, I knew there had to be much more. Reading Shanti's poetry leaves you contemplating and wanting more. The way he manipulates language and thought, merging the real and the hypothetical, simply enthralls you.
After an hours-long conversation with Shanti, it became clear to me that — as his friend Sylvia Lanni '22 worded it — "whatever's going on up inside his head is a level of understanding that the rest of us will never reach." However, Shanti is so humble that you wouldn't know of his abounding intellect from just a short conversation. "He doesn't show it off, but it comes out in ways when you get talking with him — you start to realize just how deeply he looks at things," said William J. Walker Professor of Mathematics Robert Benedetto.
Beyond praising his intelligence, Shanti's friends spoke of how genuine and supportive he is. Lanni told me that they can always count on seeing Shanti in the audience during their every Choral Society concert. Amira Reyad '22, who got to know Shanti when they both attended Calculus office hours religiously their freshman year, told me that even though Shanti was sick the day of her thesis defense — and it covered a subject he wasn't especially fond of — he not only attended it, but was also actively engaged. Gomez remarked that Shanti will quite regularly "bring up something incredibly specific that you said a month ago, quoted verbatim, that you don't even remember saying."
Shanti doesn't only show this care to those he's close to. Both his friends and mentors spoke of how approachable he makes himself — he can carry conversation with anyone. "He'd often come to office hours and we'd carry on discussions that had begun in the classroom with his peers but which he wasn't ready to let go of, but we'd also talk about our upbringings — the worlds that we came from, and the ways in which they're different from the world that you can find at Amherst," said Assistant Professor of Philosophy Lauren Leydon-Hardy. "Sometimes we'd talk for so long that I would be like, 'Look, I have to walk my dog. Do you want to keep talking while we walk my dog together?'"
At times, Shanti will leave the table at Val during dinner and disappear for 45 minutes because he bumps into someone and begins chatting. After talking with Shanti, I can entirely see how this happens. He's an English and math major — two vastly different subjects — who's also quite intrigued with philosophy and political science. He seems to know something about everything, and during our interview, we ended up going on tangents about everything from French toast sticks to metrical poetry to Sonic the Hedgehog. I can honestly say that Shanti is one of the most wonderful and interesting people I have ever had the pleasure of talking to.
A Transient Childhood
Growing up, Shanti moved around quite a bit because his dad served in the Navy. He remembers living in Virginia and South Carolina before his parents split and he moved with his mother to Georgia, where he began kindergarten. One of his earliest memories, which he recalled with affection, is feeding birds bread during his lunch break. It was also in elementary school that Shanti discovered his affinity for math — he especially loved multiplication.
Shanti then moved to Sacramento, where he spent his free time on the courts playing basketball. However, the neighborhood he lived in wasn't the safest — after a kid was jumped by a hammer and a shootout left bullet holes in the wall of his apartment (which later inspired a poem), he moved again to Washington state and then Texas. His parents got back together for a few years before splitting up again, and Shanti fondly remembers playing the video game "Street Fighter" with his dad and brother. He lived on the Fort Sam military base in Houston and attended military school from eighth grade to tenth grade. Because he was constantly moving, Shanti hadn't had an easy time making friends and forming connections. So living on base was refreshing, because everyone there knew what it was like to move all the time.
Shanti ended up transferring to a different school his sophomore year of high school, where he struggled to find motivation and fell into a depressed monotony. "There were a lot of days where I would just kind of lie in the dark and be like, 'What am I doing?'" Shanti said. However, with encouragement from one of his teachers, he started doing creative writing and ended up working on the school's literary magazine. Writing and working for the magazine became genuine passions of Shanti's, which helped motivate him academically through the end of high school despite his turbulent personal life.
When applying to colleges, Shanti had no idea what he was looking for. Serendipitously, he ended up applying to Amherst on a whim the day before the deadline, without having seen the campus and only knowing that it was a prestigious liberal arts college. When he got accepted, there wasn't anything attaching him to Texas, and Amherst just seemed like the best option financially and academically. Though he hadn't initially known much about the college, he was happy to turn over a new leaf.
Growing at Amherst
Coming into college, Shanti wasn't sure what he would study. Though he knew he had an interest in English, he explored an array of classes in other subjects he found compelling, including math, political science, and philosophy. He ended up taking English and math courses every semester of college. During the fall of his first year, he took "Writing Poetry I" with Assistant Professor of English Shayla Lawson, who ended up becoming one of his thesis advisors and one of his biggest mentors at Amherst.
As Shanti adjusted to college, he found it hard to open up and allow himself to build close relationships, telling me that he struggled to fit in socially. Shanti knew he liked writing, so he did open mics and joined clubs like The Student and The Indicator. However, he was very anxious and had a tendency to hyperfixate on and catastrophize every interaction he had. He spent much of his time in the Catacombs of Frost Library his freshman year.
During his sophomore year, Shanti spent a lot of time self-reflecting. He had already begun to register that he needed a different way of orienting himself to his thoughts from conversations with Visiting Assistant Professor of Political Science Andrew Poe in his first year, but it was in his second year that he realized that he truly wanted to change his relationship with thought and happiness. "You can be positive and critical, but I was negative and critical. I was constantly looking for how things were wrong," Shanti said. "Then I realized that I did want to be happy and that it was actually something that one could sustain while doing other things."
A turning point for Shanti was reading Ross Gay's "Book of Delights" and attending the writer's reading; it was after this that he felt he actually had an idea of how to carry out this desire to be happier. He described opening up more socially, and it was during this year that he decided to explore artistic pursuits beyond writing. He joined a choir group and African and Caribbean Students Union Dance, trying both forms of performance art for the first time. Though Covid moved these activities to Zoom, he did maintain his interest in dance throughout his time at Amherst.
When Shanti was selecting classes for his junior year, there were courses he was interested in taking, such as dance and Japanese, that he ended up forgoing. "I was like, I need practical skills. I don't have any practical skills. All I can do is write poetry," he said. But senior year, Shanti again took dance classes and focused much of his time on his thesis, writing a collection of personal poems. Not too long ago, his lung collapsed, but he didn't let this challenge slow him down. "We'd be sitting doing homework or whatever, and he would keep randomly getting up to try to do different dance moves. And we'd be like, 'Kalidas, sit down. We've talked about this,'" Lanni said.
Shanti seems to have truly found contentment over his time at Amherst. His friends told me that he now embraces joy and is so willing to share it with others, and Shanti said that his only regret is the spring allergies in Western Massachusetts.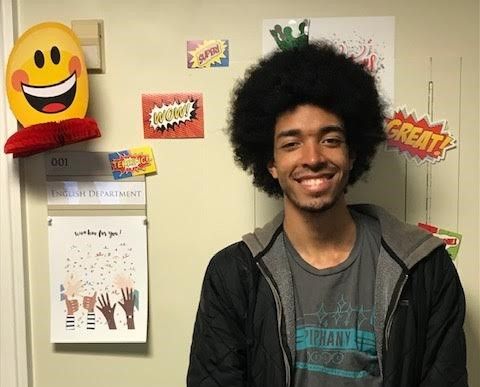 A Compelling Thesis
What I was perhaps most interested in hearing Shanti talk about going into the interview was his thesis, and I was thrilled that the interview gave me an excuse to ask him about it — its motivations, its intentions, its rationalization. As a collection of persona poems primarily from the point of view of a young Black man who is a MAP (minor-attracted person), Shanti's thesis might be controversial or unsettling to some. It's important to note that the thesis isn't about the man's relationship with a minor — though the man struggles with attraction to minors, he wouldn't engage in romantic or sexual relationships with them. Rather, the thesis evaluates the secondary effects of the character's attraction to minors on his life and on his relationship with concepts such as knowing, desire, time, love, and romance.
When I asked Shanti for his motivations behind his thesis, he said, "I think we'd like to imagine that we have fully developed our acceptance of mental illness, where that's not actually the case. We have better understood and become more accepting of particular mental illnesses, which is great — I don't want to undermine that. But I think at the same time, there are many mental illnesses which people still contain a lot of stigma toward."
When people have mentioned Shanti's thesis directly to me or I've overheard them discussing it, I've observed that their immediate emotional reactions to the word pedophilia often prevent them from looking deeper into the work. They often seem so taken aback by the fact that the character is a pedophile that they can't make an attempt to understand what the collection is trying to say. Shanti mentioned that some of his professors and peers weren't able to remove the persona from Shanti himself, and seemed to psychoanalyze him rather than analyzing the actual text. Because of the character's pedophilia, "it seems impossible for a lot of people to stay in the integrity of the text and see what it's saying," he said.
Throughout his thesis, Shanti uses Black thought and the intersections between the character's Blackness and pedophilia to unpack the consequences of social and cultural shortcomings, and how someone navigates the world as an abject being. "The abjectness of Black masculinity ha[s] progressed — not everyone thinks Black men are just like hostile creatures or criminals waiting to act — but there are still narratives that treat Black men like that. That's basically the same way that pedophilia is potentialized. It's like this moral imperative that because you meet this identity, you will commit a kind of violence and have no kind of self-control."
Shanti's thesis captures themes present in a lot of his writing. He often writes about Blackness, consciousness, and friendship. And though he doesn't write a lot of love poems, he often writes through romance, detailing a romantic relationship to look at other things. Drawing inspiration from his other artistic interests, Shanti also writes about music and dance. Some of his biggest writing influences are Hanif Abdurraqib, Ai, Ross Gay, and Jericho Brown.
When I asked Shanti what writing means to him and how it helps him navigate life, he said he hadn't thought about this question in a long time. He tries not to essentialize anything in his life because it tends to make his relationship with that thing fraught in a sense and "creates a level of urgency that normally complicates things in a way you can no longer appreciate the thing for whatever it is," but risking doing that exactly, he told me that he doesn't know who he'd be without writing.
"Writing is for me, creative or otherwise, is first and foremost a place of reflection and inquiry … I think once you delineate an idea, the feelings will follow if you give them the space to exist on the page. I try to make sure that space is always there."
Beyond Amherst
After Amherst, Shanti is hoping to work either in publishing or with statistics. During the summer before his junior year, Shanti worked with Lawson on her anthology on Black women writers, primarily helping with copyediting and research. This position helped Shanti realize the enjoyment that editing gave him and helped him gain a sense of the process of producing and researching a book. In the fall of his junior year, he worked as a math TA for calculus, and the data science and probability courses he was taking helped him find that he was especially interested in statistics. During the summer before senior year, Shanti interned for Restless Books where he worked on an independent publishing project, made a budgeting plan to publish poetry over the course of a couple years, and taught a creative writing workshop. Shanti's work as a TA and in leading the creative writing workshop helped him realize he also really enjoys teaching.
These job experiences as a whole have shown Shanti that he can enjoy a variety of different work and doesn't need to pigeonhole himself. His plans are open-ended, but he'd like to get his thesis published and at some point go to graduate school, possibly pursuing an MFA or Ph.D. Both his professors and friends expressed to me that they can't wait to see where he goes in this world, and I certainly agree. Wherever Shanti ends up, it's unquestionable that his future will be bright.