Arts & Living
Leftovers, a Student-Made Clothing Brand, Redefines Streetwear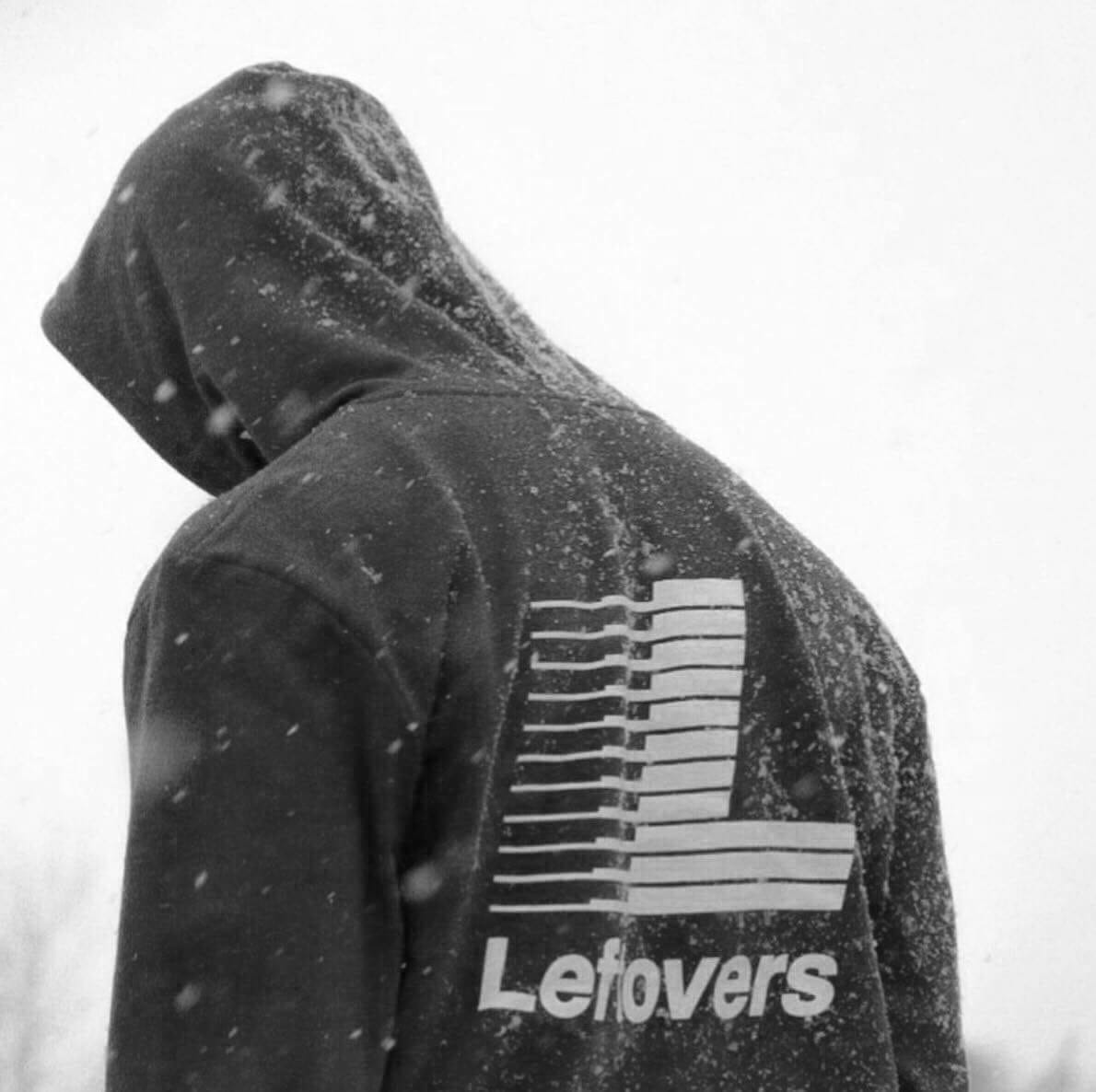 Maybe you've seen the stickers — in stairwells, on laptops, in the A level bathroom, perhaps. Maybe you've seen people repping the clothing around campus, and maybe you've wondered what is Leftovers, what is it all about? While the clothing brand Leftovers is largely the brainchild of Noah Tager '18, it has since become a collaboration among friends. A number of Amherst students, including Gianna Radeljic '18, Anton Vicente-Kliot '18 and Bert Martinez '18, have helped create the designs, produce the media that complements the brand (photoshoots, short films, etc.) and organize the financial aspects of running a company.
Designing clothing is something that Tager says he has always wanted to do, but he didn't realize he could handle running a brand while still in college until his junior year. He first realized that it was possible after hearing about Phillip T. Annad, a designer and entrepreneur who founded The Madbury Club, a creative agency that designs clothes, while still in college. In many ways, the business model of Leftovers takes inspiration from The Madbury Club, which is also the product of several friends trying to put unique and interesting things out into the world on their own terms.
But, Leftovers has a mission that's all its own — it's a streetwear brand that aims to break the mold of what streetwear is and what it's supposed to be. The name Leftovers is itself emblematic of that. It evokes the image of things that are passed over and cast aside — things that may not be flashy, but have value nonetheless. In this spirit, the brand produces the clothing using recycled plastics and leftover cuts from industrial cotton mills. "The whole idea around Leftovers is to be making clothing from leftovers," Tager said.
Leftovers has partnered with Recover Brands, a company that produces its products in a way that conforms with the underlying mission of using "leftovers." However, as production increases, Leftovers may drop Recover Brands to partner with another company that will help the designers produce clothing in the same sustainable manner while allowing them to completely customize the cut, look and feel of their clothing.
Leftovers aims to further stand out from the pack by keeping its clothing affordable and inclusive, something that Tager sees as running counter to the prevailing streetwear business model. Generally in streetwear, there is the idea that in order to be desirable, a brand must be extremely expensive. It is a business model that purposefully aims to be exclusive, as these brands don't want any average person to be seen wearing their clothing.
A lot of brands, like Supreme, only have limited drops, where, in order to get one's hands on the clothing, potential buyers either have to wait overnight outside the store or buy on the resale market at an insane markup. Another way that companies like Supreme aim to foster an image of exclusivity is by intentionally instructing their employees to be rude to customers in order to give off the attitude that the store doesn't need anyone's patronage — they are, in fact, doing customers a favor by agreeing to sell their clothing. All this amounts to what Tager calls "glorified douchebaggery," which is why Leftovers aims to do the exact opposite. Leftovers pledges to never make its customers wait in line for clothing or buy poor quality items at unreasonable prices, simply for the privilege of repping the Leftovers brand. However, that doesn't mean that the company doesn't want to create hype. Rather, it only wants to do so without the exclusivity and "douchebaggery" that so often accompanies hype in the streetwear world.
Leftovers has certainly been creating a lot of hype in the past year. Aside from the posters and stickers visible around campus, Leftovers has also been trying to build support at Amherst by working with Amherst student models, cross-promoting with musicians in Amherst (primarily Nocoast and Salmon Shorts) and hosting various events. Last spring, for example, Leftovers had a pop-up shop in Tager's suite. However, while the team is based in Amherst at the moment and trying to get the word out here in Western Massachusetts, Leftovers was never supposed to be an Amherst brand.
Leftovers has drawn inspiration from Massachusetts and the environments surrounding Amherst, but ultimately the Leftovers aesthetic centers around iconic New York City imagery, and aims to evoke connections to an "environment, time or feeling," as Tager described it. The two pieces most representative of this may be the "Laundromat Tee," which features the classic logo printed above most laundromats in NYC, and the "Subway Tee," which uses the timeless design of the NYC subway sign but replaces the characters designating the specific line with the word "LEFTOVERS" in bold type. These are designs that "aim to be immediately recognizable and to evoke the urban environment of the city," claims Tager.
Next year, Tager and his team will operate Leftovers out of NYC, where both he and Vicente-Kliot grew up and where they will be living after graduation. Over the past year, they've been trying to get the word out and build hype in the city as well. Leftovers has been collaborating with the NYC rap group Delivery Boys, and an organic cross promotion has been ongoing between the two groups. For example, in a recent Pigeons and Planes article, members of the group sport Leftovers' gear for their photo.
Leftovers also had a pop-up shop in Chinatown last summer and managed to sell out their entire collection. It was the first event at which a number of people who showed up weren't connected to the Leftovers crew. Tager described how he met someone who had heard about the brand after seeing somebody wearing a Leftovers hat back in his home country of Australia. A man with no connection to Leftovers had seen someone wearing the brand halfway around the world and came to the pop-up to check it out — it was a moment that struck Tager and made him feel like Leftovers could really be going places.
Not quite ready to go full-time with Leftovers, Tager aims to work in the graphic design and fashion industry next year and hopes to use that to promote the brand and keep it going as a side project until it gets big enough. While he says Leftovers will always be "accessible for all," Tager also imagined the way hype might translate to the Leftovers business model, thinking that after pieces from previous collections have sold out, the old "vintage" pieces, which had been released in the early days of Leftovers, might become more valuable as the Leftovers brand becomes more known and recognizable. But even as Leftovers grows, the mission is to never sacrifice the project's sustainable production model and accessible pricing for the sake of profit.
It's impossible to know what the future has in store for Leftovers, but this commitment to principles over profits could be the very thing that will make it stand out in an increasingly homogenous streetwear market.