Features
Local Lookout: The Humble Peach
Nestled in the heart of Amherst, the Humble Peach is a vegan bakery-cafe that opened last spring. The Student traces its origins, culinary philosophy, and secret ingredients, which culminate not only in a delicious, plant-based menu but action toward more sustainable food systems.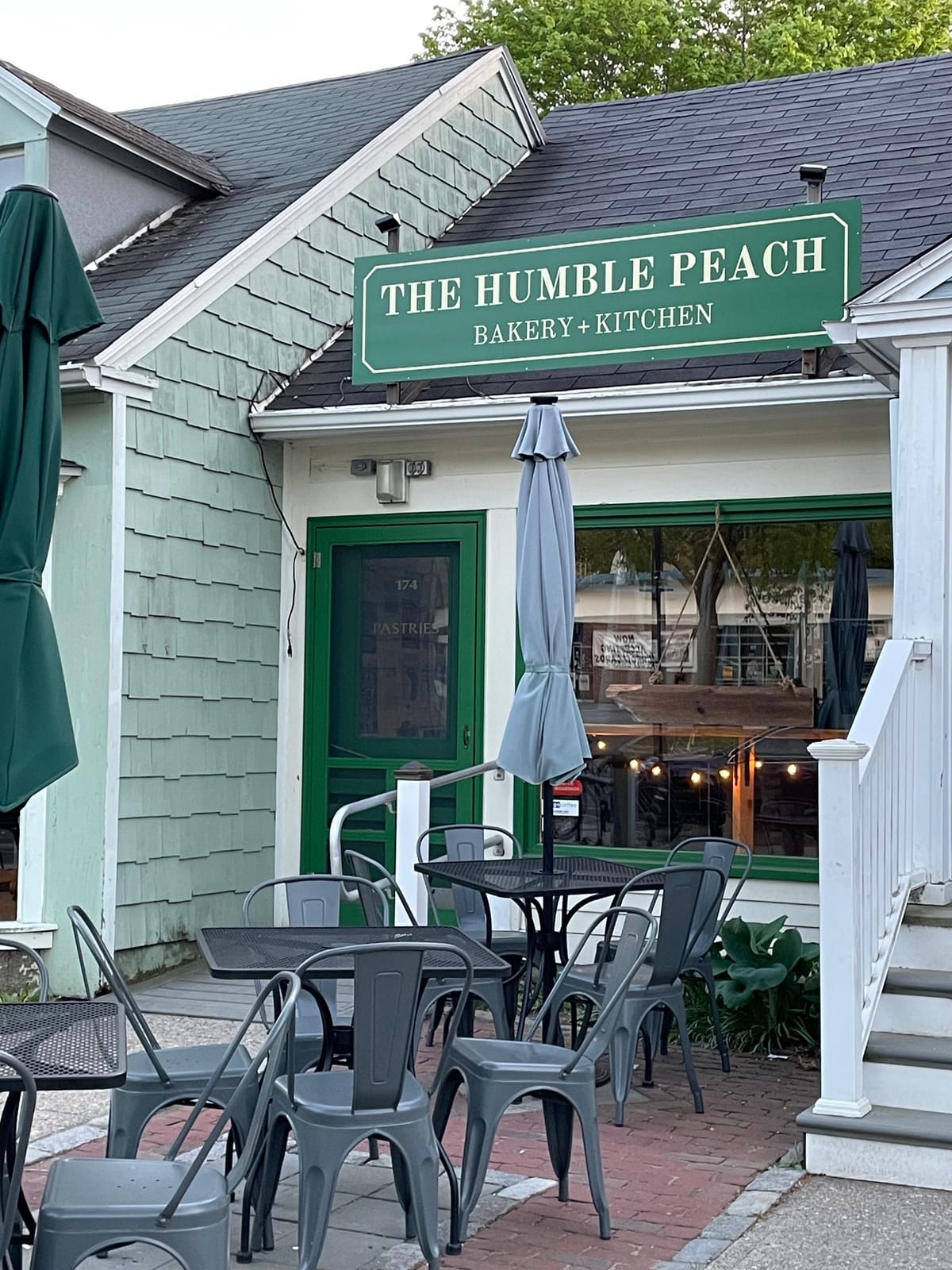 Nestled between a coffee shop and florist in the heart of Amherst, a vegan restaurant, aptly named the Humble Peach, opened its doors in May of 2022. This charming establishment offers a haven for eaters in search of delectable vegan delights.
Since its opening, this vegan bakery-cafe has captivated the taste buds of patrons seeking a dining experience that is equal parts ethical and delicious. Co-owned by Jenna Gigliotti and Jett Craze, The Humble Peach is, without a doubt, a testament to two humans' unwavering dedication to the art of vegan cuisine.
With an extensive menu featuring sandwiches, smoothies, and baked goods, The Humble Peach has firmly established itself as a one-stop destination for vegan food enthusiasts. One thing the establishment strongly values is quality and sustainability. As Gigliotti proudly shared, "We make everything here on the site. Most of [the dishes] are made from scratch ourselves, and we source as many ingredients as locally and sustainably as possible."
The Story Behind: How It All Started
While Gigliotti's background in medicine and Craze's previous occupations led them on different paths, their shared love for cooking and the serendipitous availability of the space presented a unique opportunity. They had prior experience in cooking together. As Gigliotti recounted, "We had always enjoyed cooking together and making meals for others. People would often comment, 'Your food is amazing. You should open a restaurant!' We had both separately dreamt of having our own restaurants, so the timing and opportunity aligned perfectly."
The decision to open a vegan restaurant in Amherst stemmed from their observations about the progressive nature of the area. Gigliotti reflects, "I've always loved Amherst and the surrounding valley, with its conservation land, trails, and farms. It's a haven for outdoor enthusiasts. However, I was surprised that there wasn't a 100% vegan restaurant in town. We saw an opportunity to fill that gap and bring vegan cuisine to the people."
With a desire to challenge preconceived notions about vegan food, Gigliotti and Craze took a nuanced approach to their advertising. While they take immense pride in being a full vegan establishment, their primary focus lies in offering delicious and satisfying meals. Gigliotti said, "We wanted people to come in and try our food because they were curious, not because they felt obligated. We want them to discover that vegan food can be incredibly flavorful and enjoyable."
The Supplies: Sustainable Sourcings
Embracing the ethos of reducing their carbon footprint, the co-owners sought out innovative alternatives in their ingredient sourcing. For instance, they choose to incorporate solar-powered options — including their maple syrup —  into their offerings. "The maple syrup we use comes from a neighboring town in Colerain, where it is produced using solar power. This conscious decision aligns with our belief in supporting organic farms and environmentally friendly practices," said Gigliotti.
"Of course how you cook [the food] affects it, but if we start with really high quality ingredients, then it's gonna be even better."
The restaurant partners with a local farm, Astarte Farm, located in Hadley. This no-till organic farm adopts sustainable practices, shunning the use of harmful pesticides. "It's great to have a local farm partner where we can get really high quality ingredients from," added Gigliotti.
By forging mutually-beneficial partnerships like these, The Humble Peach gains access to a consistent supply of fresh, locally grown vegetables.
For Gigliotti and Craze, the decision to partner with certain suppliers was often rooted in pre-existing relationships. Gigliotti explained, "Some of them, we had known about before and were already purchasing vegetables from them … We already knew that we really liked their products, and it was a natural step to buy from them on a larger scale for the restaurant."
Gigliotti and Craze also took into account the personal connection they had with their suppliers. The owners' prior experience of cooking together and hosting dinner parties created a foundation of culinary creativity and mutual passion.
The Menu: A Culinary Philosophy
When it came to the menu, Gigliotti discussed the seasonal focus and the cafe's commitment to sourcing local produce. She mentioned popular items such as the carrot sandwich and highlighted the change in menu based on local availability. "We have a kind of seasonal focus with our menu and a lot of our baked goods as well," she said. She emphasized their dedication to creating vegan dishes that taste good, stating, "We want people to be able to enjoy vegan things that taste good. So it's really a priority that we don't want anything else that doesn't taste good."
Filtered water is an essential component in their recipes, imparting a clean and pure essence to each creation. Gigliotti explains, "Everything we make that has water in it, we have a carbon water filter, so everything is very clean and pure." Attention to detail is evident in their choice of pink Himalayan salt and Redmond Rock salt, which not only enhance flavors but also provide trace minerals beneficial to one's health. Even in something as indulgent as a cookie, the difference is subtle but discernible — cleaner, purer, and undeniably delicious.
When asked about personal favorites, the team's responses vary based on their current culinary creations. Gigliotti enthused about the chocolate cupcakes with mint frosting she recently made, proclaiming them as her new favorite. However, favorites change as new creations emerge, such as the apricot shortbread cookies that evoke fond childhood memories for Gigliotti. She fondly reminisced about her grandmother's apricot rolls, which fuels her love for anything apricot. Meanwhile, Craze, emphasizing the expansive menu yet to come, revealed his partiality to the signature carrot lox sandwich.
To those stepping into The Humble Peach for the first time, Gigliotti suggested starting with a classic chocolate chip cookie, offering a familiar taste that transcends the vegan label. The team takes pleasure in offering samples to skeptics, showcasing the exceptional flavors achievable through their innovative approach.
The Team: Art x Community
Both within and beyond the realm of gastronomy, The Humble Peach nurtures artistic expression. During the most recent holiday season, they featured a musical performance, from Craze and two Amherst students — Annika Paylor '24 and Carolyn Mavretish '23E.
At the moment, the team at The Humble Peach consists of a dynamic group of student workers, a seasoned employee, and the owners themselves.
Mavretish, one of the part-timers at The Humble Peach, started working at The Humble Peach last August. "I was here last year when I was working [not at The Humble Peach], and they just had it opened, and I came to eat, and I was like, 'This is cool!' I asked Jenna if she needed help, and I came back."
"I think it's really fun because everyone does everything …" she said. "I learned how to make a lot of really good baked goods." Little by little, Mavretish immersed herself in the art of vegan making. Guided by Gigliotti's expertise, she picked up new, exotic recipes, which range from vegan butter and sweet and savory galettes to tiramisu, to baked donuts of flavors of Boston cream, Persian love, and lemon mascarpone, among all kinds of cakes and cupcakes.
The Broader Vision
The vision of The Humble Peach cafe extends far beyond its local impact. The speakers expressed their ambition to revolutionize the way people eat worldwide. They emphasize that numerous charities, nonprofits, and even global organizations like the United Nations recognize the urgent need to shift toward a plant-based diet. While not advocating for strict veganism, they stress the necessity of transforming our food system to ensure long-term sustainability.
To achieve their grand vision, the co-owners talked about the possibilities of collaborating with local schools and institutions, particularly Amherst College. They showed surprise at the lack of vegan options and overall quality of food provided by the college, and they believed that institutions like Amherst College have a unique opportunity to become leaders in sustainable food programs, given their resources and prestige. By improving the taste, sustainability, and inclusivity of their food offerings, these institutions can set an example for others to follow.
Moreover, the business owners envision a future where public schools in the area prioritize vegan and local food options. They emphasize the fertile agricultural landscape of Western Massachusetts and assert that there is no reason why the community cannot collectively adopt sustainable and healthier eating habits. By supporting local farms and incorporating organic, low-impact produce into school meals, they believe that sustainability and health can go hand in hand.