News
Low Voter Turnout Spurs New Registration Initiatives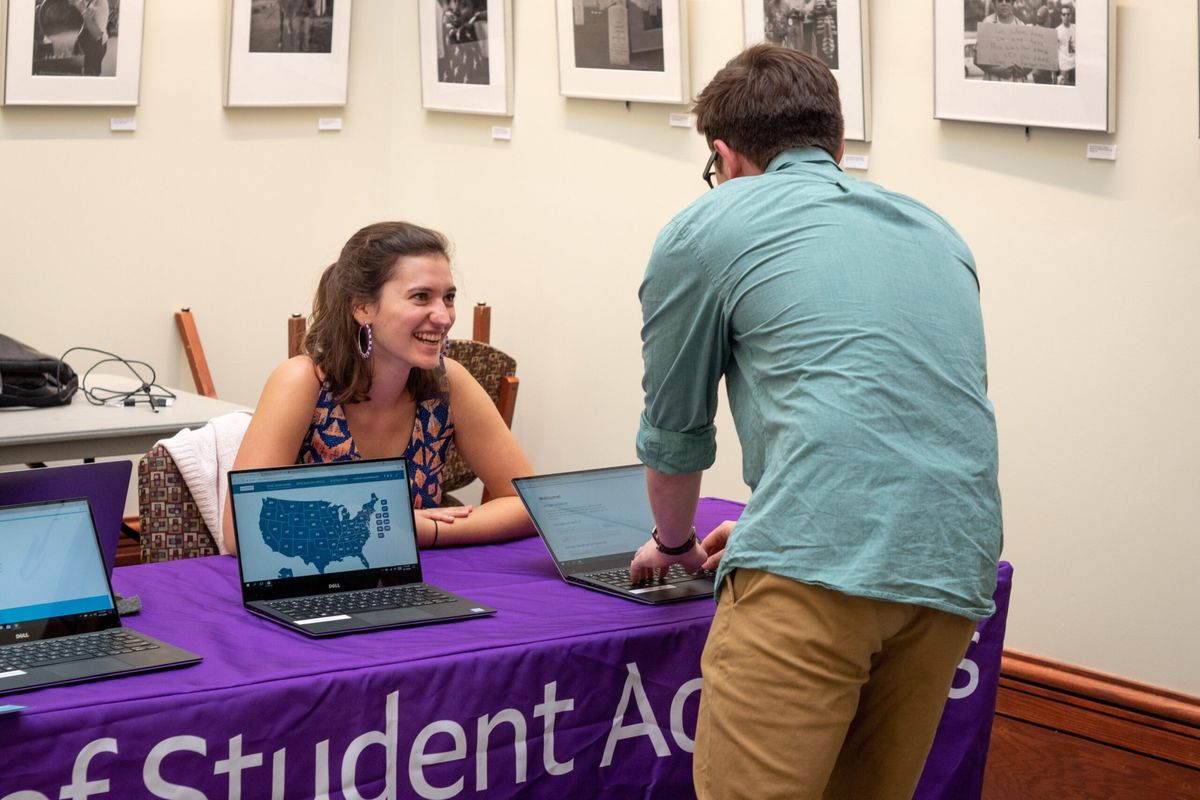 Editor's Note: The Amherst Student is part of the newly formed task force on civic engagement and is involved in campus efforts to increase voting and voting registration.
9.5 percent of Amherst's eligible student body voted in the 2014 midterm elections, according to a report by the National Study of Learning, Voting, and Engagement (NSLVE). The 2014 voting rate for all academic institutions, in comparison, was around 19 percent. The study also showed that in the 2016 presidential election, 53 percent of eligible students voted.
The study, which was spearheaded by the Institute for Democracy and Higher Education (IDHE) at Tufts University's Jonathan M. Tisch College of Civic Life, used enrollment records and publicly available voting files to provide estimated voting and registration rates at different college campuses. Students who were under 18 at the time of the elections were not included in the data, as were an estimated college-reported number of students who are not U.S. citizens.
In the 2014 midterm elections, 62 percent of the student body was registered to vote, but only 15 percent of registered students voted. While roughly the same percent of eligible men and women voted, a significantly smaller portion of eligible students of color voted than eligible white students. While 13 percent of white students voted, 4 percent of black students, 6 percent of Hispanic students and 3 percent of Asian students voted.
N/A indicates that fewer than 10 students of the specified race participated in voting.
According to Professor of Mathematics Tanya Leise, who teaches a class on voting, voter turnout for midterm elections tends to drop universally in comparison to presidential elections. The press does not cover midterms as closely, which means voters are oftentimes less likely to pay attention to the election.
Barriers to voting also present a challenge, Leise said.
"For U.S. elections, how you register and get your absentee ballot depend on the state," she said. "Some states are really easy — I think Oregon for a while had online voting … — whereas some states make it much harder and have more barriers: different forms of ID and proof you have to present before you can ever register and get your vote accepted."
Director of Student Activities Paul Gallegos, Association of Amherst Students President Silvia Sotolongo '19, Amherst Political Union President Taylor Pelletier '19, staff members from the Center for Community Engagement, Queer Resource Center Director Jxhn Martin and The Student Editors-in-Chief Isabel Tessier '19 and Nate Quigley '19 began meeting earlier in the year to discuss ways to bolster registration and voting. The task force's main priority was to figure out a way to streamline the voting process, which resulted in the creation of the "one-stop shop" tabling booths, Gallegos said.
Computers and online tools such as allintovote.org will be available for students to register to vote, check registration status, print out absentee ballots, scan forms of identification and obtain postage and envelopes. Student volunteers will offer guidance throughout the process. "Part of what deters folks is that it's a multiple-step process," Gallegos said. "Convenience is really key, especially when you're trying to fit it into your day."
In the next few weeks, the task force will work with student groups on a poster campaign and plans to table from 11 a.m. to 2 p.m. on Monday through Friday in Keefe Campus Center, where students will be able to access the one-stop shop.
Maintaining a long-term task force on civic engagement is the end goal, Sotolongo added.
"Most of the time, for voting, there isn't a lot of institutional backing in the sense that every two years, we have to recreate a system for people to register and vote," Sotolongo said.
Other schools in the NESCAC have resources in place that automatically encourage civic engagement — such as registering students and increasing their awareness to vote during orientation.
This year, various political groups on campus will host efforts of their own to increase voting among students.
The Amherst College Democrats (AC Dems) intends to ask its members to submit their hometown zip codes, in response to which the club will provide voting information specific to their location.
"If that works, we'd like to roll that out to the whole school," said AC Democrats President Ali Bien-Aime '20.
He added that "even when you're very disenfranchised, and even when you feel that there might not be best of candidates or you might not have the most hope in the process working out in the way you'd like, I think people still want to participate … We're young and we have our entire lives to vote. Immediately and over a long time, that makes a big difference."
The president of the Amherst College Republicans, Rob Barasch '19, said he will send out links with absentee ballot notifications and organize meetings focused on midterm topics. Club members will also be notified of campaign efforts to swing districts that are currently Democrat-controlled.
While Barasch said he believes Amherst's voting rate will increase this year, he also believes in the right to not vote. "People have died for this right to vote, but you can't live in a society where you're forced to vote," he added. "Of course I wish everybody would do that, but … I feel like people have the right to vote for who they want and also the right not to vote — whether I agree with whether they should do that is a different story."
Pelletier understands that students may not feel like their individual votes matter but stressed the importance of local elections.
"Often in terms of your actual day-to-day impacts, your local government and who your state rep and state senator are is so important to what your city [or] your town looks like and the resources that are available," she said.
"I hope that at least through our engagement efforts over the next few months, we're able to increase the amount of students who are voting," Pelletier added. "Especially for a campus that cares so much and does have so many activist groups and groups that are interested in what's going on in the world, it's really sad to see that one of our basic civic duties is unfortunately not being fulfilled at a very high rate."