commencement
Maira Owais: Tenacious and Poised to Confront Health-Care Policy
Known by peers for her excellence and composure, Owais is leaving Amherst having integrated a solid sense of identity — from her long-time love of the health sciences and a newfound interest in economics, to her roots as a Pakistani immigrant.
Jack of all trades — master of every single one. That's the conclusion I've reached about Maira Owais '23 after having known her for two years, interviewing her for this profile, and speaking with those close to her. From her time serving as an Association of Amherst Students senator, to her thesis on women's autonomy in healthcare, to her work as a leader of the Muslim and South Asian affinity groups on campus, I've yet to witness Maira accept anything less than excellence from herself.
I'm not the only one who has this impression. "She lives completely," said her friend Ankit Sayed '24. "The things she does, they're all done well: everything from the way she dresses to her academics. That completeness is something that I see as the ideal of how one should live."
But you wouldn't find out about her many achievements and accolades from talking to her. Maira is one of the most humble people I've met at Amherst — it's this combination of talent, indefatigable grit, and humility that has made her a true role model.
"Sometimes I wonder how someone can be so put-together," admitted Sayed. After spending several hours these past weeks learning about Owais, I have the same question.
From Karachi to Central Jersey
Owais' family moved to New Jersey from Karachi, Pakistan, just after her 11th birthday. Karachi was "the best place to grow up for a kid," she told me.
When her parents and adult sister, who was in dental school at the time, realized that they wouldn't find the job opportunities they wanted in Pakistan, they had to make the choice to leave the relative comfort of their settled life for what would be a demanding and laborious immigrant experience. But Owais' parents were older and more established in their paths, so the responsibility of truly settling down in America would lie with Owais and her siblings. "They were like, 'We're doing it for you guys. It's not our turn to do anything,'" explained Owais.
Of course, Owais was still very much in "kid mode" when her family arrived in America. "Everyone in Pakistan would ask me, 'What are you most excited to do in the U.S.?' I was like, 'I'm going to go to Times Square.'" That's exactly what she did: One of her first photographs in America is of her 11-year-old self posed with a Smurf in one of New York City's most iconic areas. Then, soon after her family arrived in New Jersey, they went to visit Owais' khala (maternal aunt) in Florida —  and so her second tourist stop in America was Disneyland.
The reality of American life set in soon enough, though. Being much younger than her sister and brother, Owais found it easier to integrate into her new school. But even for her, life in this unfamiliar, predominantly-white, ultra-conservative town wasn't all smooth sailing.
She remembers introducing herself to her class on her first day of school: "I was like, 'Hi, I'm Maira. I'm from Pakistan.' They were like, 'Hi, terrorist.'" She also recalls a school administrator insisting that she would need to be moved back several grade levels, assuming her proficiency in English would be insufficient to maintain her current grade level. (Her mother did not allow this. As I came to realize during our conversation, Owais' mother has never backed down from a challenge when it comes to her daughter's education.)
Owais doesn't recall all of this with any apparent resentment. These early experiences were not traumatic, she says, because she was able to make her own way and "make friends with very random groups of people."
An Inner-White-Girl-American-Suburbia Dream
Amherst was not seriously on Owais' radar until very late in the college application process. As a precursor to the Questbridge program, Owais was assigned a tele-mentor during her junior year in high school. Her tele-mentor happened to be a student at Amherst, but Owais actually wrote the college off at the time. About two weeks before she had to rank her college choices, Owais came to Massachusetts with her mother and sister to tour colleges, making a stop at Amherst.
"It was this rainy day — it was awful," she recalled. "But then at some point, I was walking around, and I was like, 'Oh my God, this place is so cute.' And someone was having a little picnic behind J-Chap. And it was like all my inner-white-girl, American, suburbia dreams."
"I fell in love," admitted Owais. "So I canceled my Williams tour."
When it came to ranking schools for Questbridge, Owais' mother insisted that she put all of the Ivy League colleges before Amherst. ("I still have a brown mom," Owais laughed.) But at the last minute, Owais switched around her rankings so that Amherst was first without telling her mother. "I still don't think she knows this," said Owais.
When Owais first came to Amherst, she distanced herself from her South Asian, Muslim, and low-income identities. While these parts of her were difficult to escape at home, Owais explained that at Amherst, it was easy for her to "pretend that the Questbridge, low-income-student thing had never happened." She describes her first year at college as a period of assimilation, suppressing these identities in order to fit the mold of what she believed an ideal Amherst student ought to be.
Being forced to go home when campus shut down in March 2020 was a turning point for Owais in this regard. Reminded of her pre-Amherst experiences,  she returned to campus with a renewed sense of self and a resolve to reconnect with her identities.
"I think that was a good growth experience freshman year," reflected Owais. She added, "Now all my time is spent with people from [the Muslim Students Association] and [the South Asian Students Association.]" Owais has served on the e-boards of both organizations.
The Muslim Students Association, in particular, has helped her connect with her faith differently than she had as a child. "I went to the typical Sunday school at the masjid for eight years, and there were some pretty awful people," said Owais. Meeting "the eclectic group of Muslims on campus" allowed Owais to separate her religion from the people and connect with parts of Islam she would not have seen otherwise.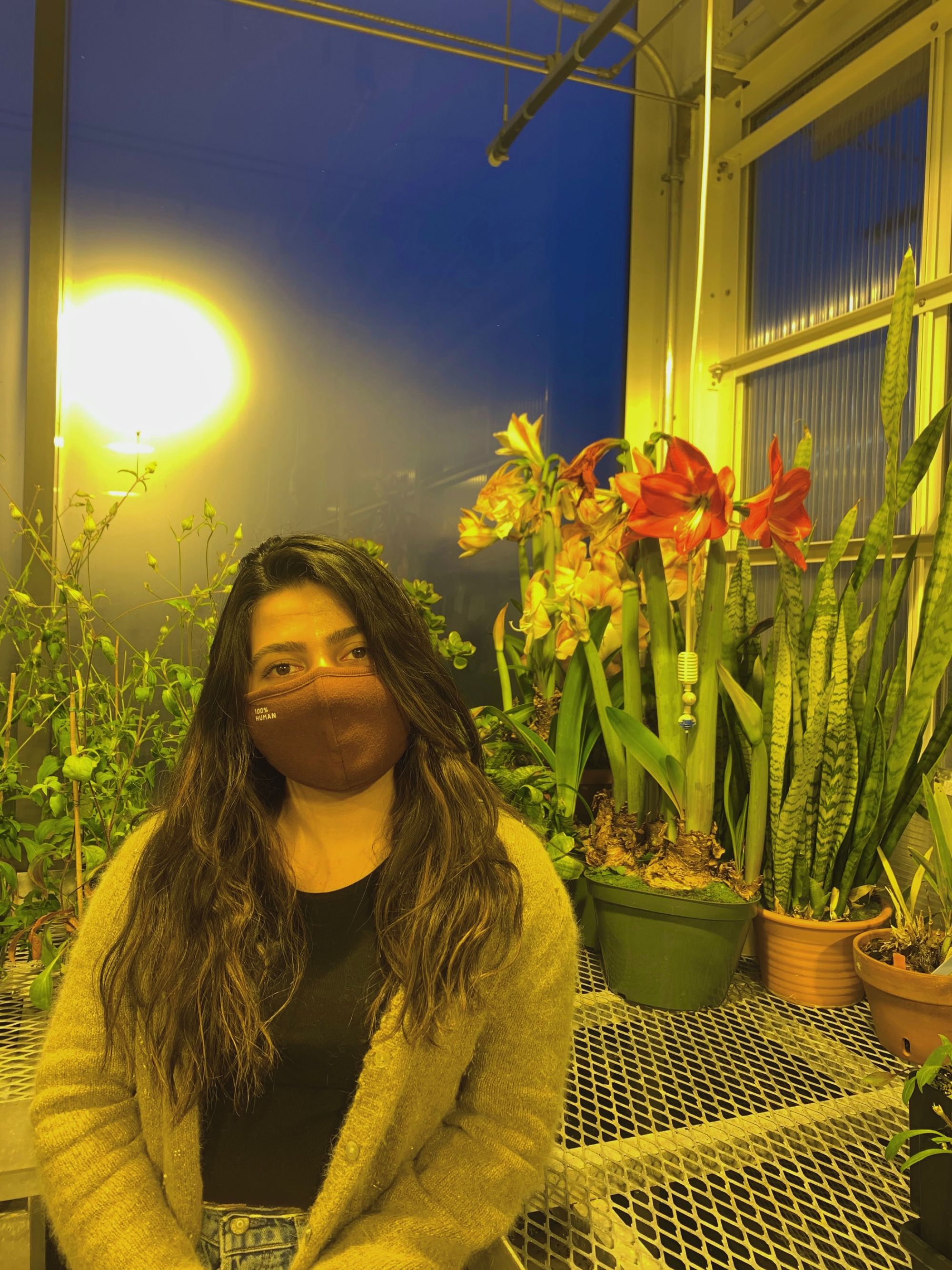 "Are You Sure You're Not Going to Med School?"
Owais knew from a young age that she was interested in the health sciences. Her taya abu (paternal uncle) is an ear, nose, and throat doctor and had told her when she was five years old that she would make a good cardiothoracic surgeon. Of course, at such a young age, Owais did not really understand what this meant, but she "just kind of stuck to it."
"I'm a very stubborn person," she said. "If I say I'm going to do something, then I'm going to do it."
While Owais never felt parental pressure to go into medicine per se, once her parents realized that she was interested in the field, they pushed her toward it to help her achieve her goals. Owais attended a magnet school in New Jersey that specializes in health science. "Going into college, I thought I was pre-med for sure," she said.
Her interests began to shift when she was introduced to the field of economics, around the time Amherst first shut down due to the pandemic. Research with Professor of Economics Jessica Reyes on the effects of lead exposure piqued her interest. She continued to work with Reyes during the summer after her first year, researching the effects of Covid on American healthcare systems.
Entering her sophomore year, Owais continued with her biology major with the new addition of an economics major instead of the pre-med track. She admitted that it was difficult to tell her mother that she no longer planned on becoming a doctor; even now, said Owais, her mother still asks her on occasion if she is sure that she doesn't want to go to medical school.
In addition to her research with Reyes, Owais' biology research with Jill Miller and Ethan Clotfelter has broadened her horizons beyond the health sciences. Owais developed a close personal relationship with Professor Miller over the past four years. "I took my first bio class with her, and now I'm taking my last bio class with her as well — kind of a full-circle moment," Owais said, describing Miller as "the most supportive person."
Her research with Clotfelter was on the effect of climate change on bird migration patterns. Owais and her father share a deep affection for birds, and so field research that required her to take birds' measurements was a welcome opportunity to play with the birds as well.
At this point in the interview, Owais began to tell me about some of her favorite species of birds that she had seen around campus. She showed me a video of her family's 42-year-old African Grey parrot, named Mitu. Laughing, she recalled childhood Qur'an lessons in Pakistan. Her tutor would come to her house, and, while she would struggle and cry while reading the Arabic, Mitu would memorize entire pages at a time and recite them. "I would get so mad," said Owais. She affectionately joked, "I hated that bird."
Owais also spent the summer of 2021 working for Harvard's Health Systems Innovation Lab, an experience which solidified her interest in health policy. One of the projects she worked on focused on diabetes incidence and care across different countries. The other, which was "the coolest thing" in Owais' view, required her to help interview the ministers of health of different countries to put together a publication about global healthcare infrastructure. "Sometimes I'd wake up to an email that would say 'Here's a meeting with the health minister of Sudan,' or something."
"There was one person on the team who was a health economist. I was like, 'Yep. That's what I want to do," said Owais.
She was able to pursue her interest in health economics with her thesis, which evaluated the impact of a Pakistani health insurance program on women's autonomy in healthcare.
Saying Goodbye, Looking Forward
"I think it's a good time to leave [Amherst]," said Owais. "I feel like when you're in a place for too long, you start to hate it. I don't think I've reached that point yet." Nevertheless, she admitted that there are a lot of people who she is going to miss.
"I'm going to miss having a built-in community," she reflected. "Living in such close proximity to everyone you're friends with is just so easy. Everyone is always there with you. I'm going to miss that."
After graduating, Owais will be a consultant at Clarion, a healthcare consulting firm. Clarion functions as the business management team for any pharmaceutical and biomedical companies that focus primarily on research and development. Her work will be a mix of data analysis and interviews with physicians and patients.
"It's a good bio and econ mix," said Owais, "but I've also never done it. A lot of people who do consulting have done internships in consulting, but I'm kind of going into it without experience. I honestly don't know what it'll be like. But I've talked to a lot of people [at Clarion], and I'm excited."
After working at Clarion for two years, Owais hopes to go to graduate school. "I really, really liked doing my thesis," she said. Over the next two years, she will decide whether she wants to pursue a degree in health economics or a joint law degree and masters in public health. Either way, her long-term goal is to work in health-care policy.
Whatever this choice might end up being, Owais' loved ones have confidence that it will change the world. One of Owais' friends, Phillip Zhou '24, wrote in a statement to The Student, "I have zero doubt she will make the world a better place and help a lot of people live better, happier lives."