Sports
Marie Fagan '22 Ends All-American, Record-breaking Career
Marie Fagan '22 recently finished her last competition as a collegiate swimmer, breaking her own school record in the 200-fly for the fourth time. Staff Writer Hedi Skali '25 sat down with Fagan to reflect on her Amherst career.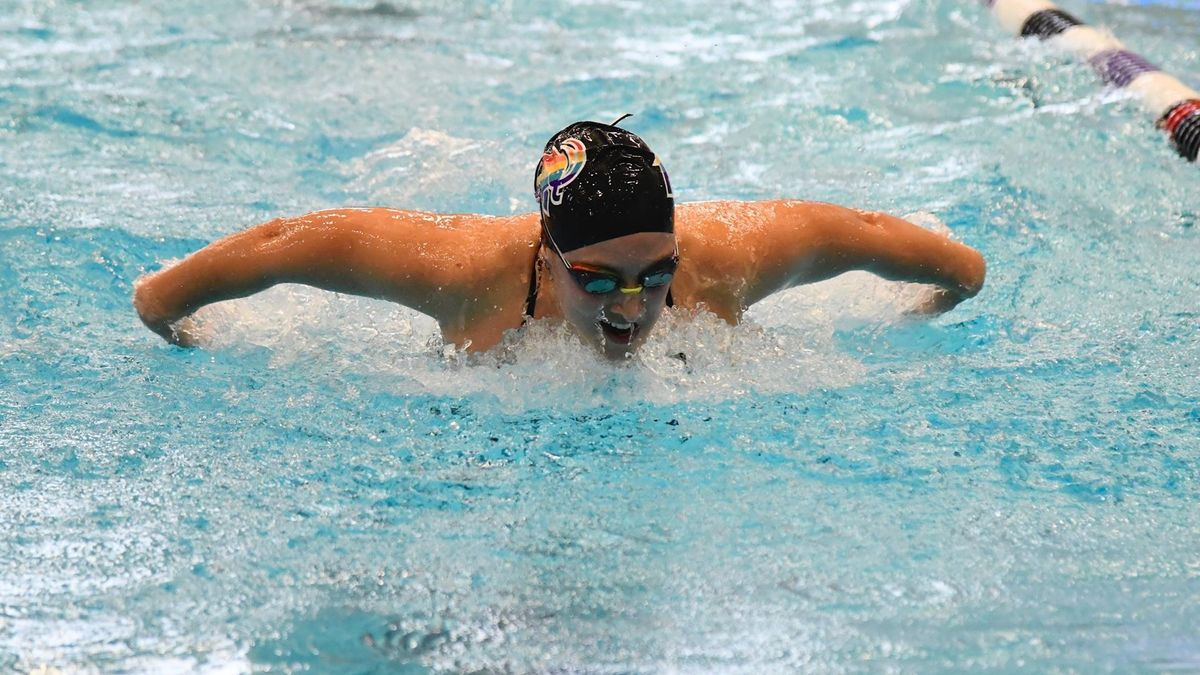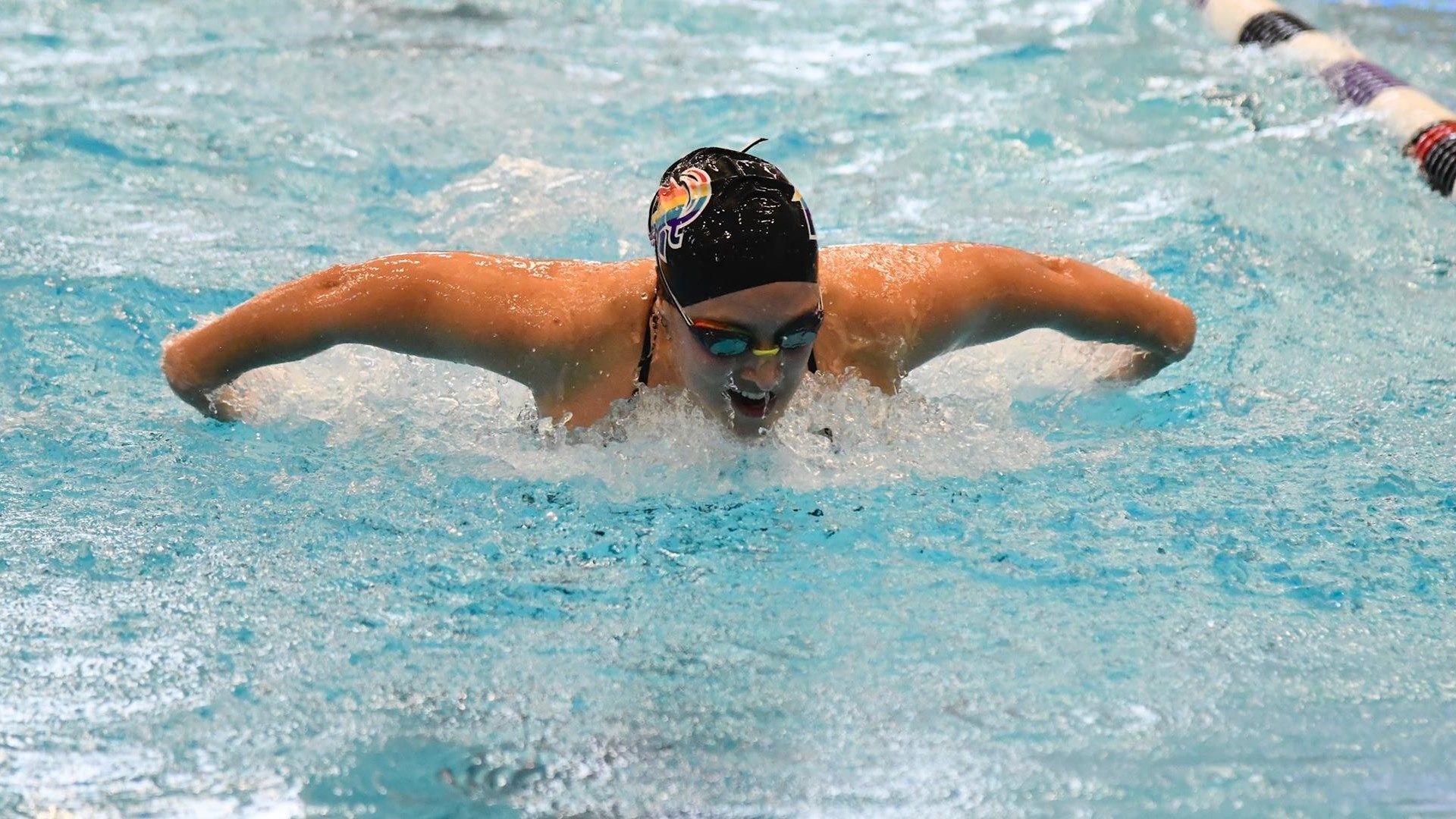 In her last season as a collegiate swimmer, Marie Fagan '22, captain of the women's swimming and diving team, won four all-American honors and broke her own school record in the 200-fly event for the fourth time. Her successful senior season came after a challenging year, in which she lost her junior season because of Covid.
Staff Writer Hedi Skali '25 sat down with Fagan to reflect on her Amherst career. Responses have been lightly edited for clarity and style.
Q: You ended Nationals with four all-American honors. That's obviously a pretty big deal. How did you get to this moment, and how were you able to deal with your struggles from last year?
A: I would say a big thing that happens for a lot of, specifically, high school swimmers is that a lot of swimmers peak. We call it peaking, where you'll reach a certain point in high school where you kind of hit a brick wall and it becomes really difficult to be dropping time. Swimming is all about dropping time. Time is how we measure our success. So, oftentimes, it's really difficult for high schoolers, specifically, to get over that wall. You know, you're trying to look good for recruiters. So before coming into Amherst, my best time in the 200-fly was a 2:06.809 — which was good, and I was really happy about it, but I [swam] that time in my junior year. And otherwise, I was being recruited for backstroke here. The best times that I had in backstroke were from my freshman year and from eighth grade. I had a lot of successes in high school swimming, and a lot of stuff to be proud of. But in high school, I was really focusing on being a versatile swimmer so that I had something to offer in college. So I worked on all my strokes.
When I got here, there was a spot for butterfly, and I decided to really commit to that. I ended up really finding my stroke. I was understanding how my body was supposed to feel in the water and I had the help of [Head Swimming and Diving] Coach [Nick] Nichols and all the other assistant coaches we've had. I was honestly just really lucky to have them. Every time I went my best time in college, it was just an incredible experience, and I feel so lucky to have that because not a lot of people get that. A lot of times that brick wall lasts. Somehow my freshman year I got my best time in the 200-fly, and then my sophomore year I did it again, and was even able to do so my senior year. I threw my hand over my mouth every time. I was just so shocked. I also don't think it comes out of nowhere. It comes out of a lot of hard work and a lot of time. A lot of my life changed in college because I was focused on swimming faster and improving my lifestyle, but it's really shocking and exciting when it comes together like that. I'm just really grateful for being able to see progress, because sometimes people put in the work, and we don't get to see it. I feel really grateful that that was something that showed up in the numbers.
Q: You mentioned how much time you put into swimming. How are you able to balance such an important part of your life with being a student?
A: Yeah it's definitely no easy task. But now in my retirement, it actually feels impossible to work. Swimming, for me, is obviously a really difficult and challenging sport, but it also really provides that rest and break. It becomes a home to look forward to in the middle of the day. It kind of allows me to re-enter the world of academics once I'm out of the pool. I definitely am someone that likes to fill their time, so that compartmentalization is key for me. I'm also a part of Choral Society, and that's another eight hours a week on top of the 20 hours I spend swimming and working out. I always say it's not easy, but they're activities that I'm passionate about, and they helped make returning to academics feel easier, because I can look forward to them. So the swimming and the singing are ways that I'm able to recenter and refocus on myself. It's sort of my own built-in self-care.
Q: As a senior, you just finished your swimming career, and you're about to graduate. How are you feeling about life after college? Do you think swimming will still play a role in your life?
A: It's difficult. I realized that losing two years was really hard. At Nationals I realized the last time I was here, it was freshman year. And there were two opportunities in between that to be here and be doing this and gaining that experience that didn't happen. In a lot of ways, I'm very excited to graduate. There's a lot to look forward to, and I'm really trying to focus on how exciting it is to start this new chapter. I'm not entirely sure and committed to one vision or one pathway. I'm trying to be excited about that, and at the same time, it's really nerve-wracking. I'm focused on what's exciting and what I do know, as I have always done a lot of work with swimming and water. I spent a year working with the International Water Safety Foundation. I'd love to keep doing stuff with them, because of the importance of combating drowning. And I've also been a swim coach for years. I think there's definitely a part of me that wants to keep that in some way. I don't know if that means working as a swim coach. But I think it will show in many different forms. Swimming definitely won't disappear out of my life — it's become such a big part of it. It's become part of my work, my self care, my exercise. But I'm still focusing on being excited for all the opportunities that I can now look forward to with all this newfound time and energy.
Q: How has the pandemic affected your swimming career, and your role as a leader and a captain?
A: I definitely have a lot to say about this. Covid struck right before my sophomore year when we were headed to Nationals. I felt really great going into those nationals, and for those to be canceled was super tough. And when things ended, basically all swimmers, all athletes, everyone, took almost 100 days or more off. With swimming, you really want to keep exercising. Without that, you get really out of shape, really quick. It was really difficult. But I am very lucky to have a great relationship with my club coach, so I was able to go home and train with my club. But I wasn't able to come back for the fall and the winter of 2020. For the same time, my club team wasn't able to practice inside. So I spent the fall and winter in New Jersey training outdoors in a heated pool. It was snowing outside, but I was training because, at the point where I had left off with swimming, I just knew that I had more to do. Again, it's a part of my routine. I was swimming every day through winter. The crazy part about this for me now is I've just been training and training and training for years now. I've been like a nonstop freight train. I think that that has helped me to get here. I think the pandemic really motivated me to work hard and just be continuous with it. It also really reset my mental approach. I think I used to be much more anxious. And after having lost so much time and training, I realized that I'm lucky to even have the opportunity to compete. I was aware of how much I'd worked. I knew there was no one else out there that was swimming in the middle of snowstorms in New Jersey. It gave me a lot of confidence to know I've worked really hard through a lot of crap.
And in terms of captaining, I think we've had a very fractured experience of what the team looks like given how Covid separated a lot of the classes. I only met our current sophomore class during the spring of their freshman year, and some of the juniors had never met them. We have overcome a lot of that on our team. I'm just really proud. I think NESCACs was an awesome combination: everyone was just so supportive for each other and present for each other in a way that I hadn't seen all put together yet. That took time and a lot of effort on everyone's part. We're using the Center for Restorative Practices. We're trying to utilize campus facilities to just strengthen connections within the team. I hope that they keep that up, after I'm no longer here.
Q: What is the fondest memory of your swimming career at Amherst?
A: I'm very proud of my last 200-fly. I had been hoping to qualify for the A final, and in the morning I found out I hadn't. Meaning I couldn't place in the top eight, which was really difficult for me to come to terms with because it has been a goal of mine for years now. They had actually just had the senior ceremony and I barely got to warm up for my race because I was, you know, in a line of a billion seniors that were graduating, and I hopped into the pool thinking I was gonna just be crap again, like I wasn't gonna swim well, because of how the morning had gone. And I didn't even get to warm up. I ended up going my best time, which was faster than what I had done at NESCACs. That was an incredible memory because it was honestly the race of my life. I thought that was the culmination of my career. I thought that was what I was going to look back and be proud of. Being able to go faster after having been so disappointed with myself in the morning, I ended up getting the second-fastest time at the meet. Just by having this whole heat of girls ahead of me, I won my own heat and was the second-fastest time but there was one girl that beat me at the top. And when I finished my race, I looked up to my parents and I just started bawling. That was my last individual race. Given the context, that really summarized so much about my career, which is a lot of lost opportunities; maybe I didn't make the top eight, but I was right there with them. And I could have swam in the A final, but I think I was proud of just [like] not giving up. So I'm pretty proud of that.