Sports
Men's Hockey Begins Climbing out of the Cellar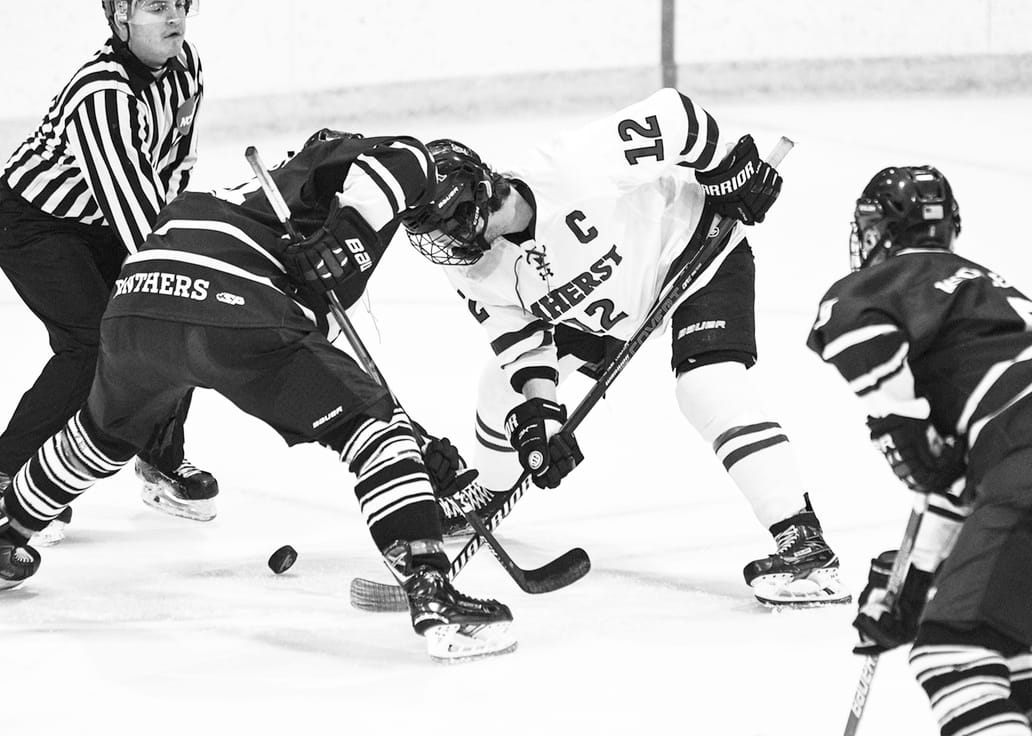 With the recent Amherst men's hockey victory over Worcester State University on Saturday, Jan. 15, the Mammoths moved to a record of 5-9-2. That record, however, does not tell the whole story; rather, this season could best be described as a tale of two halves.
Before last week, the team sat at a dismal 2-9-1, foundering in last place in the NESCAC with the season looking all but lost. The team had a measly one conference win in the opening game of the season against Hamilton, but has since gone on to lose six conference games and three non-conference matchups.
However, in the last week, the team has flipped a switch. Starting against Connecticut, the Mammoths have gone on a tear, winning three games and tying once to pull themselves back into relevance and within shouting distance of a NECAC playoff berth.
The aforementioned win against Conn. and subsequent victories against Tufts, Worcester State University and an overtime draw against Hamilton, have dragged the Mammoths from the conference's cellar and within a game of a sport in the conference championship playoffs at the end of February. Playoff hopes resurrected, the team now faces a crucial stretch of games against conference competition. With eight games left in the season, each contest a conference matchup, the Mammoths have much to play for.
Critical to the resurgence has been the reinvigoration of the Mammoths' scoring attack. Patrick Daly '20 has recovered his scoring touch in the new year, adding two to his season total in the recent victory over Worcester State.
Co-captain P.J. Conlon '20 has also been dangerous as of late; in the recent matchup against Tufts that ended in a 5-2 Amherst victory, Conlon tallied two goals and an assist. Since the Mammoths' last loss, Conlon has been averaging a point per game, a number that leads the team.
More of the same will be needed when the Mammoths return to the ice on Friday to begin the season's final sprint. Facing Trinity in Hartford, a team that beat them 2-1 in just the second game of the season, the Mammoths will certainly look to turn reverse the score line, and possibly vault themselves into a playoff spot.
Many of the Mammoths' next games come against their closest competition for these coveted final spots in the NESCAC tournament. Although a conference championship, there are only eight spots in the tournament for the conference's ten competing teams; the Mammoths currently sit in ninth place in the conference, a game back of the seventh and eighth.