Sports
Men's Basketball Defeats Camels During Senior Day Showdown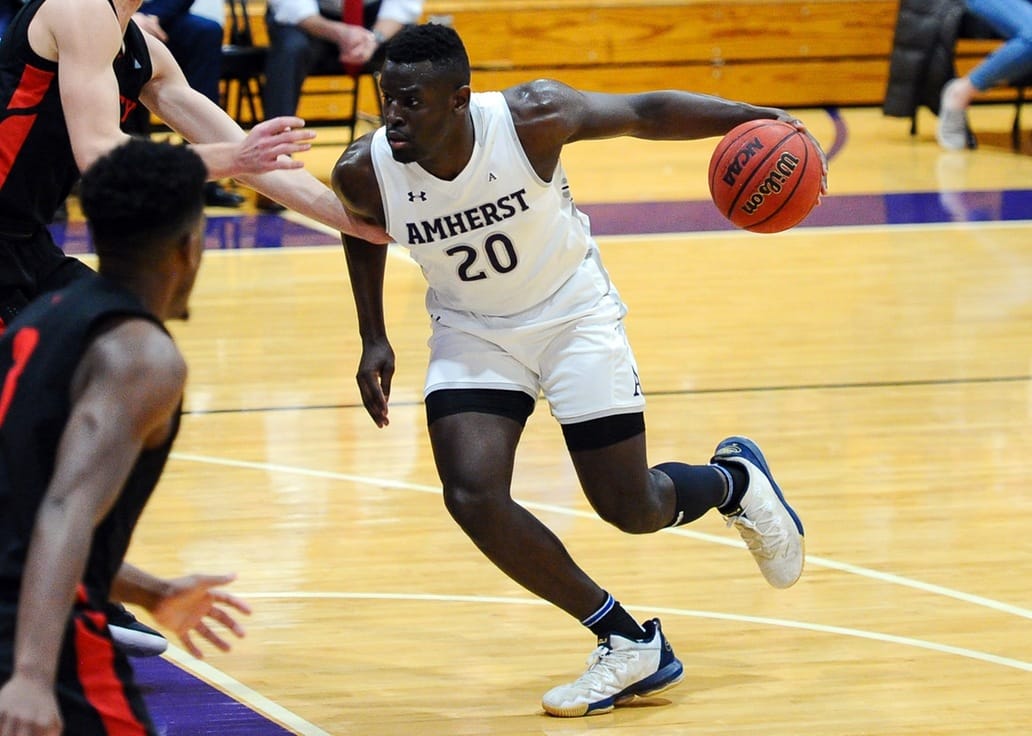 The Amherst men's basketball team wrapped up regular season play over the weekend with a loss to Trinity and a victory against Conn. College on Saturday.
The Mammoths fell behind early to Trinity on Friday night, once trailing by a score of 17-4. Led by 28 points from Garret Day '21 on 6-12 shooting, Amherst stormed back to get within four points by the half. However, the early deficit hurt the Mammoths down the stretch in a back-and-forth second half that resulted in an 89-95 loss.
On Saturday, Amherst once again got off to a slow start. After going into the half down three, Fru Che '21 and the Mammoths went on a 15-0 run in the second half, paving the way to a 76-67 win. Che led the team in both rebounds and points, racking up seven boards and a season-high 24 points.
Garrett Day had yet another stellar performance. With 15 points on the night, Day reached the 15-point mark for the sixth straight game. He finished off the regular season shooting an exceptionally high 46 percent from beyond the arc. Despite being out rebounded 40-28 by the Camels and turning the ball over an astounding 19 times, the Mammoths were able to dominate possession and the flow of the game. This was due to the Mammoths' superior shooting efficency and contributions from the bench.
The Mammoths were able to convert 42.1 percent of their shots on the game to the Camels' 39.6 percent.
Additionally, the bench players for Amherst were able to contribute 31 points, more than double the Camels' 15.
The win over Conn College secured the three seed in the NESCAC tournament. This weekend, Amherst will play sixth seeded Williams College at home in the quarterfinals.
While Williams has beaten Amherst twice over the course of the year, the Mammoths' losses have totaled a combined five points. In what will surely be an exciting rivalry game, both teams need to win as they try to buy themselves a spot in the national NCAA DIII "March Madness" Tournament.