Sports
Men's Basketball Opens Season With Dominant Win
The men's basketball team dominated in the season-opener, defeating Rosemont College by a score of 92-56 on their own court, as Head Coach Marlon Spears made his first appearance as the leader of the Mammoths.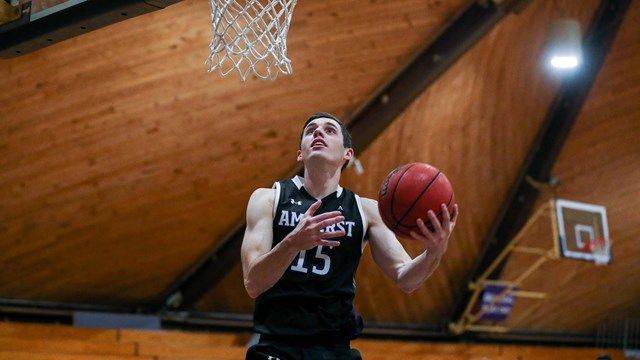 In Head Coach Marlon Sears' first game at the helm, the men's basketball team came out firing on all cylinders, defeating Rosemont College by a score of 92-56 on their own court. Five Mammoths scored double-digit points in a game where the team relied on a balanced offensive attack. In the win, the Mammoths shot 56 percent from the field, including an impressive 44 percent from beyond the three-point line, and 76 percent from the free throw line demonstrating efficient offensive execution. But the team also played a complete game: the Mammoths' defense was just as stout as their offense was clinical, forcing 18 turnovers which they turned into 23 points on offense.
In the game's early minutes, Amherst and Rosemont traded baskets in a back and forth affair, but the Mammoths didn't let that last long. They went on a 15-2 run to take control of the game, leading 18-7 at the 13 minute mark of the first half. Amherst wouldn't stop there and continued to build their lead, scoring 23 of the last 32 points of the first half and took a 46-24 lead into the locker room. Rosemont battled back to start the second half narrowing the score to 57-38, but senior guards Garrett Day '22 and Grant Robinson '22 hit back-to-back threes to finish off an impressive 19-4 run which pushed the Mammoths' lead to 35 points with 7:27 left in the game. From there, the Mammoths rode their big lead to an impressive 36 point road victory.
Seven Mammoths made their first appearance at the NCAA level in Saturday's game, led by sophomore Mohammed Alausa '24 and first-year Canin Reynolds '25, who each scored in double figures in their collegiate debuts. Senior guard Tim McCarthy '22 led all Amherst scorers with 15 points, including knocking down four of his five three-point attempts. Forward Mike Schretter '23 notched a double-double, contributing 10 points and 10 rebounds. Robinson led the team with five assists, while also chipping in seven points. This great first win should help the Mammoths as they shift their focus to their home opener against Colby-Sawyer on Wednesday Nov. 17, with tipoff scheduled for 7 p.m. They will then  host the Ken Wright Invitational this weekend, with their first round game against Massachusetts College of Liberal Arts on Friday, Nov. 19 at 7 p.m.