Sports
Men's Golf Finishes in Sixth Place at the Duke Nelson Invitational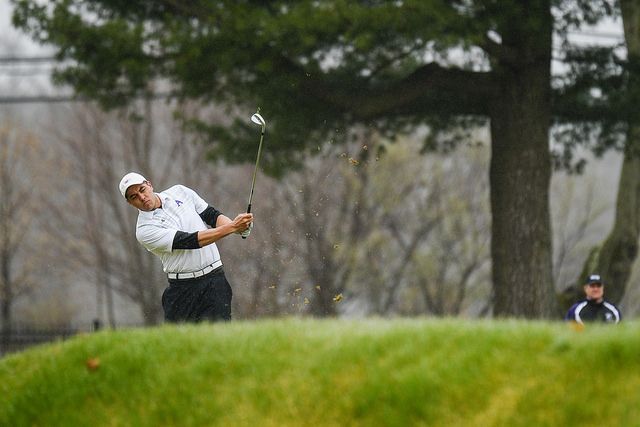 This past weekend, the Amherst men's golf team had a strong showing at the Duke Nelson Invitational in Middlebury, Vermont.
The tournament took place on Ralph Myhre Golf Course, a public course that serves as the home course for conference foe Middlebury.
After Saturday, Amherst sat only five strokes behind the day's leader, New York University, tying with NESCAC rival Trinity for fourth place.
Leading the Mammoths, Nicholas Kumamoto '20 shot an impressive 71 with teammate Jack Burlison '19 only three strokes behind him.
Despite the Mammoths efforts during on Sunday, overall Amherst fell two spots in the rankings, tying with Johnson and Wales University for sixth.
Will Lonnquist '20 led the Mammoths in Sunday scoring, with a one-over-par round of 72. Amherst shot a combined total of 296 on Saturday and 300 on Sunday, finishing the tournament in sixth place out of the large field of 22 teams.
Kumamoto ended up as Amherst's top golfer for the tournament, shooting 146 for the weekend. Lonnquist came in second with a tournament total of 147, while Burlison followed four shots behind him.
After the top trio, Jeffrey Herr '20 shot 153 and fellow junior Nicholas Sullivan closed out the Mammoths' scoring with a mark of 157.
"We've really had good coaching this year, this past weekend included," Lonnquist said.
"The guidance and encouragement that we got over the weekend in the form of coaching really helped us and was definitely partially responsible for our outcome."
However, there were a few snags over the course of the weekend. A few members of the team noted that at least a couple golf clubs were broken during the course of the tournament, due to a combination of frustration and accident.
"We could definitely improve on our short game, myself included," Sullivan said. "We are doing some things well, but there's a lot we can be improving upon and our short game is definitely one of those things. The short game is crucial to the game of golf because it is so easy for things to go wrong, so if we can tighten that up a little bit, we could really see some improvement across the board."
The Mammoths plan on continuing their success at this weekend's Williams College Invitational.