Sports
Men's Lacrosse Loses NESCAC Lead to Tufts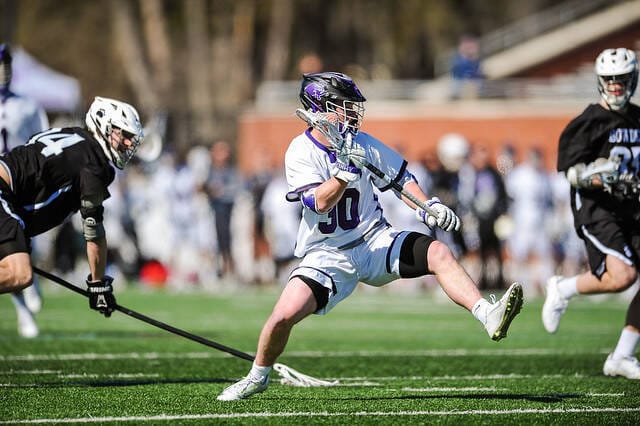 The men's lacrosse team continued their conference matches with an agonizing defeat against Tufts. While Amherst handily dealt with their Connecticut College opponent on Tuesday, their match Saturday was a completely different beast. The combination of 75-degree highs and Senior Day brought crowds to Gooding Field for the highly-anticipated matchup between two NESCAC juggernauts. After a close loss to archrival Williams last week the Mammoths hoped to not spend another Saturday looking up at other NESCAC teams in the standings.
Despite their desire to win, Amherst couldn't help but fall back on the same mistakes that led to the loss to the Ephs in the first place.
The opening quarter did not go as planned; Amherst was shut out 5-0 after the first 15 minutes of play. The play on both sides was fairly even, with both teams almost perfectly completing their clears and having nearly identical turnover numbers. The biggest issue in the first half came at the faceoff, where Tufts dominated and won 5-of-6 faceoffs. This lack of production at centerfield led to a lack of possession for the Mammoths, which resulted in fewer opportunities to score for the team as a whole.
Amherst also failed to change their faceoff misfortunes by winning the ground ball war. In lacrosse, every live ball is an opportunity to change possession; without getting to ground balls, there is no way to change the tide of the game. Amherst was out-hustled by a margin of 28-16 in the first half, and while there were some signs of life after two goals by Trenton Shore '19 and Colin Minicus '20 closed the first half, Amherst still trailed 10-3 heading into the locker room.
The momentum didn't truly swing until midway through the third quarter. After a quick goal out of the gate by Jon Coffey '20, Tufts continued their dominant stretch with a three-goal run. Once that subsided, however, it was all Amherst for the rest of the afternoon. An unassisted goal off of a ground ball by Jack Norton '19 sparked a five-goal run for Amherst to close the gap. The run saw Amherst returning back to their focus on fundamentals for a short time. Completing clears and controlling loose balls all generated scoring opportunities for the Mammoths. Goals by Jackson Herrick '20, Coffey, and Matt Solberg '20 helped cut the lead to four goals entering the fourth quarter.
The focus on the little things continued to help propel Amherst forward in the final quarter. A failed clear by Tufts and a recovered Amherst ground ball led to the first goal of the quarter by Coffey, which was followed immediately by an Amherst faceoff win and a goal by Evan Wolf '19 nine seconds later. Logan Lair '20 won his second faceoff in a row which once again led to a speedy goal, this time by Luke Malette '20. Another Solberg goal would cut the lead to 14-13, favoring Tufts, with eight minutes to play.
After four minutes of intense back-and forth, Tufts went on to turn the ball over off of a wide shot. Amherst beautifully transitioned the full-field clear, and after a few missed attempts by Amherst midfielders, Minicus got the angle he wanted on his defender and took a diving shot to knot the game at 14. Unfortunately Amherst's luck had seemingly run short that afternoon, as a lost faceoff and tough defensive stand yielded what would eventually be the game-winning goal to Tufts. The Mammoths took a few really good shots with three minutes left, but it was all for naught.
The men's lacrosse team moves to 11-2 on the season, 6-2 in the NESCAC. The Mammoths will have a full week of preparation before traveling up north to take on top-seeded Bates on Saturday, April 20, followed by a match against Trinity on Wednesday, April 24 to close out their regular season.