Sports
Men's Lacrosse Upsets No. 3 Tufts in Showcase of Offensive Firepower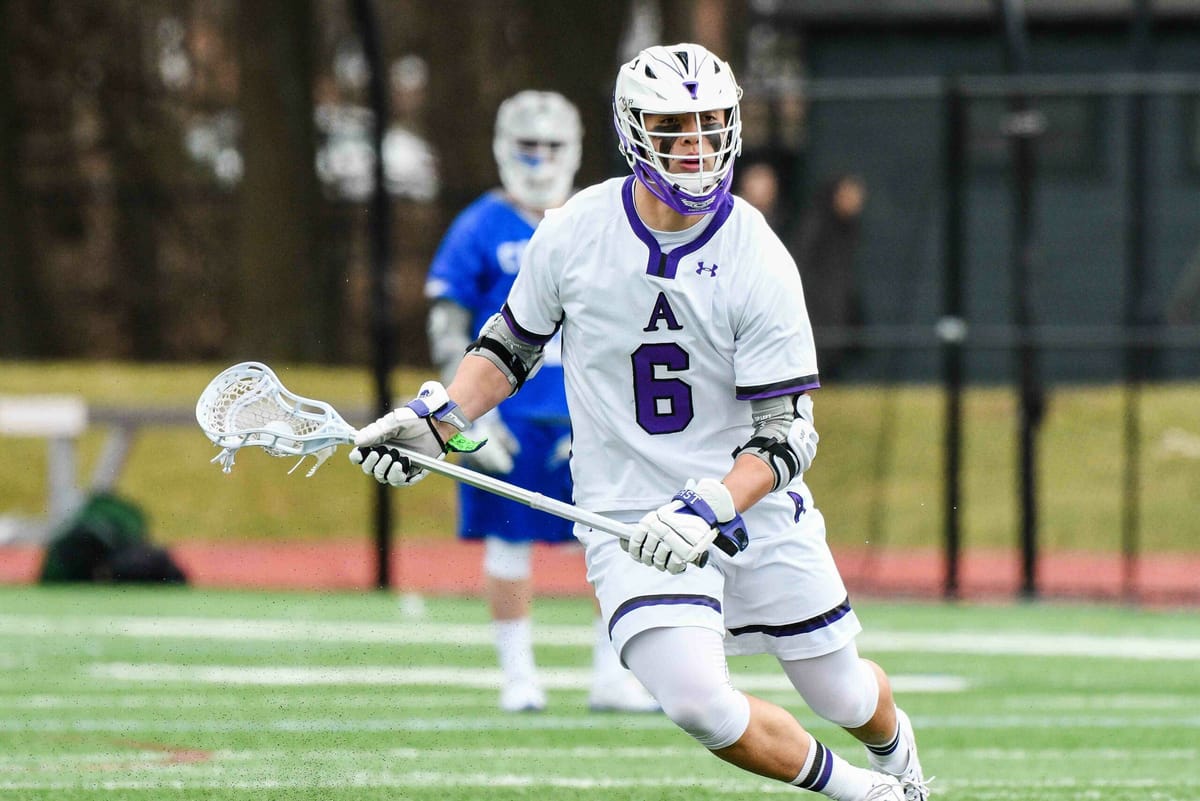 The Amherst men's lacrosse team had another successful week, snagging a victory over a higher-ranked Tufts squad on Saturday afternoon. With the win, the Mammoths stand at 7-1 in league action with only two weeks to go until the NESCAC tournament.
The seventh-ranked team in the nation, Amherst has handled the NESCAC with ease so far this season, taking down every opponent apart from No. 4 Wesleyan.
Last Tuesday's comfortable win over Conn. College was good preparation for the weekend, when Amherst took on the No. 3 team in the nation: Tufts.
The Jumbos have thwarted Amherst ambitions in both regular season and tournament play several times in recent years. However, with an incredible first half, the Mammoths emerged with an impressive 20-16 win.
Matt Solberg '20 and captain Evan Wolf '19 were instrumental in the win, each tallying five goals to keep up with their per game averages, as the two players have led Amherst's scoring for the past few weeks.
Solberg, only a sophomore, has accumulated 50 points this spring and Wolf already has 65 with three games left in the regular season.
Colin Minicus '20 also came up big with four assists, finding Wolf twice, senior Jordan Sanford and Coffey, all in the first quarter.
The first half was a scoring frenzy for the Mammoths, and by the time the halftime whistle blew, Amherst was up 15-5.
Fueling Amherst's patent possession-based offense was sophomore Dylan Finazzo. The sophomore was dominant at the face-off dot, going 23-for-36 to keep the ball in the hands of the Amherst offense the majority of the time. Composed and unafraid to make long passes, the Mammoths also cleared the ball spectacularly, thwarting a Tufts team known for their infamous 10-man rides.
Reid Shilling '21 and Andrew Ford '19 each caused two Jumbos turnovers on the other end of the field, keeping Tufts from gaining on Amherst's lead in the second half.
However, a decent third quarter from Tufts and a scoring-drought from the Mammoths left the score at 16-11 going into the fourth, a dangerous situation against a deadly Jumbos attack.
Tufts logged the first three scores of the fourth quarter, with Matt Treiber potting two player-up goals and Nick Shanks adding another to close the gap to 16-14.
The Amherst offense kicked it into gear after this Tufts run, finding the net four times in a row to restore a comfortable 20-14 difference thanks to three markers from Solberg and a goal from Jackson Herrick '20.
The final two goals of the match went to Tufts, but the Mammoths' lead was ultimately too much to overcome, as Amherst held on for the 20-16 upset victory.
Amherst will return home for the final two games of the regular season, hitting the field on Saturday, April 21 when the Mammoths host Bates on Senior Day at 1 p.m.